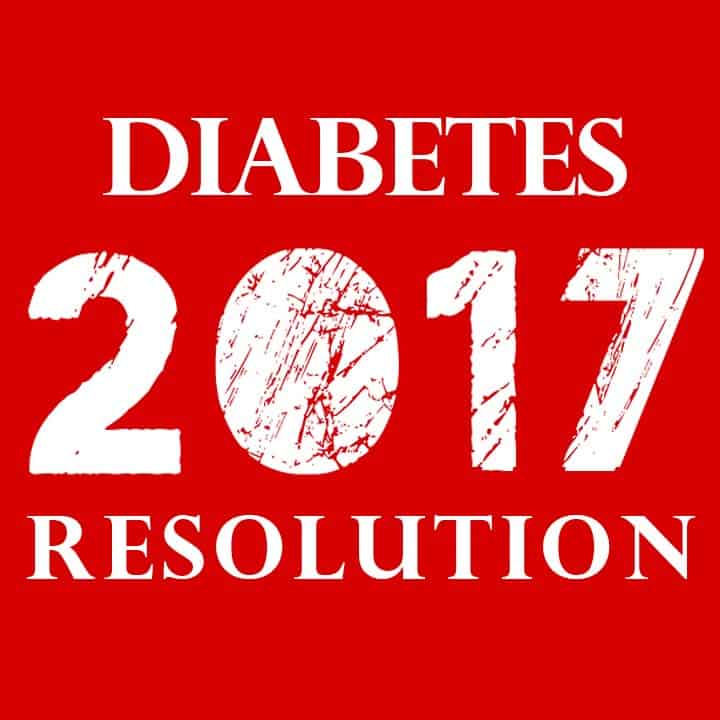 We all make new year resolutions and make a great effort at the beginning of each new year to hit the ground running with our new goals.

New Year's resolutions, they are one of the most common promises that people make before the start of the new year every 365 days.
So, recently I posed the question "What is your diabetes New Year's resolution" to the diabetes online community to see what everyone was going to try to do this upcoming year. And here is what they had to share:
Ian Buckingham Make more people aware of complications, that can arise with poor Diabetes care, by the Diabetic themselves.
Brandon Barrington to quit being so lazy with carb counting…
Shelbey DeBlieck-King Get in better control and have the best A1C I've ever had
Christel G. Oerum How about: "Make it go away"? Oh, a resolution, not a wish…
Danielle Watson-Bowers Stick to low carb, even when garlic knots get ordered.
Laura Hellings-Kinkead Test more
Amy Bramwell Lammey My resolution is to locate a working pancreas!
Raynea Rivera Get the hang of this
Peggy Bury Try to lose all the extra weight i gained from being on the pump.
Steve Conway to finally keep a real log book. Writing down every BG test, everything I eat and every shot I take would really help, but keeping a log and my real daily life don't always mesh.
Christel G. Oerum Have you considered an electronic log? I use RapidCal, keeps track of both insulin & BGs
Steve Conway Not before this, but I'm going to hit the ground running Jan 1st!
Christia Bennett I use glucool tracks insulin carb intake bg can track weight exercise blood pressure and meds too and has a graph and overview part
Jessica Dalke I just downloaded the my Sugr app and I love it!
Jeffery Jose-Karl Keep my A1C < 6% while contributing to eat 200-250 grams of carbs a day. Sitting at 5.2 right now so shouldn't be too hard.
Erica Galvan to get all the supplies i needed and not have to fight the insurance company over something they approved a year ago and doesn't want to approve the supplies for now
Andal Narayanan They don't care about us…: -'(
Steve Rosenthal Listen to my wife more eat smaller portions more often
Angie Allen Davis A1C of 5.0 and exercise all year 3 to 5 times a week!
Jennifer Miller-Strandberg Exercise more & actually use my CGM.
Verlaine Packham to try harder!
Kelsey Saucerman to not have diabetes lol
Melissa Wilkinson Be able to eat carbs …and ones I want and have stable blood sugars!
Amanda MacBeth Not to have it!
Jonathan Stahlman to find a cure
Tony Chapman Get on a lower carb diet
P Susan Willis Addington No beating myself up over readings beyond my control
Christina Bennett insurance approves the cgm and I can start on that and the pump
Jessica Dalke A1C every three months no matter how anxious it makes me!
Dena Ewell to find a job that's full time with benefits so I can get supplies and the care I need. I feel awful.
Roulla Moyseos Not to have it
Candace Barnes Perfect A1C
Sami Rannells blood sugars under 150
Heather Lynn Jones It's a toss up for me I have a pump but no cgm (insurance won't pay for it) so I'd love for my insurance to pay for a cgm, been having trouble getting to manually check my sugar. OR the strength to eat healthier i.e. lower carb I just love eating my carbs (still keeping count and in moderation)
Jessica Rachwal A1c perfect so I can start trying for a baby!
Tia X Ekeberg for my a1c to come down
Elizabeth Dyan Knicely Check my blood sugar as instructed instead of when I feel like it.
Allison Herron to actually get an A1C every 3 months, and keep it below 7.
Kim Jones Get my A1C <9%
Sherry Hummel resolutions overwhelmed me without end…so now making one new year's goal each year – to keep doing what I've been doing as it reinforces my better habits for A1Cs under 7. <3
Karen Leonard that for everyone who has it there will be a cure for it.
Sara Clark Exercise more!
Lauren DeForest to be in control of my health
Tiffanie Lynn Mizer Lower A1C and luck on being on shots after 6 and a half years on the pump
Debra Smith Find a cure
Anita Reich Carrell Seems useless at point
Stella Ruiz for IT to disappear
Ashley Campbell to get my husband to take better care of himself.
Amanda Carman an insulin pump
Sharon Hathaway Padeken Get my hubby to care for himself so we can lose weight together
Josie Enloe Insulin pump
Marty Coakley Insulin pump
Zakary Thomas A1C under 6 is my goal for my February appointment. And I'm down to just 20 units basal a day. Won't have to worry about it much longer. When you don't run off of sugar, symptoms dissipate and everything runs better.
Teresa Skiers Find cure!
Samantha Glasby Craving under control
Anna Jamison Weight down no meds
Darlene Sanders Finding a cure
Arlene Adams No meds
Gretchen Dowling A cure
Debi Constantino Fleeger Lose lots of weight!
Chris Hooser Bates A1C under 7 (currently its 7.4)
Lisa N James Casto Cure for all for me to lose weight n get off insulin ❤
Dee Falato A cure
I would like to conclude this great post with this quote:
The New Year stands before us, like a chapter in a book, waiting to be written. We can help write that story by setting goals. ~ Melody Beattie.
Hopefully this inspired you to make a new year's resolution of your own.