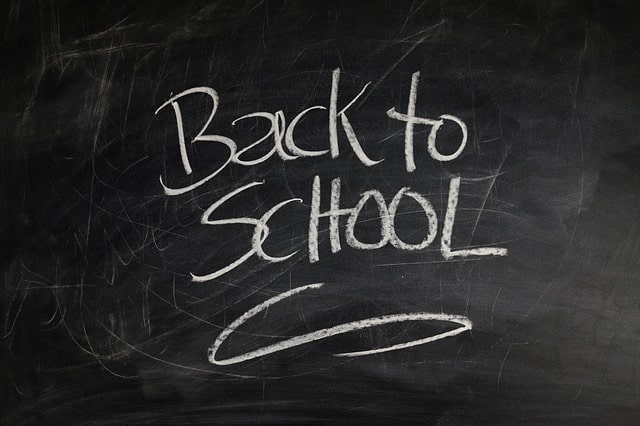 Going back to school is always an exciting and sometimes overwhelming time for students. Adding diabetes into the mix doesn't help with this.
We asked some PWDs (People with Diabetes) and Parents what advice they would give to children heading back to school, those heading to high school and even college students heading out of the house for the first time.
The answers they gave were pretty amazing and helpful for students and for parents who may be a little worried about sending their kids back to school.
1. Even in high school, I emailed all of their teachers the first week with a care plan and my contact information, asking them to contact me with questions and to store juice in their classes. Many emailed back, thanking me and asking for more information.
Lesley Burton Lopez
2. I will send a bottle of sugar tabs for each room and make sure his supply kit is in the office. He does his own testing and shots so he carries that in his book bag. He'll have new teachers this year so I'll email them a reminder that he has a 504 plan and to please check it.
Nikki Kavanagh
3. Mine is in HS and self manages. He only sees the nurse the day before school starts to give her all of his supplies (I have to be there because he doesn't turn 18 until November.) But, I think its important to allow them to self-manage if they want to. In our case, the nurse is awesome and its great knowing she is there. And its important for her to have a backup of EVERYTHING. My son has never needed anything extra all through high school, but its nice knowing she has anything and everything he needs if he runs out of snacks or test strips, or drops his vial of insulin, etc…..
Lori Bush Wielbelt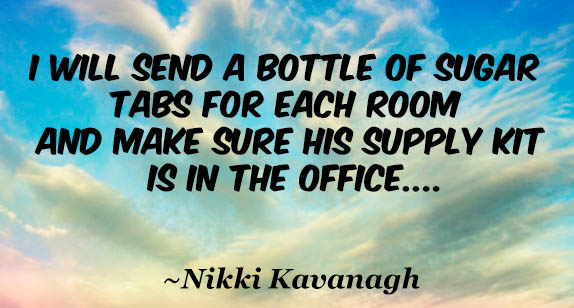 4. I think the meeting with the nurse, exchanging numbers and a box of extra supplies as well as email or discussion with each teacher about highs and lows is important. Our middle school nurse was amazing when we were newly diagnosed, this year going into High School with a new pump changes everything.
Tina Marie Laliberte
5. The dx child needs to know all about how to control his / her diabetes. If the T1D doesn't take ownership (test and record, carb count and inject (bolus) for insulin, it's not going to help. I like having a Dexcom on both me and my daughter—we are both T1Ds and she is in grad school. It also depends on what age your child is now. If they are young, there is much to be done in the intervening years. If the "child" is about to go off to college, it's really a little late.
My T1D daughter had already gotten the accomodations worked out with Princeton Review ( I think that was its name for SAT and AP tests) and those guided the Students with Disabilities Services Departments at each of her colleges. The accomodations generally allowed glucose (or snack) and testing and the timed tests required a Proctor who would give her the amount of time used to either test or treat. If she went low during the test and felt it took 45 minutes to recuperate, she would be given an extra 45 mintes added on. In one way it was good, but she disliked having to take most of her tests alone. The SDS is a student's best friend and can explain exactly how to handle things. She always told her professors about her diabetes and they were all very comfortable with that.
Glenda Gilbert Strickland
6. I'm with Glenda here. If a diabetic can't care for themselves by high school or college, there is something wrong. That being said, just make sure a college kid knows there are academic supports just as there are in public school. They don't ask for specifics or a doctor's note, but they will plan what they are legally obliged to do for the diabetic, including taking breaks to test or being allowed food in a non—food classroom.
Danielle Watson-Bowers
7. I will say when I was in college and was staying on campus by myself in a dorm room, I had some fail safes in place to make sure I was OK. I had someone in my first classes of the morning know that if I didn't show up to my class and didn't answer the door when they came by to check on me, they had my permission to have the RA on the floor to open the door. I had to sign a paper and give it to the RA but it was worth it. Never needed it but it was worth having.
Stephanie Storm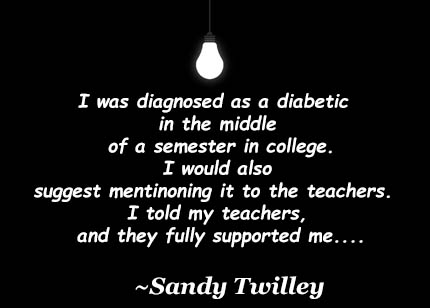 8. I was diagnosed as a diabetic in the middle of a semester in college. I would also suggest mentinoning it to the teachers. I told my teachers, and they fully supported me on testing and eating during class if necessary. I also told my classmates and my roommates obviously knew as well. Good Luck!
Sandy Twilley
9. First, college is so much easier than high school. Second, accomodations are key to success so testing in class, eating wherever, whenever, late work flexibility, additional time for tests/ quizzes and more. Absolutely no disciplinary action to ever be considered when BG is off target, and more. T1's should be able to perform all task necessary by this age including testing, bolusing, counting carbs, insulin pump in place and Dexcom if possible. As well as a parent check ins as needed. I would strongly encourage mandating insulin pumps because shots are well… Not medically acceptable especially when attempting to prevent further education- that said of course financially they are not always possible but they are medically necessary for any and all T1's attempting to further their education. Depending on the situation as this is a very individual condition, remember there is an exception to EVERY rule.
Ella Arden Grace
10. I'm a t1D and a teacher. I would check with the school nurse to see what her experience is, talk to teacher explain highs and lows and treatment. I would even make a basic manual about what to do, symptoms and such. I would have snacks in each classroom and if they allow a buddy that knows her/him well to travel with.
Noleen Livermore-Moore