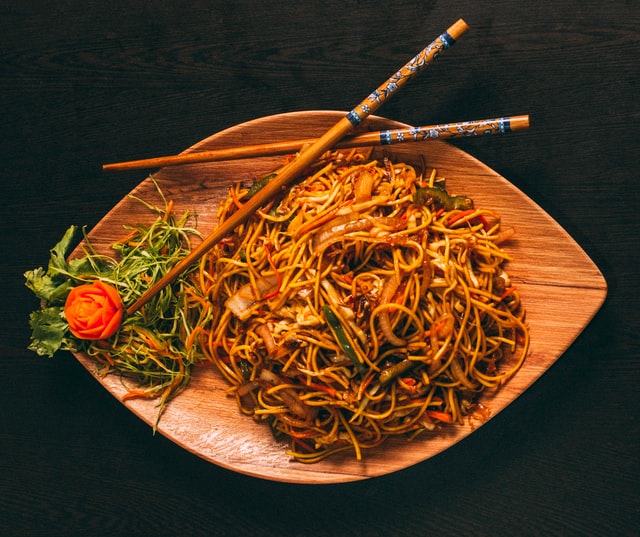 Chinese food is one of the best types of cuisine to eat. Each of the dishes has a wide assortment of vegetables, plus there is most often meat in the dish. Does this make Chinese food a good choice for diabetes to eat? We do know that it is crucial when you have diabetes to eat a nutritious and balanced meal.
What makes this so important is the carbohydrate amounts in each of the dishes. The carbohydrates are what can send your glucose levels climbing. That is the issue to avoid when you are diabetic.
Chinese foods vary greatly from region to region and also city to city. Much depends on the cook themselves. While it is safe to say that the majority of Chinese Food is healthy, those with diabetes will need to watch their carbohydrates and all people need to watch their sodium amounts.
Many of the Chinese foods that are made throughout the United States may not be the healthiest for those who have Diabetes. A good portion of knowing the difference is to know how they have been prepared.
For people with diabetes, the most important things to remember are to eat healthily and maintain consistent blood glucose levels.
Higher Carbohydrate Foods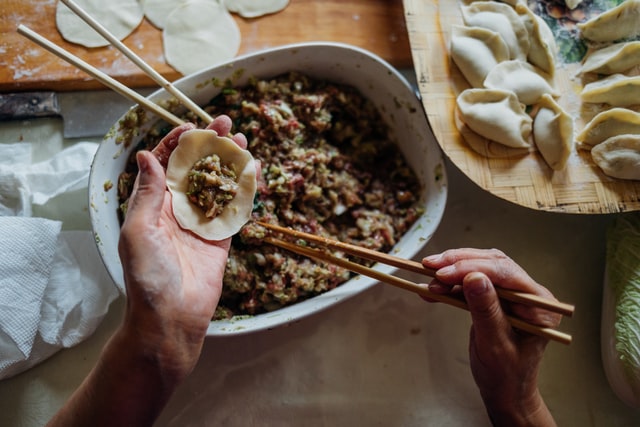 Rice is one of those foods that seems to be a part of basically every Chinese meal. This is actually due to the grain being so versatile. Most often you would be served steamed-cooked rice with every Chinese dish. The rice actually enhances the flavours of the savoury main course food.
For those who enjoy making Chinese foods at home, substitute brown rice instead of white rice.  This will give a little more of a healthy aspect to the dish.
Noodles are another staple for Chinese Cooking. It is like rice and is used as a basic ingredient due to its versatility. Rice noodles contain 21 grams of carbs, Mung Bean noodles contain 19 grams of carbohydrates and egg noodles contain 20 grams of carbs per serving size.
Buns or Baos as they are called contain 36 grams of carbohydrates per bun.
These buns come in a variety, some are round and sweet, and some are folded into a triangular shape. Some are savoury and are included with a Chinese meal. They are most often made with wheat flour and are yeast-leavened.
Wontons, Dumplings and Potstickers are all less obvious sources of carbohydrates. Most people will focus on what is on the inside of each of these, rather than the wrap. These delightful bites usually hold protein and or vegetables. They are generally made out of wheat flour.
There are multiple methods for cooking these: they can be boiled and served in a broth, they could be steamed, or they could be deep fried or pan-fried. Each of these is generally served with a tasty dipping sauce.
Taro is a root vegetable with a very distinctive texture. When cooked properly, it will have a soft outer portion and the inside will be firm and dry. This does tend to be a very bland vegetable and is often used as a starch, such as rice or noodles. The Taro has roughly 22 grams of carbohydrates.
Lotus Root is a very popular vegetable in Chinese cooking. The tuber is the portion that is often used as the ingredient for stir-fry, soups, stews and even pastries. If you were to compare the lotus root to Taro, the lotus root is crisper and has few carbohydrates. A ½ cup serving contains approximately 10 grams of carbs.
Non-Starchy Vegetables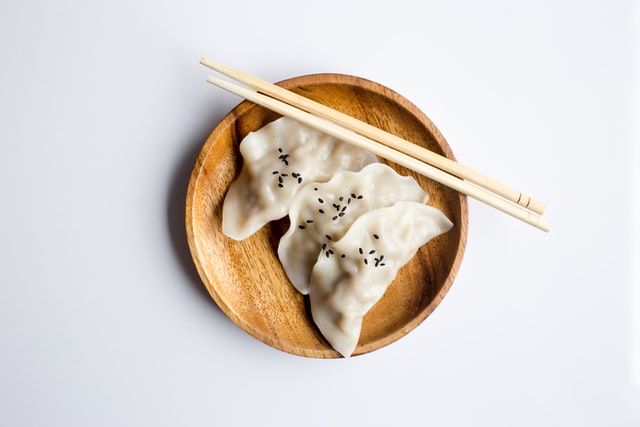 This is why Chinese food DOES make sense for a diabetic to eat. Most Chinese dishes have loads of vegetables in them. Some are just one vegetable while others are mixed vegetables. The Diabetes plate method recommends that half of your plate be filled with non-starchy vegetables.
For every half-cup serving, there are 5 grams of carbohydrates and 30 calories. Non-starchy vegetables fill you up and keep you satiated for a longer period of time. They are full of water and fibre.
Leafy Greens in Chinese cooking include Bok Choy, Chinese Broccoli and watercress. These are the perfect addition to a stir fry, adding in a bowl of noodles or adding to soups.
Bitter Melon has a bumpy and wavy outer layer with an earthy alkaline flavour. It is usually served just with adult type of meals, as the bitter melon is an acquired taste. However, it is most often paired with sliced beef in a stirfry, this makes the flavour of both the beef and the bitter melon one to enjoy.
Shittake Mushrooms are an all-around type of vegetable that is low in calories, low in carbohydrates and low in sodium. The Chinese will most often use dried shiitake mushrooms to bring out the earthy umami flavour in many dishes
Choosy Healthier Protein Options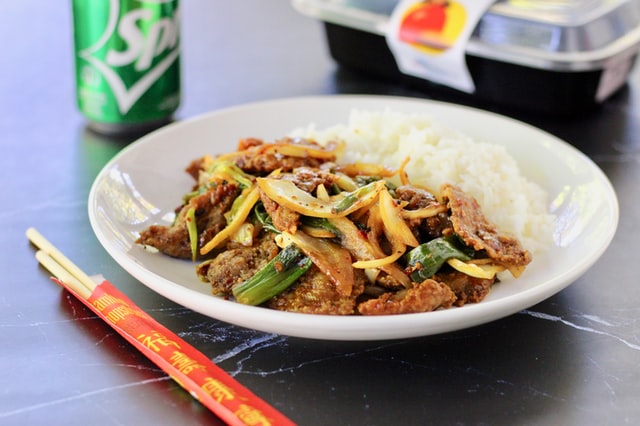 Protein is an essential part of a healthy diet. One-quarter of your plate should be filled with lean protein. Lean proteins include chicken, ground turkey and fish. Choosing these will help to lower the risk of high blood pressure, and lower the risk for heart disease.
Healthier Fats are those that are considered unsaturated. These are found in vegetable oils, nuts and fish. Although these may be healthier, this does not mean that foods that are deep-fried in these oils are good for you. Any food that is deeply fried should be eaten in moderation.
Sodium is actually a big part of Chinese cooking. Sodium is in abundance in Soy Sauce, Oyster Sauce, fish sauce, hoisin sauce, black bean paste, bouillon cubes and shrimp paste.
The amount that is recommended daily is the equivalent of 1 teaspoon.
Substitute Non-Starchy for Starchy vegetables. A big substitute that is highly popular at the time is to use cauliflower. It can be used as mashed or riced. Another phenomenal substitute is to use spaghetti squash in replacement of any noodles.
This gives an extra boost of fibre and nutrients that are beneficial to you and your health.
Chinese Food Alternatives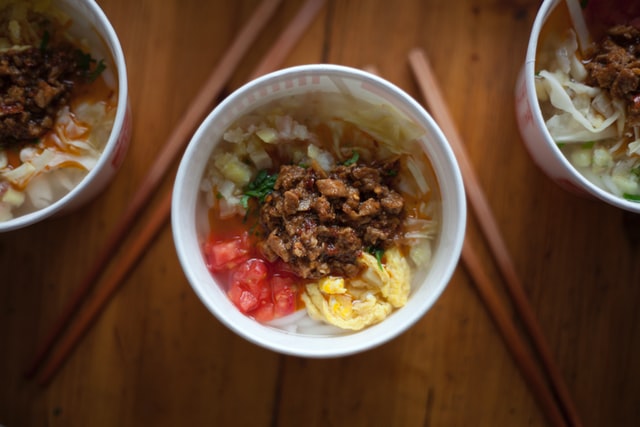 Spring Egg Rolls can be eaten in moderation if you have diabetes. This does not mean it is safer to eat, just focus on the amount. They are a healthier alternative to fried egg rolls.
Chicken and Broccoli is just what it states. The plate is filled with tasty chicken pieces and loads of broccoli. This keeps you full longer and is filled with fibre.
Egg Foo Young is a dish that is basically an omelette with vegetables in it. The Chinese serve the as patties, lightly fried and smothered in a rich brown gravy-type sauce.
Health Issues Due To Chinese Foods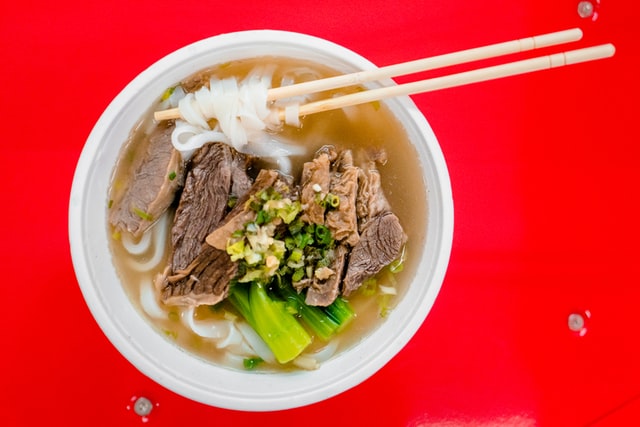 Hypertension is caused by the intake of too much sodium. Chinese foods have plenty of sodium within them. Those with high blood pressure or hypertension should avoid eating Chinese food so as not to increase the risk already.
Bloating is due to the added oil and all the fibre in the foods. Bloating has been known to increase the risk of stroke and heart diseases.
Weight Gain is due to the carbohydrates in the noodles and rice. The carbohydrates break down into energy and which makes you feel hungry much faster. This quick bout of hunger is what makes you want to eat more almost right away. This in turn can turn into a weight increase.
Acidity is when the oil in Chinese foods stays in the digestive tract longer and therefore will produce more acid in the stomach.
Headache is usually caused by Monosodium glutamate. MSG is known to cause muscle tenderness and thereby can tend to cause headaches.
MSG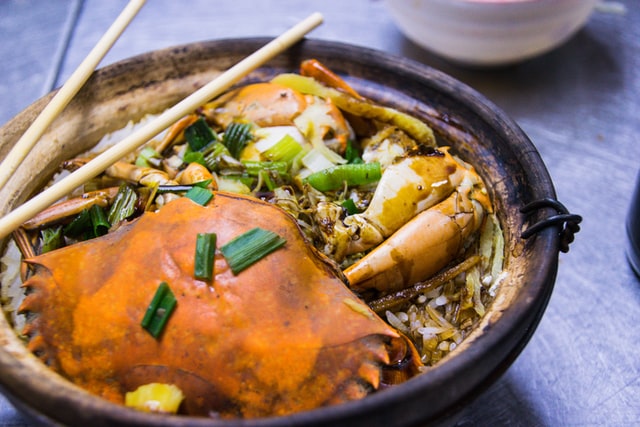 Monosodium glutamate is an ingredient in basically every Chinese food as a flavour enhancer. MSG is also used in canned soups, vegetables and meats.
While the FDA and Food and Drug Administration consider Monosodiumglutamate to be safe, it is still listed as a controversial ingredient.
There are some reactions related to MSG. Most are not common at all, and likely will not be seen unless you are a highly sensitive person. The reaction is known as SG Complex.
It involves any, or some, if not all of the following:
Facial Pressure and tightness
Headache
Numbness
Tingling or burning sensation in the facial area
Chest pain
Flushing
Sweating
Nausea
Rapid Heart Rate
Weakness
Again, most people do not experience any of these effects. If you do, please take the advice and call your local hospital or your family physician.
The items listed are the harmful effects of MSG. Not everyone will experience the effects. These are effects of the majority of people who consume Chinese foods regularly. MSG can be listed under multiple other names also, be sure to read the content label and the ingredients to determine if there is MSG or one of the other names MSG is called.
The idea of eating Chinese food is a great one. However, it would be best for a Diabetic to make their favourite Chinese foods in the comfort of their own homes.
By doing so, they can use only the ingredients they choose and no added, such as MSG. They can also swap out low sodium Soy Sauce instead of full flavour. If you choose to make rice or noodles, try one of the suggested methods of cauliflower rice or spaghetti squash noodles.