First Steps to take after diagnosis of Type 2 Diabetes.
First and foremost, don't panic you are not the only one with type 2 diabetes! There are more than 382 million people diagnosed with diabetes worldwide.1
Secondly, and on a positive note there are tons of resources and tools that will assist you in the management of the symptoms and control of your diabetes. You do need to start early and here are some step by step ideas to help in your journey:
#1 Powerful Triad of Sources
The three key sources: Diabetes Educator, Diet and Exercise are the mainstays of an effective diabetes management strategy. They are essentially like three wheels that engage together to move the whole engine smoothly. Collectively this three triad model is the principle influence for a holistic management of your symptoms and blood sugar levels.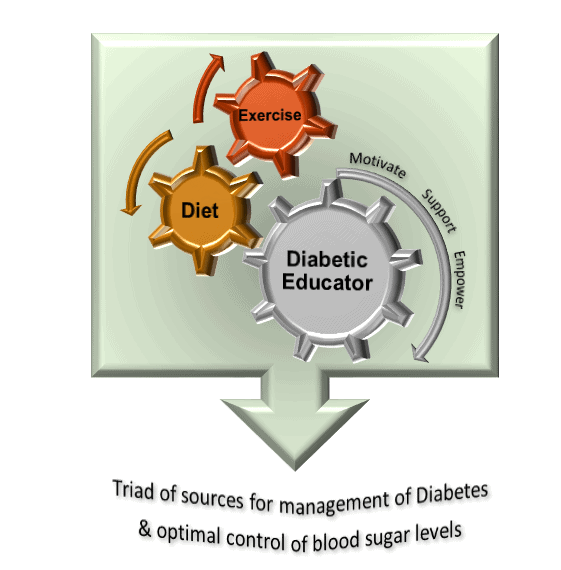 Diabetes Educator is the initial point of call and support when first diagnosed with diabetes. These health professionals specialize in 'everything diabetes related' and a fantastic source of information, motivation and support to meet all your needs for management of diabetes and helping you along the way to prevent its complications.

Infact in our triad model of sources, Diabetes Educator is the main gear setting the other two wheels in motion in the right direction. Initially, when you are diagnosed with type 2 diabetes the Diabetes Educator will provide personalized advice on means and ways of improving your blood sugar levels to stay within the target range. Diabetes Educator can help you delay requiring medication and assist in the shift to using medication when insulin levels in your body eventually diminish. Indeed, these specialists are lifesavers and invaluable source in the entire journey of a diabetic patient.
Diet is by far the most important single factor with direct influence on the sugar levels. With guidance and education on what will keep your sugar levels stable and reduce the chance of complications, food can become a friend not foe. Just remember to discuss any changes to your diet with your Dietitian, Diabetes Educator or Doctor.
Emerging research is supporting the low carbohydrate and higher protein diet approach for optimal management of blood sugar levels in type 2 diabetes patients. Earlier this year, a large multi-center collaborative study funded by National Health and Medical Research Council (NH&MRC) in Australia revealed a 40% reduction in patient's medication intake by simply adopting a very low carbohydrate and higher protein diet.2
Exercise and physical activity are essential for management of sugar levels in a type 2 diabetes person. Exercise stimulates muscles which feed on sugar, to produce more insulin receptors and therefore allow more sugar to be absorbed by your cells. Some call exercise "natural insulin" because it is such a powerful trigger for this process to occur. The clinical evidence for effectiveness of exercise in improving sugar levels is considerable and continues to grow.3-5
*Before undertaking on any form of exercise, it is important to talk to your health professionals and undergo a detailed medical screening for the presence of any diabetes related complications such as joint problems and cardiovascular issues.
#2 Knowledge will Empower you
So now that you are diagnosed with diabetes the more you know about the symptoms, triggers and how to manage high or low sugar then the easier and less daunting will be the task of managing your diabetes long term.
Start by reading the pamphlets and information sheets that your doctor has given you at the initial visit or after you have visited the Diabetes Educator. You can also visit the American Diabetes Association that has stacks of useful easy to understand information on their website. They have a shop where all information and reading material is readily available for you to purchase and download.6
#3 Useful diabetes tracking KITS
One of the best ways to take Type 2 Diabetes by the horn so to speak and protect yourself against its harm at every corner of your life is to develop a personalized tracking approach.
A recent study showed that wearing a pedometer increased activity by 27% with no extra effort.7 Similar studies have also found that recording food, exercise and emotions contributed to better control of blood sugar levels long-term.8,9

Aside from the fact that a fitness tracking devise or app will motivate and boost activity, seeing the sugar levels stabilize will encourage continuous use. Activity does not have to be complicated; a simple walking routine and counting steps is the best way to stay on track.
There are few ways to track and journal your diabetes journey and we will discuss the most effective and efficient strategies below:
Create a Personal Type 2 Diabetes Kit
Different ideas to create your own personal diabetes kit.
Digital Kit
Diabetes Kit Blood Glucose Logbook is designed to help lower sugar levels with a tracking device as part of the Apple watch (see below).
Download the diabetes kit app from http://diabeteskitapp.com
Home-made Kit
Either download a log sheet from this site (or surf the net for other log sheets) or invest in a small notebook that you can carry in your bag or pocket and record your sugar levels. Tracking your medication and blood sugar is a great way to monitoring your diabetes and avoiding complications. http://www.nps.org.au/__data/assets/pdf_file/0015/211632/NPS-Diabetes-Tracker-Oct-2013.pdf
Mindful recording of your food, physical activity, medication and your mental state can have a significant impact on recognizing your weaknesses and taking action to change habits for optimal diabetes management.
Store your kit at a convenient place to make it easy for access and recording.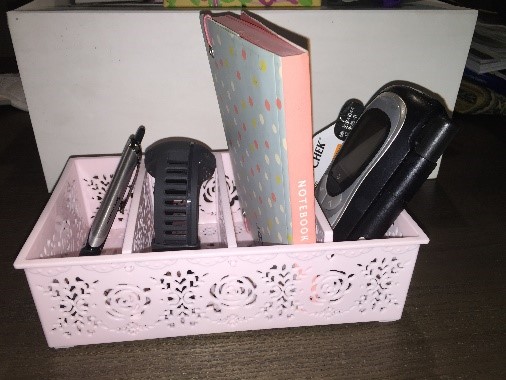 Keep an iwatch on new tools for Type 2 Diabetes management
Apple has created yet another innovative tool; a diabetes iwatch app one of its kind in the world. This is the most recent inventive tool in the battle with Type 2 Diabetes and could prove very effective at not only monitoring the sugar levels but also as a motivational tool.10


References
International Diabetes Federation (IDF) global statistical data – http://www.diabetesatlas.org/
CSIRO unpublished study findings on diet and exercise intervention for type 2 diabetes patients – http://www.csiro.au/en/News/News-releases/2016/Improved-diabetes-control-with-new-diet
Sigal RJ, Kenny GP, Boulé NG, Wells GA, Prud'homme D, Fortier M, Reid RD, Tulloch H, Coyle D, Phillips P, Jennings A, Jaffey J. Effects of aerobic training, resistance training, or both on glycemic control in type 2 diabetes: a randomized trial. Ann Intern Med. 2007 Sep 18;147(6):357-69.
Moura BP, Natali AJ, Marins JCB, Amorim PRS. Different approaches of physical training used in the management of type 2 diabetes: a brief systematic review of randomised clinical trials. BrJ Diabetes Vasc Dis. 2011; 11:210–216
de Lade CG, Marins JC, Lima LM, de Carvalho CJ, Teixeira RB, Albuquerque MR, Reis JS, Amorim PR. Effects of different exercise programs and minimal detectable changes in hemoglobin A1c in patients with type 2 diabetes. Diabetol Metab Syndr.
2016 Feb 16; 8:13
American Diabetes Association shop – http://www.shopdiabetes.org/
Bravata DM, Smith-Spangler C, Sundaram V, Gienger AL, Lin N, Lewis R, Stave CD, Olkin I, Sirard JR. Using pedometers to increase physical activity and improve health: a systematic review. JAMA. 2007 Nov 21;298(19):2296-304.
Aizawa K, Maeda K, Ogawa M, et al. Comparative study of the routine daily usability of FoodLog: a smartphone-based food recording tool assisted by image retrieval. J Diabetes Sci Technol. 2014;8(2):203-208.
El-Gayar O, Timsina P, Nawar N, Eid W. Mobile applications for diabetes self-management: status and potential. J Diabetes Sci Technol. 2013;7(1):247-262
Apple iWatch for health site – http://www.apple.com/au/watch/health/