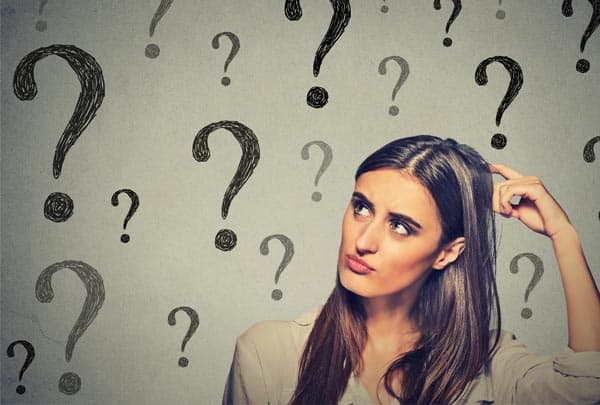 With countless blood glucose meters on the market, how do you know which one to choose?
Do you choose the most expensive one; it must work the best if it costs the most, right? Or are you a techie looking for a Bluetooth meter that syncs to your smartphone? Perhaps, you're concerned with the cost and you're looking for the most affordable meter.
Top 10 Glucose Meters
We've taken the time to test the ten most popular blood glucose meters. Take a look to find the meter that's the best fit for you. Winner and our favorite meter is One Touch Ultra 2.
OneTouch Ultra 2
Accu-Chek Aviva Connect
Walmart ReliON Confirm
OneTouch Verio
Abbott FreeStyle Lite
Walgreens True2Go
Contour Next EZ
Livongo Health In Touch Meter
Nova Max Plus
Sanofi iBGStar
Our Pick
After a careful review of the top glucose meters on the market, our #1 recommendation is the One Touch Ultra 2. It's simply one of the best in terms of functionality and price. Click here to learn more.
(Helpful Tip: Although you can get one from your local pharmacy, you'll find it cheaper on Amazon. Click here to get yours.)
Accu-Chek Aviva Connect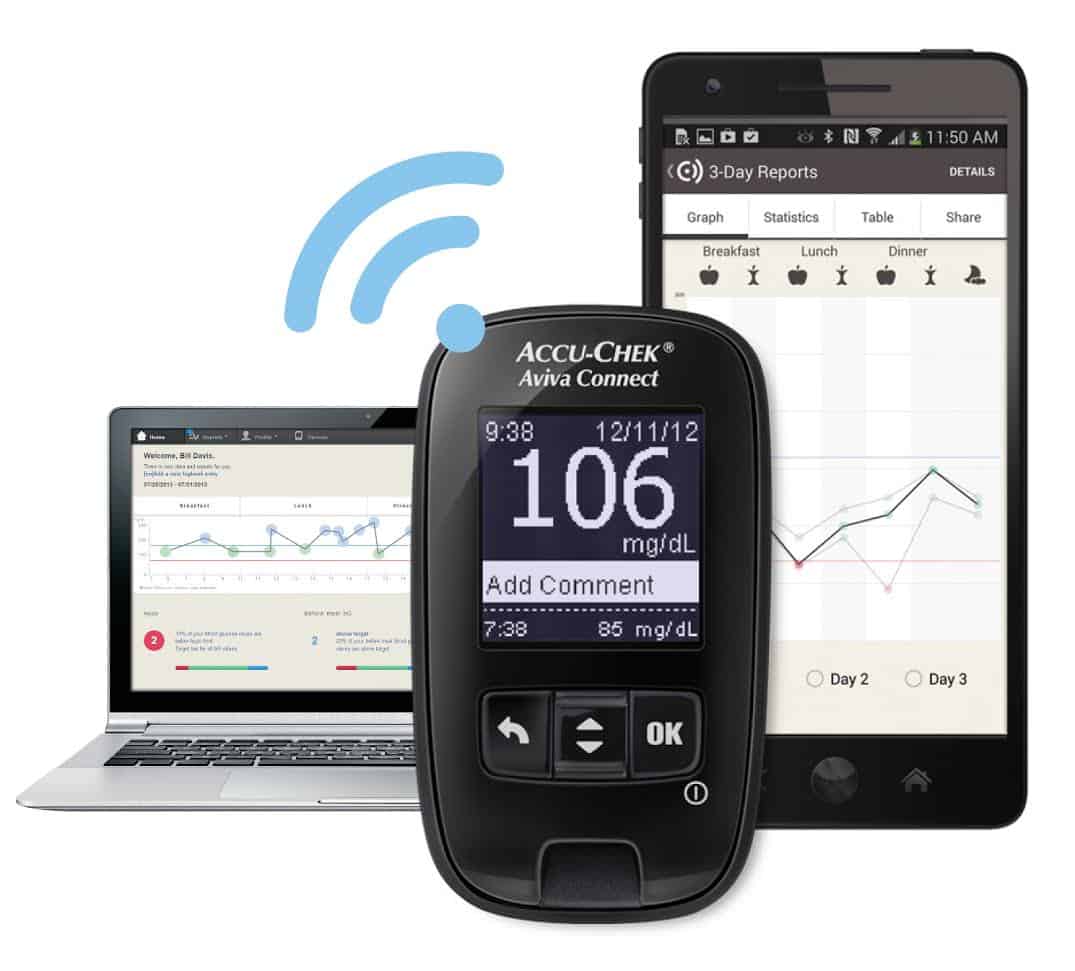 The Accu-Chek Aviva Connect gets its name from the Bluetooth connection that syncs to the user's smartphone. The Connect utilizes an app to keep track of both short-term and long-term readings on a person's smartphone. The user can also view their trends via bar graphs and maps on the app. The Accu-Chek Aviva Connect will cost you $29.99 and $1.75 for a single test strip. One con to this meter is that the test strips are one of the highest priced strips on the market. However, they are readily available in almost all drug stores and pharmacies.
Accu-Chek also offers a supplemental program called Preferred Savings which can reduce most test-strip co-pays to $15-$45. Other features include: an easy to read backlit LCD display, easy testing in just 3 steps, and this glucometer weighs just 1.4oz with batteries. Speaking of batteries, the Connect takes two 3-volt coin-cell batteries. To test with the Accu-Chek Aviva Connect simply insert the test strip, lance a finger then touch the test strip to a small drop of blood, 0.6 microliters to be exact. It takes 5 seconds to receive your results. The actual device stores 750 readings, but with the Connect app you can store unlimited readings on your smartphone.
I recommend reading the following articles:
The Accu-Chek brand has a long history of providing blood sugar meters to those with diabetes. In fact, one user with diabetes for over 30 years can attest that the Accu-Check Aviva Connect is one of the best she's ever used. The ability to transfer the data stored on the meter to your iPhone or android device is wonderful. The Accu-Check Fastclix lancing device that comes with the meter offers even more benefits. It is able to store up to 6 lancets per drum. You will never have to worry about accidently poking yourself while changing your lancets because they are all stored in a safe lancing drum. You don't have to change them out each time you test either. Each drum gives you up to 6 testing's before it needs to be changed.
Click here to learn more.
OneTouch Ultra 2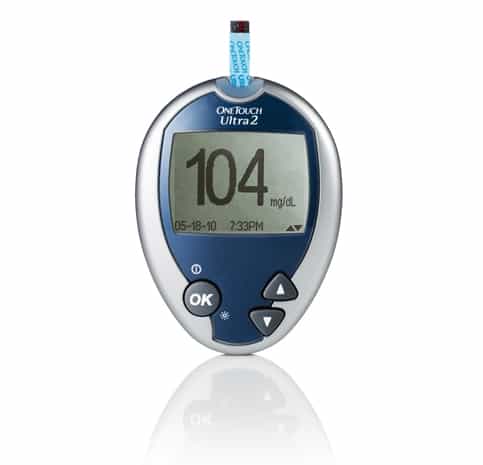 The OneTouch Ultra 2 has the lowest co-pay on most health insurance plans. And if you have Traditional Medicare Part B this meter won't cost you a penny. Without insurance, the OneTouch Ultra 2 retails for $19.99. This glucometer is dated, meaning it still uses coding and does not have a high-contrast display. Coding means that the user has to enter the code on the side of the test strip vial before testing their blood.
This adds a step to the process and takes a few more seconds than most models on the market today. A few more drawbacks of the OneTouch Ultra 2 are that the test strips cost, on average, $1.32 per strip and it requires a larger 1.0 microliter blood sample to test.
The Ultra 2 holds 500 readings in the device's memory. It runs on one 3-volt coin-cell battery. The OneTouch Ultra 2 does offer software to track your glucose readings, however you must use a computer operating with Windows system and you must connect the meter to your computer with a specific OneTouch USB data cable.
Buy yours today on Amazon for best price.
OneTouch Verio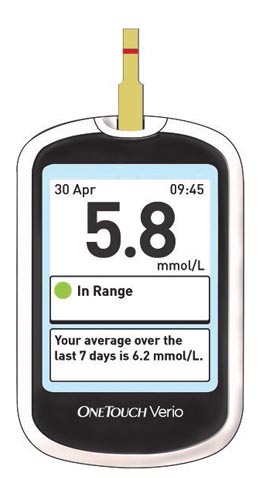 OneTouch Verio glucometer is excellent for those with sight issues. The large, backlit screen is very easy to read. The Verio uses ColorSure technology to effortlessly view a red dot, meaning your reading is above average, a green dot, showing your reading is within normal range, or a blue dot, indicating your blood glucose reading is below average. The screen on the monitor also tells you your averages over the past week, two weeks, and thirty days. The OneTouch Verio also holds up to 500 past test results in the device.
The Verio has been proven to be over 99% accurate with its results. Accuracy is one of, if not, the most important aspects to consider when selecting your glucometer. The price of the OneTouch Verio is very fair at $19.99. Test strips are on the high end at $1.66 per strip. However, the strips are completely covered by Traditional Medicare Part B and have the lowest co-pay on almost all health insurance plans.
The meter requires 2 AAA batteries, which costs a little less than most meters that use the 3-volt coin-cell batteries. The blood sample required is small, coming in at 0.4 microliters. Also, the strips do not require coding. While the OneTouch Verio does not have Bluetooth capability, it does have the ability to link with the OneTouch Reveal web app via a cable connection to the user's computer. Setting up the program is a little tricky because you must also download and install the OneTouch Data Transfer Tool. There is support available on OneTouch.com for those who are not tech savvy or have trouble setting up the web app.
Click here to learn more.
Walmart ReliON Confirm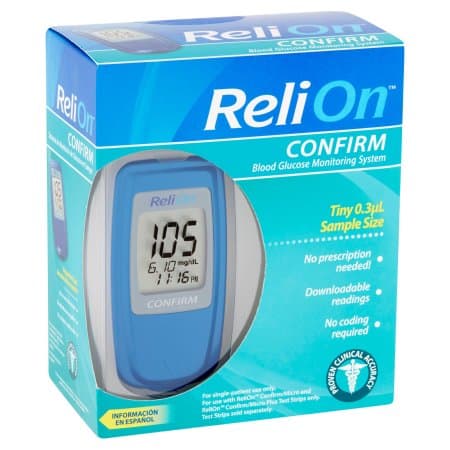 If you're looking for a bargain, try the Wal-Mart ReliOn Confirm. This meter is a good option for those without insurance, or who are pre-diabetic and do not have insurance coverage for diabetes meters or supplies. According to one user, this is a great option for those with diabetes of all ages, including children.
One user that has type 1 diabetes and uses an insulin pump for glycemic control, this meter should definitely get more attention. While it's a basic blood sugar system, it provides the same accuracy levels when compared to others, at a much lower and more affordable cost. For those without insurance coverage this might be the best option for you.
The ReliOn Confirm costs only $14.98 and test strips cost on average $0.40 per strip. These are some of the lowest priced strips on the market, and they do not require coding, which is a plus. Another plus is that the blood sample is only 0.3 microliters. Like most glucometers, the Wal-Mart ReliOn Confirm takes one 3-volt coin-cell battery. There are several review on Walmart.com stating that the ReliOn Confirm is not accurate however based on my experience it's one of the most accurate devices in the market, we suggest you try and test for accuracy yourself. There is also a control solution that is not included but can be purchased for an additional five dollars. The solution is recommended to ensure accuracy.
While its available in Walmart, I suggest you get yours for best price here.
Abbott FreeStyle Lite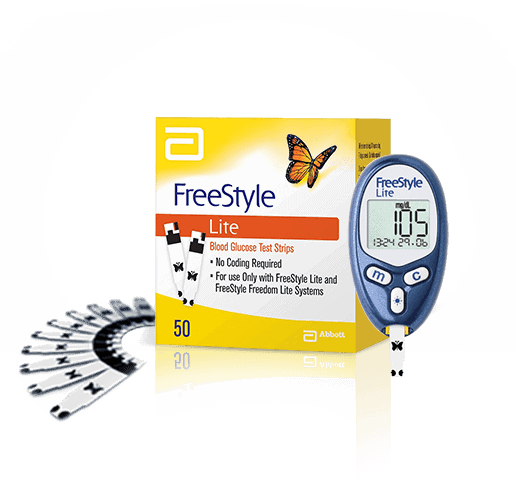 Are you a busy, on the go person? The FreeStyle Lite is for you. It's one of the smallest units and weighs only 1.4 ounces with its one 3-volt coin-cell battery inside. It gives you the flexibility to test anytime and anywhere because it has a backlit display and port light for test strips. The blood sample is only 0.3 microliters, you can sample from your upper arm, fingertip, or palm. However, the fingertip provides the best results.
Test strips are a little costlier for the FreeStyle lite, coming in at $1.46 per strip. One benefit of the FreeStyle Lite is that their ZipWik tabs allows for faster and simpler blood collection. Users see results in 5 seconds. One user likes that the Free Style Lite glucose meter is easy to use and easy to read. A smidgeon of blood is all that is needed. Using this system is quick and painless as well as highly accurate!
Some cons of this meter is that it does not have Bluetooth connectivity but does work with downloadable FreeStyle Auto-Assist software for your desktop. Also, if your diabetes affects your sight, this model is not for you because the display is only 0.7 inches.
Click here to learn more.
Walgreens True2Go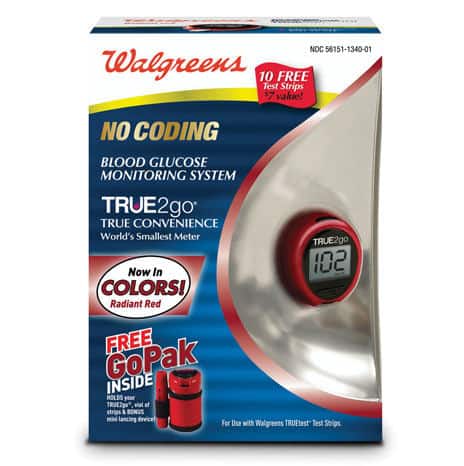 Walgreens True2go is very affordable. Priced at $9.99, it's a great value. True2go is also fast; with triple sense technology, you get your results in 4 seconds. Test strips do not require coding and the sample size is only 0.5 microliters. This meter also stores up to 500 results with the date and time. True2go is tiny, about the size of a quarter! It fits easily into a pocket or purse. Another unique feature is that it's made to twist onto the top of a test strip vial. If portability is what you need then Walgreens True2go will be perfect for you.
One user was a little disappointed in the results of this meter. The main reason for purchasing the True2go was to have a more convenient and portable option to take with her on the go. However, she confirmed that her results were running 20-25 points below what her Freestyle meter was reading. She then confirmed with 4 separate tests on various Freestyle meters and all were within 4 points of each other. This left her questioning the accuracy of this meter, which can honestly be dangerous.  Another downside was she had to use three testing strips before it would even read a result. While the smaller size is a huge plus, unfortunately the accuracy is an even bigger downside that could potentially lead to severe periods of hyper or hypoglycemia.
She has a point, if it's not accurate then it isn't reliable. Again, we recommend you try this for yourself and determine if you find it accurate or not.
Click here to learn more.
Contour Next EZ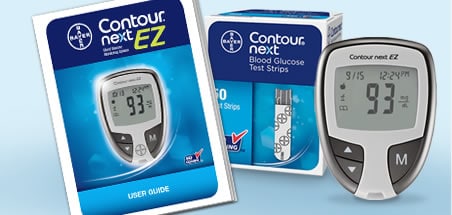 The Contour Next EZ is great for anyone new to blood glucose testing or for those who don't need all the fancy bells and whistles on a monitor. The display screen is not backlit, therefore, it may be hard to read in poor lighting. The entire meter fits well in a hand coming in at just over 3 inches tall and about 2 inches wide.
Even though it's not the tiniest meter on the market it doesn't weigh much, only 1.7 ounces with the two 3-volt coin-cell batteries installed. The Contour Next EZ is very accurate. It uses at 0.6 microliter sample and reruns the test 6 times, using multipulse technology, to insure the best result. Even though the sample is run several times, you will get your result in just 5 seconds. The meter retails for $19.99 and the test strips are very affordable at just $0.83 per strip.

The basic Contour Next EZ does not have Bluetooth technology however you can download Bayer GlucoFacts Deluxe free software for your PC or Mac and link the two via a data cable. Bayer also offers helpful meal planning tips and how-to videos on the software program. A con to this meter is that it requires a fingertip sample, you cannot sample from any other site.
It's available for $8 on Amazon. Learn more here.
Livongo Health In Touch Meter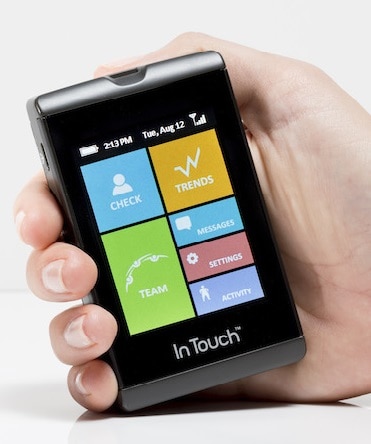 Livongo Health offers their very own In Touch meter, unlimited testing strips, online support from diabetes health coaches, and a mobile app that tracks your test results all for one easy $75 monthly fee. Livongo Health has completely changed the Diabetes testing industry. The In Touch meter fits in the palm of your hand and has a large digital touch screen, similar to a smartphone. There are no reusable batteries to mess with, there's a rechargeable lithium ion battery and cord included to charge it.
The meter does require charging every night. Another negative is that the test strips require 0.8 microliters of blood and take longer than the said 5 second results would take. However, if you're into technology, this meter is definitely for you. With the touch of the screen you can contact and send results, via Bluetooth connection and your smartphone, to your own personal coach. Your coach will then text message you with information about your results and help you improve your numbers. Another plus is that some insurance providers are starting to cover the Livongo Health In Touch program. It's worth a shot to contact your health insurance provider to find out if it's a covered benefit. As far as portability, there's a lot to carry around with the In Touch meter. The meter itself is large, test strips also are not small, and the case to carry everything in definitely doesn't fit in a small purse. But again, this meter is great for those of us who are into the latest technology.
Nova Max Plus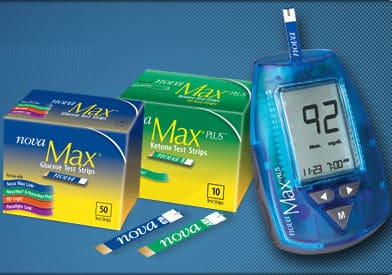 The Nova Max Plus not only checks blood glucose but also determines if ketones are present in the blood. For the blood glucose test, the sample size is 0.3 microliters and for the ketone test, the sample size is 0.8 microliters. The blood sample can be taken from the palm of a hand, forearm, or fingertip. The Nova Max Plus retails for $19.99 and the glucose test strips are $0.40. The ketone strip will run you $2 per strip.
There is no coding required for the strips. One 3-volt coin-cell battery is needed for this monitor. The screen text is easy to read but it is not backlit and can be hard to read in poor lighting conditions. Another downfall is the monitor requires a control solution but it is very hard to find the control solution in stores. If you call the company, then they will mail out the solution, but this takes a few weeks. Another con is that the memory cannot be cleared and there's no way to transfer data to a smartphone or computer. Overall, if you need this to check ketones it works but you're going to be paying a hefty price to check them. As far as a glucometer, again, it works but it's very basic.
Click here to learn more.
Sanofi iBGStar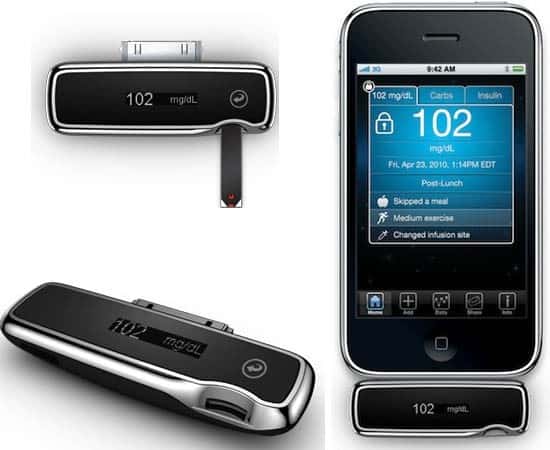 The Sanofi iBGStar is another great meter for the tech savvy. It can be used on its own or plugged into the user's iPhone. However, recently with the changes to the iPhone (removing the headphone jack) you need a special plug for this meter to work with the iPhone. The Sanofi iBGStar is one of the most expensive meters on the market at $74.99 (iPhone not included). Test strips are on the higher end as well at $1.30 per strip but do not require coding. The blood sample size needed is 0.5 microliters and the test results appear in 5 seconds.
With the iBGStar the user can set up to 7 alarms to remind themselves to test their blood glucose. For a tiny device, it weighs 1.7 ounces including two 3-volt coin-cell batteries. The meter itself can hold 300 readings on its internal memory. When plugged into an iPhone you can use an app to track results and trends. This device is extremely portable; it comes with a 3 square inch carrying case. This device is not covered by most insurances. It is best to call your insurance company for a list of covered devices.
Click here to learn more.
Conclusion
Our Pick
After a careful reiew of the top glucose meters on the market, our #1 recommendation is the One Touch Ultra 2. It's simply one of the best in terms of functionality and price. Click here to learn more.
(Helpful Tip: Although you can get one from your local pharmacy, you'll find it cheaper on Amazon. Click here to get yours.)
It's best to choose what's most important for you. If you're newly diagnosed and just need to get used to starting to test your blood glucose, then the Contour Next EZ is a great model to choose.
If you have an iPhone and are looking for some small and portable, try the Sanofi iBGStar. If cost is an issue and you need to rely on insurance to cover your testing strips look into the OneTouch Verio or the OneTouch Ultra 2.
If you have insurance coverage remember to call your insurance company first to see what meters and strips they cover and ask how much the co-pays are. If you do not have insurance the ReliOn Confirm is a great alternative.