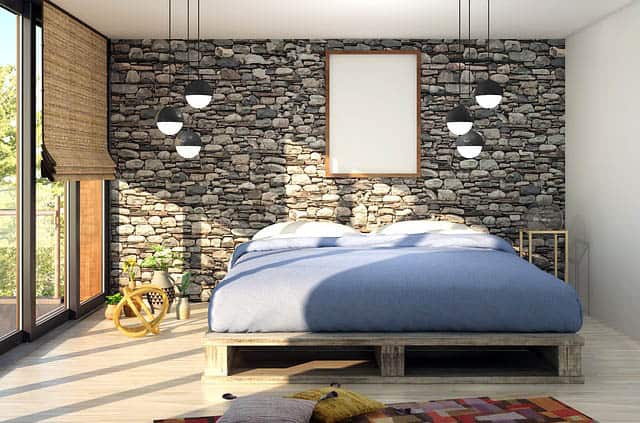 According to the U.S. Bureau of labor, most Americans spend an average of 7.7 hours sleeping. That is around 53.9 hours of time spent on a mattress per week. Buying a new mattress isn't something you should do without a bit of planning. There are many options out there and if you want to make sure you get the best night's sleep, you need to choose the right one for you. That's why we've put together this complete guide to help you along the way. Before you head out to start your shopping, take a look at our tips and advice below.

Importance of replacing your mattress when it is time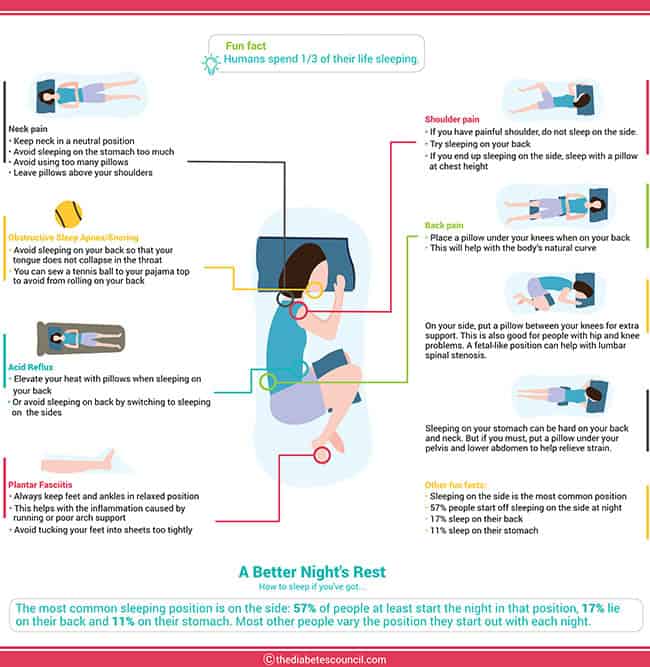 If you want a good night's sleep, the best place to start is with a new mattress. A worn-out mattress can lead to a restless night of sleep, as well as chronic back, neck and should pain. If you're constantly tossing and turning during the night, there's a good chance it's time to go mattress shopping. As a rule of thumb, you should consider replacing your mattress every 7 to 8 years.
On your own or based on your doctor's recommendation
Your doctor may recommend a new mattress if you're suffering from back pain or other issues. Their advice should be followed, but you don't have to wait for your doctor's recommendation to replace your mattress. Remember, 7 to 8 years is only a guideline. We all have different body types. For some, it may be necessary to replace a mattress in as little as 5 years. If you are unable to get comfortable at night, it's likely time to replace your mattress.
Musculoskeletal pain –aches and pains stemming from muscles, joints, or connective tissue- is the leading cause of disability worldwide. In most cases back pain is caused by non-organic, mechanical type disorders – meaning they are not caused by serious conditions, such as arthritis, infection, fracture or cancer. Both the amount of sleep you get each night as well as the quality of your sleep play a large role in the health of your spine and the likelihood of developing back pain.
Dr. Damon Hendrickson, http://sciencebasedchiropractic.com/about-sbc/
Types of mattresses

Foam
A standard foam mattress is not as dense as memory foam. It's less expensive, but it doesn't offer the same level of comfort because it doesn't respond to your bodies weight in the same way. However, it is one of the favorite picks for people who suffer from back or other joint pains. Foam mattresses may be made of polyurethane or latex or a mix of the two.
Memory foam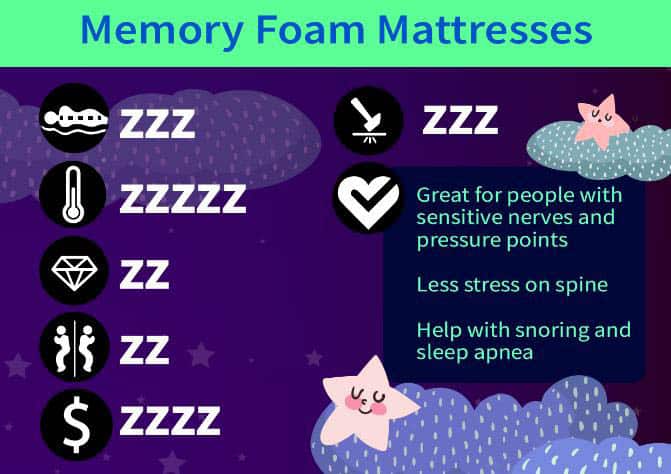 Memory foam has more density than regular foam. That density is what allows the material to form around your body and provides a much more comfortable night's sleep than traditional foam. When you lie on the bed, the mattress molds to your body shape. When you get up, the bed goes back to its previous shape.
Spring
Spring mattresses have been the mattress of choice for decades. They feature a series of coils that give the body support, but they can't adjust to match your unique body composition.  When they begin to wear out, they can be uncomfortable as the person sleeping on the mattress can feel the springs through the material covering them.
Latex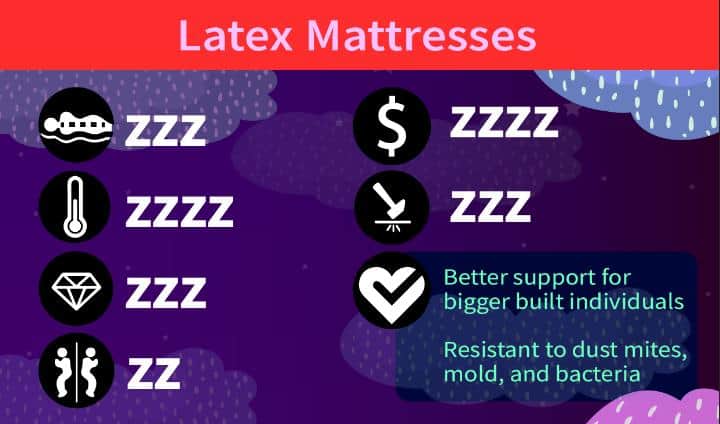 Latex mattresses are made from natural rubber materials. They're designed to contour to your bodies shape as you sleep, but they still maintain a springiness that makes it feel somewhat like a traditional spring mattress. They also have the added bonus of being non-allergenic for the allergy sufferers out there.
Hybrid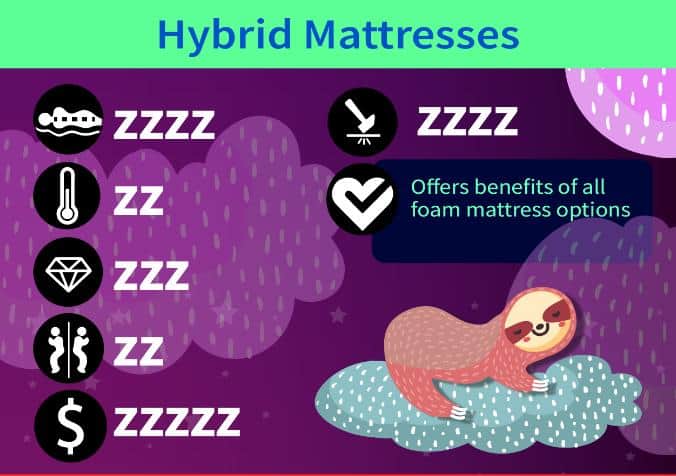 A hybrid mattress combines aspects of a spring design and memory foam. One of the biggest complaints customers have had over the years with memory foam is that it lacks that springiness we enjoy. Manufacturers started to introduce spring mattresses with a memory foam layer on top to address this issue. The result is a mattress with some of the qualities of both styles.
Innerspring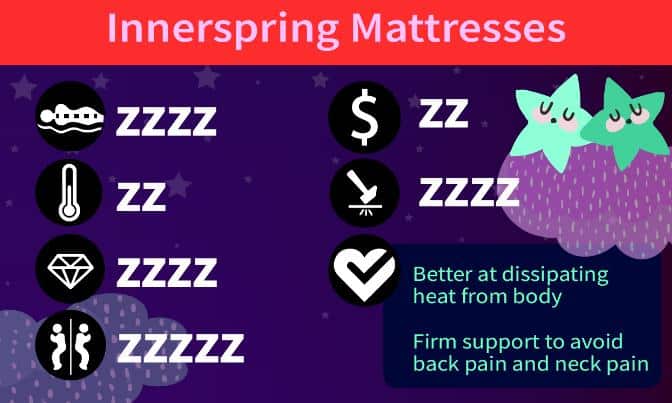 An inner spring mattress is one of the oldest mattress designs on the market. It provides good support for the spine, but with time, the springs often become distorted creating uncomfortable spots. Mattress manufacturers created pocket coil mattress that isolate each individual spring in its own pocket of material. It allows the mattress to maintain its structure longer and generally leads to a more consistently comfortable sleep.
Innerspring mattresses are the most commonly sold mattresses in the market. So that the consumer does not feel the springs, most innerspring mattresses may have layers of soft and foamy material for comfort.
Adjustable bed
An adjustable bed is one that allows you to raise it to a sitting position or lower it until it's flat. In other words, it's fully adjustable. Anyone suffering with a degenerative spine condition, arthritis, or general back pain may find this type of bed helpful. Sleeping in a reclining position can relieve pressure on troubled areas leading to a better night's sleep.
Mattress sizes and dimensions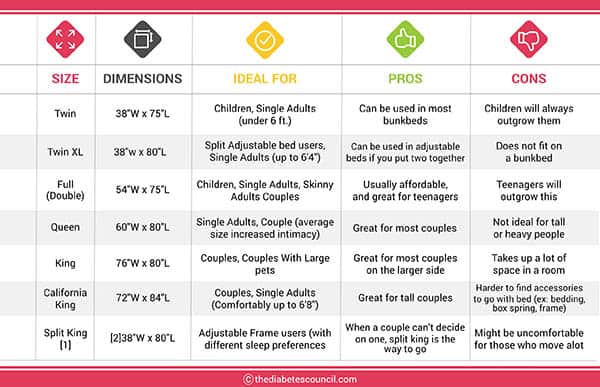 Which mattress is the best one for you?
Here are some questions to ask to narrow down your search for the best mattress.
How can one know which mattress to look for when there are literally hundreds to pick from?
There are many different things you should consider when mattress shopping. Obviously, your budget will play a role as mattresses can vary greatly in price. Memory foam may be comfortable, but it doesn't have the bounce of a spring mattress. Hybrid mattresses and latex mattresses have a combination of features that retain qualities of both.
If you're over 200lbs you'll need a firmer mattress than someone at 130lbs. It really comes down to what's important to the individual. There are countless variables.
If unsure, ask your physiotherapist/Physical Therapist to help you on this one! I recently had a client who spent 3000 euro on a bed and having assessed her symptoms, it was clear that the new bed was cause of her hip pain! As you can imagine, my diagnosis was not very popular! I have seen many more who missed an opportunity to help improve or relieve their back pain by buying a mattress without doing their research first.
Dr. Sally Ann Quirke, https://managebackpain.com/about
You are wondering about where to start?
We recommend starting with identifying any sleep issues you've had in the past. A heavier person may need to spend a little extra on a quality memory foam or hybrid mattress, but a lighter person may find a pocket coil mattress more than adequate.
When is a good time to change/replace your mattress?
There are many mattresses on the market advertised with 20-year guarantees, but few doctors would ever recommend waiting that long to replace your mattress. Depending on your size and other factors, you may need to replace your mattress in as few as 5 years, although 7 or 8 years is more typical.
Other considerations:
Mattress life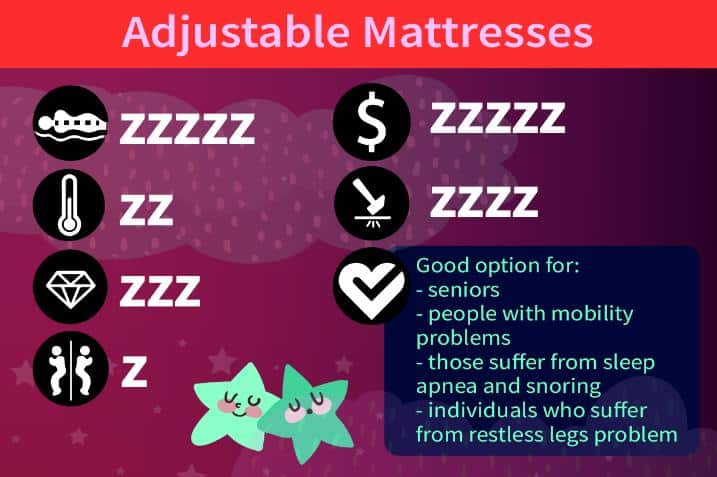 Useful life may vary depending on your own body type, that doesn't mean a good mattress manufacturer shouldn't stand behind its product. A quality mattress should have a minimum 10-year warranty and good ones often come with a 20-year warranty.
Type
Each of us has unique needs when shopping for a mattress. Some prefer a soft mattress, while others prefer one that's firm. Memory foam contours nicely to the body, but it doesn't have the springiness of a traditional spring coil mattress or a latex mattress. For those that want the best that each mattress type has to offer a hybrid mattress may be the way to go.
Budget
Budgetary concerns can't be ignored. A good mattress may cost between $2000 and $3000. That may seem extreme for the budget conscious consumer, but at a minimum, you should expect to spend at least $500 on a mattress.
Firmness
The decision to choose a soft, medium or firm mattress should depend partly on personal preference and partially on body type. A person weighing under 150 pounds will likely find a softer mattress more to their liking, while anyone over 200 pounds should consider a firmer option for extra support.
Sleeping positions
Some of us are side sleepers, some of us prefer to sleep on our back and a select few even like to sleep on our stomachs. Sleeping position is an important consideration when purchasing a mattress.
Dr. Mark Mandell, of Dynamic Chiropratic, says the following: "An estimated 73 percent of the population sleeps on its side. Plush mattresses are often recommended to side-lying sleepers because they provide the best way to maintain the natural shape of the spine and the curves of the hips and shoulders while sleeping. Plush bedding will cradle the body and help disperse the weight of the body across the maximum surface area, instead of creating pressure points at the hips and shoulders. Special pillows also may be necessary to support the neck in a position parallel to the ground."
Smell
Some memory foam mattresses that contain synthetic foams can be prone to a problem called off gassing. This happens when the chemicals used in them emit fumes that can be unpleasant. This smell tends to dissipate after a while, but it can be a problem for allergy sufferers. If this describes you then this type of mattress may be one to avoid.
Temperature control
Older memory foam mattresses were not known for their cooling properties. This could make for an uncomfortable sleep – especially in hot summer conditions. Newer mattress technology has reduced this problem, but it may still be a problem with less expensive memory foam mattresses.
Materials it is made of
Common materials for mattresses these days include innerspring, pocket coil, memory foam, pillow top, latex, and various hybrid models. Latex and Memory foam do tend to have longer shelf lives, but they may not be to every taste. Testing out a mattress before you buy is always a good idea.
Tips for when in store looking for a mattress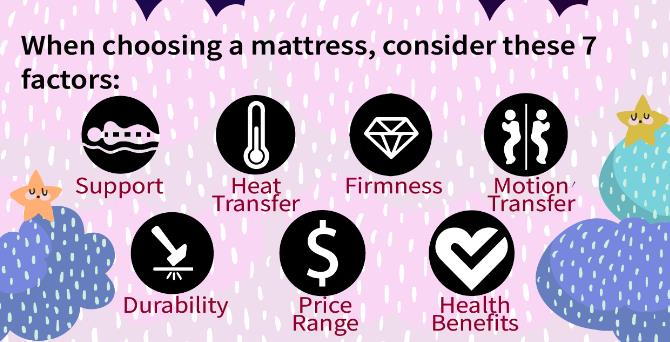 A mattress is a major purchase. A good one can cost you thousands of dollars. That's why it's important to take it for a test run – or a test sleep in this case. When you're in the store mattress shopping don't be afraid to lie down on the mattress for more than a few minutes. Just like you would try out wearing shoes before leaving the store, try to get comfortable on the bed that you intend to buy before leaving. Get comfortable in your preferred sleeping position and make sure you feel satisfied with the level of comfort it offers before you make a decision.
Here are some of our tips on shopping for a mattress:
Always shop in a store that specializes in mattresses. The salesperson there will have an extended breadth of knowledge when it comes to sleep, comfort, brands and other important considerations. A store where they sell furniture, clothes and shoes may not be the best place to go to if you have questions and need the right answers to them.
Shop at a store that specializes in mattresses. The salespeople at a mattress specialty store usually have more training on the whole subject of sleep. Try to find a store that carries several major brands.Remember, it's your mattress, your back, and your money, so it's worth the time to research it and get the best mattress possible. Keep an eye out for specials and sales, and always try to negotiate delivery charges.
Talk to your doctor. If you have a health condition, talk to your doctor or physical therapist about what he or she recommends. Keep in mind that doctors are not sleep experts, but they know your medical condition and symptoms and will probably have some good advice from that point of view.
Dr. Steven Becker, https://drstevenbecker.com/top-12-tips-for-buying-a-new-mattress/
Similarly, research the brand or the company for reviews before making the trip there. Look for reviews for the following: comfort, customer service, resolution to customer issues, and other comments that you would not find through research on the brand or talking to a salesperson.
If you feel uncomfortable or pressured with the salesperson around, you can ask the them to give you a few minutes alone or with your partner, so you can comfortably lie on the bed and move around without being stared at or being asked a million questions. This can be very distracting, and you may not be able to properly gauge the comfort of the bed.
Look for the mattress that is specific to your sleeping style.
It makes sense that when we try to find the best mattress for you as a side sleeper, insist on having your salesperson show you exactly what is in the mattress for Support and Comfort. This would include a full demonstration of an inner spring or the various types of innersprings available to you and or the various types of foams, airbeds or waterbeds.
Dr. Reginald Thomas, https://dengarden.com/interior-design/Best-Mattress-For-Side-Sleepers
Wear comfortable clothing and shoes that are easily to come off. If shopping in the winter, make sure you take off your boots and have all your body on the bed. You will not get a proper feel of the bed if your legs are hanging out of the bed area and only the remaining parts of your body are on the bed.
When trying the mattress, don't forget to also add pillows to your test. If possible and available, try out the mattress with the pillow that you regularly sleep on. This can help you in making a better-informed decision.
Be sure to ask the salesperson about the company's refund policy on purchases. Can you return and get a full refund on the mattress after purchase? Or are you only able to make an exchange or get store credit? If it is the company that you have doubts about after purchase, you want to be able to return for a full refund. Ask the right questions: Is it a full refund policy? How many days do you have to make the return or exchange? If there is an exchange policy only, can you get a store card to be used at a later time? Is there is a restock fee upon return? Is there a free pick up service on behalf of the company if you are unsatisfied with your purchase?
You may be wondering if the price of the bed can be lowered. Ask the salespersons about the sales that are going on. Is this the only place that sells this brand? Can you find the same mattress somewhere else but for a cheaper price?
Consider if you need the box spring. Those cost extra and can add up if you are on a tight budget. Do your research and find out if you need one or if the one you currently own is in good condition. This could save you a few hundred dollars which can be otherwise spent on other items for your bed (such as pillows, bedsheets, etc). Some brands may have specific box spring that fits their brand of mattress or some companies will offer full warranty coverage only if you buy their box spring.
Ask questions about the warranty coverage. What does it cover besides the usual manufacturing defects? How long is your warranty for?
If the reason for a new purchase is based on your doctor's recommendation for treating pain or other reasons, make sure you speak to them before investing in on a mattress. They may have recommendations for your type of health condition that will be best suited for you.
The best mattress for back pain depends how stiff your spine is. If you are very stiff in the back, you need a slightly more yielding mattress. You need this because your spinal links (vertebrae) are unable to slide and glide imperceptibly past one another in the dead weight of sleep, with the result that you wake up stiff and sore throughout your body. It's as if your rigid spine and rigid mattress have fought it out till dawn and you wake as if you've been through a war zone.
Dr. Sarah Key, https://www.simplebackpain.com/aboutSarahKey.html
On the day of the delivery
The day your mattress is delivered to you, make sure to inspect it for any damages or stains before the delivery person leaves. New mattresses come with a label that indicates that the mattress is new, so make sure that you look for that "all-new material" label. If you notice anything out of the ordinary, take photos and refuse the delivery and hold off on signing for it. If its during their hours of operation, call the customer service and ask them for assistance.
How to evaluate a mattress
There are a couple of things you need to consider when trying to determine if a mattress is right for you. After testing it, ask yourself if it gave you the amount of support you're looking for? Does it have enough padding to support your weight comfortably? What kind of warranty does the manufacturer offer?
The best thing to do is lie on a mattress on your back and then try and slide your hand under the small of your back. If you can't get it in at all, it's too soft. If you can get it in very easily, it's likely too hard.
Dr. Rosemary Leonard, http://www.drrosemaryleonard.co.uk/about/
Common tips include:
Understanding what the key components of a good mattress is going to help you go a long way:

Mattress springs and coils – how thick are they? And how concentrated are they? For example, a higher concentration usually indicates a superior quality mattress.
Mattress padding – what is the top layer of the mattress made of? How good is the quality? The more extensive the padding, the better the quality of the mattress.
Middle padding – Depending on what you are looking for, this may make a huge difference in your decision making. This middle padding is what causes the mattress to either be firm or soft.
Foundation – usually as known as the box spring. There are two kinds – wood or metal frame with springs.

Based on the type of mattress it is (ex: memory foam, innerspring, hybrid), evaluating of that mattress will be different. You will need to understand the components that the mattress you want is made of to evaluate it appropriately.
For a foam mattress, look at the density of the foam. Typically, the denser the foam, the more durable the mattress will be.
Test the mattress for motion isolation if you sleep with a partner. Get your partner to come with you when mattress shopping, have them lie on one side of the bed while you are on the other side. Get them to move around and see if you can feel them moving. If you can hardly feel your partner moving, then the mattress is good for couples sharing a bed.
To test for pressure relief, lie down on the mattress. For side sleepers, if you feel the pressure on your hips or shoulders, the mattress is not a good option for you.
For edge support, sit on the edge of the mattress to see if you feel comfortable sitting or if you feel like you will fall at any moment.
Care handling tips for making your mattress last
Taking good care of your mattress will ensure it lasts long and that you preserve its quality. This will not only make your money's worth, but you will continue having a comfortable night's of sleep for years to come.
Clean your bedding regularly – once a week is best, but every two weeks is most common. This will help get rid of dust or allergens.
Clean out your mattress as well. When you're changing the bedding, you should give it a quick once over with the vacuum as well.
Turn it on a regular basis (6 month) to ensure even wear and to help preserve the quality of your mattress.
Consider investing in a resistant mattress protector. This can prevent your mattress from getting unwanted stains which will decrease the quality of the fabric and the foam. It will also help with spilling of liquid into the mattress which can cause the foam to lose their impressions.
Always follow washing instructions if you are going to wash the mattress for stains or spilling.
If moving, ensure movers take gentle care of the mattress when being moved around from one place to another. Rough handling can also cause damage.
Read the warranty on your mattress to see how future actions can impact your dealings with the manufacturer.
Common mattress myths that are just not true
There is so much information on mattresses out there. Every company or brand will claim an absurd statement that makes you wonder if there is any truth to it. We have compiled a list of mattress myths that just don't have any basis and don't hold on to the reality.
"Medically-approved" mattress: Beware of such tags. There are no medical groups that have verified such information. Instead, you may be looking for "orthopedic friendly" mattresses which have features that can help with your condition if it is medical.
Firm mattresses are the only options for back pain: Some research has shown that firm mattresses may not be the best option if you have lower back pain. Try looking for medium firmness in a mattress for your lower back pain.
An extremely firm mattress can cause undue pressure on certain points of the body and cause muscle aches and pains. For those who suffer from hip bursitis, a firm mattress can cause pressure on the hips for those who are side sleepers possibly aggravating the bursitis further.
Dr. John H. Shim, https://www.shimspine.com/best-mattress-spine/
Adjustable beds are only for people with chronic health conditions: This is just not true. Anybody can invest in an adjustable bed. Adjustable beds can be great for those who sleep in a recliner instead of lying down. This can also help with relieving some pressure of the lower back.
One size fits all: this is simply not true. Everyone is different, and everyone has different needs for when it comes to experiencing comfort. Keep in mind that you may be looking for a mattress which is to treat your lower back pain while your colleague is in the market for the perfect memory foam mattress with no restrictions on other features.
With the variety of beds and mattresses on the market, personal preference in terms of sleep comfort and back support should ultimately be the guide for those with back pain and back problems as well as those who want to remain pain free. Remember no one type of bed is right for every body type and condition, so the more good beds you can try the better your final decision will be.
Dr. Pamela Leader, http://www.dr-pamela.com/
You have a lifetime warranty, so no need to change your mattress: Wrong, as indicated in this article, the National Sleep Foundation recommends changing mattress every 6 to 10 years. This means that the lifetime warranty is basically useless.
Believe everything that the salesperson is telling you in the store. They are the experts after all: It is true that the salesperson will give you the most accurate information on the mattress, however, you also need to remember that they are getting paid or are on commission for selling mattresses. The more they sell, the more they may make. Always do your research beforehand so you can ask follow up questions or catch a lie when being told.
When purchasing a bed, the last person you want advice from is the guy hoping you buy it.  Peer through the window of a free-standing mattress store and you'll quickly notice that these are relatively low-volume businesses.  Salesmen might work an entire shift and not have a single customer.  So when someone does walk through the door, it's "do-or-die" time.  They have mouths to feed and might desperately need that sale!
Dr. Adam Tanase, http://www.chiropracticstl.com/contact-us
FAQs
What is the best mattress?
There's no one right answer to this. It comes down to personal preference. If you prefer a mattress with springiness then an inner spring mattress may be best, but if comfort is your main concern you are probably better off with a memory foam mattress. If you want something with both qualities, a hybrid mattress is a good option.
When is the best time to buy a mattress?
If you're looking for the best deals spring is usually the best time as manufacturers are releasing their new lines. That's when they start to offer deals on the previous year's models.
How big is a queen size mattress?
A standard queen mattress is 60 inches wide and 80 inches long.
What is a hybrid mattress?
A hybrid mattress combines elements of both inner spring design and memory foam. The idea is to offer the best qualities of both designs.
What is a plush mattress?
A plush mattress has a layer of quilting underneath its surface. It's not quite as soft as a pillow top, but it is less firm than a pillow top and may be a good compromise for many consumers.
How wide is a twin mattress?
A twin mattress is ideal for compact spaces. It measures only 38 inches wide and 75 inches long.
What is a mattress topper?
A mattress topper is an extra layer of comfort padding that sits on top of your mattress. It can be removed and replaced at any time.
How big is a queen mattress?
A queen mattress measures 60 inches in width and 80 inches in length.
What size is a crib mattress?
A crib mattress is usually 28 inches wide by 52 2/8 inches long – although sizes may vary somewhat.
What is a latex mattress?
A latex mattress may be made from natural or synthetic rubber. It combines characteristics of both spring mattresses and memory foam mattresses. It has springiness, but it also contours to the shape of the body.
Where is the best place to buy a mattress?
If you're serious about a good night's sleep a store that specializes in selling mattresses is the best place to shop, although there are many great online options as well.
What is a mattress foundation?
A mattress foundation serves a similar function to a box spring. The main difference is that they are usually made out of wood and the mattress sits directly on top of it. It acts as the box spring and the frame.
How big is a California king mattress?
A California king size mattress is 72 inches wide by 84 inches long.
What is the best rated mattress?
There isn't one right answer to this question. Latex and hybrid mattresses do have the longest shelf life, but many consumers prefer memory foam mattresses for a comfortable night's rest.
What is the difference between king and California king mattress?
California King mattresses measure 72 inches wide by 84 inches long. Standard King mattresses are 76 inches wide by 80 inches long.
What is an orthopedic mattress?
An orthopedic mattress is a specially designed mattress that provides extra support to the joints and back. They're designed with the input of leading medical specialists.
What is a box spring mattress?
A box spring is the under support for your mattress. It provides support and raises the level of your bed.
What thickness memory foam mattress is best?
Memory foam mattresses are typically between 8 and 14 inches thick. A thicker mattress isn't necessarily a better one. The density of the mattress and the firmness of the mattress will also play a part.
What is the best mattress for me?
The best mattress depends on a number of things including your body type, weight, and personal preference. There isn't one right mattress for everybody.
How to remove stains from a mattress?
There are a number of different ways to remove stains from a mattress. Common household products such as hydrogen peroxide and dish soap can be effective depending on the nature of the stain.
Can I recycle a mattress?
A mattress can be recycled and some jurisdictions have actual recycling programs for mattresses. Many charitable organizations will also accept donations of used mattresses.
How do you keep cool on a memory foam mattress?
The best way to keep a memory foam mattress cool is by investing in a gel mattress topper.
How do you compress a memory foam mattress at home?
This is difficult to do without specialized equipment. Two people working together may be able to compress it by rolling from one end to the other, but it's not possible to compress it completely at home.
How do you get rid of urine smell from a mattress?
First, start by dabbing with paper towels to remove excess moisture. Then place some baking soda over the affected area, this will absorb most of the urine. After that, wash the area with a cloth and liquid soap.
How do you fix a hole in an air mattress seam?
The best approach is to place a patch over the area and seal it with rubber cement. You should use latex gloves though, as it can be a messy process.
When is the best time to buy a mattress on sale?
Usually spring is the best time to get a deal on a mattress as that is when manufacturers are rolling out their new line. They'll be offering deals on last year's selections.
Should I replace my box spring when purchasing a new mattress?
This isn't necessary. As long as your box spring is in good shape there's no need to replace it when you buy a new mattress.
Can I return a mattress after purchase if I realize I don't like it?
All reputable mattress manufacturers have a 10 to 20 year warranty on their products, but whether or not you can return without defects will depend on where you purchased it. Most dealers offer a 30-day return policy with no questions asked.
What happens to a mattress when it gets wet?
If there are any holes or tears in your mattress, the moisture can get inside and you may end up with mold. This can cause serious health issues. It's always best to clean any spills as soon as possible to prevent this.
When buying a memory foam mattress do you have to buy a specific box spring for it?
It's best to use a solid wooden foundation for a memory foam mattress rather than a box spring.
How to know when a mattress is too firm or too soft?
The industry term for measuring firmness is called ILD. The higher the ILD, the firmer the mattress. Typically, those weighing more than 200 pounds will find a firm mattress better and anyone under 150 will prefer a relatively soft mattress.
What happens when you wash a foam mattress top in a washing machine?
You should never wash a foam mattress in a washing machine. It will ruin your mattress and probably make a mess of your washing machine as well. Hand washing is the best solution.
What happens when you sleep on a bad mattress?
Sleeping on a bad or worn out mattress will usually lead to neck, back and shoulder pain. It will also result in a restless sleep, as you'll find it hard to get comfortable
What other items do I need to buy with a new mattress?
A mattress cover can be a good idea to keep your mattress clean and free of dust and new sheets are never a bad idea!
Should I see my doctor before deciding to buy a new one?
A doctor can help to guide you in finding the right mattress for you, this can be especially helpful if you have any kind of chronic pain.
Why is it illegal to tear off a mattress tag?
It's not illegal for the owner of a mattress to tear off a mattress tag. The warning you find on your mattress is actually for the manufacturer and the mattress retailers. It's there to protect the consumer as the label describes what's inside the mattress.
I get yellow stains on my mattress even though I take good care of it. Why is that?
Those yellow stains on your mattress are usually the result of sweat and natural body oils. The only way to avoid them is to clean your mattress on a regular basis. When cleaning your mattress you don't want to soak it. The best approach is to dab at it with a damp cloth and a mild cleaning solution. Allow time to dry in open air before lying on the mattress again.
Why does a mattress start squeaking?
When a mattress starts to squeak it's usually because the springs are starting to wear down with age. This is a good time to start shopping for a new mattress.
I have changed mattresses and I still have back pain. What can I do?
It's possible that your new mattress may be too soft or too firm for your needs, but it's also important to keep in mind that a good mattress can't eliminate back pain on its own. If you have a chronic condition or an injury medication and therapy may be needed as well.
Why is my memory foam mattress molding on the bottom?
The cause of mold on the bottom of your memory foam mattress may come from a couple of different issues. An abundance of moisture in the wood foundation may be the problem, not dealing with a spill when it happens can cause this as well. The problem may also be caused by where your bed is located. Damp basements are an example of a location where mold may be a bigger risk factor.
Can certain mattresses attract bed bugs more than others?
Bed bugs are resilient little creatures that can turn up under most conditions. They don't do well on latex surfaces though, so if you want to avoid them this is the best type of mattress to have.
Should I trust buying a mattress online or should I go in a store and buy one?
There are some great options for buying mattresses online. In many cases, you can get a quality mattress at a deeply discounted price by cutting out the middleman.
Should I get a warranty on my mattress when I purchase one?
The simple answer is yes. You should have a warranty on your mattress. It's a major purchase that you want to get many years use out of.
How do you correctly measure for a mattress to fit your bed frame?
Mattress sizes are standard so it should be easy to measure for a replacement. The easiest way is to measure the length and width of your old mattress and shop for a new one that matches those dimensions.
Will medicare/insurance pay for the cost of my mattress if I had to replace it for medical reasons?
Medicare will help to pay for an adjustable bed if you have chronic pain that's incurable.
How can I clean a used mattress?
While buying a used mattress isn't ideal, it may sometimes be necessary due to financial considerations. To clean a used mattress you first gently dab any noticeable stains and then apply baking soda to the area to remove any excess moisture. After that, you'll want to wash the whole mattress with a damp cloth and liquid soap. Allow plenty of time for it to dry before you use the mattress.
I run hot most nights. Is there a mattress specifically for me?
Latex mattresses are known for their cooling properties, but there are also many hybrid options that are ideal for hot sleepers as well. Modern memory foam mattresses do a much better job of keeping you cool than they used to as well.
My mattress is starting to smell bad. What should I do?
If your mattress is older and it's starting to smell it's probably time to replace it. If you're noticing a smell from a new mattress it may be chemicals used in the manufacture of your mattress. These will gradually dissipate with time.
How do I know my mattress has bed bugs?
If you notice dark stains on your mattress or there's an unpleasant odor that's a good sign you may be dealing with bedbugs. Waking up with tiny bite marks will also be a good indicator.
How can I get rid of beg bugs off my mattress?
The best way to be sure you're rid of bed bugs is to replace your mattress. If that's not possible you can try scrubbing it thoroughly with a hard brush and then using the vacuum. Avoid sleeping on the mattress for a few days after cleaning it as well.
What is the medically recommended mattress?
For chronic pain sufferers an adjustable bed is the best option as it allows you to frequently adjust your sleeping position. Many chronic pain sufferers find it difficult to sleep lying down. A reclined position is much more comfortable.
What is a Tempur-Pedic mattress?
A Tempur-Pedic mattress is simply a brand name of a manufacturer of memory foam mattress. It is considered one of the industry leaders and they are known for producing quality products.
Would an air mattress be a good alternative to conventional mattress?
No, an air mattress is not a good alternative for a conventional mattress. It's fine for a couple of nights sleep, but it does not provide proper support and can result in chronic back pain if used for an extended period.
The Best Night's Sleep
Now that you know a little more about how to pick the best mattress for you, we hope you find the perfect mattress. Remember that finding the perfect mattress is also a very personal choice. No single one mattress is a fit for all. What worked for your friend or colleague may not work for you. As indicated, mattress shopping begins with asking yourself why you are out in the market: is it time to look for a new mattress or has it been recommended by your doctor? That should help set the right environment for asking the right questions depending on your needs.
With so many mattress types, accessories, and price points, the purchase experience can be overwhelming. And, you may wonder if you are sleeping on the best mattress for you. Use this simple question to determine if you purchased the right product: How do you feel in the morning? If you wake refreshed, and your back and neck feel ready to take on the day, you are likely sleeping on the right mattress.
Dr. Joshua M. Ammerman, https://www.spineuniverse.com/author/41222/ammerman
Additionally, always remember that getting a good night's sleep also depends on other external factors. Do you have the right pillow to go with your mattress? Now that you have taken care of your back pain or other reasons for which you bought the mattress, you may want to look into changing your pillow if you are experiencing neck pain.
A good night's sleep can also be disturbed if you have sleep apnea or don't get enough exercise, have stress or anxiety. If you find that even after investing a lot of money into a new mattress you are experiencing back pain or that the pain hasn't improved, this could be a sign of an underlying health condition that needs more medical attention.
Good luck and we hope you enjoy many nights of restful sleep in the near future. Read our articles on best mattresses for any kind of specific reasons you are looking for.