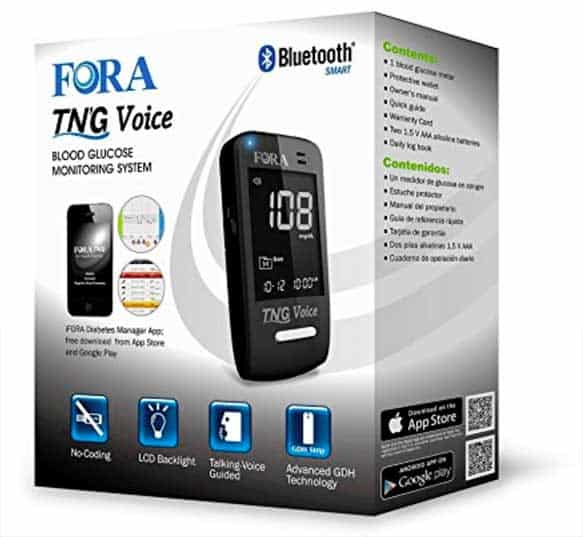 Blood glucose meters sometimes seem like they are designed and work in a different language entirely. They are meant for a simple function, testing your blood sugar levels. So it would seem that they should be simple enough to understand and use, but unfortunately that's not always the case.

Before we continue with this article, I wanted to let you know we have researched and compiled science-backed ways to stick to your diet and reverse your diabetes. Want to check out our insights? Download our free PDF Guide "Power Foods to Eat" here.

So what would you say if there were a meter that would guide you through the entire process by talking to you? Well the exciting news is there is just a meter. The FORA TN'G Voice Blood Glucose Management System. The talking feature isn't the only great feature of this meter.
We'll discuss the features of this system to help provide you with a better, educated view on how this meter may benefit your diabetes management.
Basic Features
Some of the very basic features are:
| | |
| --- | --- |
| Topic | Answers |
| Test Volume (Amount of Blood) | 0.5 microliter |
| Test Time Until Result | 5 seconds |
| Test Range | 20 to 600 mmol/L |
| Internal Memory | 450 Blood Sugar Readings |
| Alternative Site Testing | Yes |
| Testing Averages | 7/14/21/28/60/90 days |
| Batteries | 2 AAA batteries |
| Strip Coding | No Strip Coding: Meter Auto Codes |
Additional Meter Features
In addition to the features listed above, the Fora TN'G Voice also has additional features that most meters do not.
Ketone Warning/ Alert:
When your blood sugar levels hit above 240, an alert will indicate that you should potentially test for ketones.
Bluetooth Connectivity:
Send your data wireless to the iFORA Diabetes Manager App. The app is available on the Apple App Store and the Google Play Store. This helps to prevent the need of manually logging your blood sugar results into your log book.
Pre and Post Meal Data Recording:
To help you track your blood sugar levels more effectively and allow you to learn how to spot a trend in either lows or highs, there is a pre and post meal recording option available. This way you can see if your lows or highs are occurring after you eat or before, to help you better understand what is taking place and where adjustments are needed.
Strip Ejection:
Now you don't have to touch anymore used test strips. Instead, you simply press the button to eject the strip automatically.
Reminder Alarms:
You have the option of setting up to four daily reminder alarms. These alarms can help keep you on schedule for testing your blood sugar levels.
LCD Backlighting:
No matter if it's day or night, you'll be able to see your test results any time of the day with the LCD back light feature.
Strip Port Light:
As a parent with a child with Type 1 diabetes, the strip port light is one of the best features available. It makes night time testing much easier and eliminates the need for a flashlight during the middle of the night tests.
SSI Technology:
SSI (Superior Sip-In) Technology easily draws in the blood sample to the strip. This helps to reduce the waste of test strips. Another nice advantage of the SSI technology is that even if there is movement, (like testing little fingers at night) it still draws in the blood with no issue.
Portability:
The TNG Voice was designed to be able to store easily so that you can take it with you on the go. In fact, TNG stands for (Test N'Go). The compact design can fit into any type of lifestyle.
Talking:
Here is the feature you've probably been waiting to hear about. The TNG meter was created to help guide you through the process of testing your blood sugar. If you aren't certain about a certain step, don't worry because your meter will walk you through each step audibly. It is currently available in both English and Spanish.
Test Strips

One of the biggest concerns for those with diabetes is the affordability and accuracy of the test strips. The good news is the FOR A TN'G test strips are actually quite affordable. A vial of 50 test strips runs on average between $22 and $25.
GHD-FAD Strip Chemistry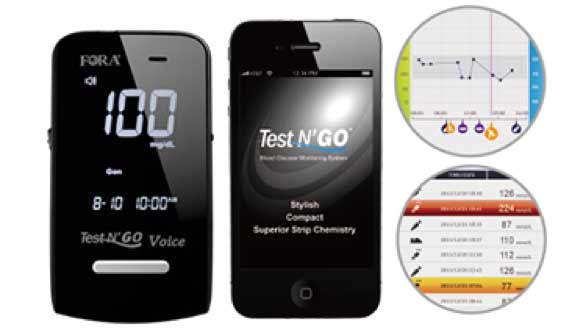 The FORA TN'G Voice test strips are more accurate than others on the market. The GDH-FAD test strips help to eliminate any interference that is caused by oxygen and even non-glucose sugars like galactose, and maltose.
Transmitting Glucose Data
With Bluetooth connectivity you can pair your meter with your smartphone to transmit your blood glucose results to your smartphone app. Once you complete a test as long as your Bluetooth feature is enabled, the result will transmit to the iFORA app.
Alternative Site Testing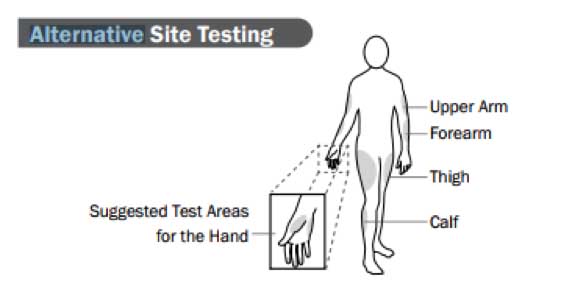 Frequent testing on your fingertips can sometimes lead to the development of scar tissue, making it more difficult to get enough blood for each test. When this occurs, it's nice to have an additional option for testing. Areas on the body such as the upper arm, thigh, forearm, café and palm of the hand can offer additional testing sites.
You can order it on Amazon.
It's important to discuss with your doctor first if you are able to use alternative testing sites.
Remember that stress, medication and illness can all affect your blood sugar levels. When you need to test for a low blood sugar, it's best to use your fingertips. The capillary blood vessels located on your fingertips can reflect changes in your blood sugar levels faster than those from any other site.