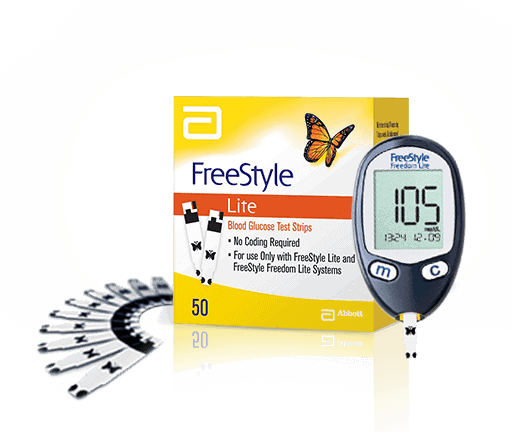 The Freestyle Family has now made easier and more convenient monitoring systems for on the go life styles and accurate results. FreeStyle now makes five different meters that you can choose from based on which best suits your lifestyle and on a friendly budget.
Freestyle also has a promise program that allows new customers to get free meters and has special pricing on test strips from month to month. The program also lets you stay connected to a support center and other customers to share their experiences.

Before we continue with this article, I wanted to let you know we have researched and compiled science-backed ways to stick to your diet and reverse your diabetes. Want to check out our insights? Download our free PDF Guide "Power Foods to Eat" here.

The Contenders
FreeStyle Lite
FreeStyle Freedom Lite
FreeStyle InsuLinx
FreeStyle Precision Neo
FreeStyle Libre Pro
FreeStyle Lite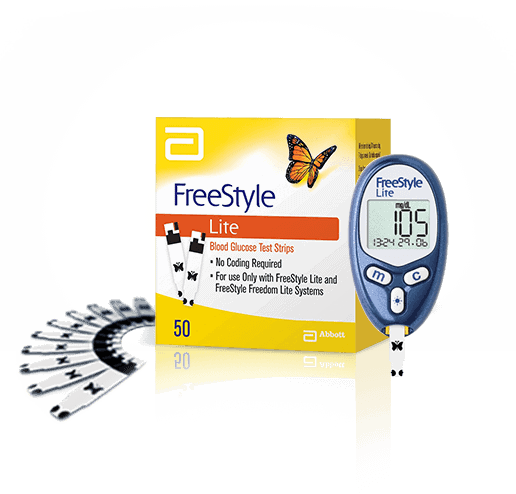 FreeStyle Freedom Lite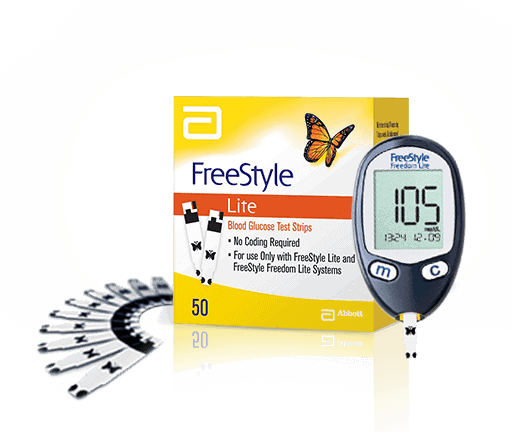 FreeStyle InsuLinx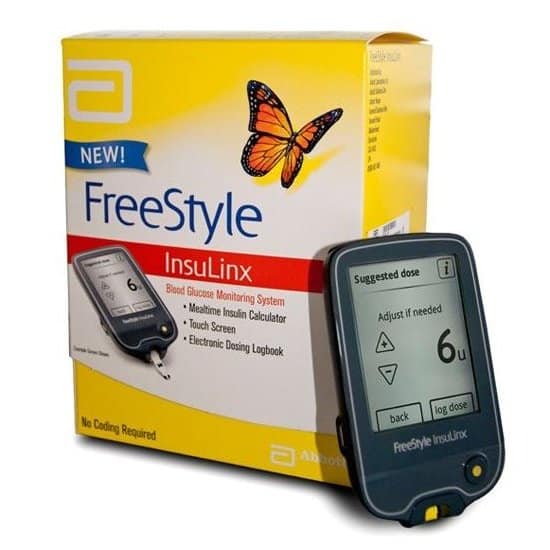 FreeStyle Precision Neo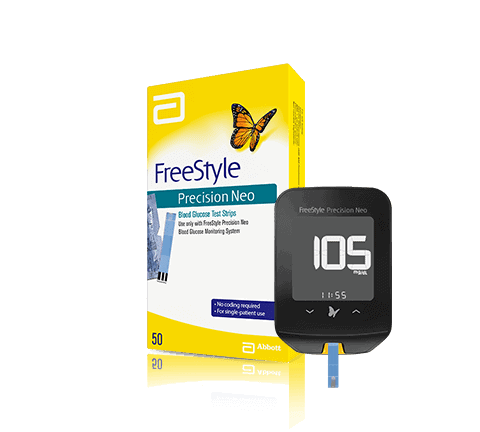 FreeStyle Libre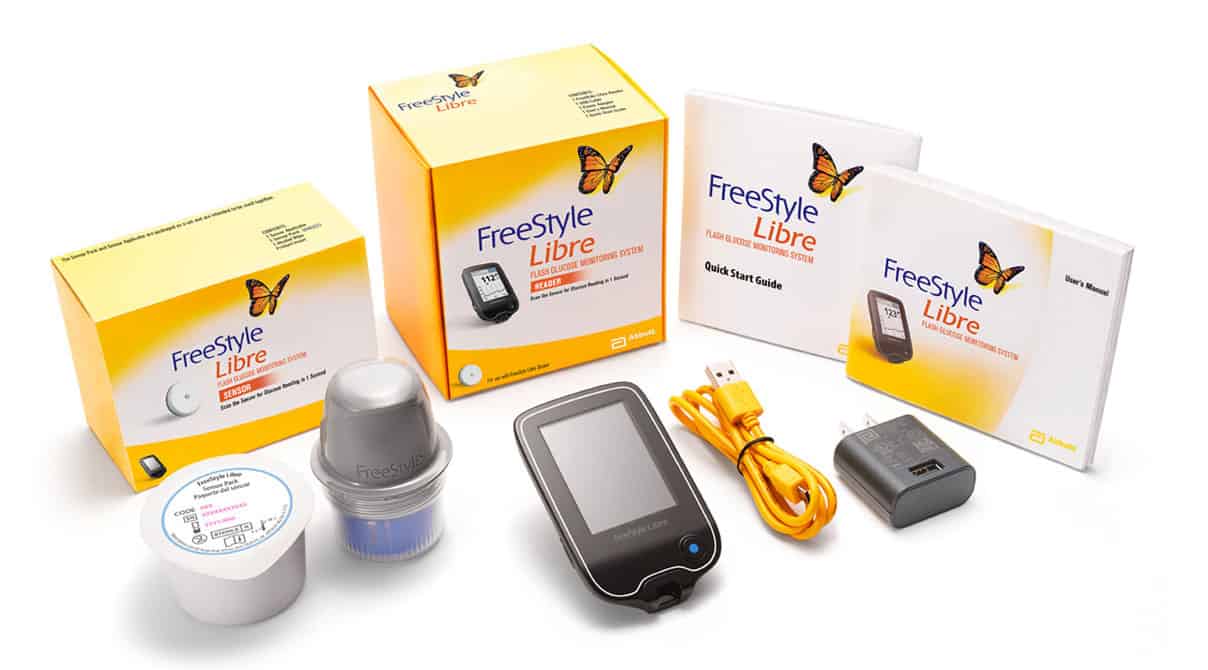 Sample Size
One of the biggest concerns for most people, in regards to checking their blood sugar, is the amount of blood needed. Some meters require large amounts of blood and produce error codes when you do not have enough on the test strip.
This can become frustrating, time consuming and painful when you have to prick your finger multiple times just to get enough blood. The FreeStyle brand meters are marketed as one brand that requires the smallest sample size. The sizes they require are listed below.
| | |
| --- | --- |
| Meter Name | Sample Blood Size |
| FreeStyle Lite | 0.3 |
| Freestyle Freedom Lite | 0.3 |
| FreeStyle InsuLinx | 0.3 |
| FreeStyle Precision Neo | 0.6 |
| FreeStyle Libre Pro | 0.0 |
The FreeStyle Libre Pro uses a no finger stick calibration discreetly placed sensor that is attached to an area on your body such as the upper arm and lasts up to 14 days. The filament point is only <0.4 mm thick and inserted 5 mm beneath the skins surface. Each sensor is waterproof in up to 3 feet of water but cannot be submerged for more than thirty minutes at a time.
Test Time
Each of the meters only takes about five seconds to get your results. The Libre Pro checks your glucose levels every fifteen minutes, which is also recorded on the meter that is linked to the doctor's files for longer storage periods.
Display Feature
Each meter has a touch screen except for the Precision New which has an e-ink screen. Each are very easy and clear to read.
Alarms
Each of the FreeStyle meter systems come with an alarm to let you know if your sugar is too high or low which helps in managing your diabetes plan.
Backlight
There is only a backlight in the FreeStyle Lite meter and the FreeStyle InsuLinx meter which makes testing your sugar levels easy even when lighting isn't the best.
Battery/Battery Life
The FreeStyle Lite meter has one CR2032, 3V lithium battery that is replaceable so you don't have to buy another meter and the battery usually lasts up to 500 tests.
The FreeStyle Freedom meter also has a CR 2032, 3V lithium battery that is replaceable and usually lasts up to 1,000 tests.
The FreeStyle InsuLinx has three CR 2032 3V lithium batteries, two of which are replaceable and one is permanent. The battery life usually lasts up to 3,000 tests.
The FreeStyle Precision Neo has two CR 2032 3V lithium batteries which are replaceable and usually lasts for 3,000 tests.
The FreeStyle Libre Pro last 14 days and tests every 15 minutes
Meter Memory
The FreeStyle Lite meter has a memory span of 400 test results along with the date and time of each test
The FreeStyle Freedom meter has the same memory span as the FreeStyle Lite
The FreeStyle InsuLinx has a memory span of 165 days based on 3 tests with 3 insulin logs per day
The FreeStyle Precision Neo has a memory span of up to 1,000 tests
The FreeStyle Libre Pro stores and logs all tests in the doctor's files every 14 days and they store them as long as you need them
Port Light
Only the FreeStyle Lite and FreeStyle InsuLinx have a port light which makes it easy to put the lancet strips in even when its dark, or if you have trouble seeing it helps with where to insert the lancet.
Software/ Upload/ Track Blood Sugar
The FreeStyle Lite is compatible with FreeStyle Auto-Assist software, FreeStyle CoPilot software and LibreView
The FreeStyle Freedom is compatible with FreeStyle Auto-Assist software, FreeStyle CoPilot software and Libreview
The FreeStyle InsuLinx is compatible with FreeStyle Auto-Assist software, and LibreView
The FreeStyle Precision Neo is compatible with LibreView
The FreeStyle Libre Pro is also compatible with Libreview which can be downloaded onto your computer. This will allow you and your doctor to view your blood sugar data.
Each of these software applications allows you to conveniently have all blood sugar data together in an organized manner. This allows both you and your doctor to have easy access to reports to see how well the current treatment regimen is working to manage your diabetes.
Accuracy
Each of the meters have proven to be very close to what the doctor's results have been only varying by .5 to 1.0 in difference and are all recommend by physicians.
Test Strips/Price
Both the FreeStyle Lite and the FreeStyle Freedom meters are only compatible with FreeStyle Lite Strips and typically cost between 30 and 40 dollars which can be purchased at any pharmacy or Walmart. The FreeStyle InsuLinx meter is only compatible with the FreeStyle InsuLinx test strips and typically cost around 40 or 50 dollars depending on where they are purchased. The FreeStyle Precision Neo is only compatible with FreeStyle Precision Neo test strips and typically cost between 20 or 30 dollars for a box of 25 strips. The FreeStyle Libre Pro doesn't use any test strips as it is attached to the back of the arm and draws its results from the same sensor and lasts fourteen days.
What are people saying?
Out of 136 customer reviews, 82 people have given the meters five stars, 28 customers gave the meters 4 stars, 11 customers gave 3 stars to the meters and 5 people gave the meters 2 stars while 10 customers gave the meters a 1-star review. Customers who gave the meters one star seemed to have mostly user error issues and customers who gave the meters five star raved about the price and convenience of the meters. The FreeStyle meters also seem to be cheaper than ultra-one touch or what is prescribed through the doctor's office along with the price of the test strips. The FreeStyle meters have had outstanding reviews that state they would absolutely buy again and recommend to friends and family.
Insurance/Out of Pocket Cost
FreeStyle meters and test strips are covered by many different insurance plans. Since all coverage and copay amounts vary, make sure you talk to your healthcare provider to see what diabetes testing supplies are covered under your personal insurance plan. The FreeStyle Precision Neo system can now be bought over the counter without getting a doctor's prescription. Also remember that FreeStyle promise program allows for customers to get free samples on meters and test strips and gives a discount on test strips month to month.
You can order any of the freestyle monitoring devices here.
Conclusion
In conclusion, 9 out of every 10 person with diabetes would highly recommend buying a FreeStyle meter for themselves or someone they know who has diabetes.
The meters are light weight and easy to carry around with bright screens and large font making it easy to read on the go. They are discreet enough to take into restaurants, shopping malls or anywhere you need to test your glucose level. Each meter only need 0.3 microliters of blood and if you can't get enough on the first try, the test strip has a 60 second wait time which will allow you to get more blood if needed resulting in fewer test strips being wasted. At an average of 40 dollars per meter, its affordable for all lifestyles and easy to use from age 16 to 100.