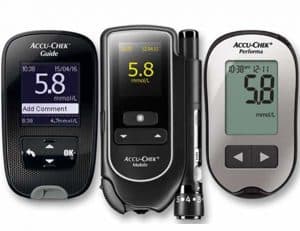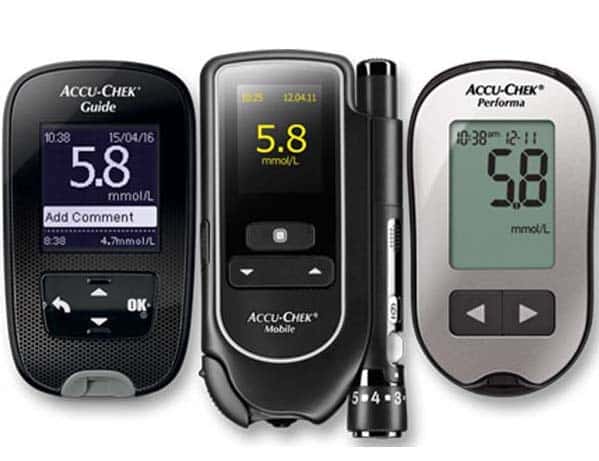 Accu-Chek meters by Roche have been a trusted brand name in glucometers since the 1980's. They're known for their ease of use and accuracy, both are very important when it comes to testing and recording your blood glucose levels.
Accu-Chek currently has six different types of meters available for consumers.
But how do you know which one is the best fit for you?
They offer meters that are small and compact for on the go diabetics, meters with backlit screens to make reading your numbers easier, and even meters for the tech savvy that connect to the user's smartphone via Bluetooth technology.
Let's take a look at Accu-Chek's six different meters to find which one suits you best.


Before we continue with this article, I wanted to let you know we have researched and compiled science-backed ways to stick to your diet and reverse your diabetes. Want to check out our insights? Download our free PDF Guide "Power Foods to Eat" here.

Accu-Chek Guide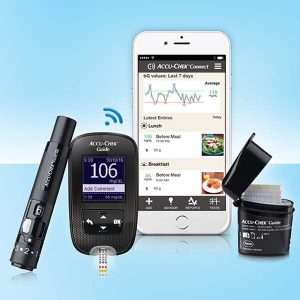 The Accu-Chek Guide is perfect for those newly diagnosed with diabetes. It retails for $29.99 at your local pharmacy (we priced the Guide at CVS). The price includes: your meter, SmartPack test strip vial with starter test strips, a small bottle of control solution, 2-coin cell batteries, USB cable to connect your meter to a PC, and the Accu-Chek FastClix lancing device. The Guide meter kit is perfect for newbies.
According to Accu-Chek's website, 88% of users said it was easier to remove a single test strip from the SmartPack vial than a traditional round vial. A backlit LCD screen displays a clear reading during the day and at night. There is also a strip port light to make testing in poor lighting easier. Results appear quickly, less than 4 seconds.
Another great feature is the Guide's push-button strip ejector. The user doesn't have to worry about touching a used strip, simply push a button and eject the used strip into the trash. The Guide meter can store 720 readings on the actual device and unlimited readings when you connect to the Accu-Chek Connect app. You can also view averages for the past 7, 14, 30, and 90 days. 97% of consumers agreed the Guide meter was easy to use.
A few negatives are the meter is very traditional looking. If you're looking for the latest high tech screen display you won't find it with the Guide. It also takes two-coin cell batteries which can add up in expenses when you need to replace them. The sample size required is 0.6 microliters which isn't the smallest sample compared to some other meters.
Accu-Chek Aviva Connect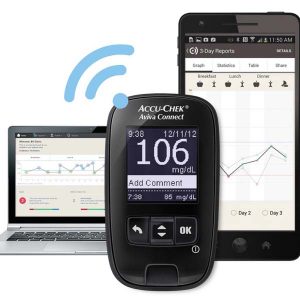 The Accu-Chek Aviva Connect does just what its name says. It connects your blood glucose results directly to your smartphone app to view and track your results. Bluetooth technology instantly sends the users reading to their apple or android device.
The Aviva Connect is built for anyone who is connected to their smartphone. It retails for $29.99 at your local pharmacy (we priced the Aviva Connect at CVS). The Aviva Connect kit comes with the meter, FastClix lancing device with 2 drums, and a USB cable to connect to the user's PC. A unique feature is that the Aviva Connect automatically turns on when a test strip is inserted and turns off after 90 seconds of inactivity.
The Aviva Connect takes a blood sample measuring 0.6 microliters. The Connect takes slightly longer to read the user's results, averaging 5 seconds. Results appear on a backlit LCD display. The meter is powered by 2-coin cell batteries.
The Aviva Connect requires Accu-Chek Aviva Plus test strips. These strips are slightly wider than most regular test strips. However, the larger strips could be useful if you're a person with large hands and fingers who has trouble handling smaller test strips. The test strips also do not require coding, which is a plus. Memory capacity on the Aviva Connect holds 750 readings and shows averages for the past 7, 14, 30, and 90 days.
A 30-year glucometer user stated that the Aviva Connect is the best meter she has ever used. And she loved that the FastClix didn't require her to change the drum every time she pricked her finger.
The only negative we could find was that there is no port light available on the Connect. So, if you're looking for that feature you won't find it on this meter.
Other articles you might like:
Accu-Chek Aviva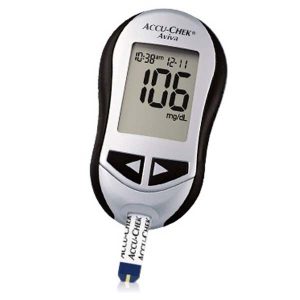 If you're looking for a simple but accurate blood glucose meter, the Accu-Chek Aviva is for you. The price seems high at $29.99 for this scaled down meter. The screen is large but not backlit. The Aviva meter does not connect to Bluetooth and only stores 500 readings in its memory.
The user can look at past averages over 7, 14, 30, and 90 days like most Accu-Chek meters. The Aviva weighs 2.1 ounces, more than most Accu-Chek meters. On the plus side, the meter only requires one-coin cell battery. The battery will last about 1000 tests according to Accu-Chek's website.
The blood sample size is 0.6 microliters and the Aviva meter provides the user results in 5 seconds. One nice feature is that the meter automatically turns on when a testing strip is inserted. It then turns off after 2 minutes. This model would be good for children with diabetes who do not have smartphones to worry about connecting with. They simply lance their fingertip, collect their sample onto the testing strip and insert into the meter.
Accu-Chek Aviva Expert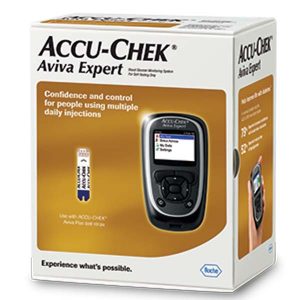 The Accu-Chek Aviva Expert is named for its expert insulin calculator. Yes, you heard correct, insulin calculator. This is the only meter on the market that can check your blood glucose and then tell you how much insulin the user should administer.
This meter cannot be purchased in local pharmacy's or online. It requires a prescription from the patient's medical doctor. The Aviva Expert solves a huge problem, miscalculating insulin doses. One diverse study found determined that 63% of insulin doses that were calculated manually were not correct. Knowing correct dosing is vital when dealing with blood sugar levels.
Accu-Chek didn't skimp on features of the Expert either. The Expert has a full color LCD backlit screen with brightness adjustment. Another difference is that this meter uses 3 AAA batteries instead of the usual coin cell battery.
The batteries have been evaluated and stand up to 2000 blood glucose tests on the Expert. Memory is also an enlarged on the Accu-Chek Expert, storing up to 1000 readings. You can also view past test results from 7, 14, 30, 60, and 90 days. The device powers on when a test strip is inserted into the port. (One would think the Expert would have a port light but it doesn't). And the device powers off after 2 minutes of inactivity. Results will be seen within 5 seconds of insertion of the test strip.
One negative of the Aviva Expert is that it's not compact; measuring 3.7 inches tall and weighing 3.6 ounces with batteries. If you're looking for a portable, versatile meter the Expert is not for you.
Accu-Chek Nano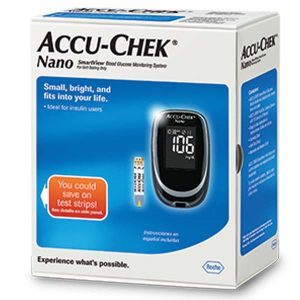 The Accu-Chek Nano is sold for $29.99 in the form of a startup kit, at local pharmacies and drug stores. Included in the Nano kit is your Accu-Chek Nano meter, test strip container with test strips included, the FastClix lancing device, a small control solution bottle, and two-coin cell batteries to power your meter.
The Nano is known for accuracy. One user, who's been a Type 1 Diabetic for the past 55 years, said the Nano meter is spot on when compared with his 20-year-old Roche Glucotrend Premium. He said his old meter has never failed him and the Nano meter gave him the exact same results. The user did say that the buttons are awkward and very small, making it hard for him to use.
This meter is known for its compact size, measuring 2.7 inches tall and 1.7 inches wide. So, if you're someone with large hands and fingers it is not going to be a great choice for you. However, one nice feature is the screen is backlit to easily read numbers. The Nano meter also gives the user the option to set a reminder and you can choose before meal or after meal testing options to see how food affects your blood sugar numbers. Storage is fairly standard on this device, 500 result capacity. And you can view averages for the past 7, 14, 30, and 90 days.
The Nano can be personalized by adding colorful meter skins, purchased separately. This is a fun feature for children and adults, no matter your age. The meter also offers options when it comes to testing sites. The user can use the traditional fingertip site to lance or choose to lance your palm. The blood sample size required is 0.6 microliters. After testing, the user will see results in 5 seconds, which is the norm for most meters. This meter does not have Bluetooth or smartphone capabilities; nor does the Nano offer a port light.
Accu-Chek Compact Plus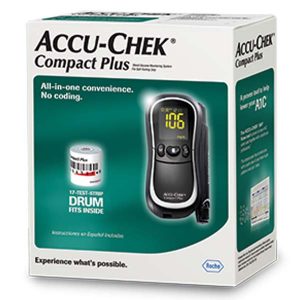 It you're a person who struggles with test strips, the Accu-Chek Compact Plus is made for you. The Compact Plus features an all in one design. It comes loaded with a drum of 17 preloaded test strips. And the Softclix lancing device can be used attached or detached to the meter. The meter is comfortable to hold because it's outfitted with rubber grips to prevent slipping.  Another great feature of the Compact Plus is that the user can test from 6 different sites: fingertip, palm, forearm, upper arm, thigh, and calf.
The meter display is an Organic light-emitting diode (OLED), which means the screen will glow in the dark to easily read when lighting is poor. It's the largest meter offered by Accu-Chek, standing at almost 5 inches tall and weighing a little over 5 ounces. The device takes 2 AA batteries. One downfall of this meter is that it requires a large sample size of 1.5 microliters of blood. Test results take only 5 seconds to generate. Memory capacity holds 500 results. The Compact Plus does not have Bluetooth capability however you can plug the meter into your laptop or PC to download results into Accu-Chek's data management software.
A Compact Plus user raved about the meter; he said he switched to the Compact Plus a couple years ago and would not think of switching back to his smaller meter. He likes the preloaded drum of test strips because it saves time digging for a new one every time he tests. The lancing device is also handy because it's attached right to the meter. He said one negative is that he gets one or two error readings from every two to three drums of strips that he uses. The errors usually result from not having enough blood on the strip. Other than that he finds the Compact Plus very reliable when it comes to his blood glucose readings.
Conclusion
Roche Accu-Chek meters have been around almost 40 years now, they are one of the most trusted names when it comes to blood glucose meters.
No matter which model you choose you are guaranteed accuracy. They offer several different features to appeal to all users. If you're someone who tests several times a day and injects insulin just as many times, then ask your medical doctor about the Accu-Chek Expert. If you're buying a meter for your 10-year-old son, then the Aviva may be the best choice for your family. Have a smartphone and want reports and readings at your fingertips? Then the Aviva Connect is for you.
Want customization?
Try the Accu-Chek Nano with its interchangeable meter skins.  If you need a larger meter, then the Accu-Chek Compact Plus is the perfect option. Check with your health insurance provider to see if the model you like best is covered by your plan. And even if the meter isn't covered, usually the testing strips are partially covered. It's worth calling about. And Accu-Chek meters are worth every penny.
Click here to find the best deals on Accu-Check.