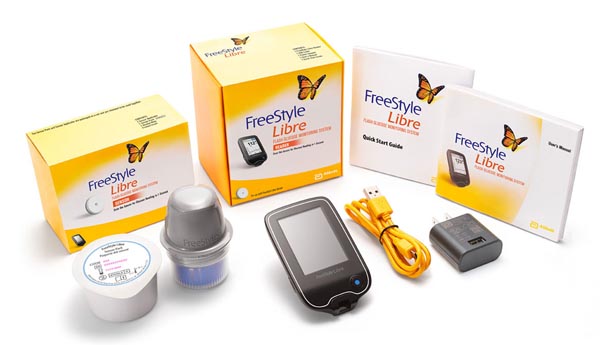 While continuous glucose monitoring (CGM) is not a new technology in terms of managing your diabetes. What the FreeStyle Libre is doing is actually quite different. It's bringing to the world of diabetes management a new concept in CGM technology and blood glucose testing, while still being much more affordable in comparison to other systems on the market.
The FreeStyle Libre system includes what is known as "Flash glucose monitoring". Instead of pricking your finger, you simply scan a sensor. Sounds pretty good right? Let's take a look more in detail on what this new system really does.
Benefits of the Libre System
Because the FreeStyle Libre is unlike any other CGM systems on the market today it does offer a few benefits:
Reducing the number of blood glucose checks during the day
Much more affordable CGM option
Provides a graph to show you the trends in your blood sugar readings
The sensor is waterproof, which makes it easier to shower or bathe with it on.
Scanning the sensor will provide you with how much your levels are trending up or down.
How Does It Work?
A small, round sensor is placed on your arm. The sensor is around 5mm in height and 35 mm in diameter. It is applied using a handheld applicator and is able to remain on for up to 14 days.
Many of those in the trial of the Libre have reported that it is almost virtually painless. For up to 14 days the sensor can be scanned with a handset to send data of your blood sugar levels over the past 8 hours to the system's handset device.
When you scan the sensor, you don't just get your blood sugar readings, you can also see if your levels are going up, down or remain stable.
Getting started with the device is really pretty simple. You must take the handheld reader and place it near the sensor and wait for a beep. Usually, in less than a second this beep will happen and you will begin to see real-time blood sugar data in about an hours' time. The reports can be seen on the handheld device but also can be downloaded with compatible software on a Mac or PC.
I recommend reading the following articles:
The sensor comes included an applicator to help apply it to your upper arm. The insertion process of placing the sensor on your arm only takes around 15 seconds. The sensor is relatively thin in comparison at only 0.2 inches making it up to 3x shorter than the Dexcom sensor.
How Does Scanning Work?
The difference with other CGM devices is that the FreeStyle Libre doesn't send continuous data to your device. The sensor must be scanned to obtain the blood sugar information. The sensor can store up to 8 hours' worth of data at one time. The scanning process only takes around 3 seconds too complete and can work through layers of clothes.
In the home screen on the handheld device you can add in tags to your scans like insulin, carbs, exercise and more. This will allow you to gain a better understanding of what your blood sugar does during certain activities.
Accuracy
The accuracy of new technology is always one of the biggest questions of many. The FreeStyle Libre has been said to have comparable accuracy when compared to the G4 Platinum sensor of the Dexcom system.
Differences from Traditional CGM's
FreeStyle Libre uses elements like CGM monitoring such as a sensor, values taken every few minutes, trend arrows and data as well as downloadable information. However, it is considered to be a new category of CGM technology different from those offered by Dexcom and Medtronic.
No Alarms or Alerts
The FreeStyle Libre doesn't have any alarms or alerts since the device does not send continues data to the handheld reader. For those who don't like a lot of alarms or alerts but still want to see data on their blood sugar trends, this might be the system to use.
No Calibration
Users do not have to add in their blood sugar levels to the device to calibrate it. When the sensor is started it's worn for about an hour and then the data can be seen as well as trends. ExCom's system requires 2 calibrations a day and has a two hour warm up period before information is sent to the user's receiver.
No Prescription Required
The Libre doesn't require a prescription to be ordered and can be purchased online. Both Medtronic and Dexcom systems require a prescription which means the process of having one available to you can take much longer than the ordering of the Libre.
Availability
Currently the FreeStyle Libre is available in Europe and has been on the market since 2014.
However, in September of 2016, it received FDA approval for CGM technology. There hasn't been a set date as of yet or word on when the Libre would be available in the United States, but it's safe to say those who have reported the results believe this could fully change the way you look at blood sugar data and continuous glucose technology. Because of the positive review and results from those in Europe, many people in the United States are anxiously wait for it to be available as a tool to add to their diabetes management and treatment regimen. So we hope that review helps you make a informed purchase decision.
Learn more by clicking here.
TheDiabetesCouncil Article | Reviewed by Dr. Jack Isler MD on May 29, 2020