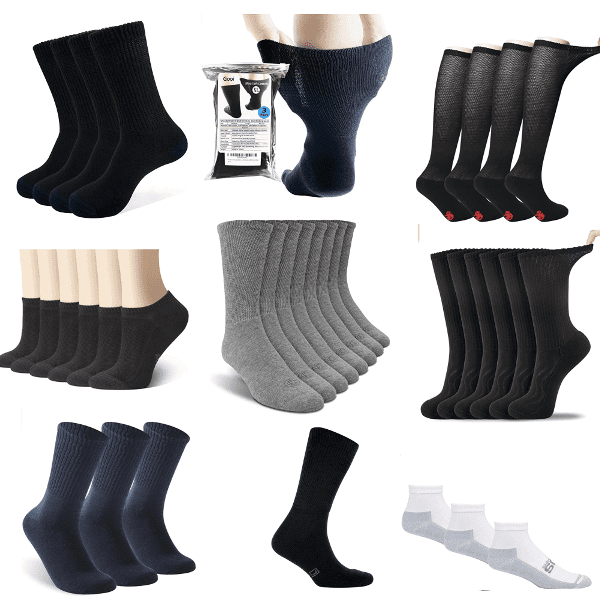 Diabetes is fast becoming a worldwide health problem affecting greater than ten percent of the world's population, with an additional ten percent on track to develop it.
As more people become affected by diabetes, more products are being developed to help them with the condition's side effects, including compression socks often referred to as "diabetic socks."
Why Diabetic Socks Are Important
Diabetic peripheral neuropathy is nerve damage caused by chronically high blood sugar and diabetes which causes pain in the legs and feet. The cause of this condition is injury to the small blood vessels that supply blood to the nerves.
Damage to these small blood vessels in the feet and toes (the areas furthest from the heart) also reduces blood flow. Diabetes can cause a clogging of arteries, which makes it increasingly difficult to adequately supply blood to the legs, feet and other extremities, resulting in a condition known as "diabetic foot." As well as swelling of the feet resulting from inadequate blood flow both to and from your ankles, feet and toes.
Diabetes also reduces the efficiency of your immune system, thereby reducing the diabetic's ability to heal injured blood vessels, or any foot or toe injuries. Foot care becomes critical for patients with advanced stages of diabetes.
Diabetic Socks Can Help!
Certain types of socks for those with diabetes, known as diabetic socks or compression socks can help reduce the dangerous symptoms of diabetic foot.
Diabetic socks are designed to fit well, have no constricting cuffs, bands or seams, and use specially selected materials that cushion and protect your feet against injury and reduce moisture retention.
Diabetic socks have been designed to help increase circulation as well as control the moisture levels of your lower legs, feet and toes.
Diabetic socks provide an extra level of protection for a diabetic's feet as they are more at risk for serious foot infections than those without diabetes.
Diabetic socks also reduce moisture which can lead to bacterial infection and then ulcers. Your diabetic socks should be constructed out of special synthetic materials or natural cotton, both increase moisture wicking that reduces the chance of foot ulcers by retaining less moisture than normal socks.
In addition to bacterial infection, minor foot injuries can cause foot ulcers in diabetics. Diabetics often have decreased pressure sensations which, in conjunction with a decreased ability to heal, can contribute to ulcers. For these reasons, diabetic socks often have heavily padded cushions to reduce the risk of injury.
When Shopping For Your Diabetic Socks
These are the features you should look for when shopping for your diabetic socks on Amazon:
Moisture Control
Moisture can lead to infection and ulcers. A good diabetic sock will be made of a material that has a wicking effect, so moisture is pulled away from the skin.
With advances in synthetic materials, ideal diabetic socks should be made of a combination of synthetic fabric and wool or cotton.
If your sock becomes damp then it will cling to your foot which increases the risk of friction and rubbing which is much greater when your sock starts clinging Friction causes blisters and other foot sores.
Less moisture means less friction and less bacteria. If your primary concern is wicking and reducing moisture, consider these three options:
1. LIN Diabetic Socks For Men and Women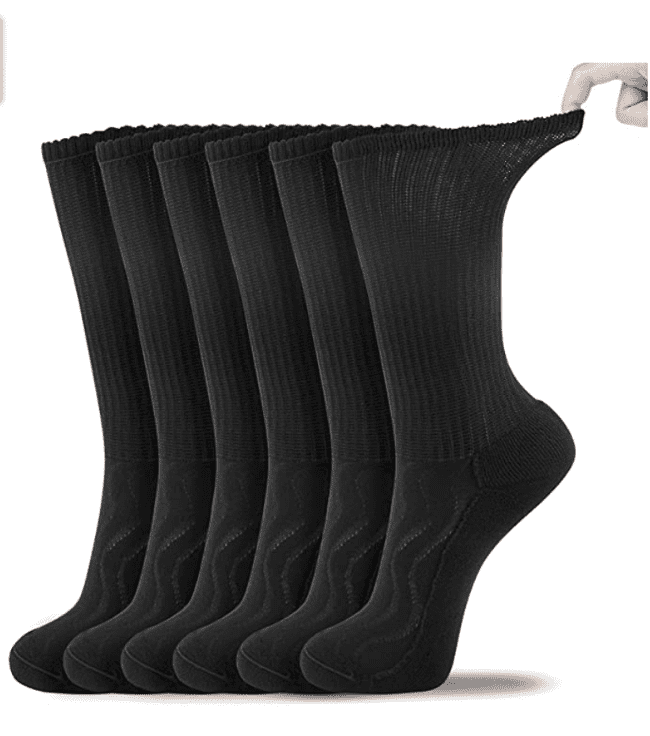 These Bamboo moisture wicking diabetic socks are made from natural bamboo fibers that provide exceptional moisture wicking and odor control. The hollow structure of bamboo fibers makes them super-absorbent and breathable. Bamboo made socks can wick away sweat allowing for quick-drying, smooth and comfortable to touch feel, and easy to put them on and pull them off. Especially suitable for the diabetics who need to continuously stand or for pregnant women to help reduce swelling. Tip: Bamboo fiber socks are much softer after the first wash. Wash them before you wear them.
2. +MD Men's Cushioned Moisture Wicking Bamboo Diabetic Socks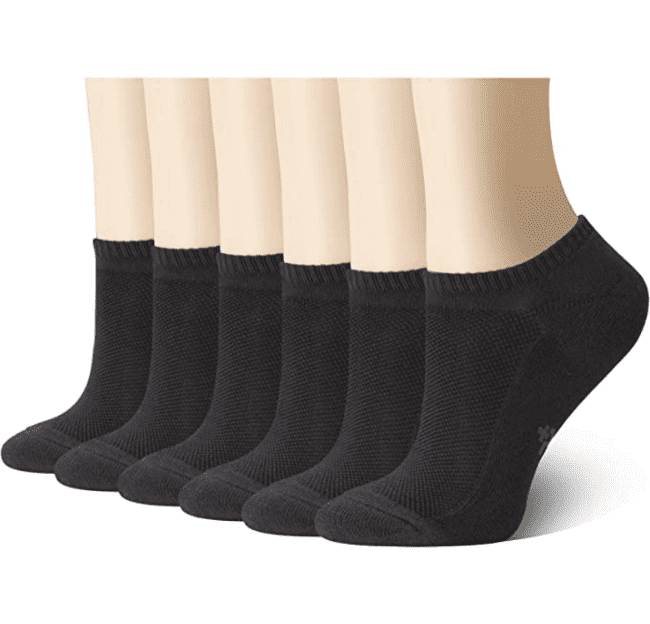 These cushioned, moisture wicking diabetic socks contain 71% Bamboo, 20% Nylon, 7% Polyester and 2% Spandex. The bamboo fabric is smooth and comfortable to touch, feel and easy to pull on and off. The average temperature of these bamboo socks is 2 degrees cooler than cotton socks and help keep your feet cool and dry and reduce your risk for infections. Ideal for sweaty feet.
3. Athlemo Diabetic Non-Binding Bamboo Ankle Socks with Seamless Toe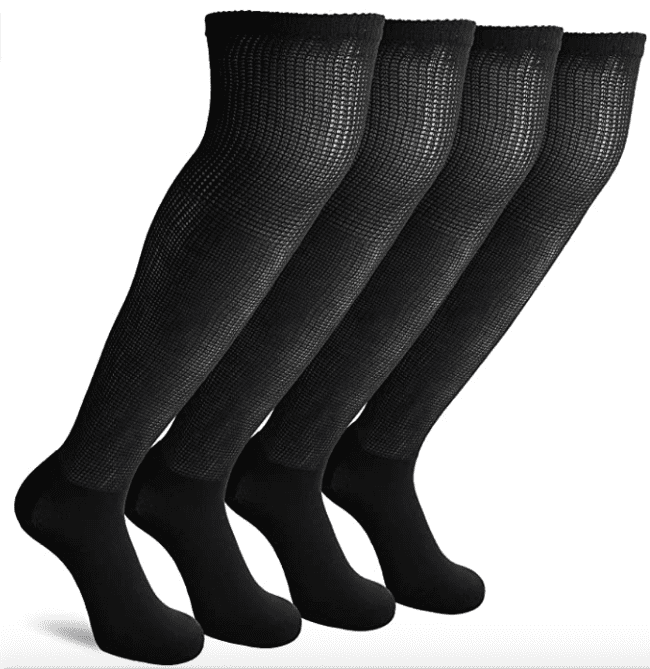 These medical socks can breathe and discharge sweat perfectly with free flow technology, breathable bamboo yarn and micromesh construction. Helps reduce the risk of blistering and infection as well as inhibits foot odor and regulates skin temperature. Athlemo diabetic socks are made with ultra soft, eco-friendly bamboo fiber, which offers multiple wellness properties to promote healthier feet. The seamless toe and designed heel tab eliminate abrasion and irritation, reducing the likelihood of developing dangerous ulcers while the cushioned sole helps alleviate foot pressure and absorbs shock.
Non Constricting Cuffs
Diabetic socks should not restrict your circulation. Diabetic socks should have cuffs and top bands that are not made of constricting elastic material, such as those on normal athletic socks. Restrictive cuffs can cause vascular and nerve damage by blocking the flow of your blood to and from your feet, toes and lower legs. Consider these:
1. ThemeDesigner Non-Binding Top Extra Wide Diabetic Socks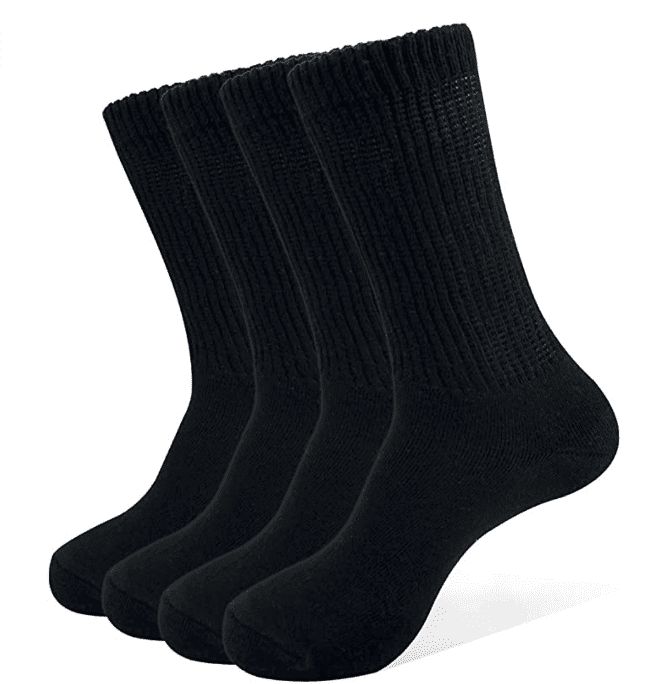 These socks contain 85% premium cotton fiber that is ultra-soft and breathable, and make your feet feel comfortable and cozy. The non-binding (non constricting) tops will stay up on your legs without squeezing them and do not leave pressure marks. These socks are highly recommended for people with diabetes, neuropathy and poor leg circulation.
2. Gooi Silver Ultra Soft Non Binding Diabetic Socks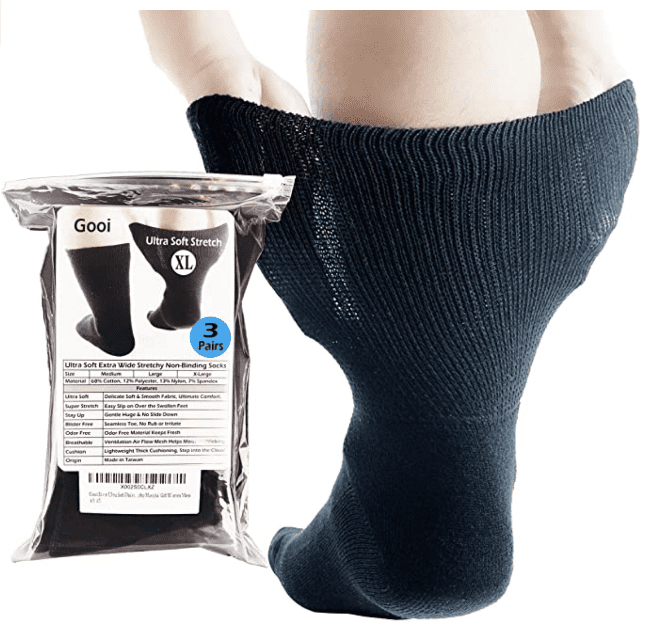 These stretchy diabetic socks include non-binding tops, ankles & soles. They stretch and stay up but are not tight, and are easy to put on and provide a gentle hug without restricting your circulation. These socks are also padded, provide cushion under the soles and are very comfortable. Gooi Silver diabetic socks do not slide down, don't leave marks on your leg and really stay up without constricting your circulation.
3. +MD Men's Non-Binding Diabetic and Circulatory Bamboo Over The Knee Socks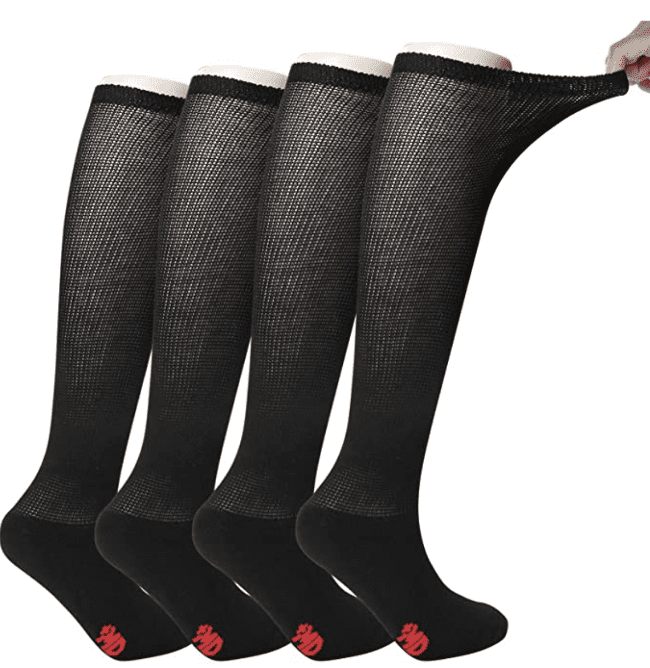 These non-binding and soft-stretch socks gently conform to your feet and lower legs without restricting circulation for ultimate comfort and optimal fit. They allow blood circulation to occur more easily. The extra wide cuff leaves no mark on your leg, yet they stay up well without slipping. The +MD socks are suitable for anyone who needs a more comfortable feel, people with circulatory issues and are especially designed for the needs of the diabetic individuals' sensitive feet.
Soft, Padded Foot Cushion
Properly cushioned compression socks reduce the chances of blistering and calluses by decreasing vertical pressure on the feet. Check out these options:
1. Doctor's Choice Full Cushion Diabetic Crew Socks With Wide Non-Binding Top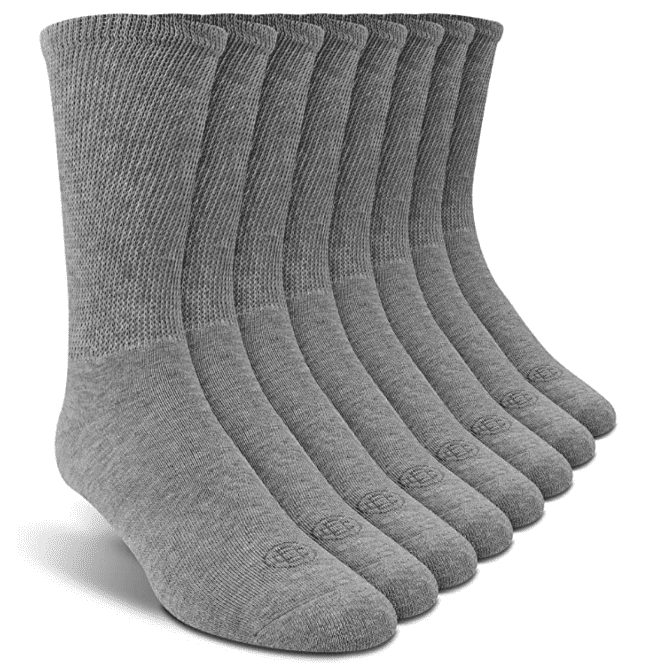 These are soft and comfortable full-cushioned crew socks. The full cushion helps protect against blisters and adds padded protection to prevent dangerous ulcers. Doctor's Choice diabetic circulatory socks have all the medically recommended features to keep your feet healthy. Doctor's Choice Diabetic Circulatory socks contain 94% Fast-Dry Moisture Wicking Polyester, 4% Rubber which holds the non-binding leg up and in place, and 2% Spandex that helps the foot of the sock form to your feet for comfort, cushion and safety.
2. Sugar Free Sox Active-Fit Cushioned Diabetic Socks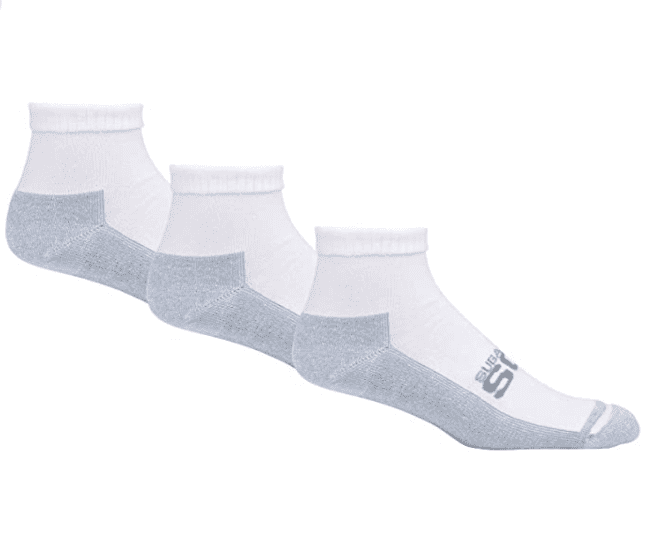 Active Fit diabetic socks offer a non-binding top with stay up power and a flat knit inner cuff liner which maximizes comfort. Provides the necessary cushioned footbed, a seamless toe and is made from moisture wicking fabric - 86% Polyester, 12% Nylon and 2% Spandex.
3. Thorlo Health Padds Padded Diabetic Crew Socks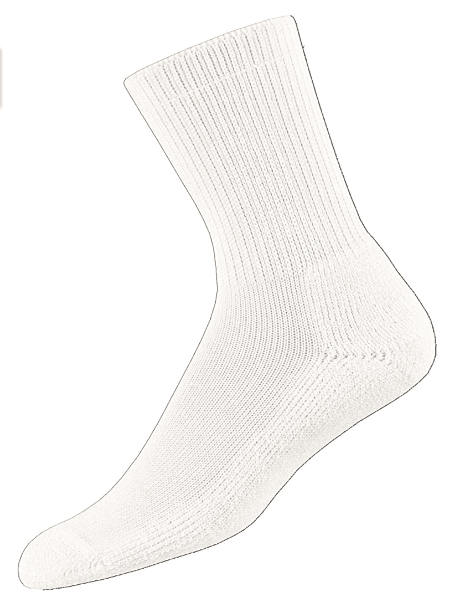 These diabetic socks feature Thorlo legendary padding in the heel and forefoot. Thorlos designs and builds each sock with the features needed for a specific activity or condition. Thorlos Advanced Diabetic socks are built with the features that enable people with diabetes to get active and stay active and include Thorlos exclusive Thor-WICK fibers for maximum moisture wicking, are sculpted for the unique contours of the foot and the tops of the socks STAY UP without constricting for all day comfort.
No Seams
Socks for diabetics should not have pressure points or seams, which may create blisters or contribute to foot injuries. The seamless design of a diabetic sock greatly reduces friction, thus making the chance of developing blisters, sores and cuts very remote. Here are three highly rated choices:
1. Facool Seamless Toe Diabetic Socks For Men And Women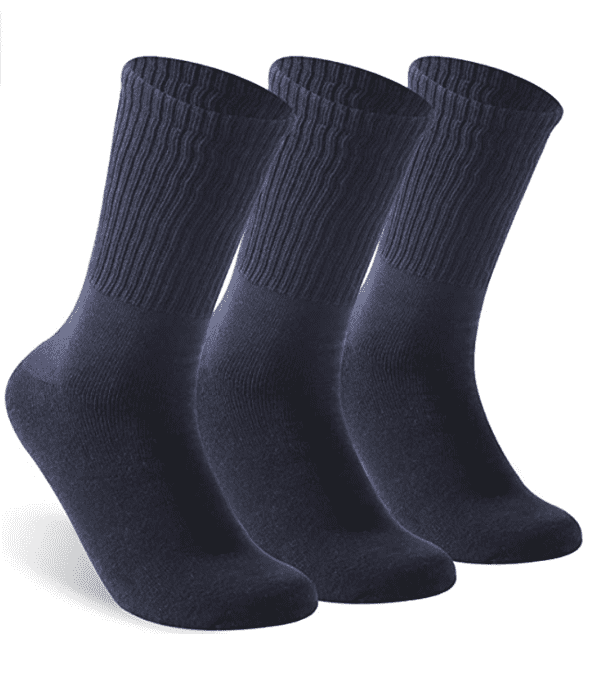 Facool lightweight men's and women's diabetic socks are made with a non-irritating hand-linked seamless toe essential for comfort for diabetics while ensuring protection against painful and dangerous yarn chafing and irritation caused by traditional toe seams.
The lightly reinforced toe and heel absorbs jarring shock to help prevent pain, which makes these healthy socks perfect for diabetic feet. While comfort is the priority of diabetic socks, Facool is one of the few sock manufacturers that provides a fashion element by offering a large variety of color options. You can choose from black, beige, white, blue, red, navy blue or grey to suit your taste and style.
2. Silky Toes Women's Soft Seamless Non-Binding Diabetic Socks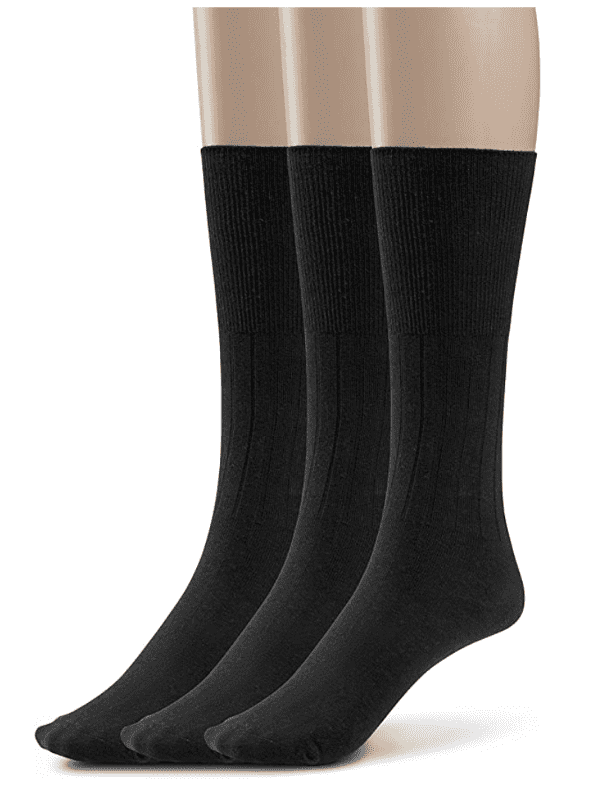 The Silky Toes seamless toe reduces the risk of infection, foot pressure, or blisters and keeps your feet comfortable all day.
These diabetic socks contain 85% Bamboo, 10% Nylon and 5% Spandex for premium comfort and softness and keep your feet fresh, dry, odor-free and healthy. Silky Toes seamless socks are designed for those living with diabetes, edema, neuropathy or circulatory issues.
3. OrthoSleeve Wellness Socks for Diabetics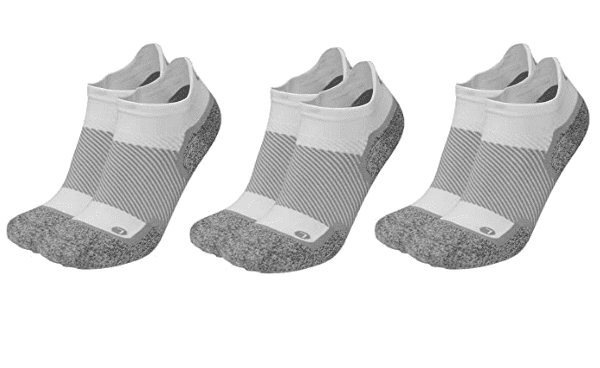 OrthoSleeve Wellness Socks are created using bamboo charcoal to provide a durable and soft sock, perfect for diabetics and those with sensitive feet. The light weight design provides the fitting support needed to stay healthy, but in a more attractive and wearable option.
These socks are designed to fit and are anatomically designed for both the right and left foot to provide the perfect fit for each.
They provide a special shaped toe and heel pocket knitted into the sock to maintain proper foot placement, and the seamless construction creates comfortable support. Wellness socks are made with built-in, contoured padding to offer comfort where your feet need it most.
Antimicrobial And Antifungal
Certain elements such as spandex and silver fibers are known to help feet "breathe." These materials are ideal for use in socks for diabetics, as they help reduce moisture and the risk of infection.
1. VenActive Antimicrobial Odor-Free, Knee High Diabetic Socks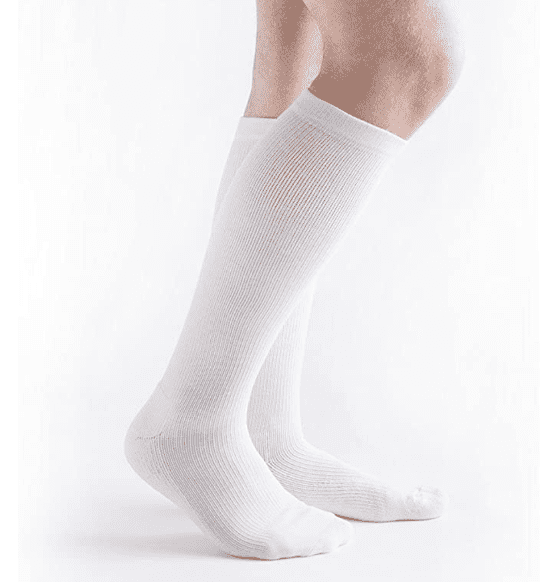 Specially designed to promote healthy feet and legs and battling symptoms associated with diabetes.
Constructed of super-soft Hydrotec polyester fibers to wick moisture from the skin to the outside of the garment providing a dry, odor free environment for legs and feet.
Anti-microbial finish offers ultimate odor control. The non-binding top band, reciprocated heel, seamless toe, and soft cushioned footbed are designed to eliminate pressure and blisters.
2. Pro Therapy Anti Fungal Diabetic Socks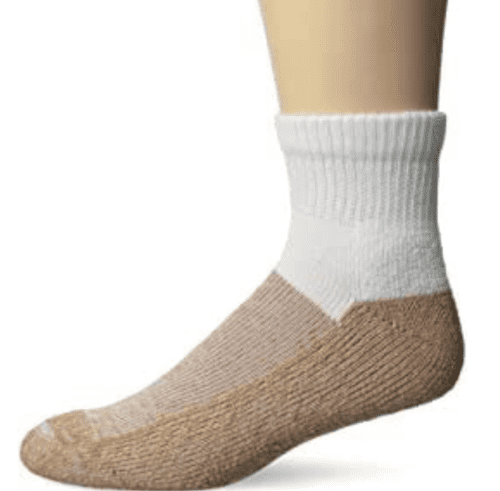 Pro Therapy antifungal diabetic socks contain EPA-registered fibers shown to kill 99.9% of Trichophyton mentagrophytes (the athlete's foot fungus) after 12 hours of contact on the sock.
These socks are also anti-odor and hypo allergenic thanks to the active ingredient that is embedded early in the manufacturing process and does not wash out or wear off.
Pro Therapy diabetic socks protect your feet by wicking moisture away from your skin to decrease friction and blistering while providing extra padding in the heel and toes to protect sensitive areas.
3. Spenco Medics Antimicrobial Diabetic Compression Socks for Men and Women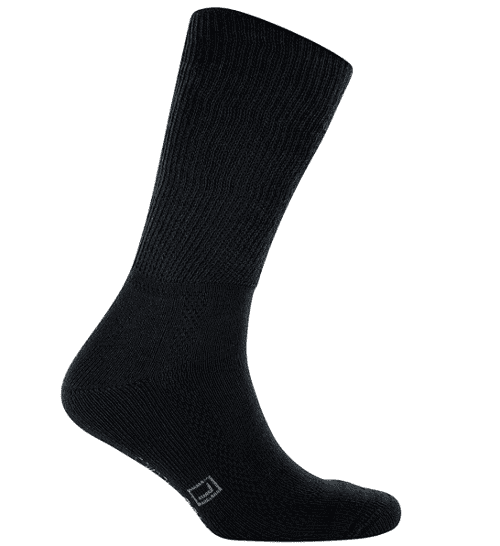 The Spenco Med Dry moisture management wicks moisture away to keep your feet cool and dry, and the antibacterial and antimicrobial fibers prevent odors and combat fungal infections.
These diabetic compression socks feature non-binding soft ribbed tops that promote circulation, and makes it easy to get your socks on and off your foot.
The hand linked toe closure is seamless to prevent rubbing and blisters. Spenco's comfort heel pocket cradles your foot and keeps the sock from slipping within the shoe while protective cushioning and mesh construction provide comfort and breathability.