Click here
to download our comprehensive diabetes logbooks. There is a comprehensive version for kids and adults. Nothing like this exists in market. Just visit the link and download the PDF files.
In the United States, over 25.8 million people are affected by diabetes. Being a major cause for stroke and heart disease, diabetes is also the seventh leading cause of death in the United States. In order to stop diabetes from causing more complications to your health, you must take the initiative to control your blood glucose level, improve your lifestyle, and monitor your symptoms. To get the most out of your treatment, tracking your vital data is a crucial building block to a better health. In this article, we will explain how logbooks can help you track your diabetes information. At the same time, we will be covering these topics:
What is a Diabetes Logbook?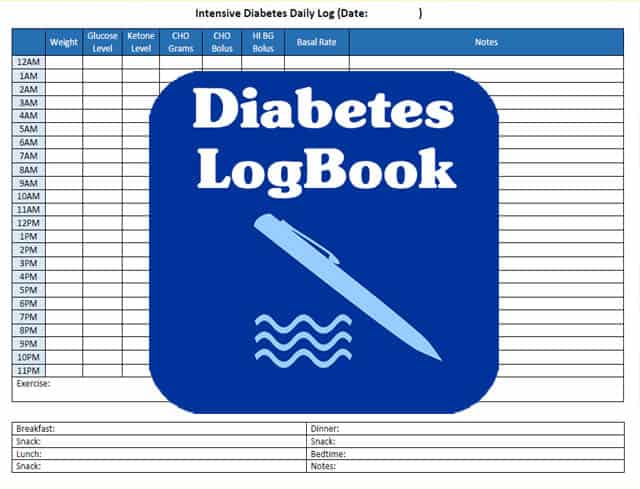 A diabetes logbook is a very important tool that you must have to track properly various important data pertaining to your diabetes condition. In general, the log includes your blood glucose level readings, carbohydrate and calories intakes, insulin and medication dosage, and physical activity progress. This information can be simple or detailed depending on the severity of your diabetes symptoms, personal preference, and health goals. The purpose of having a logbook is that it allows you and your medical team to analyze properly how well you are responding to the treatment and whether you require more or less insulin and/or medication to maintain a steady average range blood glucose level. By having exact and specific data you can prevent your doctors from making mistakes related to your diabetes. At the same time, your dietitian can derive a meal plan that can help you achieve a healthier weight and better control over your blood sugar.
Why Do You Need a Diabetes Logbook?
When it comes to treating diabetes, it is hard for your medical team to access how effective are the treatments without data to analyze. By tracking down how your blood glucose level along with your other conditions, your doctor can easily see whether the dosage is working well or whether an adjustment is needed.

1. Your doctor needs your data to provide therapy.
Diabetes and data go hand in hand. Without data, it is nearly impossible to know to change or where to focus. Unless your blood glucose level fluctuation and your reactions to insulin and medication treatments, there is no way your doctor can help you create a treatment plan to combat your diabetes. To avoid creating further complications, your doctor may refuse to provide treatment for you until you provide him with a logbook of your blood glucose level data.
For more researched articles on diabetes read the below:
2. You need your data to see how well your body is doing.
You cannot get better until you see the correlations between your blood glucose level and all your daily habits and treatments. In fact, not maintaining logs is the most common mistake in diabetes management. When you write down the numbers, it is easy to see your blood glucose level patterns and identify whether you are within the target blood sugar range. On the other hand, it will also let you know immediately when you are out of range. By taking a look at your data, you can figure out what may be the most obvious cause of sudden fluctuation and what you will need to do to fix the situation. For example, if you can clearly see how certain foods make your blood glucose swing out of control, you will be better to avoid such foods in the future. Likewise, if you feel that doing certain physical activities (e.g. intensive exercise routines, or playing Pokemon Go) make you lightheaded, you can alert your doctor about such situation and quickly find a resolution without having to avoid physical activities.
3. You need to set goals in order to get better.
Diabetes treatment can be overwhelming. If you do not set goals and get organized, you can quickly lose the motivation to work towards a healthier lifestyle and become helpless with your situation. Just like training for a marathon, you cannot start running a whole marathon in one day. Both your mind and your body are not prepared for such sudden change. By planning short term goals and long term goals, you can improve your blood glucose level and alter your lifestyle one step at a time. In no time, you will have a much better sense of control over your mind and your body.
4. Children need constant adjustment to their insulin and medication dosage due to their growth spurts and physical activity changes.
If you do not jot down all the blood glucose level fluctuations, the doctors simply cannot help your child to find the proper treatment.
5. Gestational diabetes is a dangerous condition that requires close monitoring of blood glucose level.
If left unmonitored, high blood glucose level can significantly increase risk of birth defects, premature births, and delivery-related complications. Moreover, by jotting down your blood sugar data as well as food intake data, you can detect whether you have developed insulin resistance and require special medical attention immediately. Knowing about your gestational diabetes is only half the battle, you need to be able to keep it in check as well.
6. Your insurance providers demand your data.
In the United States, if you want to receive coverage on your diabetes equipment and monthly blood glucose test strip supplies, you must provide your blood glucose records as a source of evidence that these supplies are crucial to the controlling of your diabetes symptoms. Without it, your insurance company will highly scrutinize your supplies needs and may refuse your claims.
7. It can be your life saver should you experience an episode of hypoglycemia and require immediate medical help.
By looking at your logbook, the emergency care doctor can immediately see your usual insulin and medication dosage. From the written information, the emergency team can quickly derive a plan to relieve your current condition and get you out of hypoglycemia.
Other Benefits of Keeping a Logbook
Aside from the obvious reason of providing information for your medical team. There are other advantages for keeping a diabetes logbook.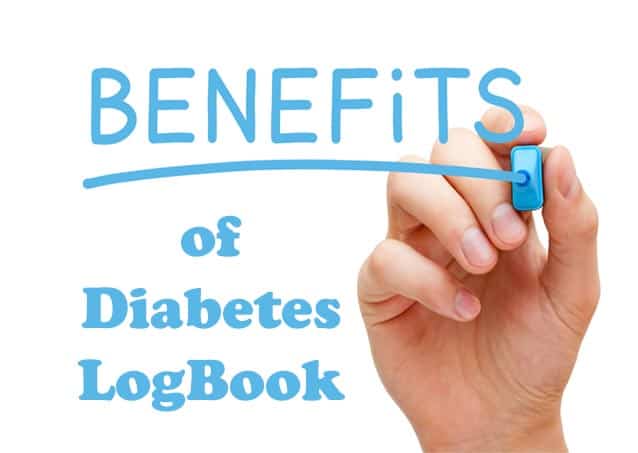 By personally seeing how each meal affects your blood glucose level, you can become better at picking the foods and the portion to keep your blood glucose level steady and avoid making common mistakes during certain meal times.
By maintaining a logbook, you will be more likely to stick to a regular schedule of when to administer your medication and when to take your meals. For diabetes individuals, sticking to a schedule is key to controlling the blood glucose level.
You will be more eager and motivated to stay active by jotting down your progress of losing weight. Also, by seeing the results of how exercising can really benefit your blood glucose level as well as giving you more energy for other daily activities, you will be much eager to keep a consistent exercise schedule.
A logbook will help you get organize. Not only can a logbook keep track of your blood glucose level, eating habits, and exercise routines, it can help you keep track of all your medical appointment dates, deadlines of medical claims, and renewal dates of your insurance plans.
A logbook can make medical claim paperwork a breeze. Since you have written down all your information down, you just can refer to your logbook for all your needed information.
You no longer need to "guess-timate" when certain incidents happened. For certain applications such as insurance coverage and driver license renewal, specific questions are asked concerning your medical history (e.g. how many times have you experienced a blackout, seizure, or hypoglycemic fainting episode in the last two years). At the same time, the questions will ask you to explain in detail what occurred to trigger such incidents. If you have done your tracking correctly, you can easily retrieve all the information you need.
You can avoid the claiming game disasters if you keep track of all your information in your logbook. In a sense, insurance companies and government agencies tend to favor people who are organized. Even though it is somewhat prejudice, they see you as a more responsible applicant if you have an organized logbook than an applicant who has very little or nothing to show as evidence.
A logbook can keep all your child's medication schedule and dosage straight and declutter your mind. Having the right diabetes supply organizer for your child is another great too .
Who Can Benefit From a Logbook?
A logbook is extremely crucial for individuals who suffer from type I and type II diabetes, and gestational diabetes. Even though it is not an insurance evidence need, a logbook is also helpful for pre-diabetic individuals who wish to prevent the onset of diabetes. By tracking their blood glucose level, daily food intakes, their weight fluctuation, and their exercise schedule, these pre-diabetic individuals have a better chance of lowering their body weight, becoming healthier, and decreasing their chance of becoming type II diabetic. Research studies have found that people who keep a log tend to have a higher chance of reversing their pre-diabetes condition and lose more weight than those who do not track their health information.
How Do You Keep Diabetes Logs?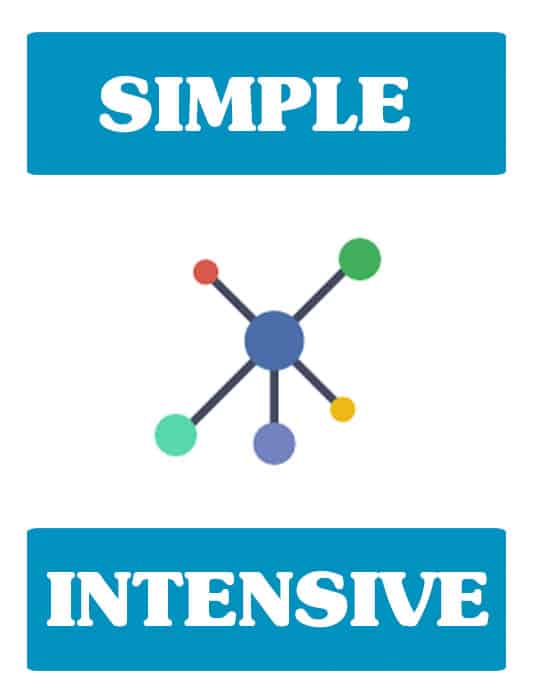 Depending on which type of diabetes you have, how severe is your diabetes condition, and what type of treatment you are receiving, you will may need to check your blood glucose level once every day or multiple times a day. If you are treated with diet alone and your blood sugar is under control, you only may need to check your blood sugar level once daily or even every other day. Under such situation, tracking your blood glucose level and your other health information will be a breeze as you only need to jot down information when you see a change from your usual numbers.
If this description fits your current health condition, the simple log is sufficient for you to track your blood sugar at various times on different days. In general, this log style is suitable when your treatment remains relatively stable and it does not put you at risk of hypoglycemia. Even though it is not compulsory, the template also includes space for various data such as exercise regimen information, carbohydrate intake, and medication and/or insulin doses.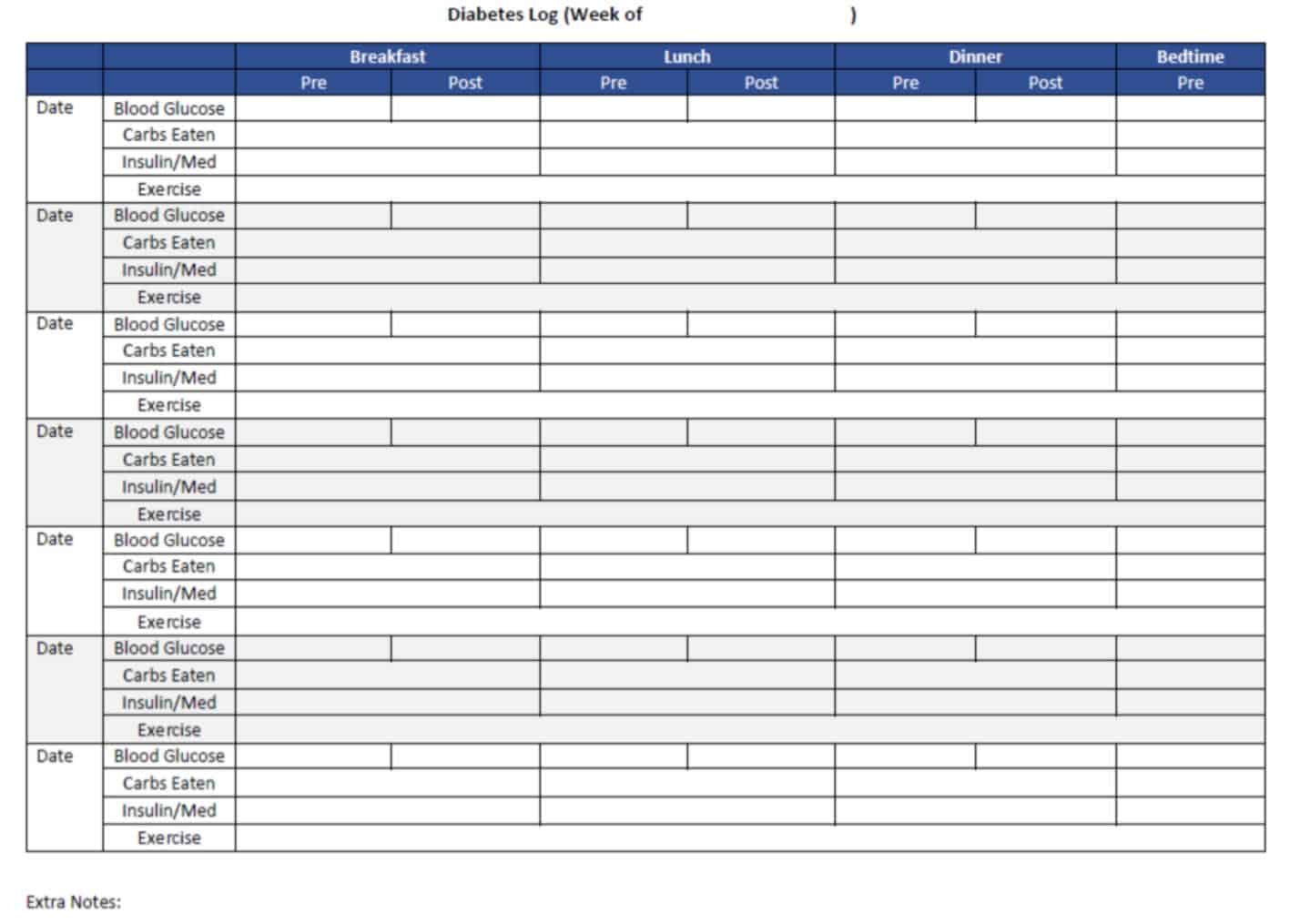 If you wish to print out this template, please click here to download the PDF file.
On the other hand, if your blood sugar is not very unstable and you are just beginning to start a new medication treatment, you should check your blood glucose level before and after each meal to see how well the dosage is working and whether it is too much or not enough for your current condition. This will help you avoid making any medication errors that could compromise your progress and health. You should also be checking multiple times a day if you have just increased or decreased your insulin dosage. If such scenario fits your current health status, then you should write down your blood glucose level reading and your medication and/or insulin dosage each time your take a test. At the same time, you should write down what food you have eaten for each meal and how much carbohydrate and calories are in each meal. If your doctor suggests that you lose some weight, then your weight measurement and your exercise regimen should also be recorded.
In such health condition, you will need a much more intensive logbook that allows you to input much more information than the simple method of logbooking. The intensive log should include:
The time of which the measurements are taken
Blood glucose level
Amount of carbohydrate and calories are taken
Details about what food you have eaten
Your medication and/or insulin dosage
Detailed information regarding your exercise regiment
Detailed note regarding to any unusual symptoms or sensations
This intensive log is most beneficial for individuals who have type I diabetes and require multiple insulin injections throughout the day or a continuous insulin pump. It is also suitable for children as they tend to need medication adjustment much more often than adults. Furthermore, this intensive template is also applicable to individuals who suffer from gestational diabetes. During such sensitive periods, pregnant mothers have to keep a close monitor on their blood glucose level to avoid chances of hyperglycemia and hypoglycemia. Here is an example of an intensive log sheet.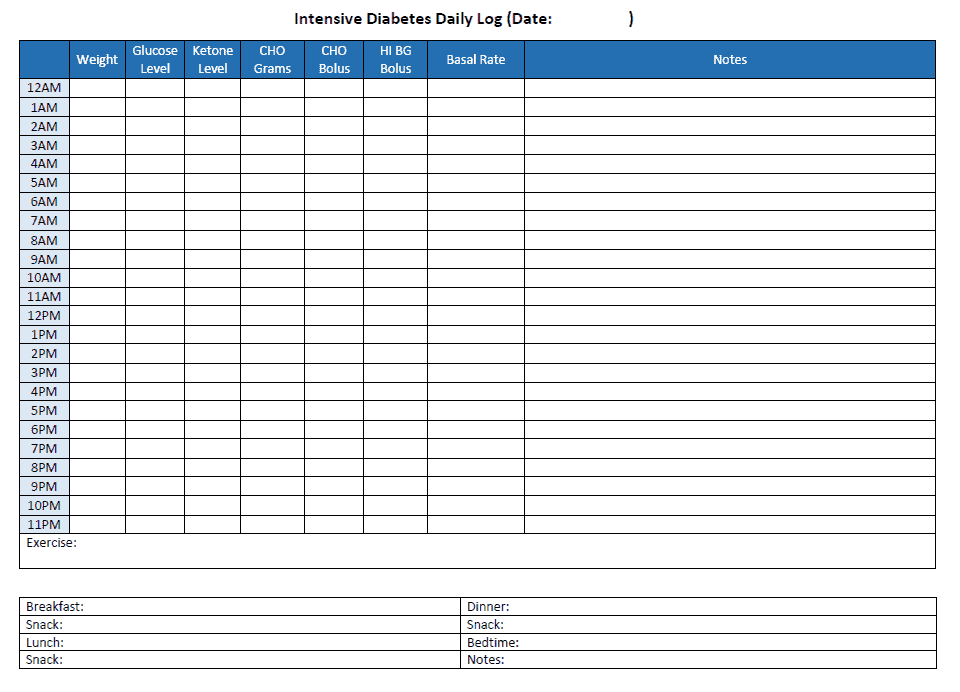 If you wish to print out this template, please click here to download the PDF file.
Tips for Keeping a Logbook
When it comes to keeping a logbook, the most important thing is to be consistent. Always strive to write down your measurements immediately if not as soon as possible. By keeping this habit for 21 days, you will find that you will start to track your health records much more at ease (Research studies have found that a new habit requires 21 days to be ingrained as your daily routine).
Another tip is to write as detailed as you can. If you make too many assumptions and short notes, you may find yourself scratching your head and wondering what you meant when you need to revisit your record for paperwork. Keeping an understandable consistency with your daily inputs will be helpful in the long run, especially in events that you are sick or traveling. By spending a little more time filling out the logbook, you will save much more time later when you reexamine your record in the future.
Always bring your logbook with you to your medical appointments. What is the point if you do not show your information to your doctor? At the same time, when you receive praises from your doctor about your logbook records and how well you have progressed, you will be much more eager to keep updating your logbook.
When it comes to logging, it is all based on your attitude. Do not treat the logbook as a chore or a burden. Instead view the process of logging as your diary and your research to decipher how specific incidents affect your blood glucose level. For example, if you note that certain stressful events raises your blood glucose level, jot it down in your logbook. After a while, you will see a trend in what can affect your blood sugar. By discussing with your doctor or diabetes educator about the problem, you can then develop habits to counter these events. In addition, having a log book can make traveling less stressful and ensure that not only are you able to manage your diabetes on vacation, but can also enjoy it.
Share your logbook with other individuals who have diabetes. By showing others how you track your diabetes progress, they may give you another perspective on how you can improve on your current system. After all, it takes a lot of trial and error when it comes to dealing with diabetes. This active habit of sharing with others will also give you much more encouragement to upkeep this friendly competition of progress. You can also share your logbook with friends or your partner. By allowing them access to this information you can help them help you and improve your relationship. If they recognize your triggers or know your needs, then they can become a better support system.
Do not skip out on logging when you are traveling or when you are on vacation. Stick to the routine. Do not give yourself any excuse for not tracking your treatment progress. It is often during traveling and vacation that individuals stray from their healthy habits and end up in an undesirable emergency situation.
What Information Should I Include in My Logbook?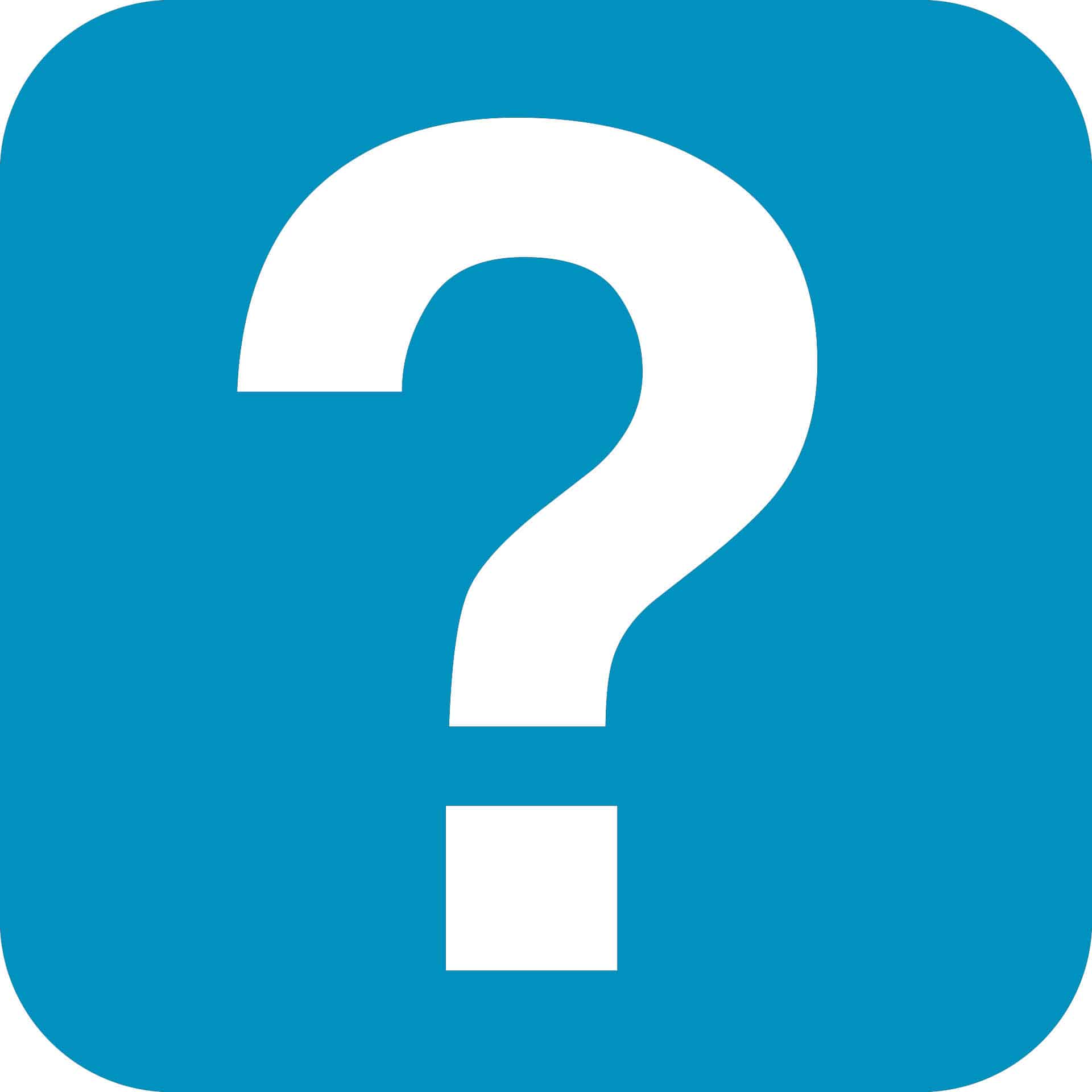 When it comes to logbooks, everyone has their preference as to what information they want to keep track and how much information they want to jot down. If your diabetes condition is relatively stable and you do not require an intensive treatment schedule, a simple logbook for jotting down your daily blood glucose level and carb intake will be sufficient. Conversely, if you suffer from type 1 diabetes or gestational diabetes, you will be required to keep a more detailed log of your diet, exercise, medication, weight, and energy level gauge. If you are unsure what information you should include in your log, it is always a very good idea to consult with your doctor, diabetes educator, dietitian, and/or exercise trainer.
Diabetes Logbook vs. Log Sheet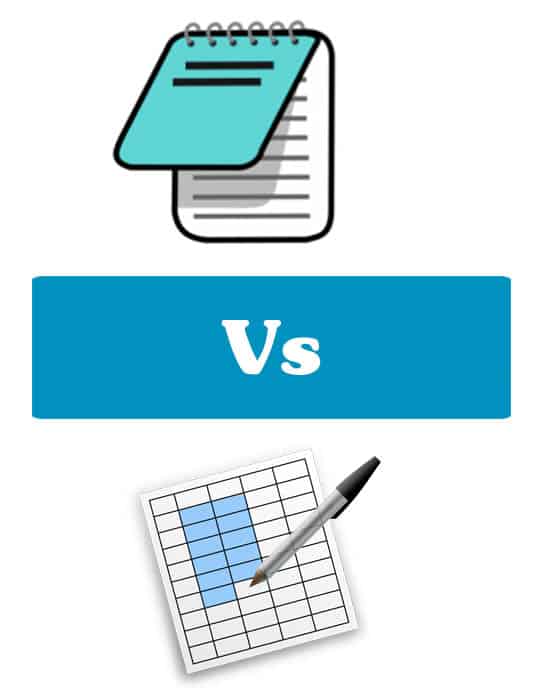 Basically, diabetes logbooks and log sheets serve the same purpose. The only difference is that for a logbook, all the information is kept in an agenda-like notebook; whereas log sheets are separate data sheets that can be stored in a binder. So depending on your needs, you may want to choose one over the other. For example, if you wish to have something that is simple and easy to carry around in your purse or briefcase, obviously a logbook will be more convenient. On the other hand, if you are required to keep a detailed chart of your daily information, log sheets will be much easier to personalize for your needs. Another advantage for log sheets is that even when you are sick, you can simply switch to your sick day sheets and still keep everything in a binder. Unlike log sheets, you will most likely need another logbook just for your sick days as you will require more space to jot down your medication adjustment during your downtime.
How to Find the Best Diabetes Logbook
When it comes to getting the best diabetes logbook for your needs, one size does not fit all. Most people refer to buy a ready-made logbook for their data. You can easily get a simple free logbook from your doctor's office, the diabetes information office, your supply provider, or even medical insurance company.
If nothing works for you because you wish to have more room for writing down your information, you may want to consider making your own logbook. Obviously printing out log sheets is the easiest way for your to create a customize log binder. But if you wish to have a bounded book for your purpose, you can consider purchasing a day to day business agenda or diary and use it as a logbook.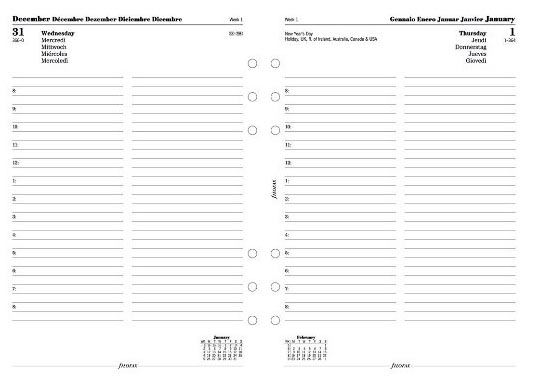 You can always create one by using a 3 or 5-subjects notebook for your needs.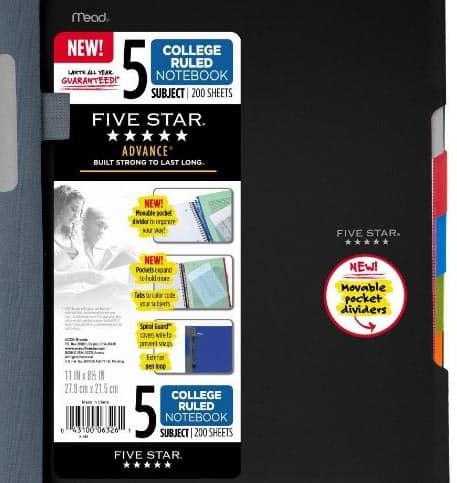 And if you wish to turn your diabetes logbook into a project, you can always create your own log template and print the sheets from Fedex office and have them bind the pages into a booklet.
Great Choices of Logbooks
Top Choice for Simple Logbook (Adults): Easy Diabetes Journal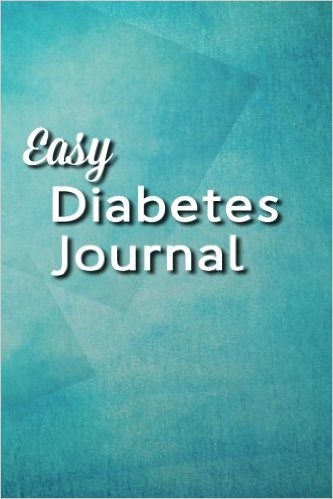 A diabetes individual makes this Logbook for all the other diabetes patients. It is a simple yet intuitive log for inputting various data such as blood glucose level, blood pressure, weight, and carb intake. A great little logbook for carrying around inside your purse or suitcase.
Top Choice for Kids: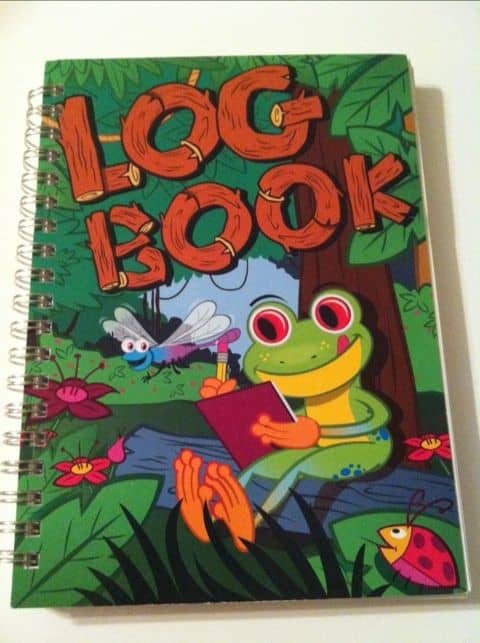 Believe it or not, this is free. This logbook is actually part of an informational campaign created by Eli Lilly for children with juvenile diabetes. In these children booklets, the tree frog Hu-Mee teaches young readers about diabetes, insulin, and healthy eating habits. The Eli Lilly frog log book is an excellent logbook for kids. Due to the demand, many parents are simply so in love with this logbook that they are willing to buy them by the dozens when it is available.
If you cannot find this logbook anywhere or your child wants a pretty pink logbook for her data, we recommend checking into the American Girl Diabetes Logbook. The logbook comes with a toy blood sugar monitor, lancing device, and an insulin pump that can be attached to an American doll waistband.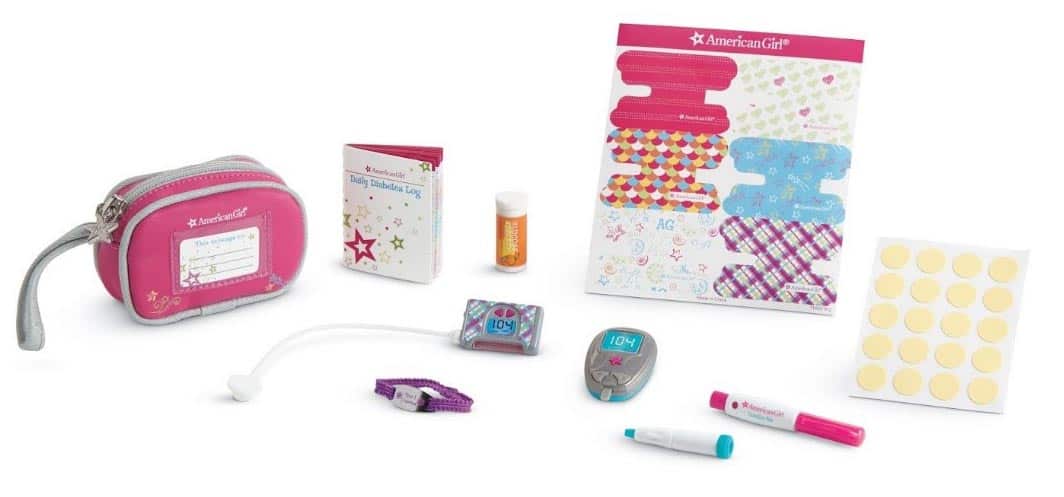 Logbook Apps and Computer Programs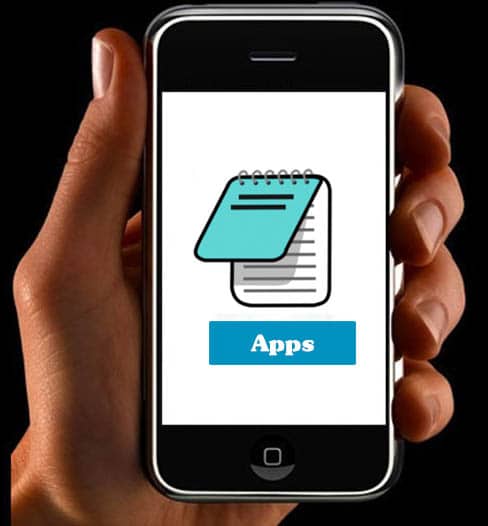 Now that smartphone is such a common device that almost everyone has one, one can easily download an electronic logbook app to track all their diabetes information on the phone. It has been shown in a scientific study (Laffel, et. Al., 2007) that people who use an electronic logbook improves glycemic control. It has also been shown that participants who use an electronic logbook are able to maintain better glycemic control that participants who use a conventional logbook system.
When it comes to looking for a logbook app or computer program, there are several factors to consider.
Even though it is convenient for you to track your blood glucose levels and other vital information on your smartphone, computer, or tablets, you need to be able to duplicate this information for your medical team and your insurance company. To make this process much more convenient, choose an app or a program that will allow you to either directly print out the information or export the information into a PDF, Word, or Excel file format.
Although there are many free apps on the Google and Apple app market, they may not be as reliable as the paid apps. Due to funding limitations, the programmers to these free apps can suddenly stop managing and updating the app. If there is a bug in the app, all your important information can be destroyed.
Choose an app or a program that will allow you to create backup copies of your past record and save it to either a memory drive or cloud storage system. In case you lose or damage your smartphone or tablet, you can still retrieve all your information.
You need to pay attention to the reliability of the app. As paid apps have to offer a sense of dependability and a high standard of service, they are much more willing to put in extra effort to ensure the app is reliable and accurate. If you are worried that you will not like the app, here is the catch. The great thing about smart device apps is that they always offer a free trial for you to use. This way, you can experiment with the program and see whether their logbook is sufficient for your needs.
You also need to consider what specific needs you require for the app or program. For example, if you have an eyesight problem, perhaps an app that allows voice input will be most beneficial for you. If you do not use any smart device, you can still use specific program to compensate for your special needs. For instance, Nuance Dragon is a desktop program that allows you to vocally input information on programs such as Words and Excel.
Top Choices of Diabetes Logbook Apps
1. mySugr Diabetes Logbook (Free and Paid Version)
This app is most beneficial to patients who are using insulin as their diabetes treatment. It allows individuals to record their blood glucose levels, lifestyle activities, and food intake throughout their day. Visualizing diabetes as a monster friend, mySugr Diabetes Logbook uses visual reinforcement, competition activities, and rewards to encourage individuals to stay with their progress and to upkeep their monster friend. It is both suitable for adults and children who have a moderate user knowledge on smart phones and tablets. mySugr Diabetes Logbook is available in both free version and paid version.
2. MyNet Diary: Diabetes Tracker ($9.99)
Available on both Android phones, iphones, and tablets, this powerful app allows individuals to track their blood glucose levels, insulin dosage and medication instake, food and water intake, vitamin supplements intake, and weight measurement. From the data, the app will generate a graph so that you can easily check on your overall progress. At the same time, this app has an amazing calorie counter so that you can immediately calculate your carbohydrate and calorie intake for each meal. What separates this app from the others is that you can set up an online account and backup your information on their database. So in case you lose your damage your phone or tablet, you can quickly recovery all your information on your new device.
3. My Glucose Buddy (Free)
Similar yet not as powerful as MyNet Diary, this free app allows you also to upload your data on your free glucosebuddy.com account. You can easily access the information on your computer so that you can print out the data for your doctor and insurance providers. What is unique about this app is that you can set up notification alarms to remind your medication schedule.
If you have any personal experience relating to diabetes logbooks, please do not hesitate to share with us. We would absolutely be delighted to hear from you.
TheDiabetesCouncil Article | Reviewed by Dr. Sergii Vasyliuk MD on October 11, 2018
Reference
Laffel, L.M., et. al. 2007. Continued use of an integrated meter with electronic logbook maintains improvements in glycemic control beyond a randomized, controlled trial. Diabetes Technology Ther, 2007 June, 9(3): 254-264.