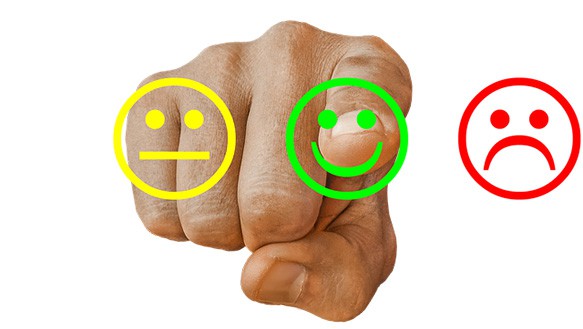 We recently reached out to 90 of our readers with diabetes to see what their diabetes journey looked like in terms of just the basic stuff. The responses were overwhelming, and the participation was high.


Let us look at the questions and see what the responses were.
WHERE DID YOU GET MOST OF THE INFORMATION ON DIABETES FROM (E.G. WHAT TO EAT, HOW TO CHECK BLOOD SUGAR, HOW TO MANAGE YOUR DIABETES, ETC.) WHEN YOU WERE FIRST DIAGNOSED?
We are always interested to see where most patients and readers get their diabetes related information from when they are first diagnosed with their diabetes. Since the primary doctor officially diagnoses the patient, it is fitting to know that 61% received the information from them. Surprisingly, the second leading source of information for people with diabetes is either a family member or a friend.
The internet, as a well of knowledge, is not tagging too far behind since in today's time and age, it makes it easier to gather information easily and efficiently. The internet could encompass websites such The American Diabetes Associations, Diabetes Daily, The Diabetes Council and online diabetes forum.
I recommend reading the following articles:
A nurse or a Certified Diabetes Educator were the two last sources that provided patients with information. This could be because once a diagnosis is given, patients are unsure as to who to go to first to receive education on managing their diabetes. Once they have come into terms with their diabetes, it is possible that most of their official education might come from a nurse or a CDE.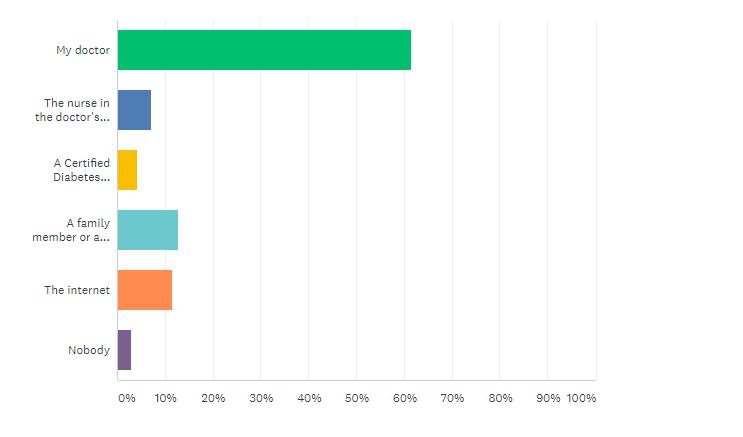 DO YOU BELIEVE THAT YOU WERE GIVEN THE APPROPRIATE INFORMATION NEEDED AT THE TIME?
It is important, at the time of their diagnosis, that patients were given the most accurate and appropriate information. That information will set the tone for effective management of their diabetes. This is further confirmed by the responses we received regarding this. About 79% of participants believed that the information they were provided with at the time was indeed appropriate and useful.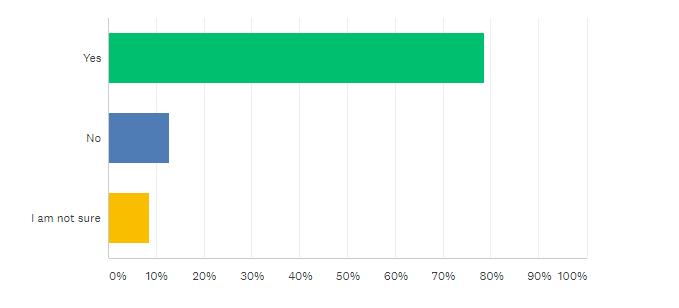 HOW DO YOU DESCRIBE YOUR HEALTH OVERALL?
Currently, 49% of the participants describe their health as being good. It is encouraging to see that only a mere 1.41% percent describing theirs as very poor.
Good management of diabetes comes from understanding what works and what doesn't work for you. Lifestyle changes in nutrition, exercise levels, cutting smoking, sleeping enough, taking the appropriate medication can contribute to a smooth sailing. Effective management also includes making sure you are constantly checking your blood sugar levels and that they are within your target range.
Anytime that you find yourself struggling with keeping within target ranges, consult with your doctor on treatments which may help you. Not managing your diabetes, in the long term, will contribute to complications such kidney problems, stroke, eye problems and much more.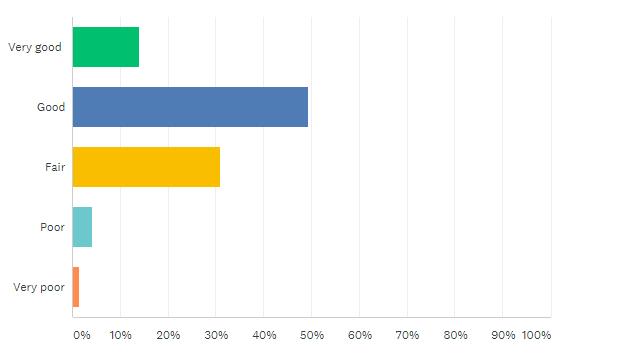 WHAT IS THE BIGGEST CHALLENGE THAT YOU ENCOUNTER WITH TAKING MEDICATIONS?
As mentioned above, one of the ways to manage your diabetes is by taking the prescribed medications. Taking your medications on time and regularly can make the difference between a normal day and a day with high sugar levels. But what are some of the challenges that people with diabetes face when it comes to taking their medications?
Taking them daily more than once or twice can truly be painful. 27% of the participants fear taking medications due to the potential side effects they may have in the long term. This is not surprising taking into consideration that some of the medications have not been tested in the long run to show any negative impacts on other parts of the body. Discuss your fears with your doctor and they will have material for you to read on regarding your medication. If the doctor is prescribing them to you, it is likely that they have proven to be effective in managing diabetes.
If you are worried about the complications of side effects you may have because you are taking more than two medications, once again, bring your fears up to your primary care giver.
20% contribute their challenge with having to remember taking the medications. This can be tricky if you are young and/or much older and suddenly have to be on a schedule to take your medication on time. Having a family member or an app remind you to take your medication on time can go miles in preventing emergency situations. Take them daily at the same time, before or after doing something that you do (i.e. reading the newspaper, taking your breakfast). In most cases, your doctor would have already prescribed the specific time to take them. In that case, put an alarm on your phone or calendar which can give you a heads up that you need to take your medication.
I suggest taking a look at these articles:
A high number of people contribute cost as the biggest challenge. Diabetes management is costly. The medications can wreak havoc on people's financial situation. Look up for organizations that help with diabetes supplies and medications. Look into your insurance and/or Medicare to see what is covered and how much. Make a financial spreadsheet when it comes to your diabetes management to ensure you stay within your budget.
There were some participants who also claimed that they are just tired of taking so many medications. It can be discouraging to be the person who takes more than 5 or 6 medications every day. But remember, if you take them regularly and follow a healthy lifestyle, you may bring your blood sugar targets to the range where you may stop taking some one day. Always speak to your doctor about your medications. Bring up concerns if you have any when it comes to the challenges. They are a repertoire of knowledge and should be able to direct you the right way.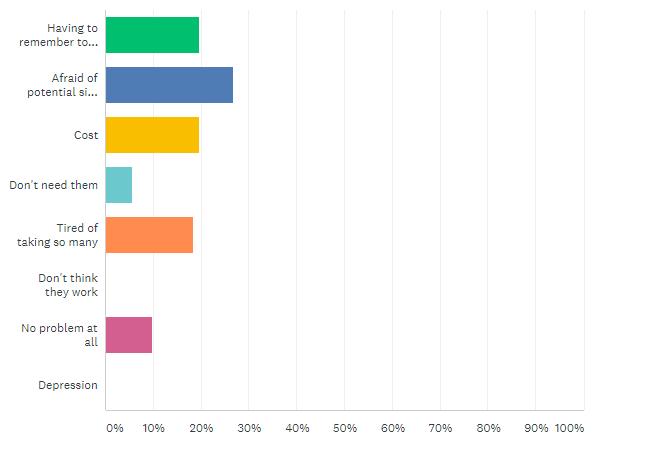 DURING THE LAST MONTH, HOW MUCH OF A PROBLEM WAS IT FOR YOU TO FEEL OVERWHELMED WITH THE DEMANDS OF LIVING WITH DIABETES?
It is no surprise that living with diabetes can be very challenging. The pressures and the demands that come with effectively managing it can be extremely overwhelming not only on you but also your loved ones, especially if you are struggling with keeping your blood sugar levels in the target range.
Diabetes and the complications that come with diabetes make patients frustration and even push them into a state of depression. 39% of the participants have a slight problem with the demands and only 3% had very serious problems with their diabetes.
Anytime you feel that your diabetes is out of control and that you may be in a depressive state as a cause, please seek out the help of a professional. There are many resources out there to help you with this. If you are unable to afford a professional, look into joining diabetes groups in your community or online. There are people who are going through the same struggles as you. You can share tips and experiences to not feel alone. Sometimes, talking to someone in a similar situation as you can help alleviate your mood and make you feel better.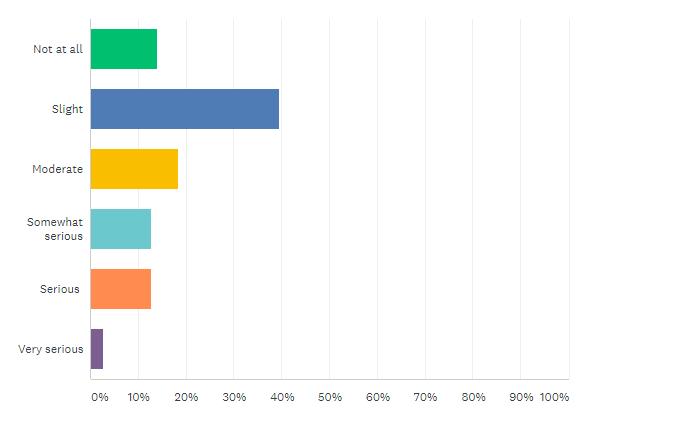 DURING THE LAST MONTH, HOW MUCH OF A PROBLEM WAS IT FOR YOU TO FEEL THE FOLLOWING WAY: "I AM OFTEN FAILING WITH MY DIABETES ROUTINE?"
If you have felt like you are failing in your diabetes, you are not alone. About 27% of our participants have felt with feeling the same way. There were about 16% who felt that they were seriously failing with their diabetes routine.
Controlling diabetes can reduce the risk of blindness, renal failure, neuropathy and other diabetes related complications. If you feel like you are failing at your diabetes routine and management, it is scary to think that you may increase the risks of such complications.
It is important that on days when you feel that way, to remind yourself about the importance of getting back on track. Humans have a way of getting stuck in negative thought patterns. You need to discuss with your doctor or CDE on ways you can improve at your diabetes routine. It could be a matter as small as changing the time you take your medications at, or a slight change in your eating habits.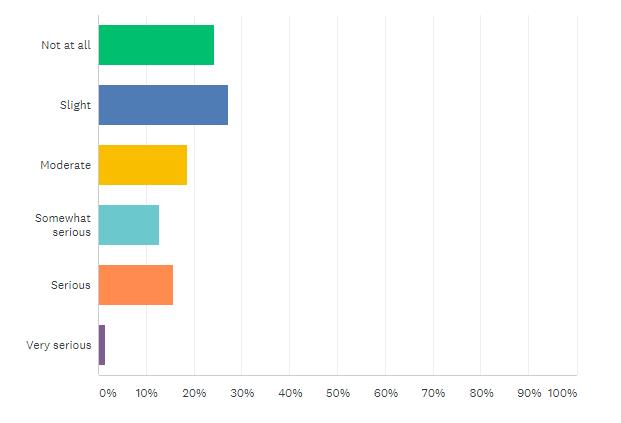 DURING THE LAST MONTH, HOW MUCH OF A PROBLEM WAS IT FOR YOU TO WORRY ABOUT THE FUTURE AND THE POSSIBILITY OF SERIOUS COMPLICATIONS THAT COME WITH DIABETES?
The future, if you have diabetes, can sometimes be bleak, especially if you feel like your diabetes is out of control. It is hard not to try to fortune tell your situation by what is happening today. However, it is never too late to get on top of your diabetes. It may seem impossible but with the right support and resources, you can too get your numbers back in target range.
The journey may require a lot of work and riddled with disappointments, but once you are there, you will be happy you worked hard to get there. What you do today will impact your tomorrow. Every time you are tempted to eat that extra chocolate cake, remind yourself of the future you would like to have. 30% of the participants were moderately concerned about their future and the possibility of serious complications with diabetes.
The best way to beat your diabetes is to change your lifestyle if you still haven't, follow your doctor's directions, work with a CDE or a registered dietician who can help you come with an appropriate meal plan. Put together a diabetes care team who is there to look out for you and who you go see with appointments are made. Surround yourself with family members who support you in following a healthy diet and who will join you on that nightly walk you take or the weekend hike you want to go on. Friends are a huge support to. They will lend a hearing ear without judgment and will refrain from giving unsolicited advice.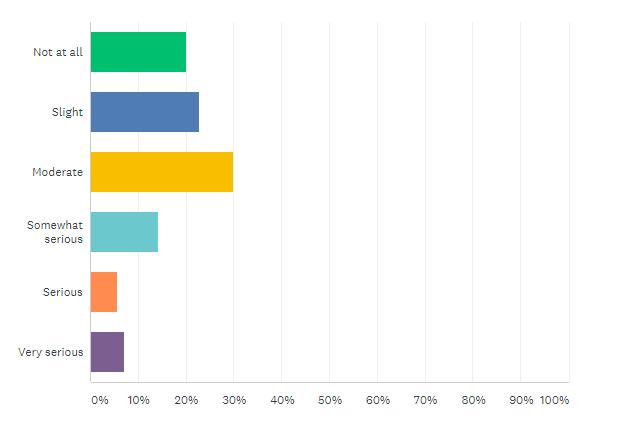 ARE YOU TRYING TO LOSE WEIGHT?
Losing excess weight is one of the first recommendation that your primary doctor will give you once you are diagnosed with diabetes, especially type 2. Losing the weight can help patients to become less insulin resistance, so that their body can use insulin better.
Exercising helps in giving you extra energy, in lowering your cholesterol, help in controlling your blood sugar levels, strengthen your heart. Exercise also releases the happy hormones that can help you become positive. The benefits of exercise and losing that weight your doctor has asked you to is beneficial of you in the long term.
Experts suggest that losing even just a 5 to 7% of your weight can demonstrate a decrease in your blood pressure, cholesterol, blood sugar levels and insulin resistance. Therefore, it is no surprise that 62% of the participants are trying to lose weight to better manage their diabetes.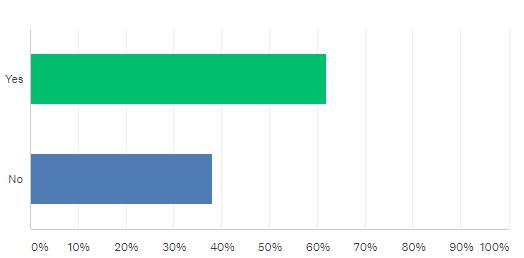 CONCLUSION
We hope that the survey and the responses helped you put into perspective your diabetes journey and struggles in relation to others who are going through the same. Please let us know what you thought this piece and if you would like to see more survey pieces like these. Was it helpful? Was it informational? Please leave your comments in the box below!