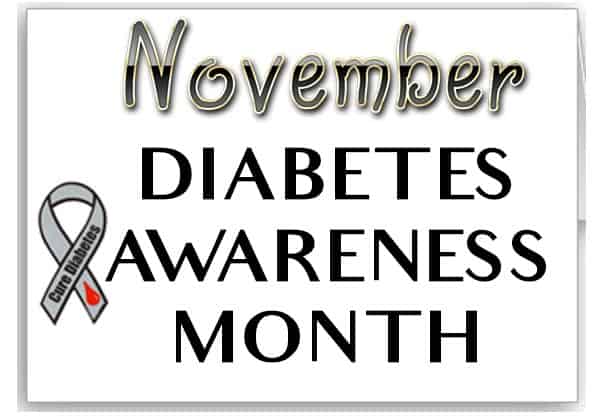 November is Diabetes Awareness Month; in case you didn't know. When November rolls around, it's a time of advocacy for those in an advocacy role in the diabetic community. Being an advocate, we advocate all year long, but November is one month, solely dedicated to the lives we live every single day. It's a chance to get the information on Diabetes awareness out there to the masses, to give it the spotlight it deserves.

For some, Diabetes Awareness Month means a world of different things than it does for others. Like diabetes, everyone's awareness month is different. I asked those in the Diabetes Online Community at the beginning of the month, what Diabetes Awareness Month means to them, and these were their responses.
Joy Marie Kolakauskas: That we are stronger than we think. Reaching out and helping is a wonderful thing, we are not alone and this disease sucks. Oh and…. When will I get to sleep?
Amanda Jill: Educating others about this condition (I refuse to use the term disease). Everyone thinks that if you eat candy you will get it but it is more about lifestyle choices.
Jeff Sandoval: To me it means that I hope they find a cure and that no one else will ever have to go through the trials and tribulations that I have had to endure. Or that anyone else with this disease, it is definitely a blind disease and no one can see physically, but boy are you sure judged once they hear you have it. It is probably without a doubt the most misunderstood disease in the world.
Karissa Albert LaBrash: I'm all about education and educating those that are unware of what diabetes really is about.
Angie Allen Davis: We are holding 2-hour mini focus groups and giving away prizes for trivia questions at work in the café. I feel like I am making a difference in awareness in my little corner of the world.
Lynn Menton: To me it's like any other month, it means life, my life.
Flo Davis: It's my quality of life, I matter and so do the millions of other people with diabetes.
Margie Davis: I use November as a way to spotlight the life I live on a daily basis. I could post countless times each day what my life is like, but no one typically pays attention. But when it's diabetes awareness month, people are more willing to listen, to share with others what this disease is really about.
Thomas Galfrey: November is my time to show my family and friends what our life is like. My son has Type 1 and no one really understands what it is like to have a young child with a chronic illness. I have heard countless times that "At least he doesn't have cancer". Yes, I'm thankful he doesn't have cancer, but please don't diminish the disease that he does has, each has their own obstacles and challenges.
Beverly Convay: When I was diagnosed with Type 2 diabetes 25 years ago, I was looked down upon, as if I did this to myself. Maybe I was a bit overweight at the time, but the attitude of people was ridiculous. Since that time, people have come around a bit, but even Type 2 is still an often time misrepresented disease. It is not just a fat person's disease. November to me is my time to get the word out about my life, my struggle and that I am a person who happened to come down with a disease that I did NOT give myself.
Darlene Schmidt: November is like every other month to me. I hate to say I don't make a big deal out of it. I still have to wake up, test myself, and inject insulin in my body. It's my life, It's been my life for 15 years, and that's not going to change any time soon.
Charlotte Dunch: I really use November as a way to get the word out about my grandchild's illness. I work in an office, and we celebrate birthdays, anniversaries, and in November we celebrate Diabetes awareness month. Each day I have trivia questions about the information I've provided to everyone in the break room in pamphlets I create. The winner receives a care package of sorts. I believe I am doing my part to get the word out there.
I asked myself the very same question. November to me is a time that Diabetes can be in the spotlight. Having two children with Type 1 diabetes, it is often times misunderstood. One of the most common questions I always receive is "Will they outgrow it". Unfortunately, they won't. So I use November, as a way to build a platform about diabetes awareness and educate others who may not necessarily know about diabetes in general.
So ask yourself, what does Diabetes Awareness Month mean to you? I want to hear your responses.