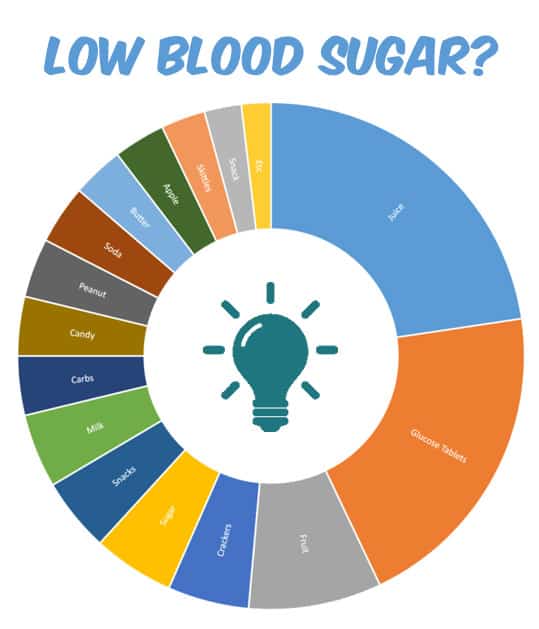 If you are a PWD (Person with Diabetes), or know someone who is, you know the frustration and fear that comes along with a low blood sugar. Treating a low blood sugar can be challenging, especially with the brain fog and confusion that many PWDs experience during the moment. Everyone is given a 'recommended' treatment by their doctors and endocrinology team, but throughout the process of living with diabetes, you probably have developed your own little tips and tricks that have helped you work through your low blood sugars.

Before we continue with this article, I wanted to let you know we have researched and compiled science-backed ways to stick to your diet and reverse your diabetes. Want to check out our insights? Download our free PDF Guide "Power Foods to Eat" here.

The Diabetes Council has interviewed 100 People with Diabetes and parents of Type 1 kiddos to share with us their "Go to treatment for low blood sugars".  We received an overwhelming response and had some amazing treatment methods shared with us, that we feel will benefit you greatly.
Read on to find out what those that live and deal with diabetes on a daily basis have found to help treat low blood sugars efficiently.
1. "Juice, and Crackers", "If I don't have either of those I use glucose tablets".
Jaimie Rose Chaffin
2. "Peanut butter crackers or half a peanut butter sandwich".
Jacqueline Nichole, a mother of a Type 1
3. "Either a juice box or a glucose liquid "shot".
Rhon Marquess, a mother of a Type 1
4. "For me it's a Sunny D".
Beth Ford
5. "Coke or Orange".
Susanne Malhiet-Fontenot
6. "Small biscuit and a juice".
Audrey Kerr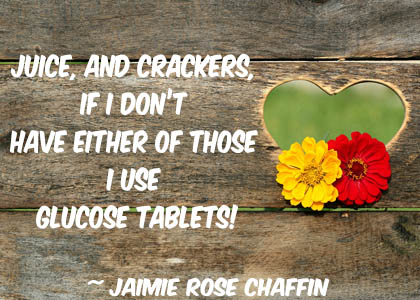 7."Starburst when she's on the go. Juice at home/school. More recently I started using a half a banana at night for borderline numbers to give a little boost, and it's worked really well."
Wendy Rose, a mother of a Type 1
8. "Usually fruit snacks.. it still amazes me how she can chew them without chocking and being asleep the whole time".
Amy Ermel, a mother of a Type 1
9. "My only option is IV dextrose. Because I'm unable to treat low blood glucose PO (by mouth) due to my gastroparesis (carbs in food take 1-4 hours to begin to raise my blood sugar). Glucose tablets are NOT sublingual, frosting is not an option pixie sticks are huge risk because of aspirations. Glucose is NOT absorbed in the membrane in your mouth the molecule is too big. Also I don't take in enough food and carbs by mouth so my liver doesn't have glycogen storage so glucagon doesn't help. IV dextrose is the only option. I would give anything to be able to use juice and food to raise a low."
Ella Arden Grace, a type 1 who also has gastroparesis.
10. "Night time.. Chocolate Milk, Day time, a Capri sun. If doing any activities, crackers and cheese."
Sherry Kriss– Dillane, a mother of a Type 1
11. "I found something that works great and is good for your body! Coconut water! Not coconut milk, the water!"
Debi Constantino Fleeger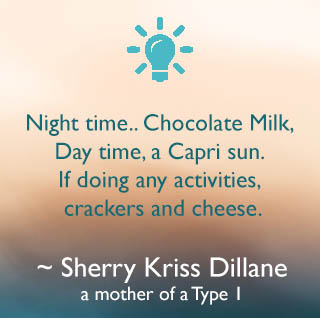 12."At night, pb crackers. During the day transcend gel. "
Lori Willey
13. "Fun pack of skittles, smarties, juicebox, regular soda".
Janet Lindsay Adams
14. "Juice box, glucose tabs or a shot of soda".
Lexi Newell, a mother of a Type 1
15. "I only use glucose during the day and glucose and peanut butter if it's before bed".
Kim Carter Martinez
16. "At night ONLY juice box. During the day, her current choice is glucose tablets or a juice box".
Courtney Blenden Getty, a mother of a Type 1 ()
17. "He loes fruit snacks for lows right now, when he's sleeping I give him the GoGo Swueeze apple sauces".
Laura Houston Ivory, a mother of a Type 1
18. "My mind goes blank, but I automatically make a beeline for the sugar canister. Even if I have glucose tabs beside my bed, or juice in the fridge, it's always the sugar".
Natalie Serendipity
19. "I prefer something healthy, so, organges, grapes or apples help me. Even a banana helps to stablisze me sometimes".
Sarah Parfitt
20. "Glucolift!"
Kerri Morrone Sparling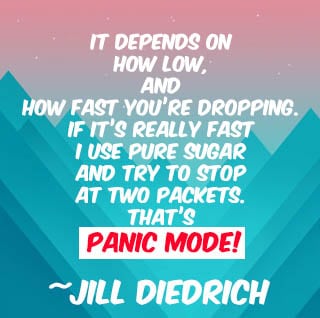 21."It depends on how low, and how fast you're dropping. If it's really fast I use pure sugar and try to stop at two packets. That's panic mode".
Jill Diedrich
22. "A glass of milk (lactose free). It doesn't make your sugar spike."
Barbara Gore
23. "Everything in sight… my smart answer is glucose tablets and or/ lucozade but in reality I empty my cupboards and devour everything I see.
Shell Bells X
24. "fig bars (sold in different flavored at Costco)"
Lucia Maya
25. "I like the ease of carrying containers of fruit juice. Simply Balanced produces these juice containers. Typically, one container of fruit juice has 24 grams of carbohydrates. They're sold in eight packs for $3.50. After drinking fruit juice I have three to five Peanut M & Ms to prevent the chance of immediate crash".
Tim Hopkins
26. "At home I go for 8 o glass of OJ and follow it with 2 or 3 peanut butter crackers. At work I keep Fi bars and bananas and have some form of candy available to me if needed."
Malcom Page
27. "A regular Pepsi"
Connie Murphy McKinney
28. "Juice"
Darcey MacColgan
29. "Apple Juice"
Chasity Allen
30. "My son is soda or juice"
Samantha Bell, mother of a Type 1
31. "3 gummie Bears"
Whitney Shields
32. "Juice"
Irina Drakhler
33. "Honey sticks. 15 carbs and easy to use. Lots of flavors and easy storage. And there 20 cents each!"
Jamie Duffy Zilke
34. "Glucose Tabs"
Eileen K Harris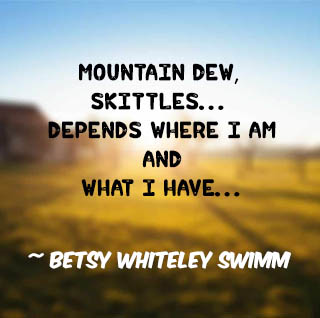 35."Juicy juice, Skittles and our favorite is Italian ice popsicles…I cut them in half because most of the time, that's just what she needs"
Mellissa Barnett
36. "We use the Go-Go squeeze applesauce and then four cheese crackers after she is over 80. Sometimes we also use Smarties."
Melissa Baldwin Schoeder
37. "Mountain Dew, Skittles… depends where I am and what I have…"
Betsy Whiteley Swimm
38. "Regular Pepsi"
Connie Murphy McKinney
39. "Fruit sharks or Tic Tacs"
Jenny Jarrell
40. "I use PND Crackers and a Cup of Milk"
Julie Cooper
41. "Glucose Tabs"
Heather Rochelle Allen
42. "Glucose Tabs, Juice Box, or a spoonful of honey"
Meagan Crowdus
43. "I haven't been able to get the liquid dex4 only seen it once it's why I ask for the tab script but I have a script for the gel version"
Nyx Cole
44. "Coke"
Rose Edward
45. "For very low, Raw Honey in a Bear container with nozzle that can be squeezed under tongue"
Marice Maples Lindsey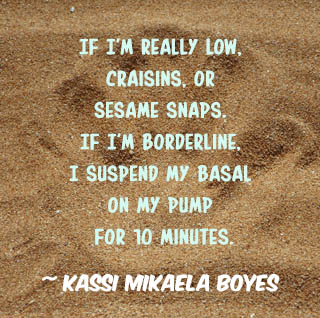 46. "We only need about 6 carbs- so half a go go squeeze apple sauce."
Jodi Somers
47. "Glucose tabs, juice and / or chocolate pudding".
Barbara Carroll
48. "I use pnd crackers and a cup of milk"
Julie Cooper
49. "Glucose Tabs or Fun Dip in the Day, Gummi Bears at Night"
Stacy Short
50. "Fruit Snacks, then 20 carb High protein snack, if more than 2 hours away from a meal".
Joy Marie Kolakauskas
51. "Regular Soda or Juice"
Becky Underwood
52. "For my son we use milk, glucose tabs and juice"
Ilikkch Zeron-Llamas
53. "Smarties"
Raizy Baum
54. "Regular soda usually"
Victoria Angle
55. "Welch's Grape Juice"
Darla Bestwina-Mckiernan
56. "Lucozade..,, always a bottle next to my bed"
Paula Binns
57. "Gatorade and Greek yogurt, Swedish fish or fruit snacks. When I was pregnant milk did the trick!"
Rachel Joy Bergholz
58. "Kids juice box, a granola bar (always keep one in my purse), snack size candy (skittles in the tiny packaging for Halloween), or if it's a scary low it's 1/2 a can of soda chugged down super quick."
Amanda Beschonet
59. "Juice"
Jenn Kristine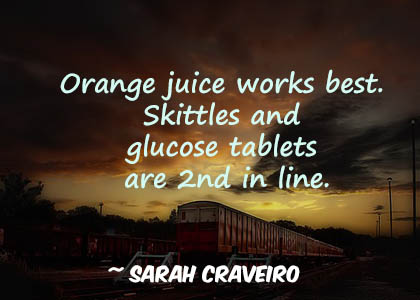 60."A spoon of honey"
Sarah Trowell
61. "If I'm really low, craisins, or sesame snaps. If I'm borderline, I suspend my basal on my pump for 10 minutes."
Kassi Mikaela Boyes
62. "Milk, usually chocolate"
Jessica Nicole
63. "Cheap tub of sugar-coated fruit slices or gumdrops are next to my bed, and Welch's fruit snacks are always in my purse! Though I try to not eat sugary foods & just use a temp basal rate when I can…"
Robyn Anderson
64. "When im super low I feel like I have the munchies and eat anything and everything. Usually peanut butter crackers and regular soda or juice or bowl of cereal. If im super low orange juice with real sugar added."
Kate Harris
65. "regular pop and juice boxes"
Adriona Frances Miller
66. "Usually Fruit snacks or granola bars"
Michelle DelMonico Tanzi
67. "Depends on my blood sugar: middle of night or dropping like crazy = juice; trending down but not scary = gummy bears; during exercise = Clif Blox."
Jamie Kowatch
68. "Milk but my favourite thing is a glazed donut and beer! No idea why!!!!"
Dana Bergstrom Dunne
69. "Mainly juice. Capri Sun 100% juice. If i am really low.. anything i can find!!"
Sonja Jo Fatherly-Boston
70. "Skim milk, or jelly bellies"
Denise Carter
71. "Orange juice works best. Skittles and glucose tablets are 2nd in line."
Sarah Craveiro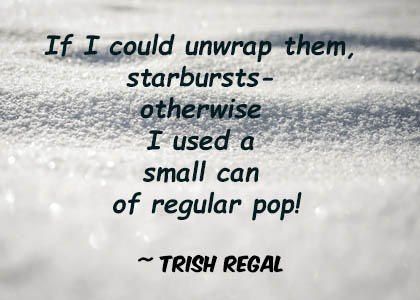 72. "If I could unwrap them, starbursts- otherwise I used a small can of regular pop"
Trish Regal
73. "Glucose tabs & Juice boxes"
Jennifer A Grippo-Susko
74. "Juice and/or glucose tablets"
Kassia Mier Y Teran
75. Juice <70, candy 70-80 during day; usually gummies or tootsie rolls over night unless super low or stubborn.
Linda Malia
76. "Juice"
Debbie Davis Crawford
77. "We've always treated with a 15 carb juice followed by a gogurt or something with protein depending on her level and the time of day"
Trina Pawski
78. "Fruit snacks"
Jill Schwichtenberg
79. "Apple juice"
Emily Prows
80. "Apple sauce in the squeeze bottle. Or juice box"
Christina Mills
81. "One of those yummy, sugar coated "fruit" slices – approx 11 carb."
Carol Weaver Panneton
82. "Grape juice"
Cindy Leonard
83. "Usually takes me 20-30g carbohydrate, but between dry mouth and not being able to figure out how hands work, I tear open a couple mini fruit roll ups or a regular fruit roll up and a Capri sun with my teeth. I usually end up eating at least a little of that cellophane its stuck to, though!"
Meg Gross
84. "Candy mints or coke from the can."
Janet Craib McKain
85. "Depends how low. 50s and up, a healthy snack. Cheese, crackers, fruit, peanut butter. A good balance of carbs, protein and fat. Anything below that, and we grab what we can. We had a low of 27 at a birthday party, yes she was still conscious, and I grabbed birthday cake and smothered it in peanut butter. Other times, I've handed her a Coke, or candy bar, again, what ever I can find to start bringing her up.
Then we get the right foods going to keep her stable. Traveling, we always had snacks packed, fruit bars, juice boxes, water, granola bars, cheese and crackers, things that wouldn't spoil, but had enough carbs to bring her up"
Jessica Gadbois Moody
86. "Airhead candy, simple and easy. The candy is flat so it's easier to store."
Suzanne N Steve Blanton
87. "Fruit Snacks Soda Candy"
Anthea Durand
88. "Any drink available with real sugar."
Catherine Stearns Newton
89. "Sugar water if I'm below 55. Anything else handy when I'm above that."
Sara Clark
90. "We do a box juice and if really low we do a box juice and snack (her choice 15g) so it will level her out at the same time.
Autumn-Paul Petty-Odom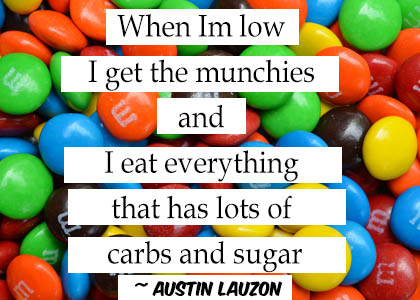 91. "When Im low I get the munchies and I eat everything that has lots of carbs and sugar"
Austin Lauzon
92. "OJ, works fast!"
Eileen Verbeck
93. "Circus peanuts"
Amanda Kissinger
94. "I drink a small Apple juice box"
Kristin Neering
95. "Gummy bears. Reliable and fast."
Rebecca Rury Ayotte
96. "Juice"
Becky James
97. "Lately, peach rings. (Basically another gummy.) But I also always have glucose tablets in my bag. I find carrying juice boxes too cumbersome."
Scot Colford
98. "Dex 4 glucose drinks for my daughter. She is an athlete and these will correct her bs and keep her from crashing later"
Misty Pyle Vaughn
99. "Mini-snack boxes of raisens & 4.23 oz juice box (15 carbs)"
Barbara Smith-Speelman
100. "1 apple juice carton plus pbtoast cracker 6-pk (to drive home from town), (2) crunchy oat/honey granola bars (to drive home from nature reserve (to cook dinner). at home line snacks on counter to check blood sugars after each one… ;)"
Herry Hummel
Since we published the article we have received 21 new submissions….
101. "Generally: Glucose tabs and if I'm at home a Capri Sun. My favorite remedy: The mini packs of Skittles that are handed out at Halloween."
Lisa Baumgarte
102. "Being a T1D with gastroparesis, I cannot use a lot of the more traditional sources (ie. glucose tabs cause to vomit). I tend to use Strawberry Quik or a small smoothie. If it is really low or early in the a.m. I use glucagon because of medicines I take and inability to process the glucose quick enough."
Bonnie Renee Bashaw
103. "mini snack boxes of raisins and a 4 oz. juice box (15 carbs)"
Barbara Smith-Spellman
104. "1 apple juice carton plus pb toast cracker in a 6 pack. (to drive home from town), (2) crunchy oat/honey granola bars (to drive home from nature reserve (to cook dinner). At home I line snacks on the counter to check blood sugars after each one, I live alone and still drive at 64!"
Sherry Hummel
105. "If I could unwrap them, starbursts- otherwise I use a small can of regular pop".
Trish Regal
106. "Milk takes about a ½ hour"
Sarah Craveiro
107. "For a long time I was eating lifesavers, but too hard to unwrap and I kept biting my tongue trying to crunch them. Then the fun sized airheads, but that meant waking up with a bright blue tongue! Capri sun and fruit roll ups are my favorite at the moment".
Meg Gross
108. "6 jelly beans are 15 carbs unless they are the gourmet ones you get more. I tablespoon of honey (can also be rubbed on the gums) just like the Dex 4 gel, but I don't like the taste. "
"Real food even chocolate is not recommended because anything with more than just fast carbs like 4 ounces of juice will actually slow down the uptake of the fast carbs. That's why it's best to stick to the 15/15 rule. "I also forgot the new Welch's yogurt covered strawberry fruit snacks, they are exactly 15 carbs no fat or anything else, and healthy".
Vanessa Sande
109. "Orange Juice"
Mary Ellen West
110. "My entire kitchen, usually"
Carys Wilson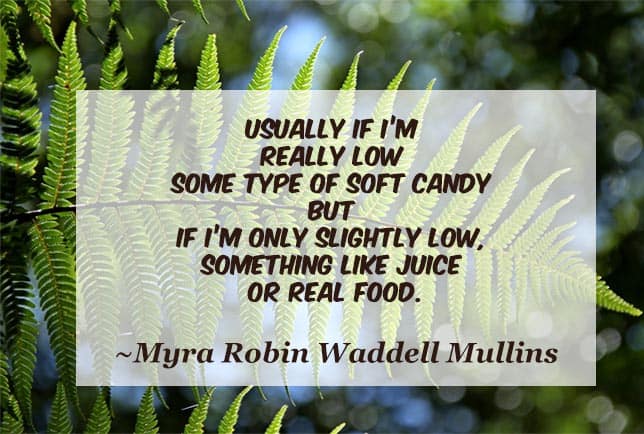 111."Usually if I'm really low some type of soft candy but if I'm only slightly low, something like juice or real food."
Myra Robin Waddell Mullins
112. "You can fit 3 to 4 mini snack boxes of raisins into a plastic snack bag and seal it and carry them with you."
Barbara Smith-Spellman
113. "Mild hypoglycemia, it varies quite a bit, Severe hypoglycemia (<55, or less than 80 with a lot of active insulin and or strong downward trend), anything liquid with simple carbs (soda, juice, Gatorade, etc.). Mostly because its easily dissolvable in the mouth and acts almost immediately."
Dave Pierson
114. "usually fruit snacks. If I'm not hungry I'll go for a juice".
Lucky Jenkins
115. "Juice box normally or 3 to 4 glucose tabs"
Julie Antonelli
116. "I have three different things. If 60s then a Capri Sun. If 50 then orange juice, if lower than 40 a mountain dew. Took a while to find the right way but this is the only way that works for me. And the mountain dew doesn't get me super high, the highest I go is in the 180s"
Rochelle Futch
117. "Three to four glucose tablets, take my bag, if it went up over 100 I follow it with protein like a ½ turkey or PB sandwich".
Jane Hansen
118. "If I'm out, I or someone gets me a 20 oz. Coke. I know the spot on the bottle is that lets me know I've had 4 oz. (lots of practice) usually juice at home. "
Jennifer Miller-Strandberg
119. "T1 (me)
Dex4 … is my go to, as its actually covered under the drug plan (just need to get a RX for it)
.. otherwise
-A full can of Pepsi Next will pop me up nicely.
-Couple of frozen grapes are also an option if they are around and I'm home.
-Lucasade is another option (but not as easy to get around here, but it's my go to when in the UK).
-Rockets are a perfect option if I have them on hand (I'll buy a bag during Halloween to stock up as able to do so).
T2 (my mom)
Sugar Cube was her default added to a glass of water and drank over time, but she never had supper lows might hit 3 but not lower."
Nyx Cole
120. "Depends on the low…Normal low (40-80): peanut butter crackers or granola bar. Critical low (below 40): candy bar, followed by a cheese stick about 10 mins later"
Jenn Morris
121. "Welch's Fruit Snacks are my number one go to, and my husband mixes juice and sugar for me when I'm lower and having trouble treating it myself"
Kathy Klusman Lentz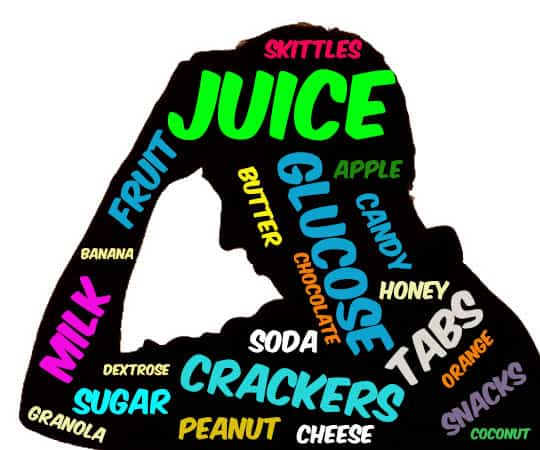 Share your Go-To snack for low blood sugar with our readers in the comments section below.
Want to be part of our next survey? Want to add your tips/feedback/story so our readers can read? Join our Facebook Group – My Diabetes Community to Get Involved!
Hope this article was helpful for you and informative.