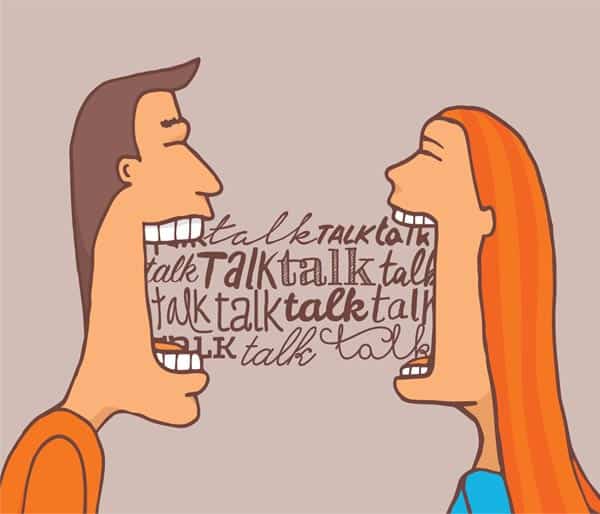 When you live with diabetes or live with someone who has diabetes, it's like you learn how to speak a new language.

In fact, aside from the common terms you learn such as bolus, basal, infusion, ketones, etc., you begin to use your own phrases.
Sometimes, while these phrases seem completely normal to you, those on the outside world unaffected by Diabetes (Lucky duckies!!) don't quite get what you're trying to say, and this can make for some interesting encounters.
The most common phrase used in our house with 2 kiddos with type 1 diabetes kind of makes onlookers listening to the situation unfold look at you with judging eyes.
I remember a few different times my kids were in the grocery store trying to bug me for something near the checkout and proclaiming they were going to starve to death if I didn't buy it for them. I would simply turn to them and say "You're only hungry right now because you're high".
Of course, to those who are not privy to the diabetes lingo like we are, this doesn't really mean the same thing. Many, many others were very judgmental of my parenting skills in that moment.
But I have gotten a chuckle from it, each and every time.
Recently, I asked those in the diabetes online community (DOC) what the most common diabetes related phrase spoken in their house was.
It was interesting to see the variety of responses:
Brooke Stevens Griebel: What's your number?
Ashlyn Mills: Where is my PDM? or Where is my diabetes bag?
Christina Marie: Did you test?
Mary Reagan: How low are you?
Laura Hellings-Kinkead: Did you test?
Elizabeth Mattos: Ur grumpy test
Sandi Lopez: Time to take your blood sugar and take your insulin.
Towa Johansson: Do you have high blood sugar.
For more informative articles read the following:
Elizabeth Mattos: If I hear that one more time this week I'm gonna scream cause it's from my 5 yr old that asks me anytime I am grumpy.
Eva Teresa Thompson: You have to eat healthy food that won't affect your sugar most annoying thing all day everyday.
Denise Tracey: Tatro, did you bolus?
Megan Avery: Eat a snickers.
Shary Lloyd: Is that from the ad and is it good or not so good comment.
Amanda Tonkin: Do u have your insulin? Do u have your tester ?
Sarah Pucillo: My husband: "fix it".
Steve Juliano: Check your sugar.
Stephanie Carter: As a kid… Did you take your shot?
Semone Haines: Have you had your insulin? Or what's your blood sugar? 50/50.
Rebecca Hughes: Jarrell "Are you low?"
Ruby Alvarez: Your sugar is gonna go high with that!!!
Brittany Fall: Did you take your insulin before eating that?
Alison Van Deusen: You should check yourself.
Frances Pedler Christopher: Have you checked your sugar??
Becki Wells: Are you done eating? (Because my 6-yo still boluses after meals).
Nicole Griffin: From the hubby "What's you blood sugar " from me "you like watching me stick things in my body".
Becki Wells: With my horrid ex, it was either <crickets> or "oh! Diabetes is the reason you're stupid".
Melanie Gipson-Hutchinson: Are you hungry or low?? (answer depends on how fast we eat).
April Rollison: I feel funky.
Myra Robin Waddell Mullins: Husband – your low, better fix it.
Karan Pearson Beaulieu: What is your number?
Suzy Basi: Check your sugars..
Tony Clark: This may have too much sugar in it.
Alyssa Turtal: Can you throw away your test strips?!?
Sarah Williams: Have you checked your sug.
Christopher Aiken: Hows your blood sugar.
Sarah Hatfield: Check your sugars.
Donna Vaughn: What's your number?
Shanna Ransley: Where the f**k is my monitor??
Jessica Anna: Where's my orange/green pen? Can you get it?' Or. 'Do you need me to get your pen?'
Lori Cruit: During the night from my husband: Your pump is beeping!
Brooke Hood Busby: What's your number and are you low.
Duane Martin: Check your numbers, you're acting kind of weird.
Erin McReynolds: If you're low you don't need sugar you need water or insulin" and "having low sugars is not dangerous stupid!"……my NON-diabetic dad tells me this….or my 35 year old brother will say "did you stab yourself yet?"
Andal Narayanan: I can't find my pancreas.
Amber Robertson: Where's my meter?" Hahaha. Or my 3 year old "Mom, don't drip insulin on the floor!"
Jennifer Miller-Strandberg: Drink something!
Jonathan Bush: How many carbs?
Caroline Spencer Mcdonald: Diabetes sucks.
Annette Slaughter: Are you high?
Paul Hills: Have you jabbed
Dave Fortenberry: Me screaming at inanimate objects (Glucometer) F**K!
Cindy Leverett Matthews: Check your sugar because your being mean.(which means my daughters sugar is too high).
Marnie DeWulf: You're so angry… have you checked your sugar???
Shannan Guliano: What's your blood.
Alicia Nelson Nily: Have you checked?
Brandy Johnson: What's ur sugar?
Pam Mathers-Johnston: Go check your sugar.
Terri Lynn Paytes Simmerman: What's your sugar?
Carol Case: Are you low ?
Jeff Molnar: Don't forget your insulin.
Amanda Iverson: Are you high?
Lynn Newberg: It was a rough night….
Ashley Renee Ducharme: You smell like insulin…. My 10 yr old daughter tells me every time I take a shot lol.
Savannah Crick: You're acting pissy is your blood sugar high.
Heather Richter: Is your sugar low…lol.
Deidre June: Mine for my husband is "you're being a complete a** right now…what's your sugar at?
Liz MacGregor Blanton: Its ok you got the sugars" when I get moody my husband says this and gets me laughing.
Lorena Bolivar: Home This is so funny! I can't be grumpy because they are always saying this! Even my 6 years old daughter says this to me !
Liz MacGregor Blanton: It's his way of saying maybe you should check your sugar without actually saying it. And it gets me giggling. I mean come on how can you keep an angry face when someone is saying you got the sugar. Lol. Just doesn't get old.
Zoe Otte: Whats your sugar?"
Natalie Green: Where the hell is my bleep (glucose meter) this time?
Margaret L Hickman: What is your sugar, you are acting weird.
Ania Glapa-Grossklag: HOW MUCH!
Carl E Edholm Jr: I feel high.
Serena Grace Dümhart: I'm thirsty lol
Elizabeth Lovely Lopez: Did you shoot up already?
Chelsie Rose: Are you high?
Laura Kay Alcala: My family (whom I live with) doesn't ask/talk to me about my diabetes so to myself- time to shoot up!
Lisa Overton: Your numbers ok???? Have you eaten anything tonight????
Brandi Ann: Do you need OJ.
Kes Katie: Check your damn bg.
Nicky Bongiorno: Wonder how high I am.
Debra Eshbaugh Irwin: I have to change my set. And [daughter] go get my tester please.
Nicholas Tambon: I need the juice!" When I'm high lol, makes me sound like a roid raging idiot.
Brandi Tilley Hudelson: Mooooom I heard a beep!! Check your sugars!!!" It can be any electronic beep. 95% it's not my cgm lol.
Becki Wells: When checking/injecting my daughter.. "I need a finger" or "I need an arm".
Gloria Kay Hoade: Mom, what's your reading?
Kimberley-Jayne Higgs: Mum are you low?
Debra Eshbaugh Irwin: On my worship team at church there are 3 of us with the same pump. Anytime we hear a beep we all look at our hips while saying "was that yours or mine?"
Paige Cronley Wallace: Guess what it is….(my number).
Jess Finn: It's between "test yourself" and "just because it doesn't have carbs doesn't mean you can eat it all".
Katt Dodson: You're saying that because you are low' I'm a horrible person when I'm low.
Heather Culpepper: Did you check?
Bobby Salm: You are low.
Patsy Pensgard: Do u have iob? If u don't correct.
Jenn Kranz: Don't forget to shoot yourself", "shooty, shooty", or "go shoot yourself". My daughter does mdi.
Liza Ioannou: Check.
Margaret R McCarthy Wander: What # on the dexcom now it beeping.
Carla Mosher: Are you low?
Breanna Keaney: How's your sugar?
Richard Vaughn: What is your blood sugar, did you bolus?
Jim Murray: Whatchur sugar?
Shawnee Owenby: Is your sugar low, my sugars low.
Nicole Tickner: What's your number?
Curtis Elam: Did you eat today?
Kiana Phillips: Where are you at?" Blood sugar wise lol.
Kristi Dianne Johnson-Eames: I need juice.
Denise Montoney: I'm high.
Kimberly Simmons Gibson: YOU need to go test!" When I'm too ornery, lol.
Anastasia Nabozny Dawson: What's your number?
Erin Dunkling: Sorry I'm cranky, I'm high" Or "I need sugar"
Angela Novack: Where's my machine??
Raven Michelle Croy: You're sick because you didn't check your sugar!" Even tho I did and it was normal.
Janis Hugar-Lame: I need sugar..lol
Danielle Pickle: Where's my sugar bag!?
Michelle Wenig Large: What does your pump say?
Lacie Lesueur: Make your pocket pancreas stop b*tching….Or "damn I forgot my meter".
Do you have a common diabetes related phrase you use in your house?
We'd love to hear it, comment below!
Disclaimer: The views and opinions expressed in this article are those of the contributors and do not necessarily reflect the official policy or position of TheDiabetesCouncil.com.