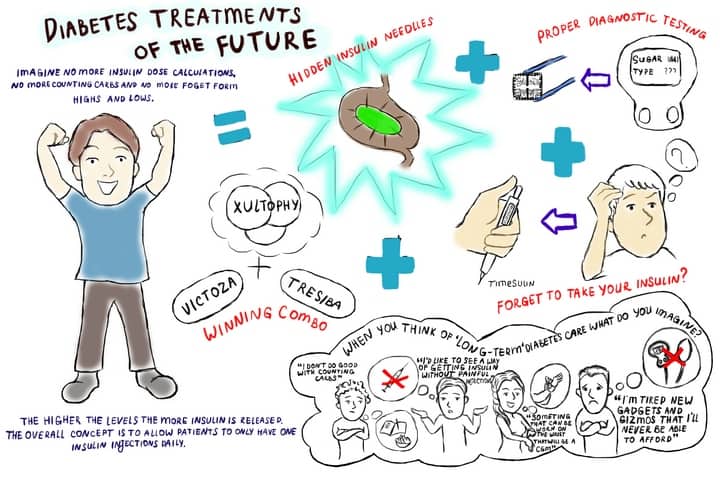 When you think of 'long-term' diabetes care what do you imagine?
I know the first thought that pops in many people's heads that deal with diabetes on a daily basis is "CURE". And that is something we all want, in the meantime however, I posed a question to the DOC about what types of treatment options they would like to see available for those with diabetes. Here's what they had to say:

Before we continue with this article, I wanted to let you know we have researched and compiled science-backed ways to stick to your diet and reverse your diabetes. Want to check out our insights? Download our free PDF Guide "Power Foods to Eat" here.

Bridget: I know we all want a "cure" but I got to thinking so much has changed in just "Treatment" options in the past few years, so what types of treatment options would you like to see in the future?
Zak Grigsby: A cure. Period. I'm tired of new gadgets and gizmos that I'll never be able to afford. I can barely afford the pump and sensor that I have now.
Kathy Klusman Lentz: Something that can be worn on the wrist that will be a CGM that can send your levels right to your pump and it can deliver insulin to you without having to do anything. It won't wake you up, it and the pump will just do it all. No more finger sticks and insurance will cover it!
I recommend reading the following:
Amy Bryant: I agree Bridget. I have been diabetic for over 30 years and diabetes care has come a long way! The only thing that I wish they would come up with is a pump that can calculate your carb intake by what we enter. Pretty much, our phones can have my fitness pal or calorie king down loaded and we can enter what we are eating to calculate the carbs; but I want the pump to be connected to the pdm so once its entered our bolus would start from that. I don't mind diabetes, CGM, shots or anything about it; but I don't do good with counting carbs and doctors tend to ask what my last meals are, so if this could be created, doctors and ourselves would have everything we need at our fingertips and downloadable.
Rianne Ferguson: Not really a treatment but as someone with type 1 who's uninsured I'd like to see everything be affordable instead of the costs constantly rising at an alarming rate.
Margot Thomas: I'd like to see a way of getting insulin without painful injections, those are no fun at all.
John Miller: A less invasive and painful method of testing your blood sugar. Something implanted may be a viable solution to this.
Charlotte Davis: Creating a way to protect the body from any further autoimmune damage.
Larry Johnson: How about a more affordable insulin option, that is a good quality like the larger brand names.
Jill Kavin: A wearable tech device would be nice. This would create a way of preventing any painful testing and also allow you to know your blood sugar at all times. This would be amazing for younger kids with diabetes.
Janelle Garris: How about less supplies to carry with you wherever you go. I always feel like I'm packing for an overnight trip just to make a trip to the grocery store for milk.
Melody Michaels: I believe they could somehow invent a new pancreas, not another device you have to wear but an actual functioning organ that is protected somehow from any further damage or autoimmune attacks when implanted in the body.
Lilly Scott: How about an easier and less painful way of treating younger kids (4 and under). It becomes unbearable to have to hold your screaming child down to give them insulin injections that they need or else they will die.
What's on the Horizon?
These were some pretty great answers on what everyone would like to see in the future. But here are some things currently in the works that could make life with diabetes a little easier.
Proper Diagnostic Testing
Checking a fasting blood sugar is a great way to diagnose someone with diabetes but it misses one vital detail, whether they have type 1 or type 2. Often times adults are misdiagnosed with having type 2 diabetes when they really have type 2 diabetes. Researchers at Stanford University looks to make this process more simple and exact. They are in the process of developing a chip and reader similar to a meter to detect any auto-antibodies in the body. This will help to provide a much more sufficient way of diagnosing the proper type of diabetes.
Forget to Take Your Insulin?
Do you have trouble remembering if you took your insulin dose or not? If this sounds like you, you may benefit from the product Timesulin. Timesulin sits capped onto your insulin pen, when you snap the cap on the pen, the timer will start. This will provide you with a digital reading to let you know how long it's been since your last dose. Timesulin is actually already available in the United States.
Hidden Insulin Needles
This one is both interesting and frightening at the same time. Researchers at the Institute of Technology in Massachusetts have developed a type of pill that has hidden hollow needles. These needles can inject a medicine into the stomach lining when the capsule is swallowed and the outer coating dissolves. While it's still in the first phase of development, it could provide another way of delivering insulin.
Winning Combo
A new type of injectable medicine for type 2 diabetes may soon be on the horizon. Xultophy combines a mix of Victoza and Tresiba to provide a long lasting once a day injection for better blood sugar management. As of November of 2016, Xultophy officially received FDA approval and may be hitting the US market soon.
Further reading:
Smart Insulin
Imagine no more insulin dose calculations, no more counting carbs and no more fog from highs and lows. This is one of the major promises from "smart insulin "Smart insulin works in response to the blood sugar levels in the body. The higher the levels the more insulin is released. The overall concept is to allow patients to only have one insulin injection daily. It's still in its infancy phase and it could be several years before it's developed but it's definitely something to watch out for.