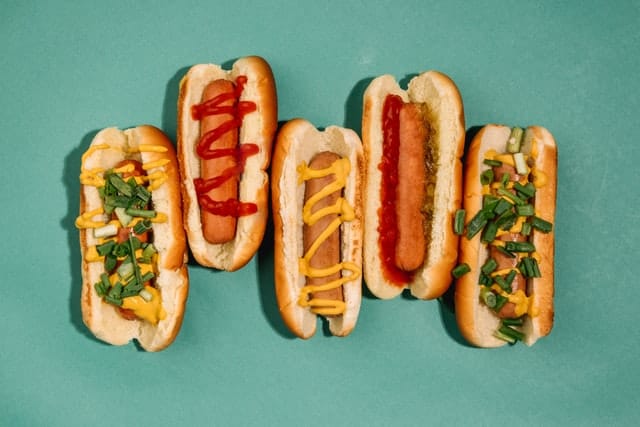 Every American citizen as at one point in their lives grabbed a hot dog. Some even claim the hot dog is as American as Apple pie and baseball. Hot dogs are the most widely sold sausage products in the country, and they're the first choice of fast food at every cookout and barbecue. They're convenient, you can eat them with one hand while doing something else, and they are delicious.
Hotdogs are usually made from a wide variety of meats, and the most commonly used are cured beef, pork, or a mixture of both. Other meat sources include turkey, chicken, soy, and others. The sausage rolls are placed in a bun, and condiment is sprinkled on them. You can use ketchup, mustard, or sauerkraut. And these hot dogs are especially enjoyed by a lot of people.
Many people have associated eating sugar with an increased risk of diabetic Mellitus and its complications. Not only sugars but our overall diet have an impact. Processed foods and red meat are some things to avoid, and you should substitute them for lean meat. And don't forget, our favorite hot dog sausage is made of processed red meats. It would be best if you also avoided Bacon, sausages, deli meats.
Although hot dogs have some nutritional benefits, do you know that eating many of these great grilled favorites is detrimental to a diabetic's health? Overeating hot dogs place healthy people at risk of developing type 2 diabetes mellitus. So if it's your favorite fast food, I suggest you find a healthier one.
Nutritional Composition of Hot Dogs
Per 100g of hot dogs eaten, it contains:
236 calories
12.5g of Fat
11.3g of protein
32.5g of Carbs
1,087.5mg of sodium - 72.5% of the RDA for sodium.
25.0mg of Magnesium, which covers 7.8% of the recommended daily allowance (RDA) for Magnesium.
1.1mg of Zinc - 11.3% of the RDA for Zinc.
1.5mg of Iron - 12.5% of the RDA for Iron.
200.0mg of Potassium - 5.0% of the RDA for Potassium.
10.0mg of Vitamin C - 9.5% of the RDA for Vitamin C.
0.5mg of Vitamin B12 - 16.7% of the RDA for Vitamin B12.
Glycemic Index and Glycemic Load of Hot dogs
As you know, the glycemic index of foods is a measure used to determine food substances that are safe for consumption of diabetics, those that can be eaten in minute quantities or once in a while, and those that should be eradicated from a diabetic's diet.
The Glycemic index of a food can either be low, medium, or high. Foods with a low glycemic index have a glycemic index within 0 to 55. Those with medium glycemic index have glycemic index between 56 and 59, while those with high glycemic index have a glycemic index of 60 and above.
The glycemic load is also categorized into low, medium, and high. With glycemic load between 0 and 10 for low, 11 to 19 for medium, and 20 higher for foods with a high glycemic load. The hot dog has a glycemic index of 85 and a glycemic load of 27.6, which makes it unhealthy and unsafe for people with diabetes. So there you have it, you can either completely eradicate hotdogs from your diet or limit the rate you eat it to once in a year or more.
Do hot dogs raise blood glucose levels?
Hot dogs are rich in carbs. When carbs are introduced into the body, they are converted into glucose, which is the primary source of energy and improves the functionality of body organs and systems. But as with every good thing, glucose is only good when in moderation, and excess amounts of glucose in the body, which is the leading cause of diabetes, results in a spike in blood sugar in people with diabetes.
Hyperglycemia in diabetics is a cause of many complications, including high blood pressure, stroke, heart-related diseases, diabetic ketoacidosis, diabetic hyperosmolar syndrome, insulin resistance, and diabetic coma. To avoid these conditions, you have to manage your blood sugar levels quite well, which means avoiding foods that increase the risk for this disease, including hot dogs.
Hot Dogs and high blood pressure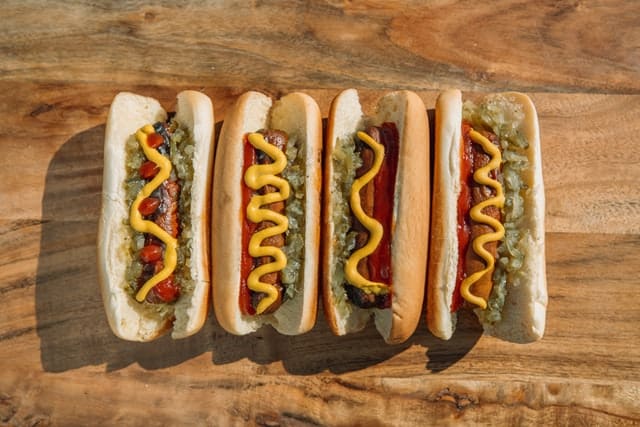 Hot dogs are very high in sodium, and although sodium in moderation is essential to the body when in excess, it is detrimental and can lead to high blood pressure. When you consume too much sodium, your body retains water to wash off all the excess sodium. This causes an excess of surrounding fluid cells and the volume of blood in the bloodstream, causing the heart to work harder to pump blood around the body. This exerts pressure on the heart and blood vessels, which increases blood pressure.
People with diabetes are to check their blood pressure regularly, and a person with diabetes shouldn't have a blood pressure reading of more than 130/80. People with diabetes are usually advised to reduce their sodium intake so that there is a reduction in the risk of having high blood pressure.
Diabetic patients with high blood pressure have increased risks for diabetic complications, like retinopathy (diabetic disease of the eye), nephropathy (diabetic disease of the kidney), neuropathy(diabetic disease of the neurons), heart disease, and other circulatory problems. Although most diabetics are likely to have high blood pressure, not all of them will. Also, reducing your sodium intake will reduce the likelihood of having high blood pressure early and improve your health.
Hotdogs and heart and cardiovascular problems
Besides the fact that diabetes combined with hypertension increases the risk for heart problems and heart failure, Hot dogs contain processed meats. These meats have high LDL cholesterol content, LDL is regarded as bad cholesterol, and it clogs the arteries resulting in heart-related issues. This is why regularly eating hot dogs increases your chances of suffering from heart failure.
People who usually suffer from a heart attack have high blood sugar afterward, a response to the stress contributing to having a heart attack. Even if your glucose level was normal before the heart attack, it is bound to increase, and even non-diabetic patients become hyperglycaemic after having a heart attack.
It increases blood glucose by decreasing insulin production, activating gluconeogenesis and glycogenolysis, thus increasing the production of glucose in the body. This sudden spike in blood glucose levels is terrible for people with diabetes. It can result in uncontrollable thirst, excess urination, dehydration, nausea and vomiting, stomach ache, or even diabetic alcohol. It also results in subsequent heart attacks.
Hot dogs and insulin resistance
Studies have proven that there's a relationship between LDL and insulin resistance. While insulin resistance can cause diabetes mellitus in healthy people, it leads to poor disease management. It increases blood sugar levels in people with diabetes, especially in patients with type 1 diabetes, as the insulin shots won't work as expected again. This makes it harder for the body to burn food for energy resulting in the accumulation of glucose in the bloodstream.
Also, processed meats, which hot dogs contain, are usually preserved with nitrates and nitrites, which form nitrosamines in the stomach, a chemical that is toxic to the pancreatic cells. It reduces the production of insulin, which also results in glucose intolerance and the presence of excess glucose in the bloodstream.
They also contain Iron, and studies have shown that Iron contributes to insulin resistance.
Healthy Hot Dog Version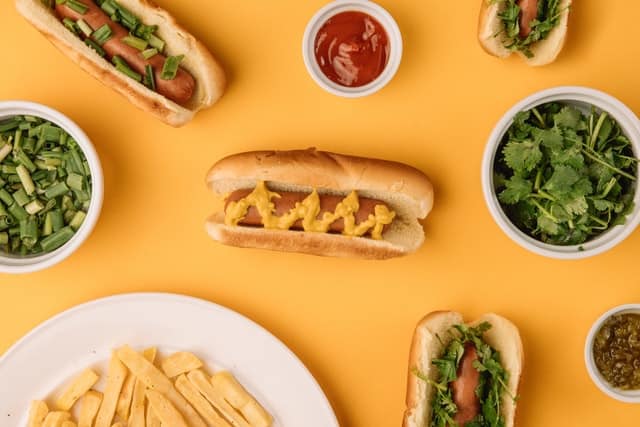 Understandably, everyone loves hot dogs, and ultimately eradicating them from your diet will prove difficult. For this reason, a lot of people are making homemade hot dogs and substituting some of the ingredients to make better, healthier hot dogs. There are hot dog recipes, especially by Chef Robert Lewis, who has effectively managed his type 2 diabetes Mellitus condition for 20years now.
It goes to show that having diabetes is not a life sentence of boring foods, but you can swish up things, make your own healthier version of foods that are generally unhealthy, and enjoy delicious meals while at the same time remaining healthy. So cheer up buddy, there are lots of healthy recipes you can try out and have fun while cooking and eating them.
Here is an example of one of such healthy recipes:
Step 1: Beat 2 whole eggs and 2 extra egg whites into a bowl.
Step 2: Mix almond flour, low-fat butter, baking powder into a bowl and evenly mix until you get a fine dough.
Step 3: Divide the dough into several hot dog rolls and bake for approximately 35 minutes.
Step 4: Set aside to cool
Step 5: Place the gluten-free pork sausages in a tray and bake for about 20 minutes, depending on the cooking instructions on the packet.
Step 6: Stuff your hot dog rolls with sausages and toppings of your choice
Note that the condiment you use also counts. While some condiments, like mustard, are healthy and safe for people with diabetes, others are not.
Conclusion
In short, although hot dogs are unhealthy for diabetics, as well as a host of other unhealthy foods, that long list of foods to avoid should not take all the fun out of your nutrition. In contrast, others eat conventional food. Why not be different and eat healthier versions of their conventional food. Because it truly can be hard to live by those diet restrictions.