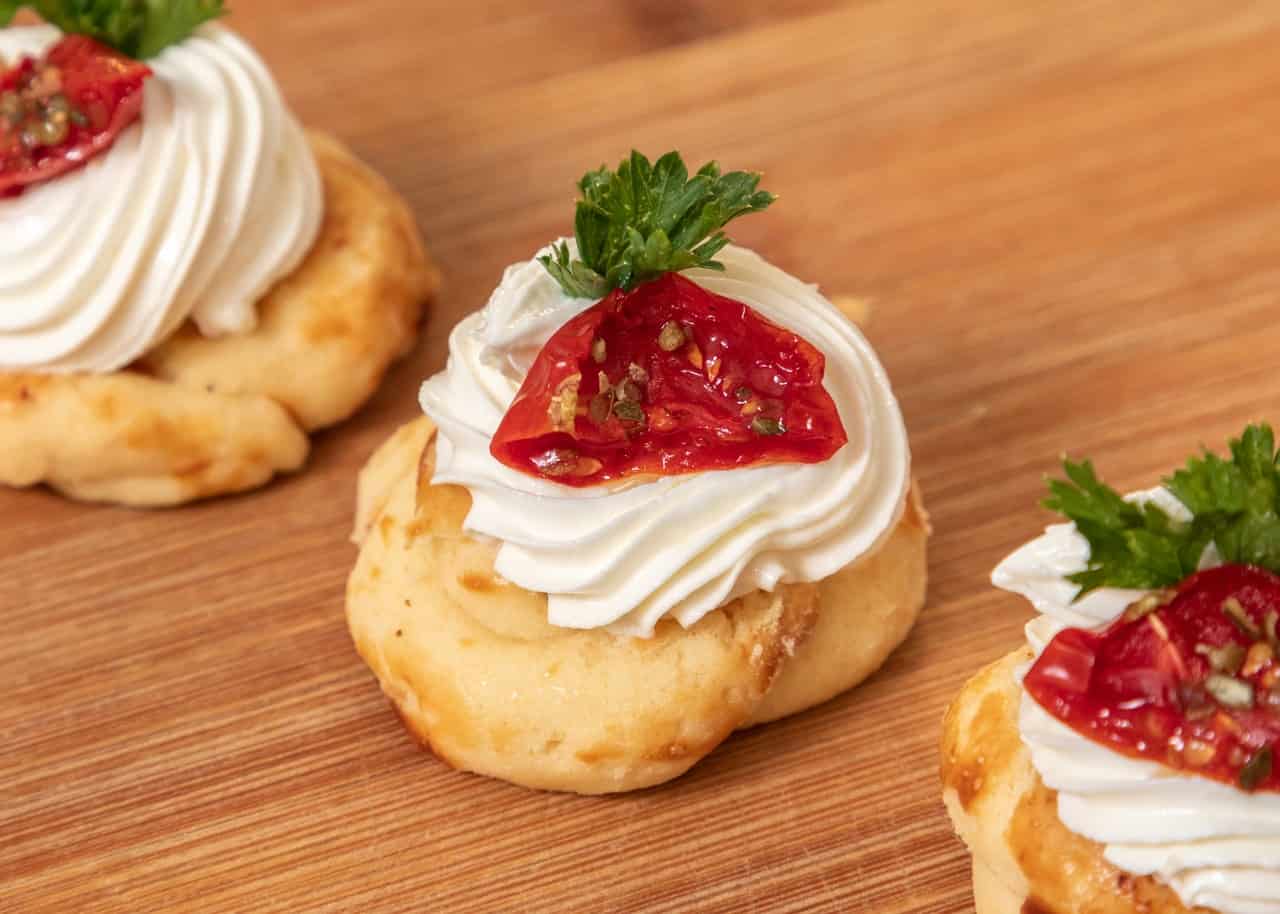 At first glance, this may seem like a no-brainer: Of course cream cheese is bad news for diabetes! But actually, the truth of the matter is more complicated and less black-and-white than a first glance permits.
Cream cheese, to many of you out there, is nothing like proper cheese, but only a commercial name of a condiment full of chemicals and sugars and such culprits that lead to diabetes and obesity and heart diseases.
But the nature of the cream cheese is exactly as its name suggests—it's a proper kind of cheese, although with very minimal aging and culturing.
In this blog post, we are going to talk about the benefits and risks of cheese in general, and then about how cream cheese is made, after which you will come to understand why cream cheese shares these ups and downs of so-called proper cheeses.
Cheese has low glycemic index (GI)
Glycemic index (GI) is a number from 0 to 100, with a 100 being pure glucose, that indicates how fast a given food raises one's blood sugar levels. For people with diabetes, GI of a food is definitely something to look out for.
In general, cheeses have a low GI, since it contains virtually no carbohydrates and is made from cultured milk and seasoned with salt, according to Medical News Today.
Because diabetes is caused by insulin deficiency, the blood sugar levels in diabetic patients need to be controlled at a lower level. So, from the perspective of GI, cheeses are at the very least safe to eat, given that it's part of a balanced diet.
Cheese is protein-rich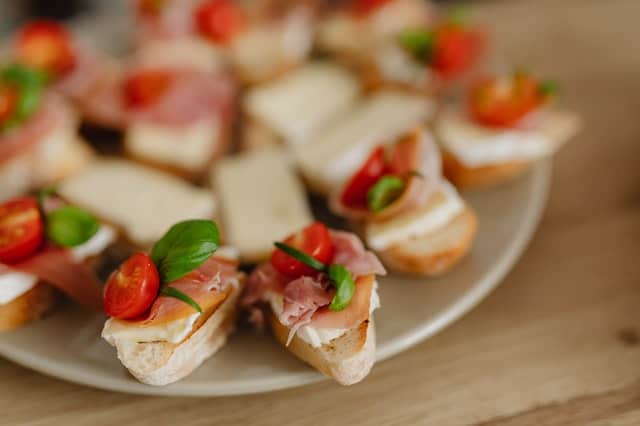 If you have ever looked at the nutritional facts of cheese, you would discover that cheese is dense in protein. Take our most popular cheese in North America, cheddar cheese, as an example, for every 100 grams it contains 23.3 grams of protein. And it's no wonder—after milk is made into cheese, most of the whey has been concentrated, which is the essence of protein powders.
This high-protein profile is good for stabilizing blood sugar levels. It's not only because it counterbalances any spikes in blood sugar levels, but because when eaten alone, protein for whatever reason does not bring up blood glucose levels.
Again, preventing blood sugar level spikes is an important aspect when managing diabetes, and cheese seems to help with that.
Perhaps because of this property of cheese, one study conducted in 2012 found that people who eat cheese for about 55 grams per day were at a reduced risk of up to 12% for developing diabetes, compared to those who consumed other forms of dairy.
But it is noteworthy that a conclusive conclusion can't be drawn from this study. It could be the case that those with reduced risk for diabetes were simply benefiting from their already better health compared to others in the same study. So they are better "equipped" to eat cheese without experiencing potential negative impacts on diabetic risks.
Indeed, cheese, though not exactly as unhealthy as deep-fried stuff, is not an all-healthy saint, either.
Cheese, high-fat, high-calorie
According to the US Department of Agriculture (USDA) dietary guidelines, saturated fat should only comprise less than 10% of your caloric intake. Yet, in about 50 grams of cheddar cheese (2 slices), there are over 200 calories, and about 30% of those came pure saturated fat. That's about 3% of your daily caloric intake already.
Therefore, although cheese may have high protein contents which helps stabilize blood sugar, it also has high fat content and is calorie-dense.
There is good reason for the USDA to recommend that specific threshold for saturated fat. Consumption of saturated fat in dairy products, including cheese, was found to be linked to a heightened risk for cardiovascular diseases in US adults across the country in a study published in 2016.
Given that cardiovascular diseases and diabetes more often than not go hand-in-hand, cheese, as far as fat content goes, can't be much of a good news for diabetic health, either.
Cheese is high in sodium
Speaking of cardiovascular health, one crucial element is sodium, which can elevate your blood pressure, and chronic high intake of salty food can lead to chronic high blood pressure, leading to much increased risk for contracting cardiovascular disease.
Tasty as cheese is, it is a food high in sodium. To use our old friend cheddar cheese as an example, there is 25% worth of daily recommended intake of sodium in just a 100 grams. That's still 13% if you reduce to 50 grams, or two slices.
So, we have shown that cheese in general has some ups and downs when it comes to its effects on our health, but probably should be avoided or eaten only in small amounts for diabetic people. What about cream cheese? Are they the same thing?
Making of cream cheese
Although many packaged cream cheese options out there are may seem like an unhealthy food, it's not as bad as people make it out to be. Because of its use in cheesecakes, cream cheese can often be associated with sweets, which signals unhealthy. But the making of cream cheese tells an entirely different story.
To make cream cheese, there is a lot of waiting around, not much work to be done in the kitchen. There are basically two ingredients for making cream cheese, not referring to any trademarked products like Philadelphia.
The first ingredient is plain yogurt with no sugar added. No, not the greek kind, just the regular, more fluid kind. Once you wrap the tub worth of yogurt in a few layers of cheesecloth, you let it hang over a container in the fridge for 24 hours. Do not squeeze—the yogurt will permeate the cloth if you do. Make sure the cloths are far enough from the strained liquid so the liquid part continues to come out.
Once time is up, you can see the solid part separated from the liquid. By this point, it's already looking much like cream cheese. But we have one more step: add a little salt to taste and let it sit in the fridge for another 2 days.
During these 2 days, the salt and the culture in the yogurt will collaborate and work their way through the creamy solid part. By the end of those two long days, although the block of solid won't look too different, once you taste it, you will for sure recognize it as cream cheese.
Nowhere is sugar added, and salt is only added in moderation, otherwise you won't get the iconic flavour.
So…Is cream cheese healthy?
Cream cheese and health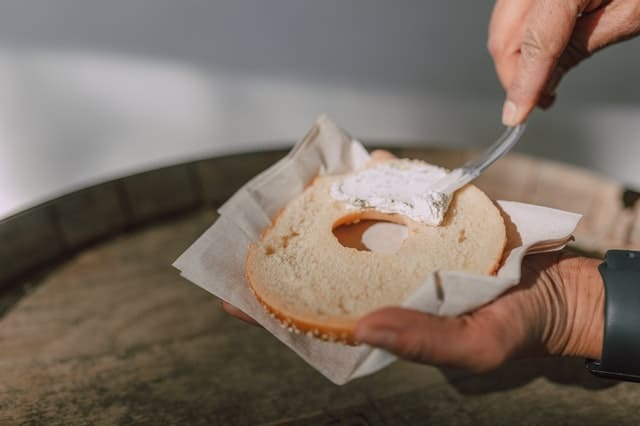 Because cream cheese is made from yogurt and salt, it is safe to say that you get from cream cheese what you would get from yogurt, if we are talking strictly nutrition-wise. Although it is true that cream cheese has lower protein, it also has lower sodium, contains probiotic culture that is good for your health system, only half the sodium compared to the average cheese (13% daily value in 100 grams), and less saturated fat.
So why is cream cheese not considered a healthy food by most people and experts?
Well, though it is lower in saturated fat in comparison to cheese, it still contains 95% of recommended daily value in 100 grams. And all the pitfalls that apply to dairy still holds true when considering cream cheese.
Another reason why people regard cream cheese as unhealthy has to do with the danger of talking about a food that's essentially a condiment as if it's something we eat by itself. Given what we know about cream cheese—basically dried yogurt plus salt—if you eat 50 grams of cream cheese, it probably beats the same amount of cheddar. But we don't eat cream cheese by itself.
It's how we usually eat cream cheese that's more problematic than cream cheese itself. We eat it with bagels, in sandwiches, or in cheesecakes. We can hardly imagine an occasion for cream cheese without some kind of carbs. And we all know carbs are a big, bad enemy for blood sugar levels—of people with diabetes.
Therefore, if you do want to eat cream cheese while battling with diabetes, rest assured that it holds no more danger than two slices of the regular cheese, as long as you leave bread out of it.
In addition, as you have seen, it's easy to make cream cheese yourself. Instead of buying it from the manufacturers, where you have no control of ingredients, you can make it yourself, using 0% fat yogurts and adjust the salt levels so that it's not only a healthier dose of sodium, it will taste lighter and more refreshing.
Conclusion
Much of the bad reputation surrounding cream cheese seems to come from the way we consume it in our culture. Although cream cheese has high saturated fat contents and high calories, if it is used in the right way, without carbs, it actually appears to be a healthier alternative than the good old cheese.
But because of the saturated fat it contains and dairy sugars that are naturally in all dairies, it is always wise to run your cream cheese-inclusive meal plan through your doctor before committing to either buying it or making it at home (which can make it healthier by controlling ingredients yourself).