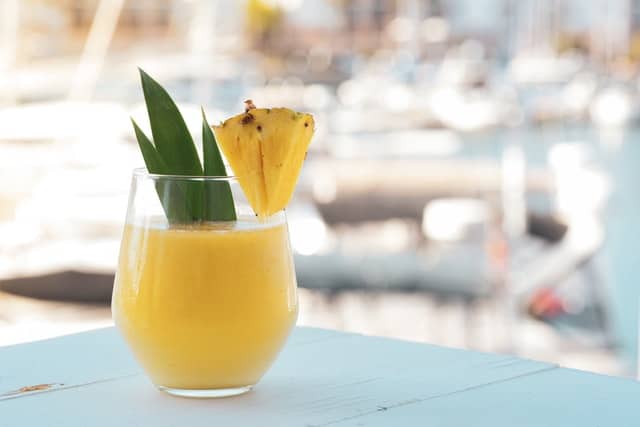 The Pineapple has been described as one of the world's most important commercial fruit crops. The fruit can be eaten or served fresh, cooked, or juiced, but the best way to reap Pineapple's nutritional and medicinal benefits is to juice it.
According to the International Journal of Nutrition and Food Sciences 2015, vol 4, pineapple juice contains 13-15% balanced sugar and a lot of vitamin C and citric and malic acids, which help prevent the occurrence of certain foods diseases such as cancer. It has also been shown to cure various diseases such as diabetes, asthma, obesity, and other heart and digestion issues.
Pineapples have been shown to help diabetic patients lower their blood sugar levels because they are fat-free fruits high in fiber and vitamins. According to the study, Pineapple has a more significant effect on blood sugar levels than most other fruits when consumed equally. According to research, one cup of fresh pineapple juice contains 1.40 grams of fiber.
One of the Pineapple's best properties is its diuretic function. It has been discovered that Pineapple aids in the elimination of toxins through the urine and is said to be helpful to patients suffering from kidney, bladder, and prostate problems.
Is it safe for diabetic patients to consume pineapple juice?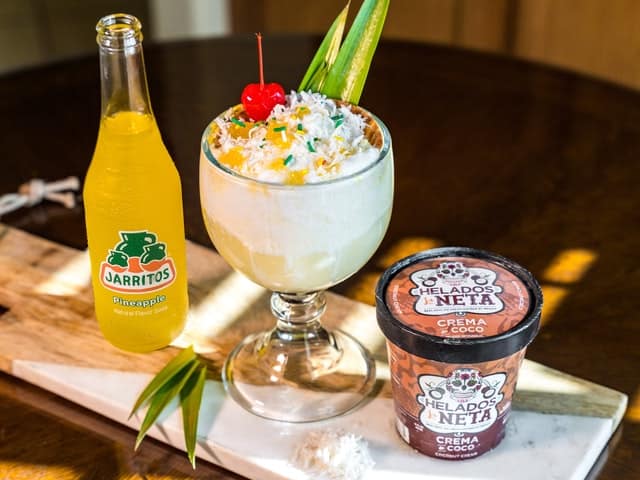 Pineapple juice is high in nutrients. It contains bromelain enzymes, which can aid in digestion. Pineapple juice can also improve immunity and reduce inflammation. It also contains antioxidants, which can help fight against oxidative stress.
For diabetics, fruits can be a healthy alternative. Pineapple is a nutrient-dense fruit, but it has a high glycemic index. Fresh Pineapple is better than dried, canned, or juiced Pineapple. Although pineapple juice has numerous health benefits, it is not fully recommended for diabetics. Pineapple has a medium GI. Diabetics should eat a diet with a low GI (glycemic index).
Carbohydrates also contribute to elevated blood sugar levels. To avoid major fluctuations in blood sugars, most diabetics count the number of carbs they consume in each meal. Pineapple has a low carbohydrate content.
Pineapple is a fat-free fruit that is high in vitamins and fiber. Fiber is essential for diabetics because it can help lower blood glucose levels, lower cholesterol levels, and regulate bowel movements. In reality, a single serving of pineapple juice contains 2.2 grams of fiber and 78 calories.
On the other hand, Pineapple has a higher GI rating than other fruits. Fresh whole Pineapple has a GI of 59. On the other hand, unsweetened pineapple juice has a lower GI rating due to the absence of solid carbs in Pineapple. Tinned fruit in juices has a similar GI rating to fresh Pineapple. Tinned Pineapple in syrup is a definite "no-no" for anyone with diabetes.
Pineapple carb counting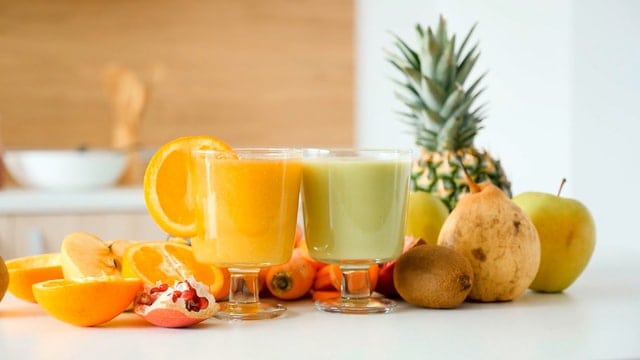 Because carbohydrates cause raises blood sugar levels, many diabetics track their carbohydrate intake daily. You must consume carbs consistently throughout the day to keep glucose levels within a healthy range. Most people aim for 30-45 g of carbs per meal and 15–20 g of carbs per snack when carb counting, depending on their total calorie goals for the day.
However, the amount will vary depending on personal factors such as medications and exercise levels. After determining how many carbs you require, a healthcare provider or dietitian can assist you in developing a plan.
Balancing carbohydrates means that the person can eat whatever they want, but they must keep the total number of carbs within a specific range. As a result, if one high-carb component, such as Pineapple, is included in a meal, the person may need to satisfy it without potato or a piece of bread. This ensures that the person has the appropriate amount of carbohydrates in Pineapple.
Juicing fruit removes some of its fibers, which means that sugar from juice enters the bloodstream faster than sugar obtained from whole fruit. Even if the juice is not sweet, consuming a large glass of pineapple juice is likely to cause a glucose increase.
Glycemic index monitoring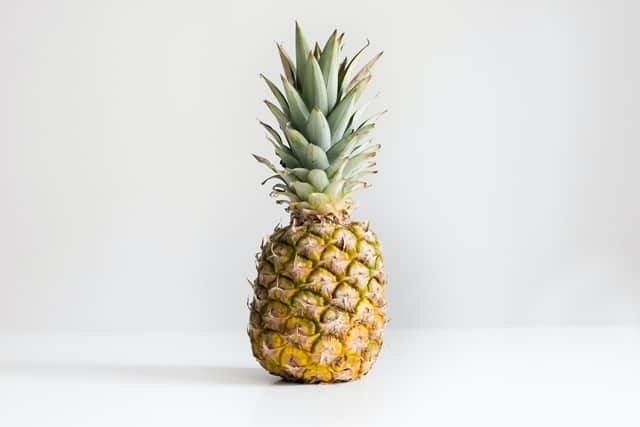 The GI assists a person in determining whether Pineapple is a good choice and, if so, in what form. The GI is a technique of ranking foods based on how quickly they raise blood glucose levels. Glucose has a GI of 100, whereas water has a GI of 0.
The following factors contribute to the GI score:
The fiber contents
The sugar and starch content
Ripeness
Cooking technique
The quantity and type of processing
The variety of fruits or specific canned or other products
If a meal has a high GI, it can quickly raise blood glucose levels. These foods can still be consumed, but they must be balanced with some low glycemic food items at meals. Fruits may be too sweet, but they are also high in fiber, which slows digestion and reduces the likelihood of a sugar spike. As a result, they do not consistently score well on the GI scale.
Ripening and processing are two other factors that influence the GI score. Both of these increase amount of sugar released by pineapple fruits and the rate it is absorbed by the body. As a result, whole fruits have a lower GI score than juice, and ripe fruit has a higher GI score than unripe fruit. Other nutrient constituents present in the same food also affect GI.
Foods with a lower GI score are generally preferable to those with a high GI score for diabetics. Many fruits have low GI scores, indicating that they have a lower impact on blood glucose levels than other foods. These scores are expected to fall as the fruit contains fructose and fiber, which help the body digest carbohydrates more slowly, resulting in more stable blood glucose levels over time.
Why should you drink pineapple juice?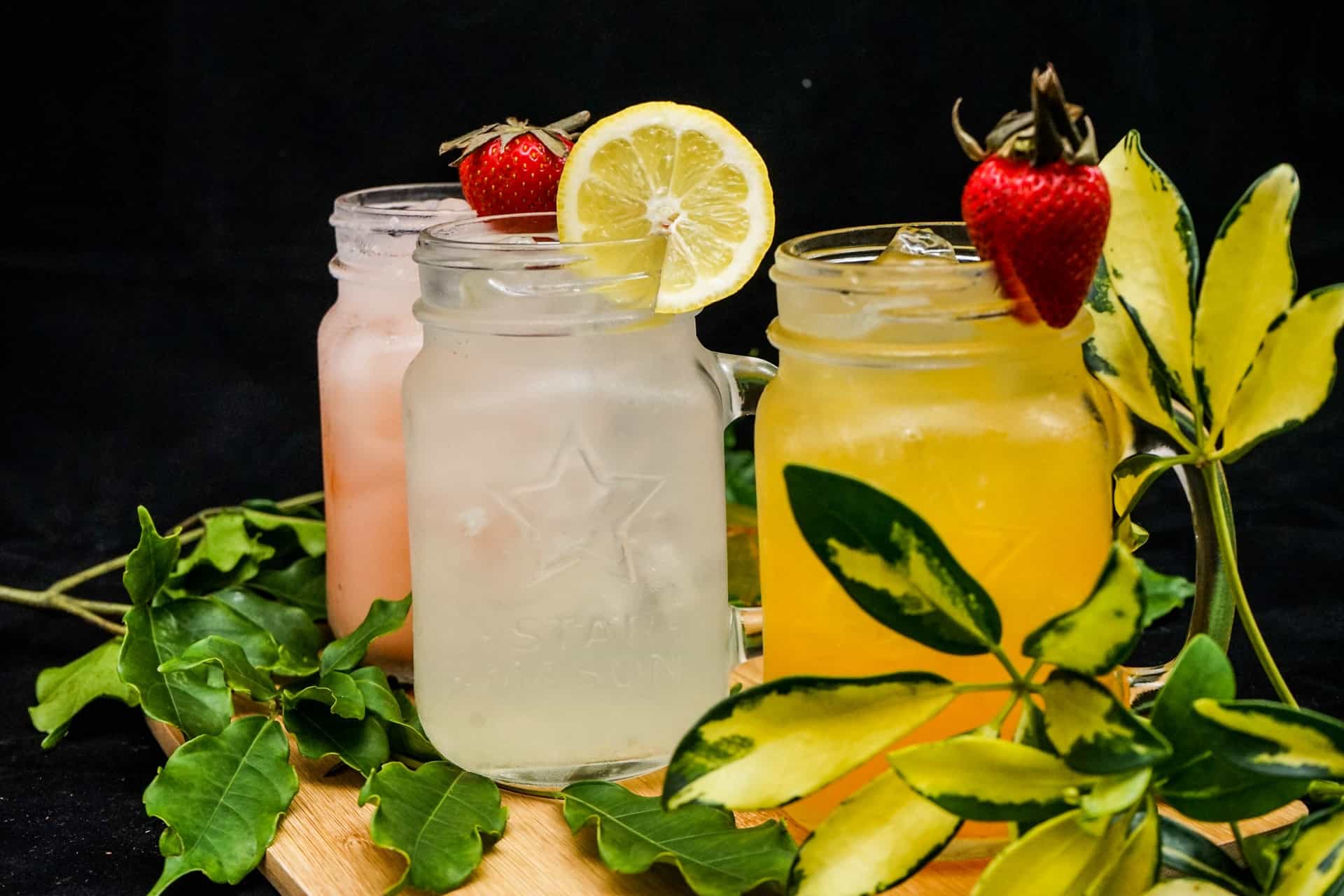 Do you consume pineapple juice? It tastes just like the fruit. It tastes like Pineapple, but it's slightly sweeter and has a hint of citrus, and it's a sure bet for everyone.
Not only is pineapple juice delicious, but it also has numerous nutritional benefits. Pineapple contains high vitamin C, manganese, copper, and vitamin B6 levels. All of these aid in wound healing and maintaining a healthy immune system.
Furthermore, it is high in antioxidants and bromelain, a group of enzymes that may aid in the reduction of inflammation.
Pineapple juice varieties
Pineapple juice is most commonly found in a can. Some pineapple juice is vitamin C fortified. Once a can of pineapple juice has been opened, it must be sealed, refrigerated, and consumed within five to seven days.
Pineapple juice is also available in cartons and bottles. Another option is light pineapple juice, which contains water to reduce the calorie and sugar content. Whatever type you choose, it's best to look for 100% juice with no added sugars.
Pineapple juice's anti-disease properties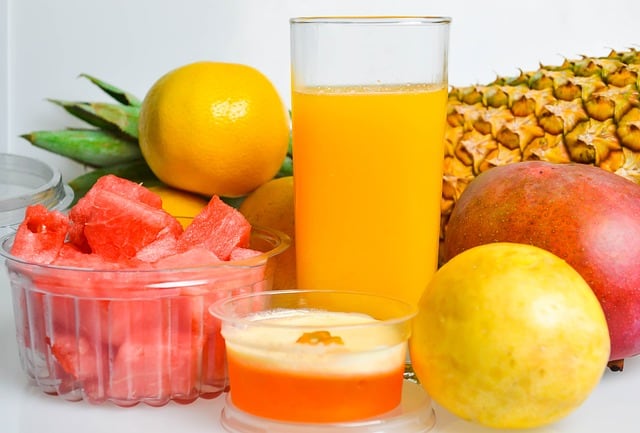 Pineapple juice, like pineapple fruit, has numerous health benefits. Pineapples contain antioxidants, vitamin A and vitamin C. Antioxidant-rich diets have been shown to minimize the risks of many adverse diseases, including cancer, heart disease, and diabetes.
In fact, antioxidants are among the most important nutritional factors in disease prevention. Antioxidants have been linked to disease prevention in study after study. We should eat fruits and vegetables at every meal to get a variety of antioxidants. Pineapple juice is one delicious way to get more potent antioxidants in our diet.
Pineapple juice may also be beneficial to your respiratory system. Bromelain and antioxidants have been linked to reduced seasonal allergy symptoms and improved asthma control.
Pineapple juice's nutritional advantages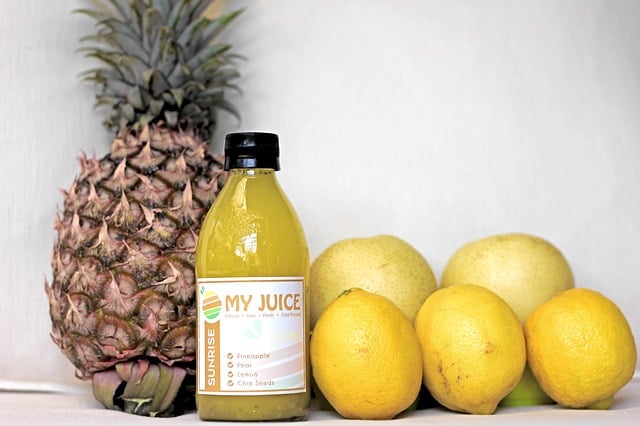 Pineapple juice has nutritional benefits such as promoting healthy immunity and reducing inflammation. One cup of vitamin C-fortified pineapple juice contains 110 milligrams of vitamin C—vitamin C is required for cell growth and repair and is essential for a healthy immune system." Vitamin C-rich diets have been linked to reducing the appearance of aging skin.
Bromelain is another nutrient found in pineapple juice. This enzyme group may aid digestion and reduce inflammation, which are risk factors for heart disease. Bromelain may also assist your body in fighting pain and reducing swelling following surgery or strenuous exercise. It also helps reduce blood sugar levels in diabetics.
The advantages of bromelain do not end there. Research may help people with GI disorders reduce adverse gastrointestinal effects, promote heart health, and protect against cancer and diabetes.
In addition, pineapple juice contains potassium, an electrolyte that can aid in rehydration after strenuous exercise or a night of drinking.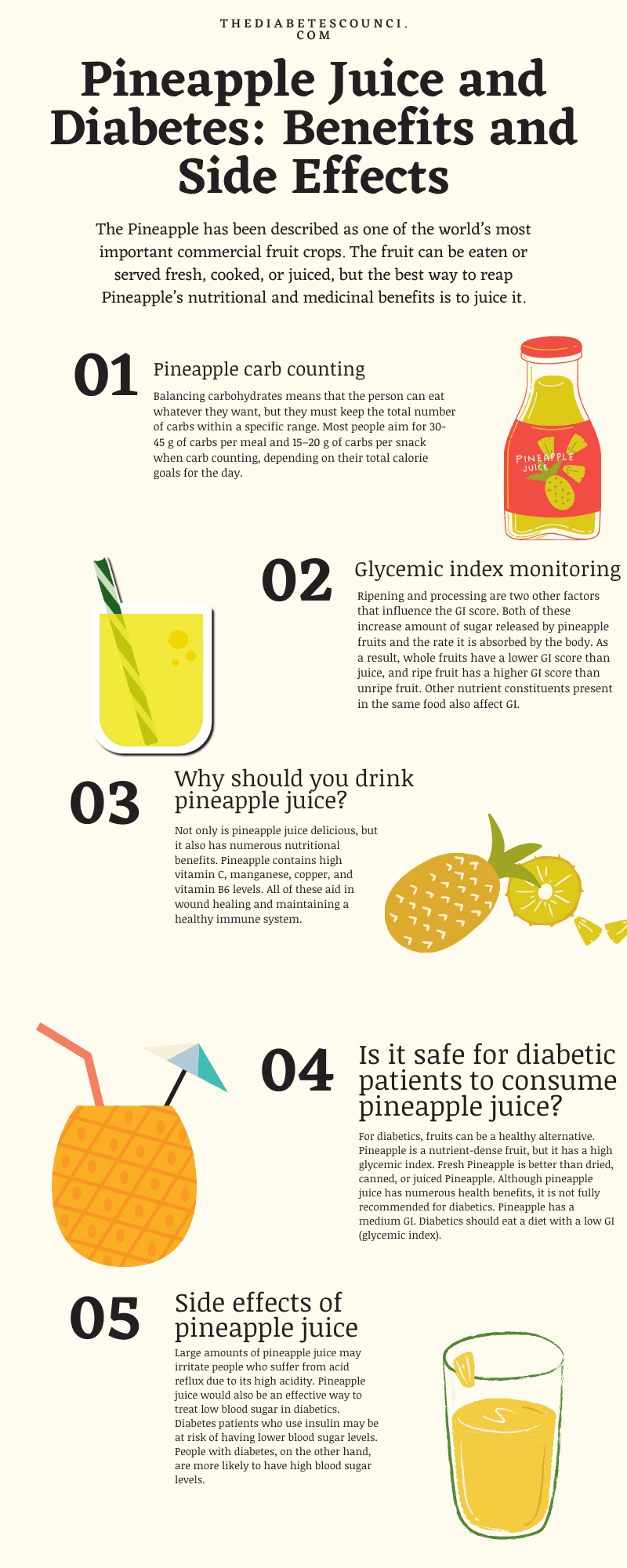 Side effects of pineapple juice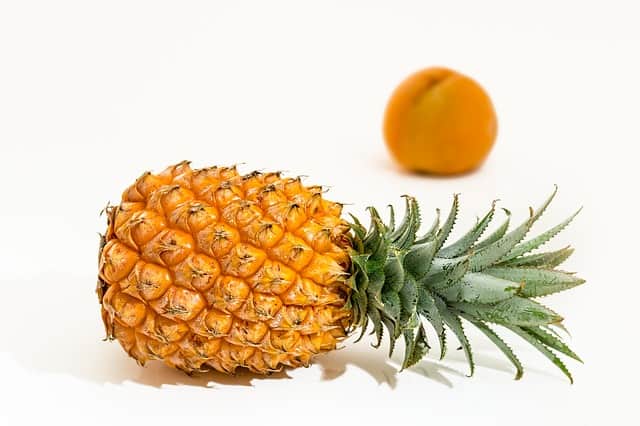 Large amounts of pineapple juice may irritate people who suffer from acid reflux due to its high acidity. Pineapple juice would also be an effective way to treat low blood sugar in diabetics. However, it should be consumed in moderation with fiber and protein-rich meals or snacks under normal circumstances.
Diabetes patients who use insulin may be at risk of having lower blood sugar levels. People with diabetes, on the other hand, are more likely to have high blood sugar levels.