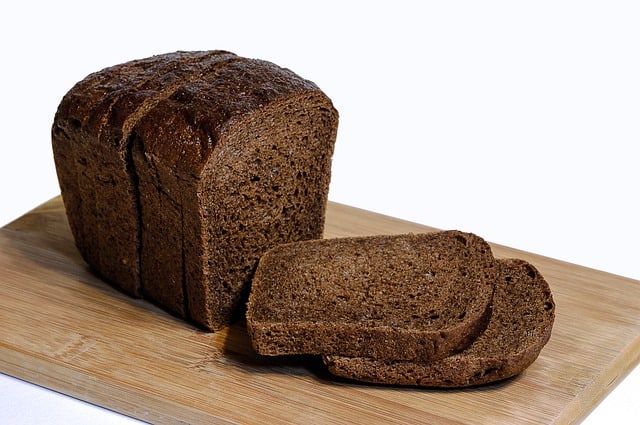 Diabetes is a disease that affects a rapidly growing segment of society. The reasons for diabetes are diverse and unclear. There are both genetic and also environmental factors involved - very often a poor diet. Regardless of the reasons people develop diabetes, affected individuals must change their diets to an extent. It is essential to reduce the amount of simple sugars consumed.
Therefore, people with diabetes should avoid eating bread made from highly processed flour, which is characterized by a high glycemic index. Fortunately, bread is readily available that can be eaten by everyone. And it is also delicious!
What should the characteristics of bread for diabetics be?
As already mentioned, diabetic bread must not contain an exorbitant amount of monosaccharides. So there are no sweet buns and yeast rolls - as long as they include sugar, honey, or similar products. However, the most relevant indicator, in this case, is the GI - glycemic index. The GI is an indicator that can be determined for each food product. It shows the extent to which a product raises the blood glucose level within two to three hours after consumption.
The highest GI is characterized by pure glucose, for which it equals 100. Products with a low glycemic index are those for which it is below fifty points. Diabetics should eat things with the lowest possible GI - thus keeping their blood glucose levels low. That's why it's especially bad for them to eat bread made from highly processed flour - which has a high glycemic index.
The Glycemic Index
The glycemic index (GI) classifies foods according to their effect on blood glucose levels 2-3 hours after consumption. Diabetics should choose bread with the lowest possible glycemic index. Bread with flourless bread (e.g. Whole & Pure (order online) - 21.3 GI) and breads with high protein and fibre content (e.g. ProBody (order online) - 33.5 GI) have a very low GI.
Carbohydrate equivalent
The carbohydrate exchanger (WW) is a unit used in diabetes management to determine the quantity of assimilable carbohydrates in foods. The diabetologist will suggest the number of exchangers to the patient and match it against the number of insulin units per 1 WW. This usually varies depending on the time of day of the meal (usually highest at breakfast time).
The exchanger helps to match the insulin level to the body's requirements after each meal and to avoid hyperglycemia and serious complications of diabetes. The carbohydrate quotient is rarely given on food labels. Therefore, you usually calculate it yourself using the following formula: 1 WW = 10 g of carbohydrate in the product. Of course, the amount of bread eaten must be considered (weigh it beforehand).
To make it easier for diabetics to prepare their daily meals, provide the WW and WBT index for each product (not only those suggested for diabetics). The exchange ratio is usually described for 100 g of product or a weight equivalent to about one slice.
Protein and fat replacement
It's not just carbohydrates that raise blood sugar. Proteins and fats also do it. This process is, of course, much longer than for sugars, but it affects the occurrence of the risk of hyperglycemia. In order to calculate the insulin requirement even more precisely, the protein-fat exchanger (WBT) is considered besides the WW ratio. It is calculated using the formula: 1 WBT = 100 kcal from protein and fat. The dose of insulin per 1 WTB should be determined by a diabetologist.
So what kind of bread can they eat?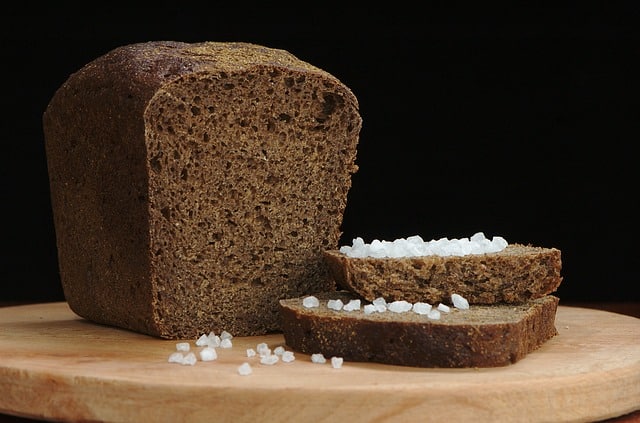 When buying bread for diabetics, what should you pay attention to? To choose the right bread for a diabetic, one must carefully check its composition, which can be found on the package if the product is packaged. Patients with diabetes should avoid bread with some additives, such as candied or dried fruits (e.g. raisins).
It is also worth comparing the energy content of different baked goods before purchasing. Eating according to the calculated daily energy requirements by a diabetologist or dietician will help to maintain a constant body weight, which will help to monitor the condition. Daily energy intake depends on many factors, but usually, for a diabetic, it shouldn't exceed 1500-2400 kcal. However, you should not establish it on your own, rather with the help of a specialist.
Rye bread is excellent for diabetics
Compared to regular white bread, rye bread is usually denser and darker and has a stronger, sour but earthy flavour. Rye flour contains less gluten than wheat flour, so the bread is denser and does not rise as high as regular wheat-based bread. However, given that it still contains gluten, it is not suitable for people with celiac disease or gluten sensitivity. In addition, it has been linked to several potential health benefits, including better blood sugar control and improved heart and digestive health.
Nutrition Facts
Rye bread is high in fibre and has many nutritional benefits. The exact composition depends on the amount of rye flour used. On average, 1 slice (32 g) of rye bread provides:
Calories: 83
Protein: 2.7 g
Carbohydrates: 15.5 g
Fat: 1.1 g
Fibre: 1,9 g
Selenium: 18% of the daily requirement
Thiamine: 11.6 per cent.
Manganese: 11,5 per cent.
Riboflavin: 8.2 per cent
Niacin: 7.6 per cent.
Vitamin B6: 7.5 per cent.
Copper: 6.6 per cent.
Iron: 5 per cent
Folic acid: 8.8 per cent
Supports digestion
Rye bread positively influences the functioning of the digestive tract. It promotes the multiplication of beneficial bacteria in the intestines and inhibits the growth of pathogenic bacteria. The lactic acid in such bread facilitates digestion and prevents constipation.
Rye bread also has a lower glycemic index (48) than wheat bread (70). As you know, the lower the index, the better for your health. This is because, after the consumption of such food, there is no rapid increase in blood glucose levels. This is especially beneficial for diabetics and obese people.
What important rye bread can help in the prevention of cancer? It contains phytoestrogen, which is transformed into the human body into compounds protecting against breast and prostate cancer. Re-lactic acid bacteria formed during the fermentation of dough may eliminate compounds with carcinogenic effects, e.g., nitrites.
Regular consumption of rye bread can also prevent cardiovascular diseases. It contributes to lowering the level of LDL cholesterol in blood, which is conducive to the development of atherosclerosis. In addition, there is no longer a need to add much salt to sourdough bread, because the sourdough makes the bread salty, despite the small addition of salt. This is important in the prevention of hypertension.
Improve heart health
Adding rye bread to your diet can improve several aspects of heart health, as studies have linked its consumption to lower levels of heart disease risk factors. For example, an 8-week study involving 40 people compared the effects of eating 20% of their daily calories from rye or wheat bread on blood cholesterol levels.
The researchers found that rye bread appeared to be more effective at lowering cholesterol levels in men than wheat bread and lowered total and LDL (bad) cholesterol by 14% and 12%, respectively. This effect is likely because of the high soluble fibre content of rye bread, a type of indigestible fibre that forms a gel-like substance in the digestive tract and may help remove cholesterol-rich bile from the blood and body. Studies have shown that regular intake of soluble fibre is associated with a 5-10% reduction in both total and LDL (bad) cholesterol in just 4 weeks
Control blood sugar levels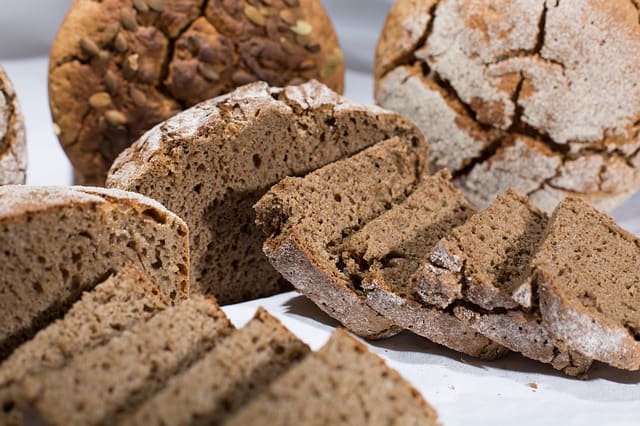 Controlling blood sugar levels is important for everyone, especially people with type 2 diabetes and those unable to produce enough insulin, the hormone that regulates blood sugar.
Rye bread has several qualities that can help control blood sugar. For starters, it is high in soluble fibre, which helps slow the digestion and absorption of carbohydrates and sugar through the digestive tract, leading to a more gradual rise in blood sugar levels.
Rye bread also contains phenolic compounds, such as ferulic acid and caffeic acid, which can slow the release of sugar and insulin into the bloodstream, further helping to control blood sugar levels. For example, a study involving 21 healthy adults found that eating a rye-based evening meal with added resistant starch helped slow the release of sugar and insulin into the bloodstream. It raised levels of satiety hormones, so people stayed full longer
However, plain rye had no significant effect on blood sugar levels, although it increases feelings of satiety
Other potential benefits
Besides those mentioned above, rye bread offers additional potential health benefits.
Although supported by fewer studies and weaker evidence, these include:
May reduce inflammation. A study in humans linked rye bread consumption to lower markers of inflammation,
May protect against certain cancers. Consumption of rye bread reduces the overall risk of several cancers, including prostate, colorectal and breast cancer.
Rye bread has been linked to several potential health benefits, including weight loss, reduced inflammation, better blood sugar control, and improved heart and digestive health.
While rye bread is healthy overall, it may have some drawbacks, including:
Rye bread, especially lighter bread, contains phytic acid, an anti-nutrient that can impede the absorption of minerals such as iron and zinc from the same meal. Antinutrients are also not a problem for people who eat a well-balanced diet.
It may cause bloating. Rye is high in fibre and gluten, which may cause bloating in people who are sensitive to these compounds.
It is not suitable for a gluten-free diet. Rye bread contains gluten, making it unsuitable for those on a gluten-free diet.
May have an exorbitant amount of added sugar. In some parts of the world, rye bread has added more sugar to increase the taste. A high amount of sugar is extremely unhealthy and can add unwanted calories to the diet.