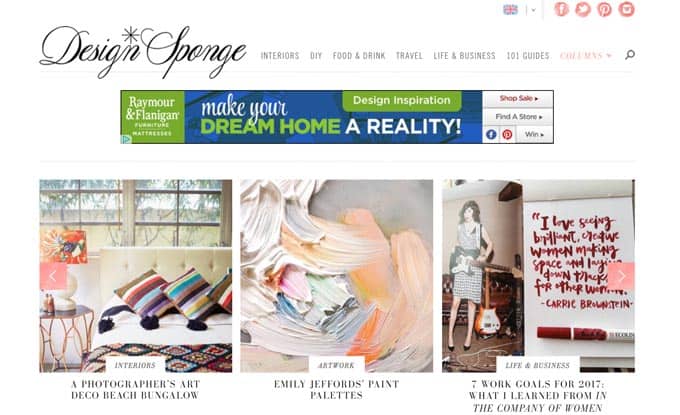 Grace Bonney is a relatively new addition to the wonderful world of diabetes.  She started the Design*Sponge blog in 2004 and now reaches over 2 million daily site visitors with her nuanced approach to interior design, DIY projects, travel, and more.

Grace was diagnosed with type 1 diabetes in December 2015. She recently spoke about her experience and how her life has changed since then.
Firstly, welcome to the type 1 diabetes community! I've had type 1 for over 13 years and do have to give it credit for opening me up to some incredible opportunities and for allowing me to meet and talk with some amazing people, such as yourself.
Thank you! It feels so good to have new friends who understand what this change in life feels like.
You mentioned in your post, Life with Diabetes: Finding My New "Normal" + Embracing a New Chapter, that you've read up a lot on diabetes over the last year. What's the biggest misconception you had prior to your diagnosis? 

It is night and day, mainly because of my own determination to learn more and get to the bottom of things that didn't make sense. My biggest misconception (and one my doctors shared originally) was that adults couldn't get type 1. I was misdiagnosed as type 2 at first and only after the urging of my friend, Sara Jensen (creative director of Beyond Type 1), did I decide to drive 2 hours away to see an endocrinologist who tested my antibodies and diagnosed me, correctly, with type 1.
I recommend the following articles: 
I then read just about every book ever written about type 1 and joined several private Facebook groups and started to read more blogs about people living with type 1. Those stories, combined with reading and my own medical research online has helped me have a better understanding of what I'm dealing with.
What about life with type 1 has surprised you the most?
It's made me a much more patient person with a lot more perspective. I had a hard time being present in my life prior to this disease and the fact that I now live in these 15-30 minute increments (when I look at my Dexcom to check in), it's really forced me to slow down and pay attention, which feels really nice. No more stressing about five years down the road, there's just focusing on doing my best on a day-to-day basis, and accepting that some days won't be great.
How does writing/blogging help you adjust to your new lifestyle? Was this the toughest subject you've shared on Design*Sponge? 
I've lived my life pretty openly online and it felt like a natural thing to share this part of my life, when I felt ready. I've learned firsthand how powerful it can be to be open and connect with people over shared vulnerabilities, so this just felt like a normal part of being someone who lives and works online.
I love how you describe the latest contents of your purse with all of your diabetes accouterments. How do you describe your personal style? Has that changed as a result of living with diabetes? 
I've always been someone who preferred a backpack to a purse, so I guess this is just pushing me back in that direction anyway. But I do miss being able to head out for a dog walk without a ton of equipment and glucose tabs.
I also love the food + drink section of Design*Sponge. What's your all-time favorite dish? 
Thanks! My favorite dish these days are the collard wraps we ran a few months ago. Low carb and perfect for my new type 1 way of eating.
It sounds like you and Julia have achieved a fantastic work-life balance. Can you elaborate a bit on the things you're seeing more clearly now through a sharper lens of diabetes and self-care?
I think we've accepted that there will be good days and bad ones. My health has taught me that and my wife has been an amazing support in making these new changes so easy (well, relatively) and sustainable.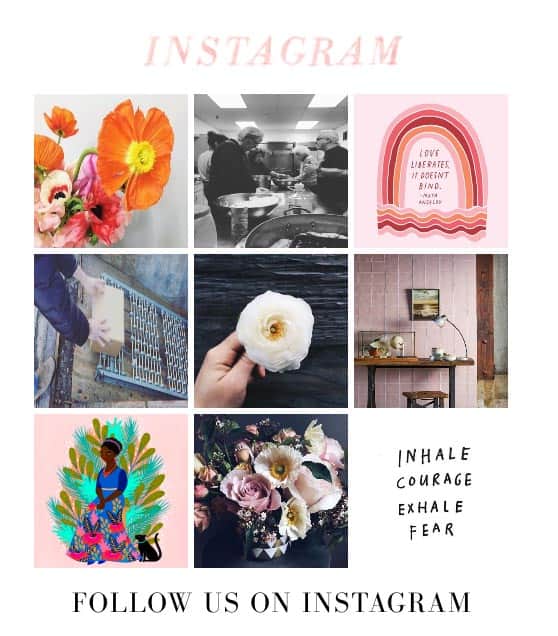 Lastly, where do you turn for inspiration in the diabetes sphere? Do you have any favorite people, particular websites, cats, etc. that you find helpful in tackling this new realm in your life?
Totally! Libby Russell at I Have The Sugars is a huge source of laughter and perspective for me. I love Craig Stubing's Beta Cell Podcast and I really love Beyond Type 1 for community updates. And the Type 1 Athletes Facebook group I follow is great for nitty-gritty questions.
Grace is the founder of Design*Sponge. She recently completed a book tour promoting her new book, In the Company of Women, about creative women in business. Follow Grace on Instagram, Twitter, and Facebook.
This interview has been edited for length and clarity.