82 people with diabetes share what they hate most about diabetes.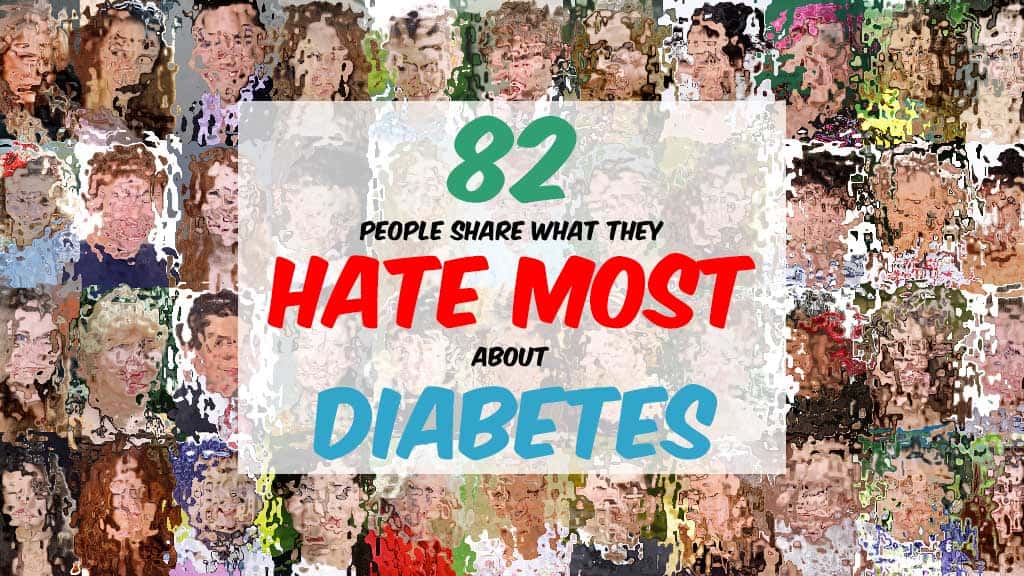 We were curious, not everyone is a fan of diabetes. So we asked people with diabetes what is the one thing they hated most about diabetes. They opened up and were honest about what bothers them in managing their diabetes and here's what they had to say:

Before we continue with this article, I wanted to let you know we have researched and compiled science-backed ways to stick to your diet and reverse your diabetes. Want to check out our insights? Download our free PDF Guide "Power Foods to Eat" here.


Joyce Davidson: It takes up too much time from my life. If I do everything I'm supposed to do to take care of my Diabetes; then I don't have a life, all I have is Diabetes.
Patricia Messer Smith: I can't eat anything without my blood sugar going up. I hate diabetes.
Life Climax: I hate the test strips cost a ton and living with diabetes is costly.
Bora Jiao: I hate that it restricts my life and that people don't really understand it. People don't realize it's not just what you eat.
Anna Martelli: I hate that I have diabetes but my life has changed for the better. 3 years in my a1c is 6.0. I eat the best I can, it's hard but I will never give up. I still do enjoy most of the things I did before. No one should ever give up, we all try the best we can to live with this, never said it was easy, but I am giving it my best shot.
Laura Bailey-Benning: ALL OF IT!!!
Rosa Martinez: It's annoying to take pills every night. But I feel it's the best thing that happened to me. I can eat healthy and get thin. I feel very well.
Nettie Hilliard: Everything!!!
For more diabetes related articles:
Elaine Williamson: I hate that no matter how hard you try, your blood sugar levels can still fluctuate dramatically.
Paula Russell: All of it. I hate the shots, pills and most of all going to the hospital.
Susan McBride: And I hate pills, shots, poking my finger 4 times or more a day. No cure yet, hear there is one but the FDA enjoys the $ for us not to have it. Having to eat 3 meals a day and snacks. I can't lose weight. Nerve naromatheraphy, highs and lows of blood sugars, and hard to fight off infections.
Darlene Sanders: Everything
Twinkle M. Wells: Neuropathy
Amelia Valenzuela: Everything
Anna Fenyn: The Lows are absolutely terrible.
Betty Jackson: I hate diabetes, everything you eat it goes up. You cannot enjoy eating because you have to be thinking about how high your sugar is going to be. I am sick and tired of it. I diet and exercise and it seems as though it doesn't matter. I simply hate to deal with this disease.
Candy Rollins: I've been type two since I was 27. I take seven shots a day now. It has caused me to have congestive heart failure. Silent heart attack, heart aneurism, diabetic neuropathy, retinopathy of my eyes, high blood pressure. So yes, I hate everything about diabetes.
Barbara Scott Zimmerman: If it's good, it's not good for anyone with diabetes.
Vanessa Jackson: That it's genetic
Gwendolyn King: Everything!!!
Jeanie Sue Gillenwater Clark: Gives me headaches
Bonnie Alexander: Everything about this disease is depressing, frustrating, exhausting. I hate it all, so ready to give up.
Marsha Prince: Sticking my fingers, in order to test my blood
Gretta F Samilton: I hate the neuropathy, finger sticks, pills and just feeling sick behind it all.
Theresa Navarro: I hate everything about it, and for a cure not fast enough seriously.
Gretchen Dowling: Low blood sugar
Sandra Poteet Jeffries: The lows Sandi Johnson: Everything. Guadalupe Marquez Machado: All
Pauline Duncan: Everything
Nancy Gray Murphy: Hate it all
Pauline Duncan: Everything
Taylor: All of it
Emilie Vangel: Not getting the help needed
Yvonne Burks Coble: Everything.
Suzy Brown Zimmerman: Having it!!
Denise Wright: Taking insulin and pricking my fingers twice a day!
Fannie Davis: Not having the needed meds and supplies to properly treat it.
Martina Higgins-Morgan: Love my coffee and now even drinking decaf makes my sugar go up. Sticking my fingers, sometimes not being able to eat what I want, lows and highs. Then the fact that some people who were diabetic aren't anymore. How is that possible?
Maria L Pena: Adjusting to it as I go along. So many factors play a role in it. Scary and confusing at times.
Terri Furr: Neuropathy!!! Hurts really bad sometimes, actually most of the time.
Vickie Hathron: I hate everything about it.
Matery Cronin-Chipman: Everything.
Sally Mae Rush: Having this is depressing
Amy Kerr: Sticking finger and having to eat on schedule
Mary Yerby: A month ago my husband was helping me with 4-liter prep for colonoscopy. I had a sleeping bag beside the commode. After drinking 8 oz. laxative every 10 minutes for two hours, my sugar dropped to 62. I could not raise my head. When my blood sugar drops, it does so very fast. My husband started feeding me Golden Eagle table syrup, Gatorade and regular 7 up. Then, it got up to 96. He called a nurse, she said to stop it, cancel the colonoscopy and feed me protein. He gave me a loaded turkey sandwich. Diabetic specialist told me I should drink clear sweet drinks between the 10 minutes of laxative. My gastrologist is waiting for me to reschedule. I wear an insulin pump with cash price of insulin a month, $1800. Medicare pays 80%.
Brenda Bowles: I hate everything about it and can't find a doctor who wants to take the time to really help me.
Penny Graciano: All
Carol Lee Briggs: Everything
Sandra Brady: being a diabetic is the pits, the lows and shots and needle pokes
Sandra Lee: Restriction of sweets
Marie Garachana: Everything that's the end result.
Luz Zamora: All
Charlene Lawshea: I really don't like to use the word HATE. But I can use it for this. I really HATE having Type one diabetes. I HATE the checking of your levels all the time. I hate taking shots all the time, you can't eat this you can't have that. It changes you in every way. And the sad part about it is people don't want to be around you or go anywhere with you because of it so I hate everything about this disease.
Lisa Lopez Vaillancourt: Everything
Laura Dubek: Everything!
Mildred Besco: I hate everything about it.
Carmen Iris Cardona: I hate pinch my finger
Aleta DiPaolo: The daily shots and almost everyone asking if I stick to the extreme daily diet.
Curtis Lockard: Mines the burning sensation when injecting
Susanne Malhiet-Fontenot: The constant worrying… did my child bolus, is my child checking often enough (Especially before driving and sleeping) what are all these extreme highs and lows doing to my child's overall health
Janet Lindsay Adams: My 13 yr old son said he hates being different. My 15 yr old daughter said having to prick her fingers daily. I say as a parent, the stress of worrying about my kids (highs and lows especially at night) and their future.
Sheri Berezowecki-Lemay: I hate the stress. Especially since he moved out
Terri Patton: The out of nowhere 426
Kristen Broussard: The financial burden
Sam Martin: The unending relentless attention it requires
Katrina Huckabay: That it is never ending relentless game. You never get a break.
Heather Ann: Never being in control
Rick Chafton: Going to the doctor essentially to be reprimanded for not being a perfect diabetic.
Heidi V. Shell: highs and feeling the roller coaster.
Natalie Serendipity: I hate having to think about every morsel I put into my mouth. Which leads to how much insulin will I have to take, how long will the food last, how long will the insulin last, when will I have to test to see if I need a correction, whether I have taken TOO MUCH insulin and it will lead to a low, which I will then have to correct, etc? So how can there be just one thing????
Valorie Kashmer Dunch: My biggest challenge as a provider is exactly what Natalie said. The number of variables that need to be considered to help someone reach consistent control.
Brooke Stevens Griebel: As a parent I also hate the nighttime. I don't think I or my T1DD have gotten a real night's sleep since diagnosis.
Zak Grigsby: the financial strain of having to pay for everything. It entails and at the same time having trouble finding work. One of the best jobs I ever had I lost from having miss work from lows and pump issues. I probably should have gotten a lawyer.
Timothy Carr: the expense and just knowing I have this darn disease for the rest of my life with no cure in sight.
Dee Showell: Even though I'm the type 1 not my kids, I hate nights, testing every time I wake up sucks, never knowing what my body is going to decide to do.
Danielle Watson-Bowers: I hate my constant roller coaster blood sugars and the fact that I'm so exhausted all the time that I simply cannot do all the testing they want from me in order to get a CGM or pump.
Tiffanie Applegate: I have this horrible fear that my children are also going to end up with it as well and have to carry the burden I do forever. I know that is a what if, but it's also a possibility. Every time they have showed any symptom it is the first thing that pops into my mind. I really feel for parents that have children with Type 1.
Rebecca Thyer Wilkisnon: Me too and I also have two with T1. It seems like when one is high the other is low. I hate overnights at friends because my teenage daughter goes on them and because my 7 yr old doesn't get to.
Amy Fiorentini Wingo: Nighttime!! I'm so tired, why can't she be a nice steady 140 at night, it's always high or low.
Brian Shaw: Can't just enjoy my food like I used to.
Over to you
What do you HATE MOST about diabetes? Tell us in the comments section below.
Want to be part of our next survey? Want to add your tips/feedback/story so our readers can read? Join our Facebook Group – My Diabetes Community to Get Involved!.