Diabetes may be efficiently managed with a nutritious diet by including particular items in your food that control your blood sugar levels to reduce the risk of complications associated with the disease.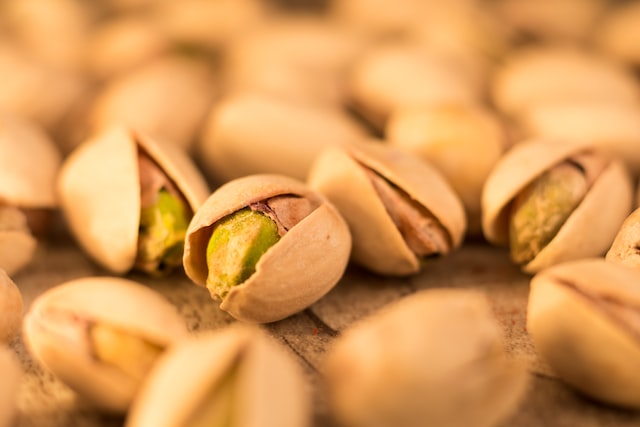 Nuts are your best bet if you are looking for a satiating snack suitable for people with diabetes. Because they are low in carbohydrates, rich in protein, fiber, and good fats, and provide a sensation of fullness, nuts are an excellent choice as a snack.  
Experts have shown that nuts are abundant in monounsaturated and polyunsaturated fats (70–80%), both of which are necessary components of a balanced diet. Furthermore, it has been shown that eating nuts may lower the chance of developing type 2 diabetes by as much as 27%.
Pistachios are a kind of nut that are diabetes-friendly and may assist in the regulation of blood sugar levels. Pistachios are native to the arid regions of Central and West Asia and are also found across the Mediterranean basin.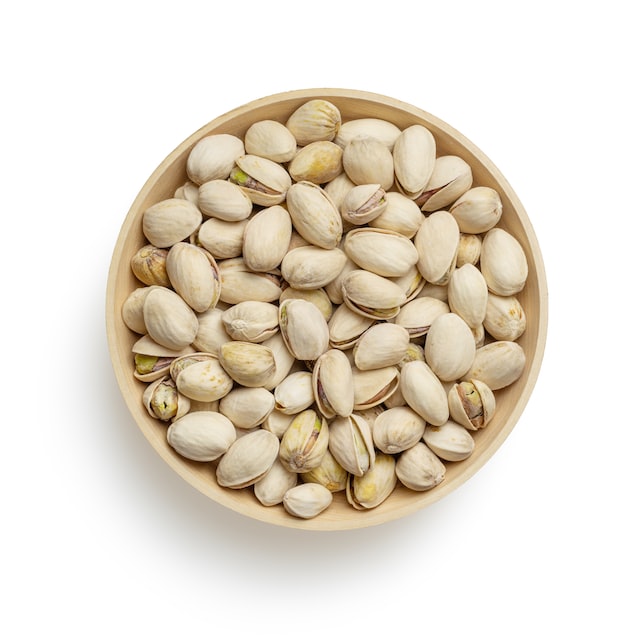 Pistachio nuts are most often eaten as snacks. They are regarded as a rich source of phenolic compounds, which were only recently rated among the top 50 food resources with antioxidant activity. 
Pistachio nuts are rich in various nutrients, including unsaturated fats (unsaturated fats can change the phospholipids found in cell membranes) that help increase insulin sensitivity, vitamins, minerals, fiber, magnesium, and selenium. To ensure that your body receives the minerals and micronutrients it needs on a daily basis, it is recommended that you eat a certain amount of nuts each day. 
What are the advantages of eating pistachios from a nutritional standpoint?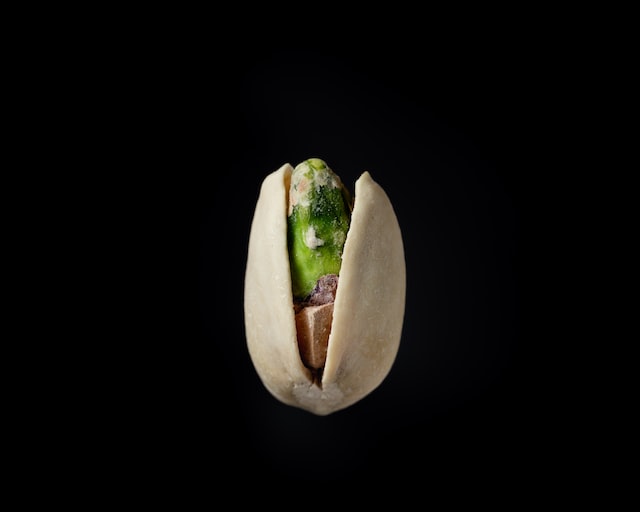 1. High levels of antioxidants: The colorants in pistachios, which give them their characteristic purple and green colours, have antioxidant capabilities that preserve them from being damaged. Pistachios' purple and green hues give them a distinct identity. Pistachios stand out among the other nuts that are accessible as having an extraordinarily high concentration of these compounds.
2. Good for the heart: Pistachios, in contrast to the vast majority of almonds and other nuts, have the benefit of containing fewer calories and fats while still having the highest potassium levels. They have an extraordinarily high phytosterol content, which contributes to healthy cardiovascular function. Pistachios are high in the amino acid L-arginine, which can be converted into the molecule nitric oxide, which helps lower blood pressure.
3. Pistachios may be an excellent complement to a weight loss program since they provide support for maintaining a healthy weight. They are rich in fiber, which helps our bodies feel full longer and may also satisfy our appetites.
In addition to having a lower amount of fat and calories than other nuts, they also benefit from a lower level of net metabolizable energy, indicating that our bodies do not take in all the calories they contain.
Because of all of these advantages, there is no longer any question as to whether pistachio nuts are healthy for diabetes or not; nonetheless, it is still recommended that you consume them in moderation.
What are the health advantages of pistachios for those who have diabetes?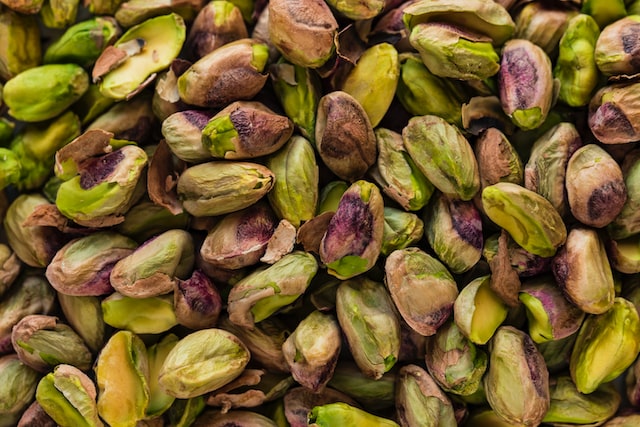 The glycemic index evaluates the impact of a certain meal on the amount of sugar in the blood. Diabetes patients might benefit from eating foods that have a low glycemic index.
Pistachios are suitable for people with diabetes to eat since they have a low glycemic index. Pistachio consumption, according to experts, may also assist in bringing blood sugar levels down.
Pistachios are a wonderful nutritional item that offers several health benefits. Below are some of the advantages that they provide for people with diabetes: 
Reduction in the levels of bad cholesterol in the blood: A number of studies have shown that consuming a handful of pistachios may help reduce bad cholesterol levels and raise good cholesterol levels (HDL). In addition to this benefit, pistachios help lower the overall cholesterol level in the blood. All of these advantages work together to reduce the danger of cardiovascular diseases, including strokes.
Improvement in heart health: Consuming pistachios in small to moderate quantities on a regular basis is beneficial to your heart's health. These nuts are abundant in arginine (an amino acid) and monounsaturated fat, which helps reduce blood pressure. In addition, they assist in the elimination of harmful cholesterol from the body and clean the blood vessels in the heart.
Improves the health of blood vessels: Pistachios help promote healthy blood vessels via vasodilation. This process makes it more likely that your blood vessels will be in excellent form. Pistachios are high in the amino acid L-arginine, which is required for the body to produce nitric oxide, a molecule involved in vasodilation and plays a vital part in the process of blood circulation.
Helps in weight loss: Pistachios are a good supply of monounsaturated fatty acids, which help you lose weight and keep your waistline thin over time. Pistachios are rich in protein and fiber, two nutrients that help reduce appetite and make it easier to maintain a healthy weight. Your body's metabolism will be revved up thanks to the fact that they contain fiber, which will also assist in preventing further weight gain. Pistachios are often referred to as low-calorie meals, meaning that you may consume them whenever you need to satisfy your appetite. A recent research indicated that both men and women with obesity who ate an additional 1.5 ounces of pistachios per day lost more weight and had smaller waist circumferences than the control group who did not consume an extra serving of pistachios per day.
Promotion of healthy gut bacteria: Pistachios include a substantial number of fibers derived from dietary sources, which assist in the strengthening of the digestive system and promote the growth of healthy gut bacteria. Pistachio fiber goes through a process of fermentation in your intestines, which results in the production of short-chain fatty acids, also called butyric acids. As a result, they have the ability to boost the amount of bacteria present in the digestive tract and a fiber-rich diet may be beneficial in the treatment and prevention of constipation.
Pistachios can help lower blood sugar levels and keep them under control: Pistachios have a low glycemic index, despite the fact that they contain a lot of fat. According to certain studies, the consumption of pistachios may increase levels of the hormone known as peptide 1, which is responsible for regulating glucose levels in diabetic individuals. Also, the good fats and fibre that are found in pistachios may be useful for the long-term management of blood sugar levels.
Helps improve eyesight: Consuming an adequate amount of antioxidants may help avoid visual disorders such as cataracts and age-related macular degeneration, which can contribute to impaired vision. Pistachios are packed with nutrients that are important for keeping your eyes healthy. Zeaxanthin and lutein are two antioxidants that are normally present in human retinas, and both are found in Pistachios. In addition, they contain zinc, which has been shown to lessen the likelihood of suffering from impaired night vision.
Reduces the risk of gestational diabetes: Intake of pistachios is associated with a lower risk of developing gestational diabetes and an improvement in a number of maternal and newborn outcomes. Pistachios are a snack option that pregnant women who have poor glucose tolerance or gestational diabetes mellitus could find to their liking.
Pistachio consumption lowers the risk of developing pre-diabetes: Consuming pistachios regularly might be an effective dietary approach for those in the pre-diabetic stage. The available evidence shows that eating pistachios may reduce blood glucose levels as well as insulin levels, thereby contributing to the development of a more favorable metabolic profile and even reversing some of the metabolic damage caused by pre-diabetes.
Conclusion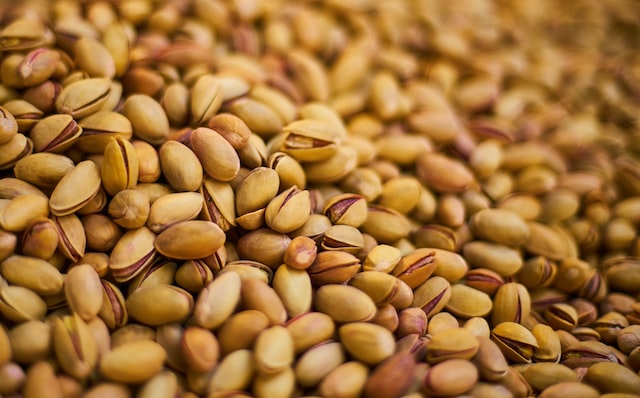 Compared to other nuts, such as almonds, hazelnuts, pecans, and walnuts, pistachios are an excellent supply of necessary amino acids, which are the fundamental components of protein.
Moreover, pistachios are a great way to get your daily dose of healthy fats, fiber, protein, antioxidants, and other vitamins and minerals, including vitamin B6 and thiamine.
Their effects on health may include a lowered body mass index, lower cholesterol and blood sugar levels, and enhanced intestinal, visual, and circulatory functions. In addition, they are tasty, can be used in various ways, and are enjoyable to consume.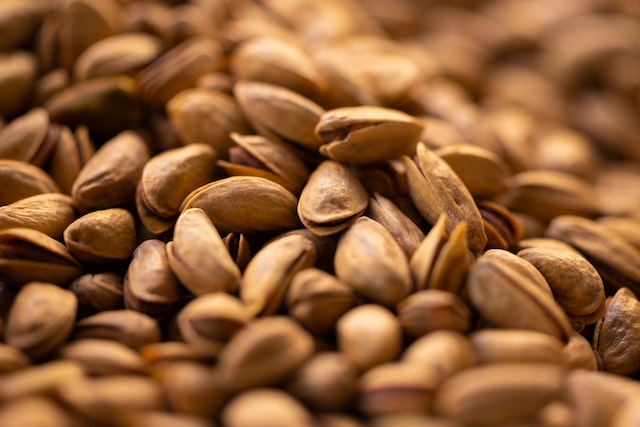 Pistachios are an excellent food to include in your diet if you have diabetes since they help enhance overall health. An added benefit is that shelled pistachios are beneficial for practicing mindful eating since the process of shelling the nuts takes time and naturally slows down the pace at which they are consumed.
Pistachios are suitable for vegans and vegetarians due to their high protein content. When eaten in moderation, Pistachios may provide people with diabetes with a snack option that is not only tasty but also beneficial to their health.
However, consuming excessive pistachios may lead to various unpleasant side effects, ranging from relatively mild discomfort to more significant health problems.