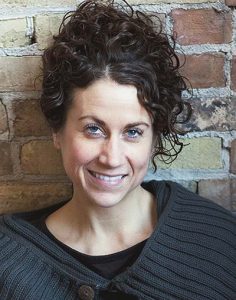 I had an opportunity to interview Maria Emmerich from https://keto-adapted.com.
1. What sets your book on ketogenic diet different than the other books on the subject?
Almost all of keto people out there have a good understanding of the science OR can make keto recipes. There aren't really any that can do both. I started out coaching people on this lifestyle and moved into recipe development. So I understand both things well. So I am able to include material in my books that help people understand this lifestyle and its benefits while giving them the best keto recipes that align with the science.

Before we continue with this article, I wanted to let you know we have researched and compiled science-backed ways to stick to your diet and reverse your diabetes. Want to check out our insights? Download our free PDF Guide "Power Foods to Eat" here.

2. How important is it for you that people understand the true form of Keto diet?
This is very important. There have been more and more people entering keto that have either drifted away from what keto is or made up their own ideas, lacking any good science. Keto is not about eating tons and tons of fat. It isn't about carb ups or carb cycling. If you understand the science you will understand why these things can be counter productive and even damage your health more. I have a strong understanding of the science so I know what components make up a well formulated ketogenic diet.
I recommend reading the following articles:
3. There is so much information about Ketogenic diet out there. What are some of the things that you read which makes your shake your head?
The bullet proof coffee trend is crazy. I always tell my clients "never drink your calories". Chewing whole foods will always keep you satiated longer and register leptin better. Many of these drinks are 400 calories. Would you feel full longer drinking one of these drinks or eating almost 7 eggs? Plus the eggs come with tons of vitamins and mineral where the oil in the coffee comes with very little.
Also, adding carbs or doing carb ups. It is so counter productive and doesn't address the real problem that is happening in the body. Carb ups just mask the symptoms and are counter productive for your results. Plus many people adding these carbs leads to bingeing on more and more carbs, a bad cycle. To quote Dr. Phinney "Forcing the pancreas to make more insulin by eating more carbs clearly doesn't do a lot of good for type 2 diabetics, and we think the same logic applies here for thyroid function."
4. How does a ketogenic diet help one to lose weight and manage chronic health conditions?
Many chronic health conditions begin with chronic inflammation. This lifestyle lead to much lower inflammation and lower A1c levels. We routinely have clients that start with diabetic levels of A1c get to 5.0 or less within months. Also, one of the major causes of metabolic syndrome is insulin resistance. Insulin resistance start in your adipose tissue (bodies storage cites for fat). When body fat storage reaches its limit, the adipose gets overstuffed and inflamed. They then reject any incoming fat.
This is where insulin resistance starts and leads to accumulation of fat in the blood, organs and pancreas leading to type 2 diabetes. Reversing this process by losing stored body fat is key to reversing the disease. This lifestyle shifts your body to use fat as its primary fuel enabling you to burn more stored bodyfat for fuel.
5. Do you have people who have diabetes contacting you for support?
Yes, all the time. We help both type 1 and type 2 diabetics get A1c levels to 5.0 or less range within months.
6. If one wants to start on a ketogenic diet, where should they begin without feeling overwhelmed?
I think my books are a great place to get familiar with this lifestyle. My book "The 30 Day Ketogenic Cleanse" has lots of info in the beginning to understand this lifestyle and even has 30 days of meal plans and grocery lists.
http://amzn.to/2xcW8W2
7. What made you go on the journey of following this diet?
I grew up overweight and followed the advice I was given at the time. I ate low fat, worked out like crazy but couldn't lose the weight. I even got to where I would run marathons but still gain weight after. I knew there had to be a better way. I went to college for health and human performance but that was much of the same advice. I then decided to do my own research and read every book and journal I could get my hands on. That lead me to this ketogenic lifestyle. I used it to heal myself from IBS, acid reflux and excess weight. I then starting using it with clients to help them.
8. How important is it to have a perfect balance of healthy eating and physical activity in keeping notorious health conditions away?
I think that getting the diet right is about 80% of the solution for weight loss and healing. But a healthy activity level is also very important. Excursive is so important for our vitality especially as we age. Keeping your muscle mass up to stay strong and reverse aging. When we exercise our bodies do a lot of autophagy, the process where it breaks down old and failing cells and creates new healthier and younger cells. It is a bit of a reversing of aging at the cellular level.
9. For you, what is the relationship between food and mental health?
There is such a strong connection between the two. I have helped so many clients with this lifestyle get off prescription medications for anxiety, ADHD, depression, and many other mental health issues. This lifestyle shifts your brains fuel from almost 100% glucose, to about 60% coming from ketones. The brain thrives on ketones and people see huge improvements in moods, mental clarity and focus. This is why this lifestyle is also great for people with Alzheimer's. Alzheimer's is basically insulin resistance of the brain. It can't properly use glucose for fuel anymore. But it can use ketones.
10. What is the secret to curbing your cravings and moods?
The biggest component is getting your hormones under control. Lower insulin, keeping blood sugar spikes and dips to a minimum. When you eat too many carbs, especially processed carbs, your blood sugar spikes really high resulting in an overcorrection from insulin which drives blood sugar too low about 2 hours after the meal. This leads to hunger even due to the low blood sugar even if energy is not needed which leads to overeating. This lifestyle helps control and balance your hormones which is essential for controlling hunger, cravings and moods.
11. What role does a slow cooker play in your life?
We love our slow cooker. I will take the shell out, put all the ingredients for a tasty dinner in it for my family and put it in the fridge the night before while my husband cleans up after our dinner. Then in the morning I just pull the shell out of the fridge and put it in the slow cooker and turn it on. Come dinner time we have a tasty and healthy meal ready for us.
12. What is the right balance of food and activity that you recommend to your clients for keeping them encouraged?
If a client is very overweight or metabolically damaged we focus on nutrition first. Once their energy levels rise and they can incorporate more movement we add little things like walking to mailbox instead of getting it in the car. Parking on opposite side of the parking lot at the grocery store. These little movements add up over the course of a week. When they are ready and able we start incorporating strength training. The great thing is this lifestyle almost self regulates the food intake as clients feel full most of the day and don't get cravings like they used to.
This naturally leads to less thinking about food and even less meals. Most of my clients will naturally incorporate intermittent fasting by eating just 2 meals a day because they just aren't as hungry as they used to be. Intermittent fasting (eating all your food in about a 6 hour window of time) leads to even more metabolic improvements and controlling of hormones like insulin.