Protein powder can be an essential tool in the fight to lose weight, gain muscle, and take back control of how you look. However, there is a perception that protein powders can spike insulin and be detrimental to your diabetes which causes people to stay away from protein powders.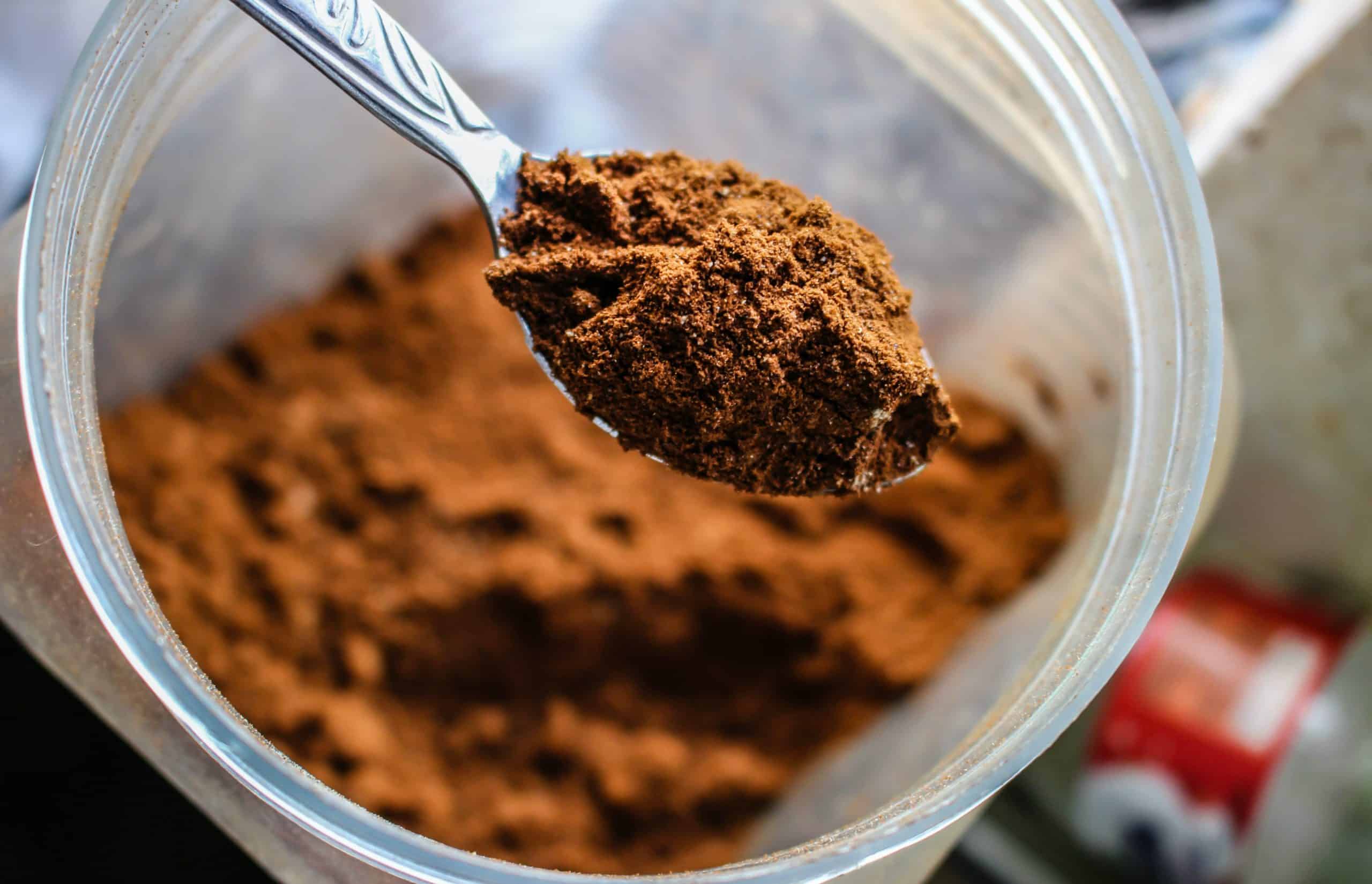 Getting enough protein in our diet is critical to ensure your body gets the building blocks for new muscle growth and keeps you less hungry than if you stock up on donuts. Protein powder is a convenient and often cheap way to hit your protein targets without extra fat or carbs.
Listed below are the best protein powders for diabetic patients from a former large guy that has to deal with diabetes every day.
Is Protein Powder Good For Diabetic Patients?
Protein is a fantastic option for people with diabetes, with multiple research studies showing that a high-protein diet can help manage blood sugar.
Additional studies have shown that Whey protein powder slows down stomach emptying, stimulates insulin, and promotes more gut hormones such as incretins which reduce your blood glucose. The best time to take Whey protein powder for the best results with diabetes is right before your meal.
What Type Of Protein Powder Is Best For Diabetic Patients?
Protein powder comes in a few forms, and different companies add things to your protein like scoops of sugar, added carbs, and fat. So it's important that you pick the best protein powder for diabetics.
Try to stick with whey isolate protein, but whey concentrate protein and hydrolyzed whey protein are also great options. Make sure you check the ingredients or nutritional facts for calories, sugar, carbs, and fat. It's normal to see around 120 calories with 25-28 grams of protein; if your protein powder is well outside that, it may not be a good option for you.
Plant-based proteins can be good options for vegetarians or if Whey protein gives you stomach issues. However, it's still important to check your calorie to protein ratio, even with vegetarian protein powders.
Quest Protein Powder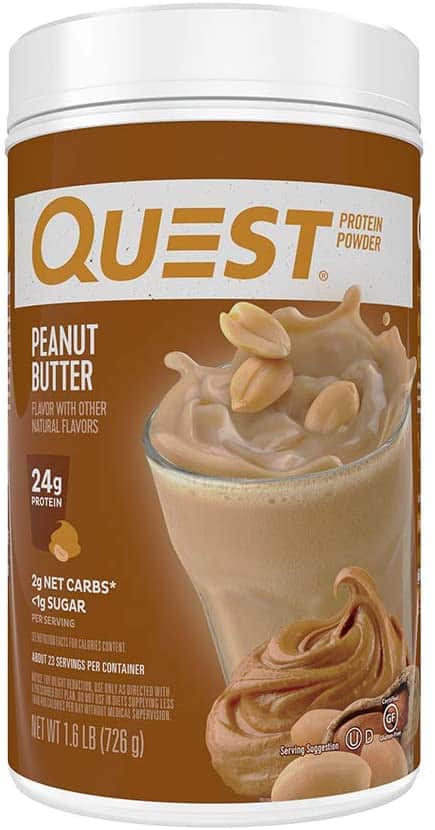 Quest protein powder is the most delicious protein on the market, you can add it to water with nothing else, and it tastes like a milkshake. There is a range of flavors, and my preference is peanut butter, but you should pick whichever sounds the best to you as they're all comparable in benefits and nutritional information.
One scoop (31g) is only 110 calories, with 24g of protein, and it only has 1.5g of fat and 2g of carbs with less than 1g of sugar.
It's 60% whey isolate protein for fast absorption and 40% casein for a slower absorption, which is helpful after workouts or later in the evening so the protein can absorb while you sleep.
The biggest downside of Quest protein is that it's on the more expensive side, with only 23/24 servings per container.
I would highly recommend Quest protein powder for diabetics as a treat protein or add a scoop to a much cheaper vanilla protein, and you can get more protein with the same flavor.
Optimum Nutrition Gold Standard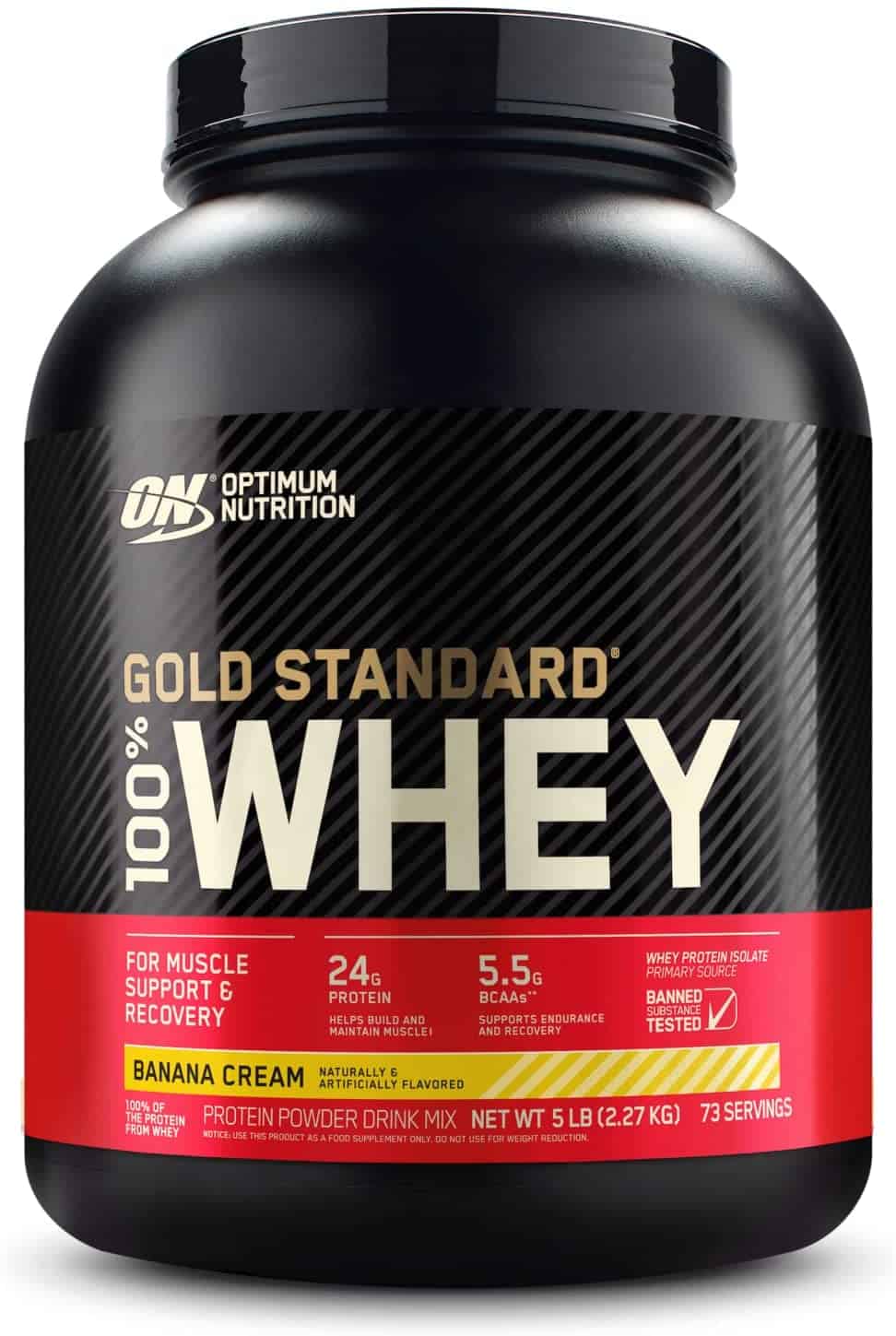 Gold Standard is a high-quality tested protein that will get the job done for a reasonable price, as long as you buy the big containers. You have a range of flavors, but my preferred option from them is the banana, which you can't always get in different protein brands.
With one scoop (31g), you get 24g whey isolate and whey concentrate at only 120 calories, with 1.5g fat and 4g carbs, and it's only packing 2g of sugar.
Included are 5.5g of BCAAs and 4g of glutamine and glutamic acid for increased muscle building and gut health.
All of the flavors mix instantly and don't clump up into balls of protein, the taste is pretty good but not as amazing as some other brands, but the price per scoop is perfect for a high-quality protein powder.
There really aren't any downsides to Gold Standard; it's a solid protein powder for diabetics, good price, generously sized containers. It's got the bare minimum of sugar, fat, and carbs which is ideal when dealing with diabetes.
Nutricost Whey Protein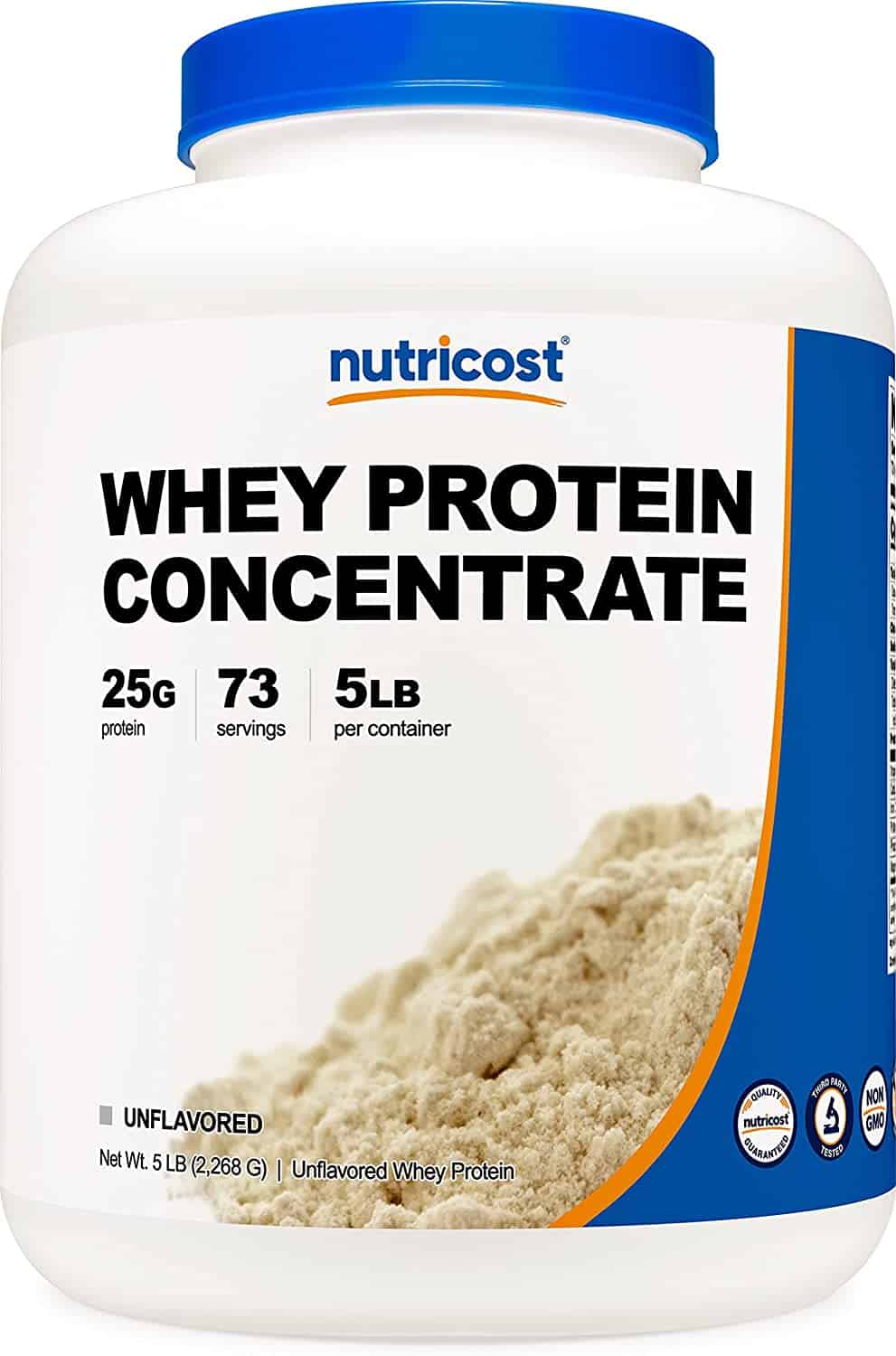 Nutricost whey protein is a low-cost whey protein concentrate, so you don't get any whey isolate for fast absorption, but it's half the price for a high-quality protein without a bunch of fillers inside. You can get it flavored with the standard options OR get unflavored and mix it with something else or include it with an actual smoothie.
In a 31g scoop, you get 25g protein for 130 calories, 2.5g fat, and 1g carbs with 1g of sugar. The combination of whey concentrate with a little extra fat to slow absorption, and minimal sugar makes this an excellent protein powder for diabetics.
Nothing else is included; it's straight whey protein that's been tested and verified for an exceptional price.
As long as you get the unflavored version, it's a great protein powder for diabetics, your sugar stays low, and you can include this protein in fruit or veggie smoothies. However, I wouldn't recommend chugging it back with just water, so it 100% requires mixing with something else.
Vital Proteins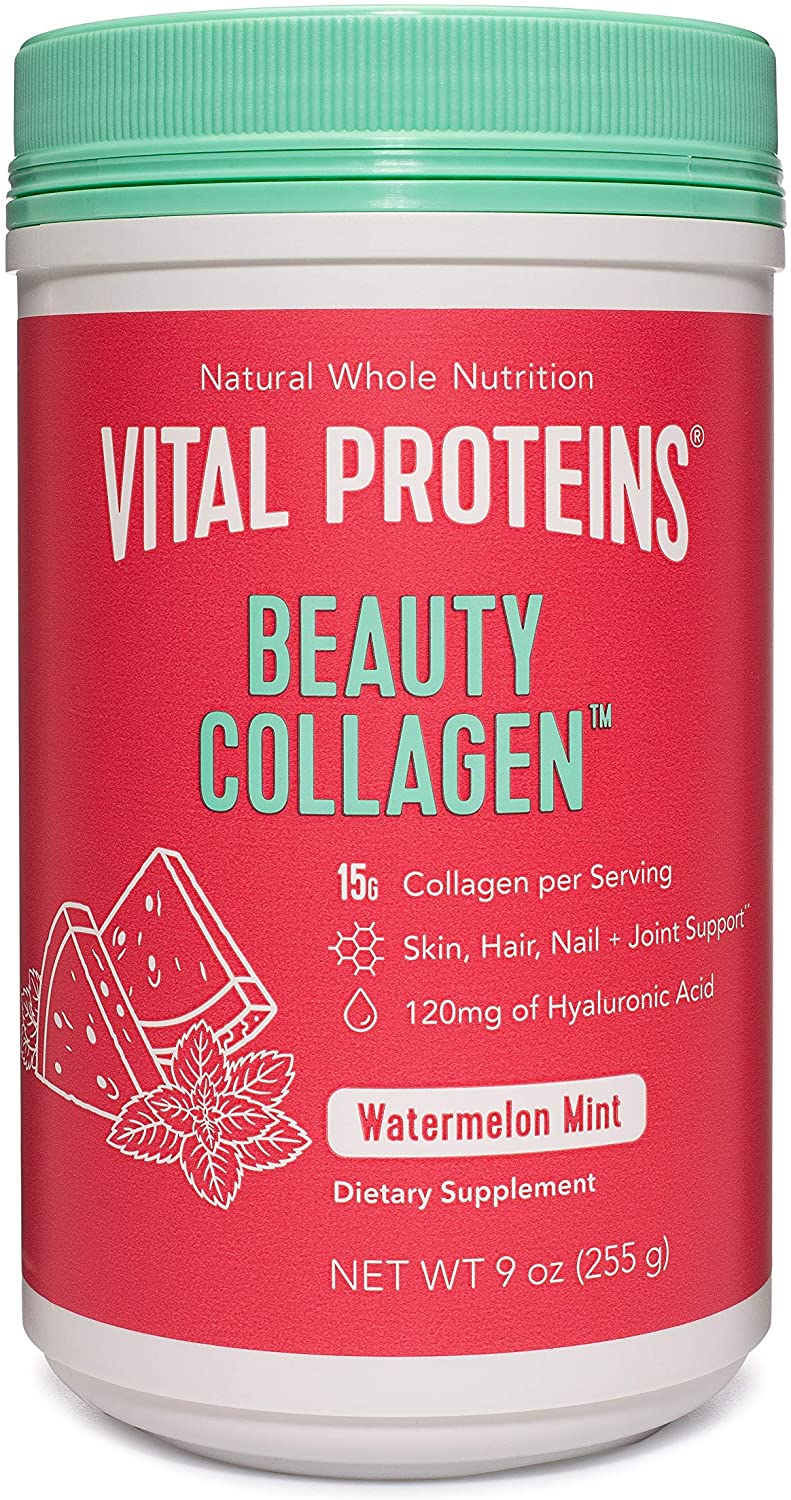 Vital Proteins offers a few different options with their protein; the beauty collagen option is the best protein powder for diabetics, and when you're losing a lot of weight as the collagen and other ingredients will support your skin, so it rebounds after heavyweight loss.
It is marketed towards women but ignores that because the flavors are fantastic, and the benefits to your skin are unparalleled to any other protein product.
Two scoops (19g) get you 14g of protein for 70 calories, 0g fat, and 3g carb with 2g sugar. You're also getting collagen peptides from bovine (cows) and 120mg of hyaluronic acid and added probiotics for some gut health enhancement.
This isn't whey protein, but it is a quality protein with an excellent protein to calorie ratio and minimal sugar with a really great taste that is more refreshing than milky, so ideal for summer. It's just not going to be your primary protein powder; even if you double dose, the cost gets too high.
I would 100% recommend this protein powder for diabetic patients if you plan to or have lost a bunch of weight and feel like your skin will be loose.
Levels Grass-Fed 100% Whey Protein Powder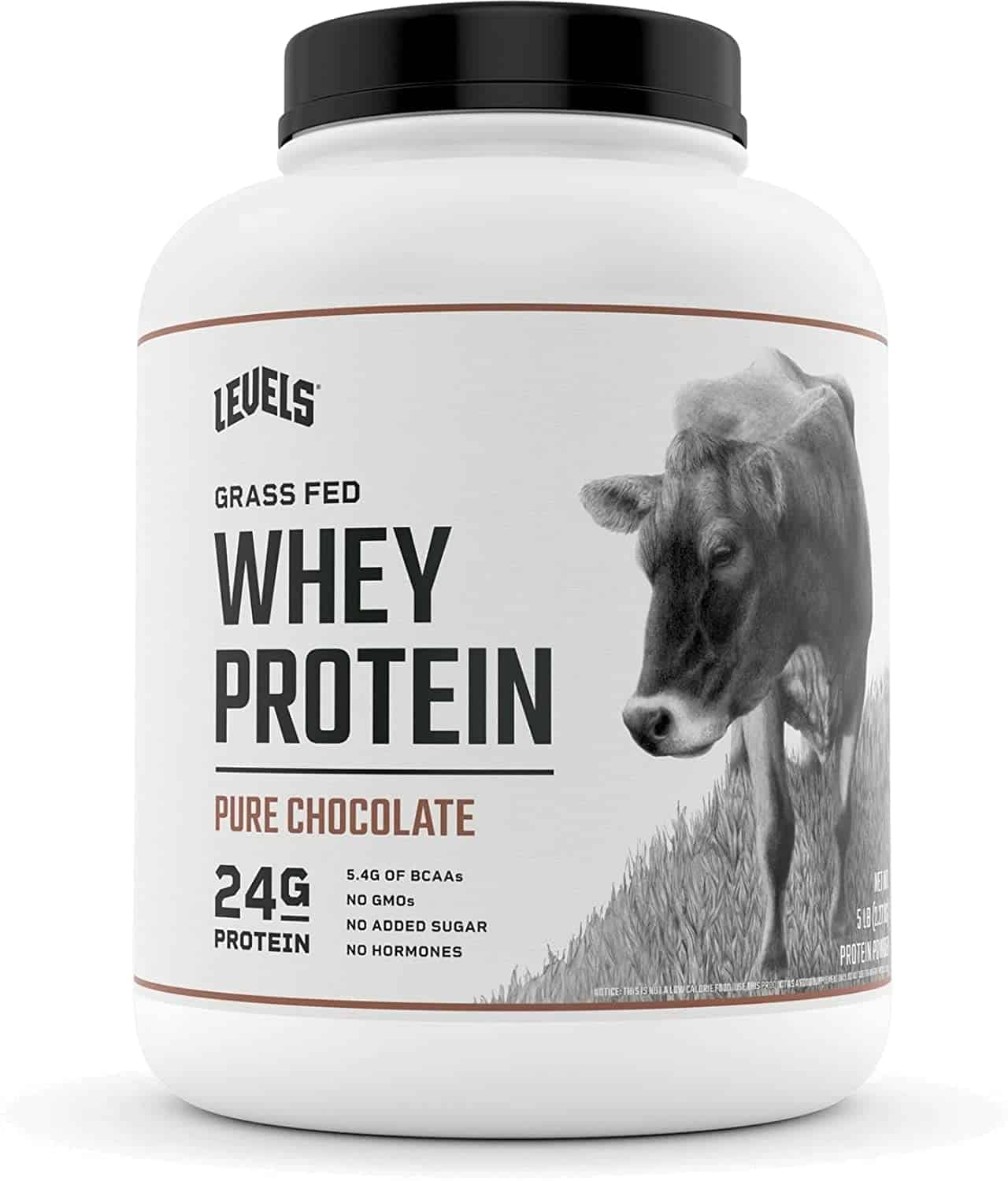 Levels whey protein powder is a great natural protein that sources milk from US-based grass-fed cows. It contains no artificial flavors, sweeteners, or any kind of filler. It's also hormone-free, been thoroughly tested for ingredient quality and levels of amino acids.
For 150 calories, you get 24g of protein, 4g of fat, 4g of carbs, and 2g of sugar. You can lower the calories depending on which flavor you pick, but the sugar stays about the same, which is very low for a protein treat.
This protein powder is ideal for anyone looking for all-natural products; rather than super fake flavors, you get the real taste of which option you pick. For example, with the peanut butter choc one, you get natural peanut powder and cacao powder included in the protein and natural sweetening from monk fruit extract.
I recommend this protein powder for diabetic patients looking for an all-natural, grass-fed, US-produced protein powder. The price is pretty reasonable with big containers, and the taste is great.
Syntrax Nectar Whey Protein Powder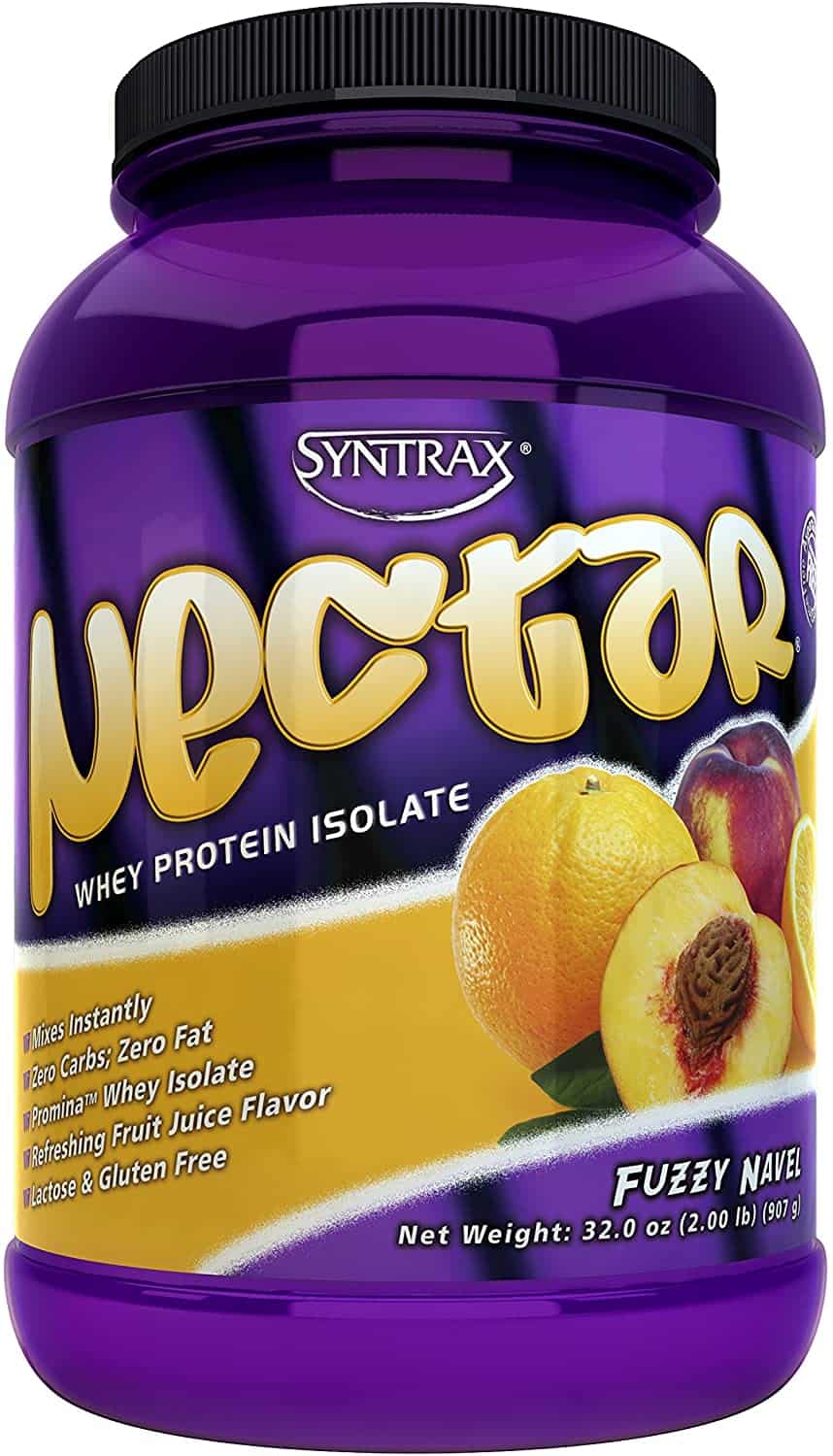 Syntrax offers a slightly premium protein powder which is seen in the price, but it provides some of the best tasting protein powder on the market in a range of dessert and fruit flavors that are pretty unique across protein powders.
The Syntrax Nectar grass-fed whey protein isolate offers all the best from a premium brand with pure whey protein isolate containing zero fat and zero sugar which is ideal for diabetics, but you get sweet dessert flavors.
For 100 calories, you get 23g of protein, 0g fat, 0g carb, and 0g sugars with no additional products or features; it's just straight protein powder.
With no carbs and no sugar, this is a perfect protein powder for diabetics who still want sweetness in some of their food.
I love this protein, especially in summer with the fruity flavors, and you don't need to mix it with anything; it tastes great with just cold water. It rivals Quest protein on taste and has quite different flavors, so you can get both brands and pick based on your mood.
Ryse Loaded Protein Powder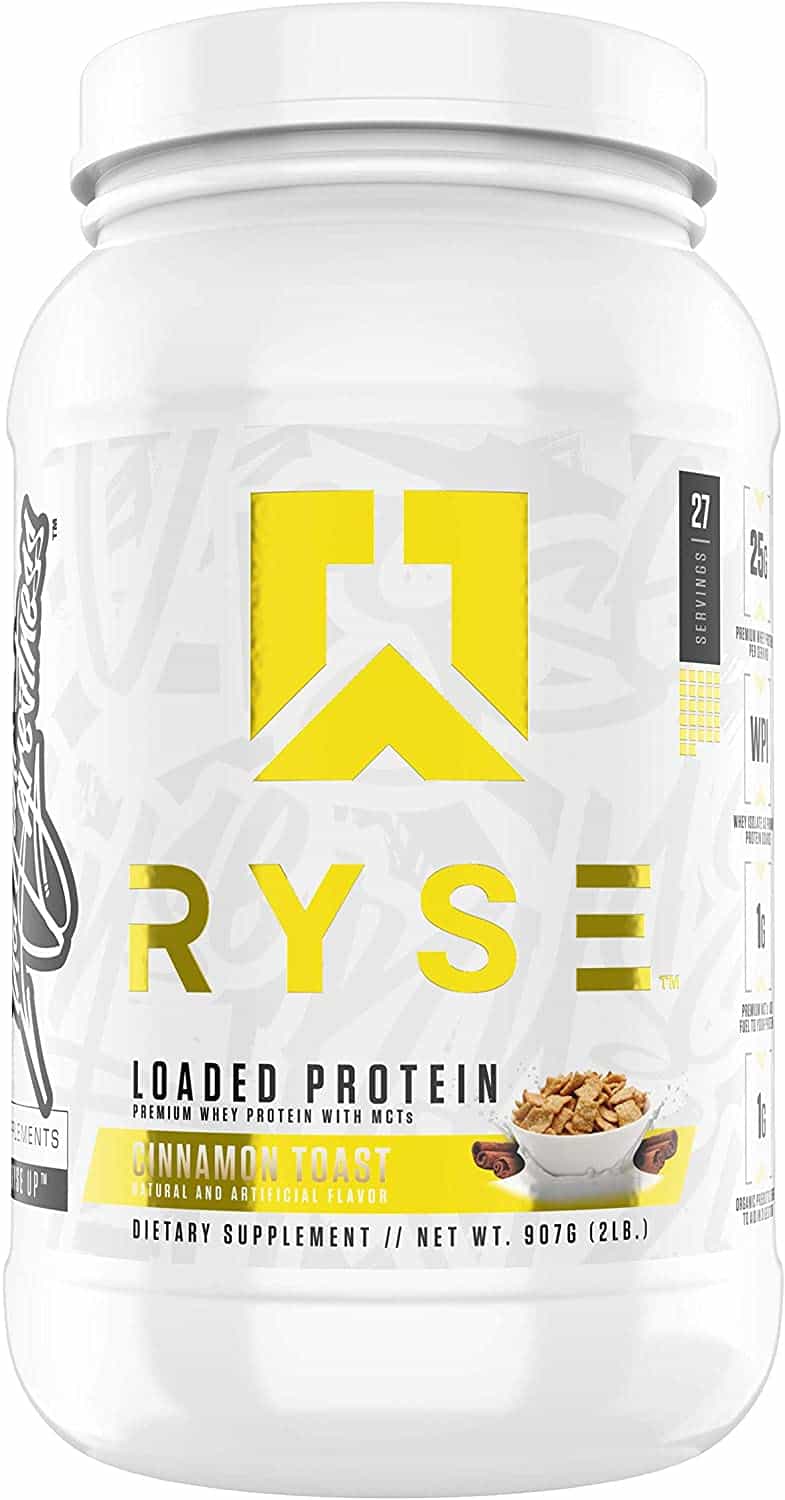 All Ryse protein powders are premium with smaller containers and higher prices, BUT they have fantastic flavors and are geared towards bodybuilders or fitness enthusiasts looking for some extra help through their protein powders.
For 140 calories, you get 24g of protein, 2g of fat, 3g of carbs, and only 1g of sugar. The fat comes from MCT oil, an ideal option for healthy fats; you're also getting prebiotic fiber to help your digestion.
I originally saw this brand due to Noel Deyzel, the bodybuilder, and I'm confident that while he's endorsed, he only picks good quality brands. After trying it, I love the taste but was disappointed in the size and price of the containers, so it's definitely a treat protein powder for diabetics unless you're willing to pay extra for better-tasting protein powder.
Ryse is an ideal protein powder for diabetic patients due to the low sugar, minimal carbs, healthy fats, and organic fiber, which help slow digestion and keep your blood sugar level.
Vega Sport Protein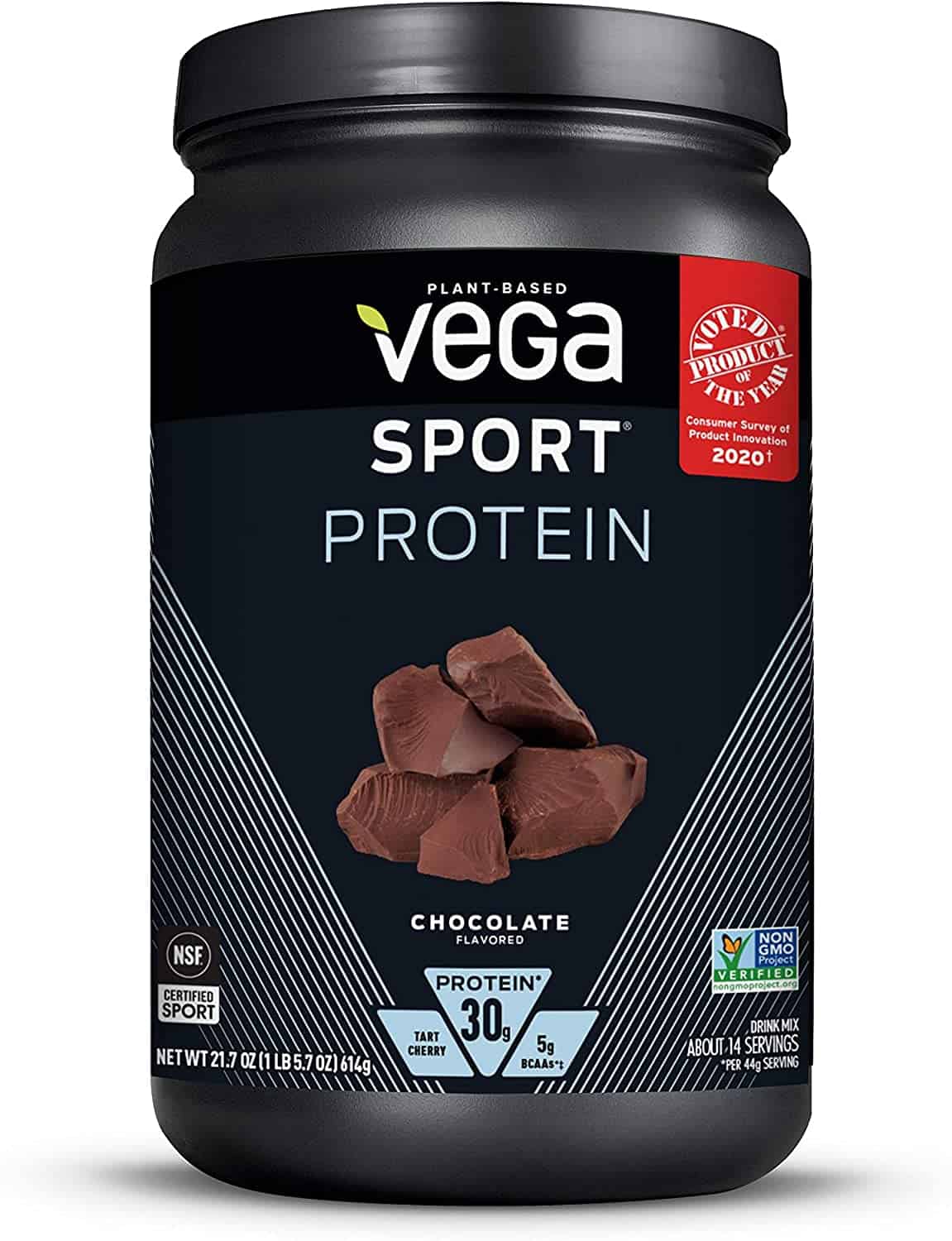 Vega is a plant-based protein powder for diabetics or people who can't stomach whey protein powders. Your protein in Vega is sourced from various plants, so you get a complete protein profile, and it works mostly the same as Whey protein, though a little slower to absorb.
A 44g scoop is 160 calories, 30g of protein, 3g of fat, 2g of sugar, and 2g of fiber which balances the sugar out for diabetics.
I like Vega protein powders because I feel healthier eating plant-based protein, and I don't notice a difference in results; Vega is always a big brand with a good reputation.
The downside of Vega protein is that it mixes poorly and tastes/feels grainy when you just drink it with water. You also need to add more water than with Whey, or it turns into a paste. Ideally, you'd add your Vega protein to a smoothie and mix everything together, rather than drinking it straight.
Vega Sport protein powder is ideal for anybody that won't or can't drink Whey protein but still wants to get a good quality protein into their system. It's also a good option to get some healthier protein to replace your Whey sometimes.