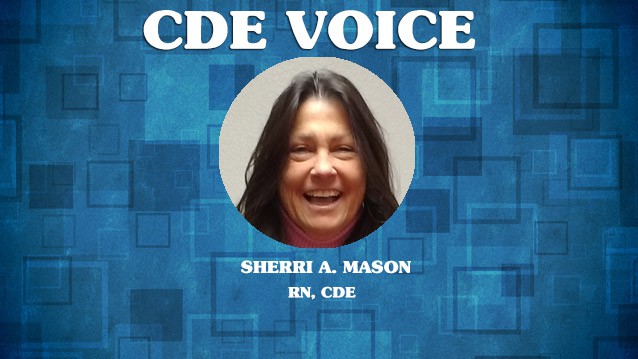 Great interview with certified diabetes educator and registered dietitian Sherri A. Mason from Lake Havasu City, AZ

What made you decide to get into the career path of a CDE?
In my 30's I found myself at a support group for people with diabetes and the others in the group actually valued what I said! So, as a person who has now lived with Type 1 Diabetes for 50 years I am glad that I made the decision to go back to school, obtain the RD so that I could become a CDE to help others with Diabetes. The advice to people with Diabetes isn't always accepted by those of us with the disease so I thought maybe I could make a difference.
Are you connected to diabetes personally, via a family member or yourself?
I have type 1 for 50 years.
I suggest reading the following articles:
You have a newly diagnosed patient with Type 2 diabetes, they are feeling a bit overwhelmed with everything and want to know what they can do to reverse it or get rid of it. How do you answer them?
First I tell them they have just received a "Health Sentence." Now let's get started on what they are ready to do for their "Health."
What would you tell a patient with type 1 diabetes about adjusting insulin for higher fat meals?
First we have to find out how much insulin is needed and how much time it takes for the bg to rise after that meal. I tell them to test 2, 4, 6, 8, even 10 hours after that high fat meal then next time bolus what is needed for that amount of blood sugar but to extend the time (based on the peak time of the BG) to offset that high later. I also recommend CGM to everyone with Type 1 and to read "Sugar Surfing."
Could you explain to our readers more about being prediabetic, what this means, and what they should do if their doctor tells them they are prediabetic?
Pre-diabetes means the bg are slightly higher than normal but not high enough to be diagnosed with Diabetes. Usually it's the fasting bg which is anywhere between 101 and 125. Everyone should get copies of their lab work so they can look at their results themselves. If you have Pre-DM, I recommend begin exercise–it's the best thing you can do for your body and your health to avoid diabetes–you can "Run" from it–literally!! Exercise should be enjoyable so you can make it a habit for the rest of your life and should be done a minimum of 4 days per week for 30 minutes. Even breaking it up to 3 10 minute bouts is effective. Just move!
Next is to look at your portions and just cut back 1/3–it's not necessary to go on an extreme weight loss program or spend lots of money on all the "Diets" out there. Again, think "Health" and the food choices are simple, lots of veges and high fiber items most of the time. I teach people to eat well 28 out of 30 days, that allows 2 days per month for holidays, birthdays, etc to just splurge and not worry about it. If you eat well the rest of the time those 2 days will not hurt.
You have a patient who isn't able to afford their testing strips. They are given some expired ones from a family member and ask you about using these and their accuracy. How do you answer them and how would you guide them for getting the supplies they need?
This depends on whether they have insurance coverage. So the first question to them is about insurance. If insurance does cover testing then I get the RX from the doc and have them get new supplies asap. If they do not have coverage then I lead them to lower priced meters and ask them to not use the expired strips since those can be inaccurate.
Your patient has been working to lose weight unsuccessfully, they have type 2 diabetes and come to you asking for advice and approval on starting a vegan diet. How do you answer?
If they want to go Vegan, I tell them it is safe but let's evaluate what they are eating to determine if they are getting enough of all nutrients. I also explain going Vegan does not mean weight loss unless they evaluate their total calorie intake.
Many diabetes patients both type 1 and type 2 use carbohydrate counting in their diabetes management. What about the GI Index and would this benefit both types of patients if introduced into their diabetes management plan? If so, how?
The GI Index can be a good thing as long as the individual understands how they respond to different foods. If a Type 1 uses the index and finds the rise in BG is slower, then they have to either remember to use extended bolusing or take additional shots to time the insulin to the rise. For the type 2, the GI index can be beneficial since they rely on their own production of insulin which is not working as well as it should so slow digestion of carb into glucose can help their own insulin "Keep up" with the load. However, since this is an individual response–for the type 1 or 2–that depends on all foods eaten, we need to evaluate the bg before and after meals to determine if changing from high GI to lower GI makes a difference. In some cases, the spike is just later on.
Are there any supplements/ vitamins you recommend for both type 1 and type 2 diabetes patients to take?
Generally I do not recommend supplements.