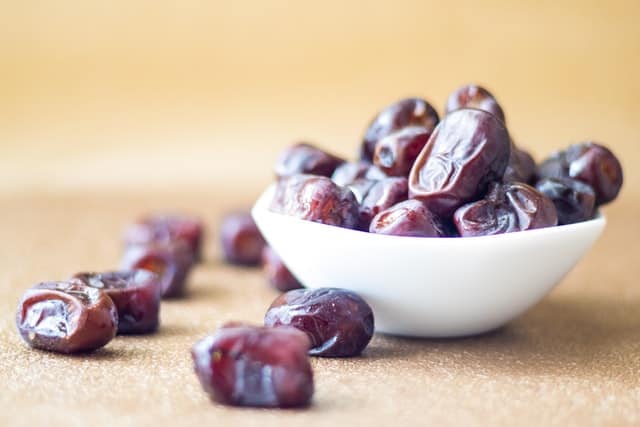 How do dates affect blood sugar levels?
One of the main components of controlling blood glucose levels is a healthy diet. Sugar levels are elevated by excessive carbohydrate intake and by taking irregular, excessive meals.
It is important to remember that diabetes affects practically one in three people, so it is worth knowing how to help your loved ones who suffer from diabetes or you if you have diabetes yourself.
Date consumption by diabetics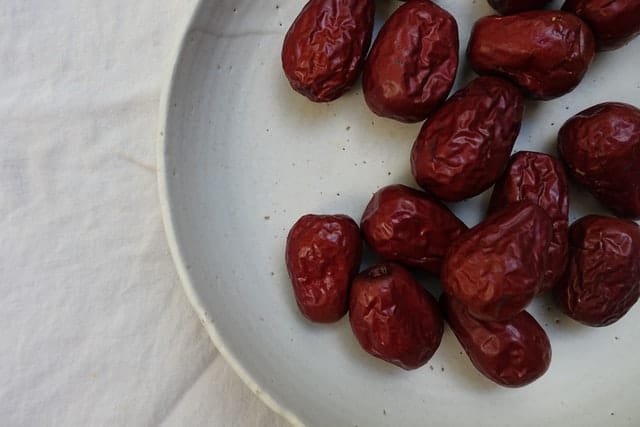 Getting the right balance of carbohydrates, fats, and proteins in your daily diet is extremely important. A popular myth of recent times is the use of low-carbohydrate diets in diabetes. Even simple carbohydrates from dates will not cause a revolution if we eat them in a meal that also provides us with dietary fiber, protein, which will satiate us for a long time, and healthy fats.
Remember!
Low glycemic index means the less rapid increase of sugar and insulin levels in the blood - people with diabetes have to control their sugar levels, so eating low GI products is a safer choice than eating high GI products. This is especially important for people with type 2 diabetes, in whom sugar can reach high levels in a short period of time.
So date a healthy snack for diabetics? Dried dates are not, because of the simple sugars and high glycemic index. Omit, fresh dates are characterized by a low glycemic index, a high content of complex sugars, and a high content of dietary fiber which slows down the absorption of carbohydrates.
Can dates be eaten by diabetics?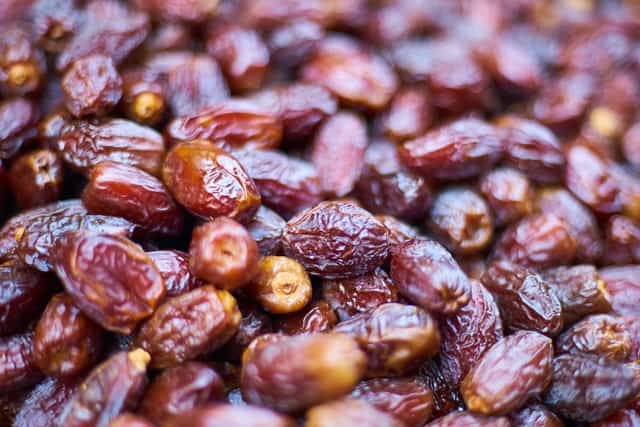 Dates are one of the oldest cultivated tree fruits in the world. They are imported from Iran, Tunisia, and Egypt. They are now grown in several countries in North Africa, the Middle East, and the USA. As a result, they are available in stores all year round near Crete. The tree can reach up to 40 meters and has dozens of fruit clusters (each cluster contains about 30 dates).
Dried fruits are characterized by high calories and a high glycemic index.
GI = approx. 103
This means that they contribute to a rise in blood sugar levels and should so be eliminated from the diet of people with diabetes
In the case of fresh dates, the situation is different because, depending on the variety, they have a low GI value.
GI = about 50
Some studies show that fresh dates have antidiabetic properties and have a positive effect on the glycemia of patients with type II diabetes.
Date Properties.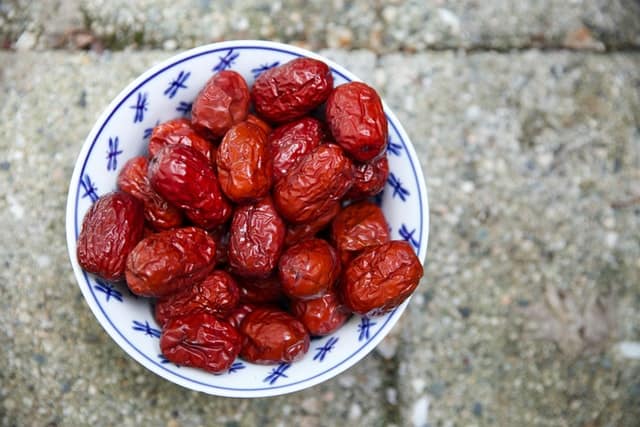 Dates are high in energy, nutrients, fiber, and valuable vitamins and minerals. (Their nutritional value varies from one species to another, so it is best to consult with your doctor first if you can consume them before including them in your diabetic diet).
They are especially appreciated in Arabic countries, where they are called "the bread of life". Not surprisingly, dates, both dried and fresh, are rich in fiber, many vitamins (especially vitamin B3), minerals (especially potassium), as well as antioxidants and salicylates,
Dried dates, yet, are an exception in that they are slightly higher in fiber (about 8.7 g/100 g) than fresh fruit, but blood sugar levels can be difficult to control for people with diabetes, so people with diabetes are usually advised to consume food, to check labels, and to control how much and what they eat at each meal.
Low-GI foods cause less significant fluctuations in blood sugar and insulin levels. This can often lead to lower blood sugar levels, especially in people with diabetes who find it harder to control these changes. You should generally try to stick to avoiding foods with a lower GI.
Type 2 diabetes sugar can build up in the bloodstream and reach dangerously high levels. The slower carbohydrates are digested, the less likely your blood sugar will rise after eating, can be part of your diet, even if you have diabetes. This is important because dietary fiber helps the body absorb carbohydrates at a slower rate, which is especially important for people with diabetes. Fortunately, despite their sweetness, Fresh dates have a low glycemic index (GI).
In the example at the bottom, you will find similar but slightly different nutritional values in the two varieties of fresh dates (per 100g). For diabetics, this should be a definite step if you want to include this delicious fruit in your diet.
Deglet Noor variety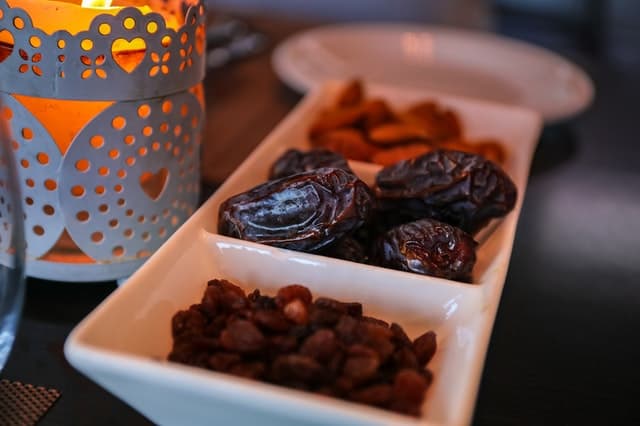 Energy value - 282kcal
Protein - 2.45g
Fat - 0.39g
Carbohydrates - 75.03 g (including simple sugars 63.35)
Fiber - 8g
Vitamins
Vitamin C - 0.4 mg
Thiamine - 0.052mg
Riboflavin - 0.066mg
Niacin - 1.274mg
Vitamin B6 - 0.165mg
Folic acid - 19µg
Vitamin A - 10 IU
Vitamin E - 0.05mg
Vitamin K - 2.7 µg
Minerals
Calcium - 39 mg
Iron - 1.02 mg
Magnesium - 43mg
Phosphorus - 62/62 mg
Potassium - 656/696 mg
Sodium - 2/1 mg
Zinc - 0.29/0.44 mg
Deglet Medjoo Variety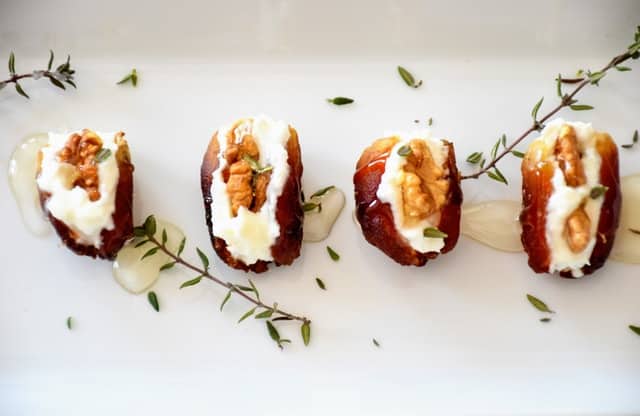 Energy value - 277 kcal
Protein -1.81 g
Fat - 0.15 g
Carbohydrates - 74.97 g (of which simple sugars 66.47)
Fiber - 6.7 g
Vitamins
Thiamine - 0.050 mg
Riboflavin - 0.060 mg
Niacin - 1.610 mg
Vitamin B6 - 0.249 mg
Folic acid - 15 µg
Vitamin A - 149 IU
Vitamin K - 2.7 µg
Minerals
Calcium - 64 mg
Iron - 0.90 mg
Magnesium - 54 mg
Phosphorus - 62 mg
Potassium - 696 mg
Sodium - 1 mg
Zinc -0.44 mg
Data Source: USDA National Nutrient Database
Dried dates have similar nutritional values. The exception is the fiber content, which is slightly higher (about 8, 7 g/100 g) than in raw fruit.
*Tip
especially the Medjool variety, whose glycemic index is estimated to be around 43-54 GI. Studies on five other varieties of dates have shown that with a balanced diet, fresh dates pose no risk to diabetics. The researchers point out that the results of their work should not be applied to other varieties of dates, but it is also said that fiber, an important component of fresh dates, slows down the digestion of carbohydrates, minimizing the risk of sudden spikes in blood sugar.
How many dates should one consume if one has diabetes?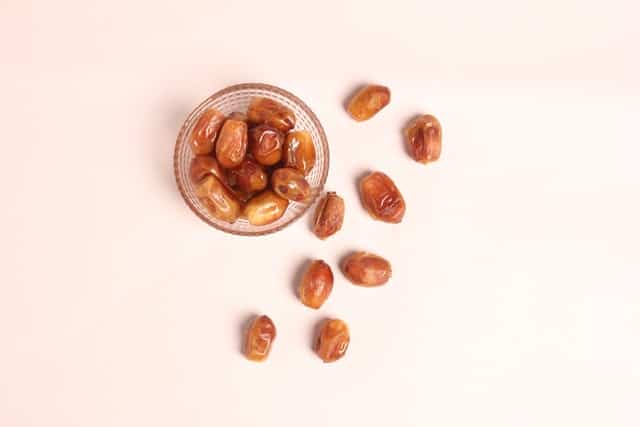 Eating dates in moderation is unlikely to raise a person's blood sugar levels, even if they have diabetes. According to one study, dates are a low glycemic index food that does not cause a significant rise in blood sugar levels in people with or without diabetes. The fruit provides the necessary energy to function and supports the digestive and circulatory systems. What's more, dates are high in fiber and potassium.
While fresh fruit has a low glycemic index, which means that, contrary to all fears, dates, and diabetes are not exclusive. When consumed in reasonable amounts and as part of a balanced diet, fresh dates for a diabetic are not dangerous to your health and will be a good choice.
Dates can be a pleasant and safe treatment that does not cause significant spikes in blood sugar levels if eaten in moderation, limiting fruit consumption to no less than 1 - 2 servings of dates per day. This should be reasonable, however. Also, remember to check with your doctor if you have diabetes.
What instead of dates for diabetes?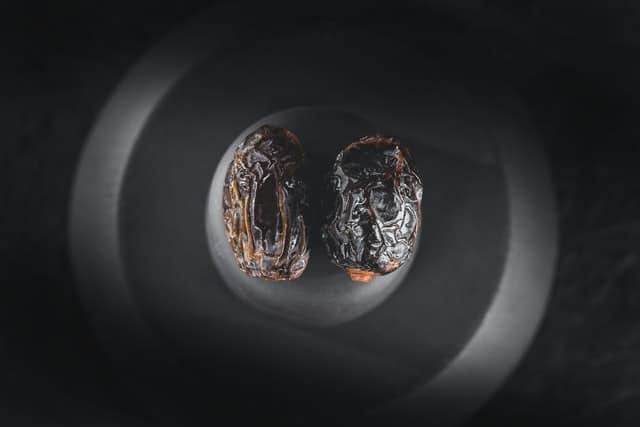 Xylitol
is a sugar produced from the bark of birch trees, It contains 40% fewer calories than traditional sugar (240 kcal). It also has a 10 times lower glycemic index, so it does not cause sudden insulin spikes in the bloodstream. This makes it ideal for diabetics.
GI=about 8
Date syrup
Fresh date syrup is often used as a good substitute for white sugar. While in healthy people, from time to time, such a replacement will not be a big mistake, it will not work for diabetics, due to the high glycemic index value of dates.
Besides, they contain a lot of valuable nutrients, such as carotenes, B vitamins, vitamin E, calcium, iron, and phosphorus.
GI = approx. 60
Honey
has a similar caloric content to white sugar (324 kcal/100 g), but does not contain the "sweetness" itself. Its main components are simple sugars glucose and fructose. Depending on the variety of honey, The more fructose in honey, the lower the GI. Besides the sugars, honey contains small amounts of minerals, B vitamins and proteins, tannins, waxes, volatile oils, pollen, enzymes, and organic acids.
GI=about 50-87
Do dates raise blood levels?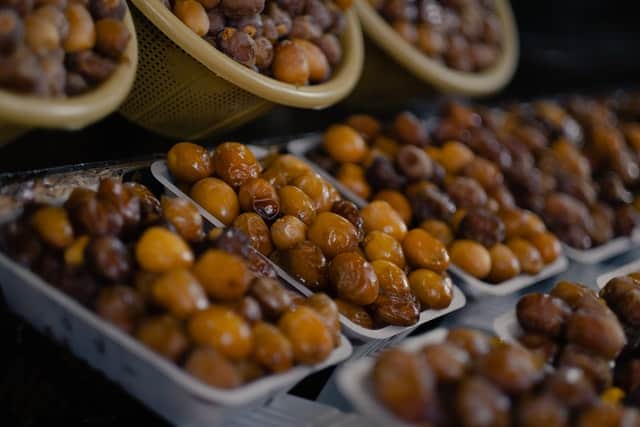 It is already known that eating dates alone for diabetes will cause serious health problems to you, especially dried dates. But, there is a way around this, eat them in moderation and remember to eat only fresh dates, in small quantities (1-2 servings per day), and they can appear in a balanced diabetic diet. However, if you have trouble composing such a diet, do not combine it on your own, but consult your doctor or nutritionist.