When it comes to managing our weight and health, one of the most effective treatments includes appetite suppression. Out of all of the products on the market today, Saxenda is regarded as one of the most effective treatments around. Using an ingredient known as liraglutide creates a false impression in the mind that we are full from the food we have eaten.
Given appetite suppression and reducing our caloric intake is key to reducing body weight, it is clear that Saxenda is highly effective. This prescription medication is taken via injection and is used for adults who have a Body Mass Index (BMI) of 27 and above.
It might also be aimed at those who have a bodyweight above 60kg between the ages of 12 to 17. When paired with an active lifestyle and an improved diet, Saxenda can be a game-changer for weight loss.
However, like any other kind of treatment, there are some pretty particular Saxenda side effects that you need to be aware of. Almost every clinical weight loss solution will come with some kind of after-effect, and it is important to know what these are before you start taking the treatment. However, is there any truth that the Saxenda side effects include hair loss?
Let us take a look.
The Most Common Saxenda Side Effects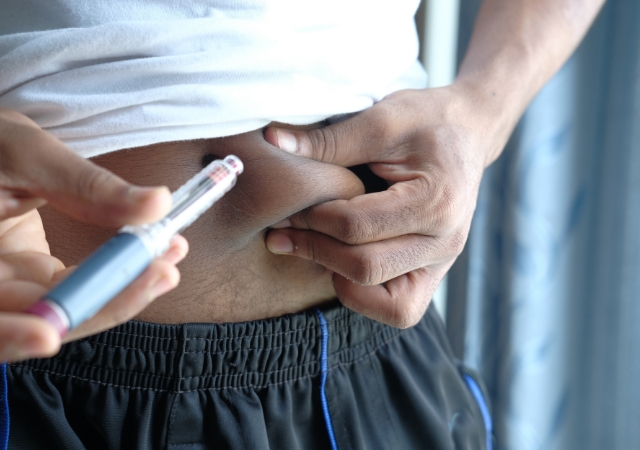 If you decide to take a treatment of Saxenda, then it is pretty likely that you will run into some kind of side effects. Treatments like this tend to come with some issues you need to be aware of.
Some of the most common side effects that can come from taking Saxenda include, but are not limited to: headaches, nausea, vomiting, diarrhoea/constipation, fatigue, dizziness, and abdominal discomfort.
However, you can also find that you suffer from hypoglycaemia – a reaction to having low blood sugar. Given how Saxenda works, this can come as no surprise and might need some medical intervention. This is something that a medical professional will monitor with you during your treatment to make sure that you are not taking an overly adverse reaction in the first place.
Another common change can be the enzyme levels within your blood. This will be viewed and monitored, as most of the time it is simply a temporary change that regulates itself once your body finishes reacting to the presence of Saxenda in the first place.
For most people, the side effects are minimal in terms of discomfort and will generally fade away pretty quickly. If the side effects continue to be significant or continuous, though, it should be something that is reviewed with the help of a medical professional.
Dealing with Saxenda Side Effects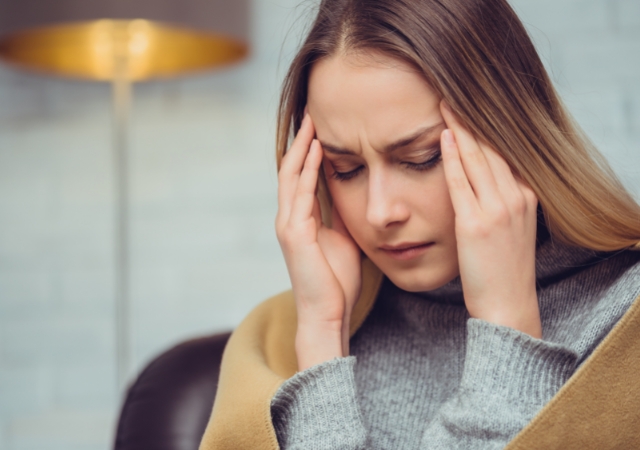 If you are finding that the side effects of Saxenda are causing you to enjoy a lower quality of life, then you can do something about this. First off, you should speak to the person prescribing you Saxenda. They can watch out for the side effects and determine if they are temporary setbacks or a sign of something within Saxenda not fully agreeing with you.
Generally, though, the best way to try and reduce or minimise the risk of Saxenda side effects would include:
Spending some time outside and taking in some fresh air – especially if you feel nauseous
Eating low-fat foods which are easier to go down; this includes foods like crackers and rice
Try and eat more food that contains a high water count, such as soups
Staying active and not lying down once you have just had food; can bring on the nausea
Unfortunately, in some rare cases, Saxenda can also lead to some serious complications. This can include problems such as issues with your gallbladder, inflammation of the pancreas, and even issues with your kidney.
Making sure you maintain high fluid intake during your Saxenda treatment can reduce the risk of this, but you should take any visible signs of issues with your kidneys or your pancreas very seriously and speak to the person prescribing you Saxenda.
Saxenda Side Effects: Does This Include Hair Loss?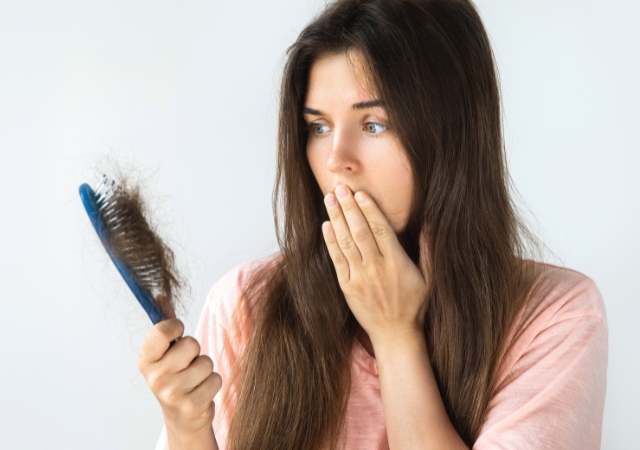 So, the good news is that there is absolutely no proof that taking Saxenda can lead to hair loss. If you happen to be losing hair while taking Saxenda, the cause is likely coming from elsewhere. During all clinical studies and trials, there has been no visible evidence that Saxenda – or other liraglutide-based treatments – causes hair loss.
The side effects we have listed above are some of the most common. Others can include issues such as difficulty sleeping, but there are no real signs of hair loss being a part of the side effects caused by Saxenda. One thing to note is that hair loss is often related to stress and inflammation.
Naturally, being overweight can be a stressful experience. It can put extra pressure on you physically and mentally. For many people experiencing hair loss, finding ways to de-stress and cope with the stresses of life can be quite beneficial.
There are some Saxenda side effects that you should pay close attention to, as noted above. So far, though, we are yet to see a single piece of clinical proof that Saxenda's side effects include hair loss.
In Conclusion
You can take Saxenda without worrying about your hair thinning, falling out, or going missing entirely. This is important to note, as for many, this is the primary problem they fear when they start taking medication. Losing your hair can become a major issue that takes years to recover from.
Thankfully, with Saxenda, this does not appear to be an issue you need to look out for. Keep a close eye on all of the other side effects we have noted, and you should find it much easier to get the most out of using this weight loss treatment.
Losing weight is stressful, and that can lead to hair loss in itself. There is nothing to fear, though, regarding Saxenda causing your hair loss. If you continue to see hair loss, you should speak to a medical professional, but there is no meaningful link between taking Saxenda and seeing your hair loss start and/or worsen.