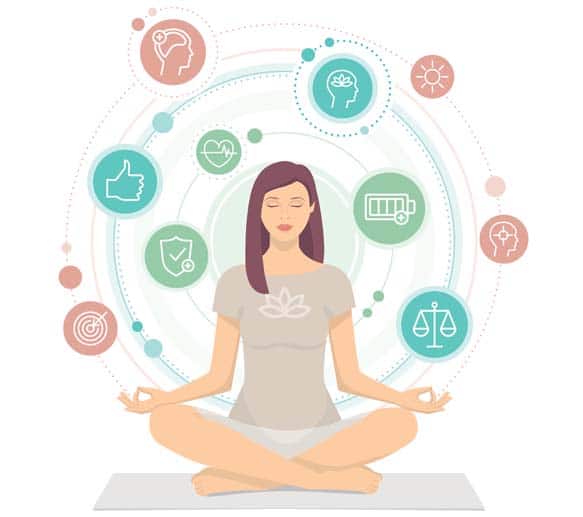 In this article we will show something super easy someone can do each day for next the 30 days. For example, reading a poem, taking a different route to school/work/home, listening to a music not in their own language, etc. This kind of exercise helps keep the brain young and rejuvenated. The brain, like all muscles in our body, needs exercise to keep it working and preventing the onset of dementia or Alzheimer's.

Before we continue with this article, I wanted to let you know we have researched and compiled science-backed ways to stick to your diet and reverse your diabetes. Want to check out our insights? Download our free PDF Guide "Power Foods to Eat" here.

Listen to music of a genre that you have never listened to before. Some examples include classical music, ska, reggae, metal etc: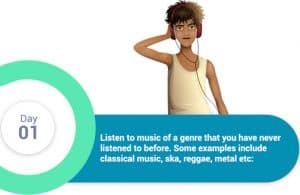 Why is the presence of music important in our lives? It enriches our soul and it adds value to our life. Music is a way of expression, it is a way of communication, it is a way of demonstrating your affection to your loved ones, a way of lifestyle. Without music, our lives would be dreary and quiet. Music also brings people of different groups and races together. Some may not be aware that music is also important to the development our brain. Listening to music creates new neurons in our brain. Research suggests that listening to music positively affects and improves memory and retention.
With the diverse positive impact of music in our lives, people also identify themselves through certain genres of music. For example, some people love relaxing to sounds of jazz while some rock their bodies to rock music. If you are someone who sticks to one genre of music all the time, today, make it your goal to listen to a music genre that you have never listened to or not given a chance to. If you are an avid ska music appreciator, take a few minutes and listen to classical music. Who knows, maybe that classical music you listen to it will enhance your life in ways you'd never thought before.
Take a different route to work or drive to that popular neighborhood in your town that everyone is talking about: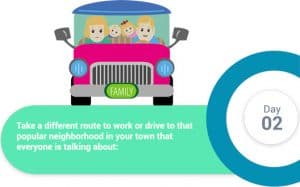 Taking the same route everyday can become mundane and boring. You have the same routine, you see the same traffic lights, the same stores, and maybe even the same faces on your commute to work. If you drive to work, leave a little early and try out the alternate route that your GPS gives you for going to work (of course, keep in mind traffic restrictions!). This will make your drive to work fun and exciting.
You will be forced to keep your attention while driving because distraction can cause you to miss a stop or take a wrong turn. You will see a different part of the city that you would not have otherwise. If you take the bus and have the luxury of several buses going the same route, consider taking a different bus number. The route it will take will be different from your usual one and you will get to see new faces and new roads.
Learn how to say the following in that language you have always wanted to learn: Hi, how are you? My name is: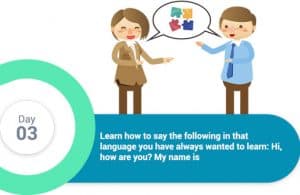 Bonjour!! Always wanted to learn how to say some basic words in French, considered as one of the most romantic languages in the world? Fear not, with the availability of internet and hundreds of websites dedicated to translations, learning a different language has never been this easy. Even Google Translate translates from English or from any language to the language of your choice.
Or you can download an app like Duolingo and learn a word each day from the comfort of your home with your phone in your hands for free! Research shows that learning a new language is actually very good for the brain. It creates new neuropathways which keeps the brain healthy and strong, it improves memory and concentration and lowers the risks of dementia and Alzheimer's.
Read a book you have always wanted to read. For those who don't read books, pick up a short story online or in the library: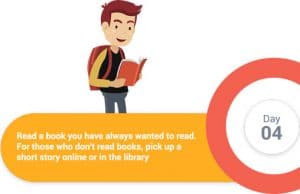 Reading increases the power of your brain. Reading is to the brain as jogging is for the body. By reading, you are giving your brain a great workout. We recommend reading a book that you have been eyeing to read for weeks or months now. It can be a best seller which is hot on the shelves right now.
Or it can be a classic which you have heard about for years. Reading can never be a waste of time. It improves our understanding of a language. Depending on the nature of the book, you can learn about human connection, economy, health, or romance. Reading also increases imagination and creativity! Some of our favorites are: To Kill a Mockingbird, the Harry Potter Series, Alice's Adventures in Wonderland, Les Miserables, Lord of the Flies!
I suggest reading these articles as well:
Invite your friends or family board game night:
Who doesn't love a good board game?!! Board games are a great way of having fun with other people. People who play board games on a regular have the opportunity to laugh often in the presence of others. Laughter releases endorphins, chemicals responsible for the feeling of happiness.
Playing board games also improves memory and cognitive skills. It keeps the mind sharp, speeds up your response time and can help in child development. Board games can be fun and educational at the same time. They can be for both adults and children. Some fun board games are the Rivals of Catan, Pictionary, Taboo, Cranium, Monopoly.
On this day, take a picture of everything you do even if it's not interesting: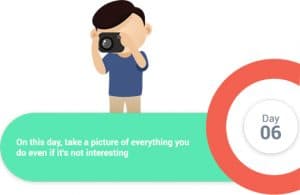 This may sound boring at first, but by taking a picture of everything you do during this day, you can look back at your day to see what happened and perhaps gauge your feelings via photos. This exercise may help you to make different decisions the next day because you realize you have been doing things the same way for years.
This is also a great way of making memories of the one day you can look back to. Hopefully, this day falls on the weekend so you can plan something fun and take photos of your journey that day. Weather permitting, you can go either for a hike and have a picnic on top of the hill. If you live near a body of water, grab your bathing suit and bike there. Don't forget to capture these moments!
Strike up a conversation with a stranger, say hi or compliment them: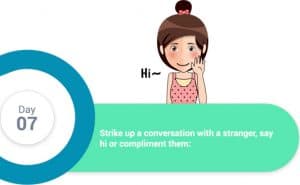 Sometimes you can make someone's day by just smiling at them. If you see a stranger and they seem warm, say hello and go on about your day. If someone walks by you and you love their outfit, simply compliment them on their excellent taste in fashion.
A passing smile, a one-word hello, or a sweet compliment can change someone's day without you even knowing it. Think of that one day when you felt sad or alone and how it felt when someone smiled at you. These small things don't cost a fortune and don't take up much of your time. So be generous!
Play a sport or do some sort of physical activity you haven't done before like yoga/running/swimming: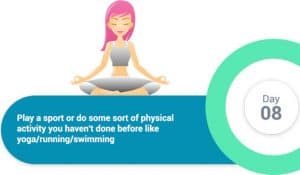 If you don't feel particularly eager to hit the gym, try taking up or even playing a sport one time to see if it is your cup of tea. If you have never done yoga, you can join your local yoga center for a one-day session to see how it makes you feel. The benefits of yoga are endless. It is not only great for the body but for the soul as well.
If yoga is not your thing, try going for a hike if you've never done so or take up swimming classes to finally learn how to swim like a fish. Today, you will push yourself out of your comfort zone and try to do something fun and new. The positive of impacts of moving around are countless. If you do something new, you are learning something new and getting in shape at the same time. Who knows, maybe you'll find out something new that you are good at!
Watch a movie from a famous director you have never seen before like Woody Allen, Kubrick, Nolan, Orson Welles etc.: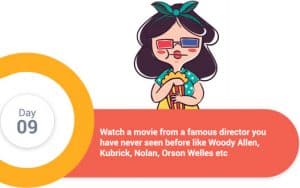 Are you bored of watching the usual rom-com movies in Cinema or on your Netflix? Have you finished all the seasons of Friends and would like to try something entirely different? We recommend watching a movie directed by someone you've never watched before.
Blue Jasmin, directed by Woody Allen, is a beautiful touching movie to watch if you have never watched a Woody Allen movie before. If you want action and violence, Quentin Tarantino's Pulp Fiction is a must watch. Just go on Google and search for directors to see if any of their movies may interest you. By watching a movie different away from your usual genre will open your eyes to different cinema and storylines.
Do basic meditation throughout the day 5-10 minutes total. Close your eyes slowly breathe in with your nose and slowly breathe out with your mouth: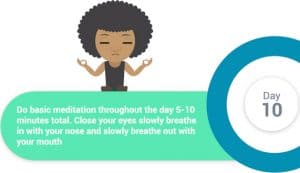 We cannot emphasize the importance of meditation. If you've never meditated before, take 5 to 10 minutes to yourself today to meditate. Meditation relaxes the brain which in turn relaxes that body.It improves the immune system, decreases blood cholesterol and helps control the blood pressure.
You don't need a gym membership or a yoga center to go to in order to meditate. You can meditate from the comfort of your house. If you are unfamiliar with meditation, try searching videos on YouTube. There are countless of videos from experts who teach guided meditation.
Take a hot and cold Hydrotherapy: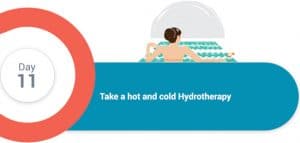 Go from extremely hot to extremely cold. It is great for the body/mind and feeling energized in the morning. You are wondering why you would want to subject yourself to this torturous routine? Having a cold and hot shower is the most efficient and cheapest way to improve your circulation. It also relieves joint pain, increases energy and reduces stress.
Research suggests that while hot water is good for its relaxing properties, on the other hand, cold water helps in relieving inflammation. If all that still doesn't appeal to you, cold water also helps burn fat! Now, go jump into the shower to have your first hydrotherapy (don't forget to search tips on how to do it so you do not burn your skin).
Watch a sunset or sunrise: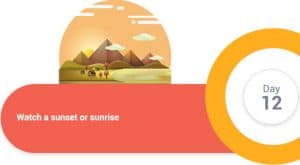 Looking for something romantic to do with your partner? Watching either a sunset or sunrise is one of the most romantic things to do together as a couple. If you are considering watching a sunrise, do your search. Find out where in your city you can watch the best sunrise. Some spots have better views than others. Or make a trip of it if a city close by has better views for a sunrise! If you are looking to see a sunset, pack a picnic with a blanket, drive to the spot and surprise your loved one with this sweet gesture. The beauty of a sunrise or a sunset is that it reminds you that every day has an ending but with a new beginning just around the corner!
For more informative articles check out the following:
Go to a local museum and learn something new about the world: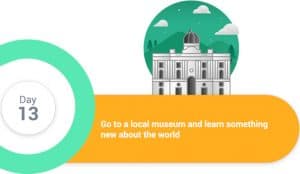 We love doing this! Most often than not, local museums have amazing exhibitions. These exhibitions are a chance for you to learn something new. If you've never seen a Monet exhibition and there happens to be one in your city right now, why are you still here!?! An exhibition does not have to be artsy in nature. You can search all your local museums to find out the one that interests you the most. Most cities have one day during the week when exhibitions are open to the public for free. Find your day and take a date with you. If you are a student or a senior, museums usually have great prices for you. Take advantage of them!
Buy a small indoor plant and take care of it: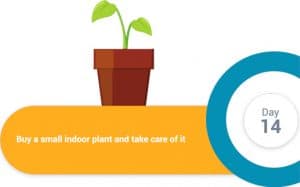 You've never had a plant to take care of because you fear its demise under your watch? Well, today, look up on the internet for a plant which is easy to take care of. Something that doesn't require constant upkeep and watering may be your thing! You can start with that and see how long you can take care of it.
In the past, plants always died under my watch until I got Albert, my money plant. I've had it for the last 3 years and he is blooming. He requires water twice a week and sits under natural light. You can even walk to your closest Canadian Tire or Home Depot and talk to an expert to find out which plant will be best for you!
Stay off social media for 1 day unless it's for work: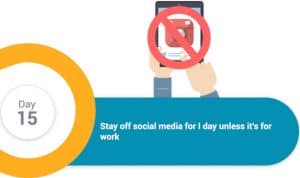 It does sound hard, doesn't it? Especially with our fast paced and technology intertwined lives, just the thought of staying off social media for even an hour seems impossible. However, when was the last time you'd taken the time to appreciate everything around you and be more present? Take this day to unwind from your social media and give your 100% to the people around you and the activities you are performing.
Put your phone inside your drawer or just turn it off and go about your day. It may be hard at first but you will realize how much you miss the action in person when you are constantly on your phone. By the end of your day, you may even like how present you were during the day and cut down on your social media consumption.
Call a friend or a relative you haven't talked to in a while to see how they are doing: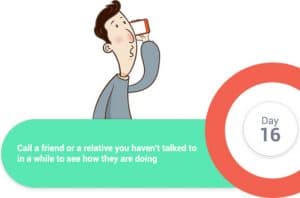 Have you lost being in touch with a close family member or a high school friend? As life goes on, work and other family responsibilities eat up so much our time that we sometimes forget to keep other relationships going on. It is how life is. Everyone has their own schedules and things to do. Is there someone you miss talking to whom you haven't spoken to in a long while?
Today, pick up your phone and dial that number. It will be such a wonderful surprise for them to hear from you after all this time. Who knows, you may be making their day by one simple phone call. Besides, life is too short to not be in touch with your loved one. Chances are if you miss being touch with them, it is likely that they miss being in touch with you as well.
Cook something you have never cooked before. If you have never cooked, learn to cook something basic like eggs and treat yourself: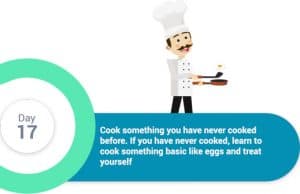 Whether you are a seasoned cook or a newbie, cooking is a skill that that everyone should know how to do. If you cannot or have not cooked much, today is the day to pick up the skillet and those ingredients to whip up a recipe. There are so many online recipes available.
Most websites even offer step by step instructional videos on how to make tasty food. For example, Tasty from Buzzfeed or Delish are some websites where you can find extremely easy to make yet delicious recipes in a matter of minutes if not seconds. Surprise your spouse or treat yourself with a homemade meal and feel the pride of having made something with your own hands!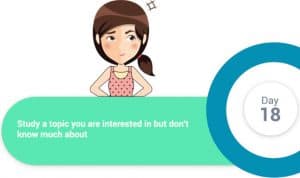 Study a topic you are interested in but don't know much about:
Spend the day reading/watching something about a topic unknown to you whether it maybe politics or scientific phenomena's like black holes or scuba diving. You can learn how many types of fish call the pacific home or what the big bang theory is or how the American political system works.
Learning a new topic can be an interesting conversational or ice breaker topic. You are also encouraging yourself to go out of your comfort zone to learn something entirely new. Be right back, I am going to learn how bridges are made!!
Read a poem and try to understand what it means for you: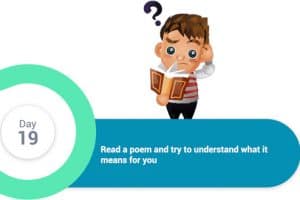 Not many people do this on a regular but find a poem to read. Make sense of it for yourself. What does the poem mean to you? What does it signify to you? Poems can be subjective and it is very interesting to see your perspective vs other peoples. The other beautiful thing about poems are the times in which they were written in.
They give us a glimpse of the society the poet was living in, the constraints of his/her life, the bitterness or the sweetness of his love. Through poems, we learn about the political and environmental realities of those times. Famous poets include Edgar Allan Poe, W.B. Yeats, William Shakespeare, Pablo Neruda, E.E. Cummings…
Donate to a charity you believe in: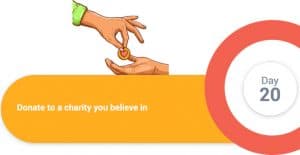 Do your research and donate to the charity of your choice where you will be assured that the money goes towards the cause you support. It doesn't matter how much you donate because whatever you donate will be helpful. Sometimes we forget how lucky we are to live in peaceful societies and how much of the world is in turmoil.
While we may not be able to help everyone who is suffering or every cause which demands our attention, the fact of the matter is that we can choose a cause which is close to our heart and back them up with the available resources we have. Donating does not always take monetary form. You can donate your used clothes, supplies, technological items, etc. While your donation may not impact you, it will definitely have a positive impact on someone else's life who needs it more than you.
Learn how to change a tire even if you don't own a car: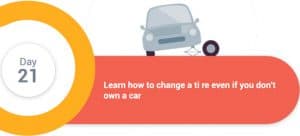 This is a skill that you never learn in school but which everyone should know how to do. Accidents happen and tires go flat. Learning how to change a flat tire can come in handy that one time when you are stranded alone and need to change yours in order to get somewhere.
Or you can help someone else who needs the help. Learning how to change a tire can sound like a daunting task but it can be so useful in the future. YouTube offers some amazing instructional videos by people who teach you how to change a tire.
Do some chore around your house or apartment: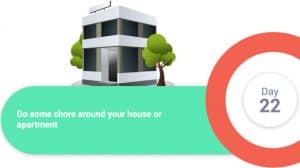 On this day, take a up chore like painting a wall, fixing a broken faucet or deep cleaning your apartment. This is a task you have been putting off for weeks or days by now. If you are going to deep clean your place, give yourself the time to do it thoroughly so you don't leave it half way.
Imagine how clean and nice the apartment will smell after your cleaning session. If you have been meaning to paint the one wall, grab your paint stuff and go at it! Who doesn't like a freshly cleaned house or a house which looks new because the paint has changed the aesthetics of the room!
Watch one of many self defense techniques on YouTube and learn one that is general: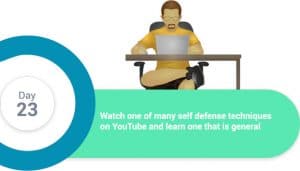 Here are some reasons why learning a self defense technique is never a bad idea: it builds confidence, helps improve your self-discipline, tones your body, teaches you skills to protect yourself from danger, etc. If you search for self defense techniques, there are so many: Krav Maga, kickboxing, Brazilian Jiu-Jitsu, Karate, Taekwondo, Muay Thai, etc.
Take the time to read about some of the types to find out which one will suit you the best. If you have physical or health concerns, make sure you get the clearance from your doctor before you start any extreme technique. You can Google from home some easy ones to see which one interests you the most.
Buy a cheap instrument from the local pawnshop or online and learn to play it: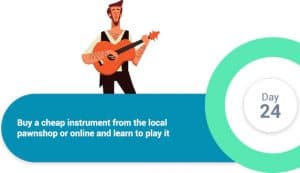 Ask anyone and they will tell you how difficult it is to learn to play an instrument. But do not let that discourage you from picking up an instrument and learning how to play it. You do not need to buy a new instrument, you can go to a used or an antique shop to see if you can find a cheap one there. Once again, learning something new is easy with the presence of the web. You can google or YouTube instructional videos online and learn how to play the basic tunes. Learning to play a musical instrument increases the capacity of your brain, enhances your coordination, increases your concentration, encourages your self-expression. Now, serenade us with your guitar!
Go to a local marathon: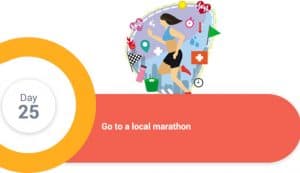 Search marathons near me in Google. It is not important if you run fast or run at all but that you finish it. Finishing a marathon will really boost your confidence. Whether you are a runner or not, joining a marathon is a huge challenge and you must applaud yourself for finishing it.
Running a marathon will help you lose weight, it will strengthen your heart, and help decrease the risk of heart disease. There are several kinds of marathons. Most marathons support a cause as well. So you are not only benefitting yourself but also running for a cause dear to you. Put on your running shoes and don't look back!
Say the alphabet backwards.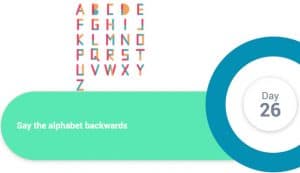 It sounds weird but it isn't easy and it is a great method of getting your brain warmed up. Your brain is a muscle which needs a workout now and then. By challenging your brain, you are strengthening your memory capacity, decreasing the risk of dementia and/or Alzheimer's.
Make affirmation statements when your alone.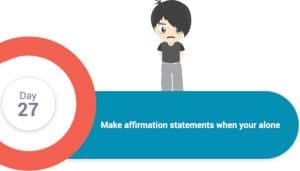 These are positive statements you make about yourself that increases confidence and happiness. Examples: I WILL SUCCEED. I WILL DO THIS CHALLENGE! It is so important to be your own best friend. We are very hard on ourselves and can put extreme pressures to get stuff done.
But sometimes, we have to remind ourselves of our strengths and be our own champion. Today, compliment yourself and give yourself an affirmation statement for something you fear about. If you fear speaking in front of an audience, tell yourself that you are a great speaker and everyone will love your speech.
Read the Local news and see what's going on around your city or town: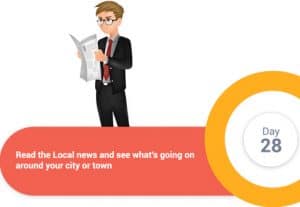 Do you find yourself being out of touch of what is happening around you because of your busy lifestyle? Today, you will pick up the local newspaper and read the headlines to find out what the latest news trend is in your city.
Reading the local newspaper will give you an overview of the crimes happening, the political decisions being made, the latest new hip restaurant to check out, etc. It is important to know about the ongoing of your local community so you don't miss out on notable events or fun activities or municipal townhalls.
Try drawing: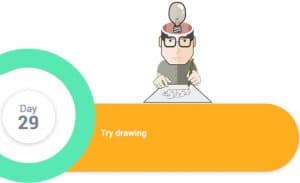 A lot of people are scared to draw but this is just for fun. Try to draw something simple like a flower or tree and share it with your friends. If you have water colors or oil colors, try your hand at those. Drawing improves creativity, memory, reduces stress, generates positive emotions.
If you are unsure of where to begin, you can search online for drawing tutorials. If you do not have any drawing supplies, you can begin drawing with a pencil. If you draw and find out you have a hidden skill, you can invest in other drawing supplies.
Learn to whistle.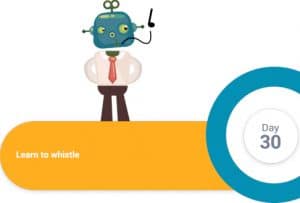 This might seem useless but might come handy sometime. If you know how to whistle already, learn to whistle with your fingers. Have you seen people put two fingers from each hand at the same time in their mouth and make a loud sound? That is whistling with your finger. If you search the following on Google, you will find lots of videos teaching you the art of whistling with your finger: how to whistle with your fingers.
Here is the full infographic.