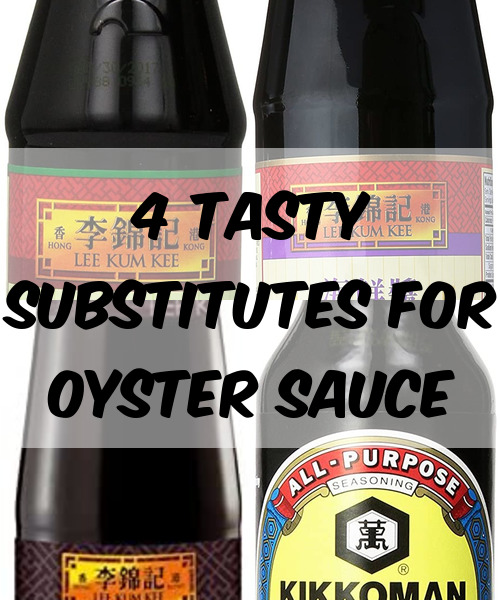 You may not be familiar with oyster sauce, but if you've ever had an Asian stir-fry or tossed dish, you've probably had it without knowing that savory, salty, slightly sweet, and gently fishy flavor was actually oyster sauce. Made from boiled oysters in brine until the broth caramelizes and thickens, oyster sauce isn't very simple to make at home, but if you're able to find it in a store it's a worthwhile condiment to have for adding a deep flavor and a glossy finish to just about any Asian dish.
However, not all stores carry oyster sauce, so if you find yourself looking for this ingredient without any luck, it's easy to find a substitute that delivers the same results, or even mix up your own oyster sauce alternative at home. Finding a balance of sweet, salt, and funk is what you want to go for, while also getting something that has a similar viscosity so each ingredient in your dish is coated in that flavorful sauce. No matter what dish you're making that calls for this funky ingredient, we've got 4 great substitutes for oyster sauce that will achieve the same rich, umami flavor your dish is striving for.
1. Mushroom Stir-Fry Sauce

Order This On Amazon: amazon.com
If you're allergic to shellfish or are vegetarian, using mushroom stir-fry sauce instead of oyster sauce satisfies both parties. Mushroom stir-fry sauce is soy based and contains sugar, salt, cornstarch, flour, and mushroom flavor, but its texture and umami flavor is comparable to oyster sauce making it a great substitution in a pinch. If swapping mushroom sauce for oyster sauce you can use a 1:1 ratio in any recipe that calls for it, especially stir-fries.
2. Hoisin Sauce

Order This On Amazon: amazon.com
Hoisin's texture is a bit thicker than oyster sauce, but it makes for a great oyster sauce substitute in just about any stir-fry dish. The flavor profile of hoisin is a bit more robust than oyster sauce, with savory notes of fennel, garlic, and a hit of spice from chili flakes. Additionally, hoisin sauce has vinegar, orange, and plum for some acidity that can deepen the flavor of a stir-fry or a tossed dish, or make for an excellent dipping sauce for dumplings.
3. Black Bean Sauce

Order This On Amazon: amazon.com
While it lacks the sweetness of oyster sauce, this dense and creamy sauce is great for coating noodles, vegetables, and meat. Made from fermented black beans, vinegar, soy sauce, garlic, and sugar, black bean sauce won't deliver the same flavor profile as oyster sauce to your final product, but its thickness will coat your ingredients beautifully and provide a rich, savory flavor that ends up being less sweet than what you may be expecting.
4. 50:50 Mixture of Hoisin and Soy Sauce

Order This On Amazon: amazon.com
While soy sauce has a similar flavor profile to oyster sauce, its texture is far too thin and watery to substitute for it 1:1, so bringing hoisin to the mix is as close as you can get to making your own oyster sauce at home without actually using shellfish. Soy sauce also cuts the sweetness of the hoisin making for a more balanced sauce with both sweet and savory notes, but the mixture itself ends up being slightly more flavorful than oyster sauce on its own. This mixture can be used in any recipe that calls for oyster sauce in a 1:1 ratio.