Byetta, also called exenatide, is a non-insulin, injectable, mealtime medication. It's used to help regulate Type 2 Diabetes. It's been approved by the FDA, for adults only, along with a healthy diet and regular exercise routine. Byetta was first approved by the Food and Drug Administration (FDA) in 2005.

At that time, it was to be used as a supplement along with oral insulin medications if they were not fully controlling the patient's diabetes. Then, in 2009 Byetta was approved by the FDA as an independent medication to treat Type 2 Diabetes in combination with diet and exercise.
Finally, in 2011 Byetta was approved by the FDA as an additional therapy to Lantus. Lantus is a long acting insulin. Byetta has been used to treat over 1.8 million patients worldwide since it was approved in 2005. It is not to be used with any short term or fast acting insulins. It is not meant as a weight loss medication, but it does help to reduce the amount of food the user consumes which may help the patient lose weight.
How Byetta Works to Manage Type 2 Diabetes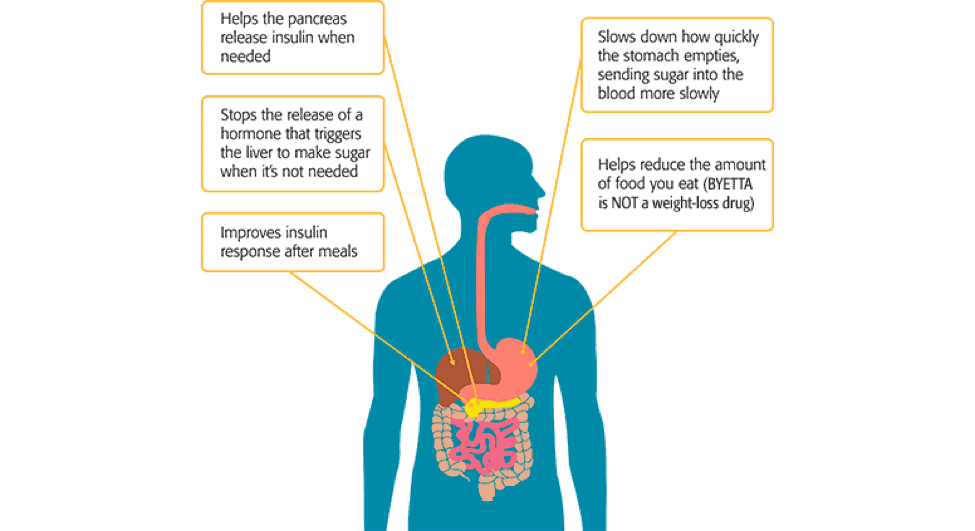 According to Byetta.com, Byetta a glucagon like peptide 1 (GLP 1) receptor agonist used to treat patients with Type 2 Diabetes. Byetta works with the pancreas to release insulin when the body senses a rise in blood sugar, usually following a meal.
When the body senses a drop in blood sugar, Byetta slows down the release of insulin. It also stops the hormone that's responsible for signaling the liver to make sugar when it isn't needed. Slowing down the rate of how quickly the stomach empties is another way Byetta works to manage Type 2 Diabetes. When the stomach emptying process is slowed down, sugar is released more slowly into the bloodstream. Because the stomach empties slower, the patient will feel fuller and be less likely to overeat. Overeating can increase the risk of diabetic complications like heart disease and neuropathy.
In an article in Endocrine Practice, a panel of endocrinologists stated that GLP-1 receptor agonists like Byetta are now recommended to be integrated into the treatment of Type 2 Diabetes earlier than in the past. They based this statement and new recommendation off of evidence of effectiveness and general safety of the medication.
Pros and Cons of Byetta
Side effects

Byetta has the potential to cause some severe side effects, so it is important to learn which ones you should be on the lookout for before starting this medication. Remember, your doctor has determined that the benefits of this medication outweigh the potential side effects.
The most severe common side effect is:
Hypoglycemia: The risk of developing low blood sugar episodes is much higher when you are taking Byetta and another type of medication that causes low blood sugars such as insulin or sulfonylurea. If you notice your levels are running lower than normal, you may want to let your doctor know so that the dosage of your other medication can be adjusted accordingly to avoid these hypoglycemic episodes.
Other common side effects include vomiting, dizziness, constipation, muscle weakness, vomiting, the feeling of being jittery, acid reflux. Nausea typically happens when you first start on this medication, but over time as your body becomes used to it, this begins to subside.
Byetta When Used with oral medications?
Byetta may be taken with other oral diabetes medications such as sulfonylureas, metformin and others.
Clinical trials have shown that adults who are currently on an oral diabetes medication regimen have a reduction in their a1C levels from 0.7% to 0.9% when starting Byetta. Weight loss was also experienced when Byetta was introduced ranging from 3 to 6 lbs.
Who can take it?
It's important to talk to your doctor before you start Byetta if you have been diagnosed with the following:
Alcoholism
Gallstones
Pancreatitis
High triglycerides
Byetta vs. Insulin
Let's compare Byetta to mealtime insulin. A 30-week trial showed Byetta users A1c numbers decreased about one percent. Patients lost an average of 5.5 pounds of total body weight. Whereas insulin users gained an average of 4.6 pounds. Minor episodes of hypoglycemia, or low blood sugar, were reported 30 percent of the time with users of Byetta and 41 percent of the time with insulin lispro (fast acting insulin).  However, Byetta had more side effects such as nausea, headache, indigestion, vomiting, diarrhea, constipation, common cold, bronchitis, and the flu compared to mealtime insulin.
How Do You Use Byetta?
Byetta is a prefilled pen injectable. Your doctor will first show you how to inject the medication initially. If you are uncertain of anything, it's important to ask questions your doctor right away. Your Byetta pen uses pen needles which will require an additional prescription from the doctor. Inject your dosage underneath your skin, this is known as a subcutaneous injection. You can inject in your upper thigh, stomach or arm. Do not inject into a muscle or vein.
Other options for diabetes type 2
Byetta is used twice a day, an hour before breakfast and dinner. When you miss a dose of Byetta, do not take an extra dose to make up for that missed one. Be sure to store your Byetta injection in the refrigerator. It's only good for up to 30 days, so toss out any you have left after this time.
Reviews of Byetta by other users
Most users confirm that their eating cravings had gone down with the use of Byetta which has helped them lose unwanted weight. Users, however, complain about the nausea that occurs when you first start using Byetta. Just like any drug, you will have to give it try yourself if your doctor has recommended it. Every drug and medicine works differently in a person based on many factors.
Conclusion
Keep in mind that your doctor prescribed you the twice daily injectable Byetta because they believe that the benefits outweigh any potential side effects. You must still be on the lookout for any out of the ordinary side effects when you first start your trial with Byetta. It is important that you report your findings to your doctor so they can determine if it is beneficial for you to continue with the medication.