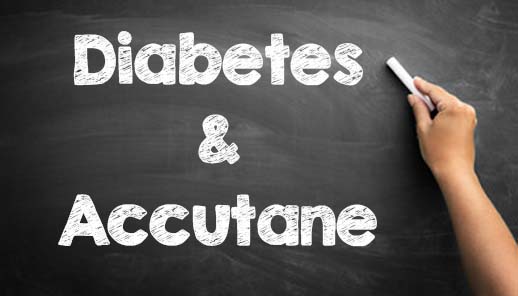 One of our readers contacted TheDiabetesCouncil with a question about the use of Accutane with diabetes. Nikki is a 16 year old with Type 1 Diabetes. Like other teenagers, Nikki gets acne break outs from time to time.

Before we continue with this article, I wanted to let you know we have researched and compiled science-backed ways to stick to your diet and reverse your diabetes. Want to check out our insights? Download our free PDF Guide "Power Foods to Eat" here.

However, her break outs are worse than the average teenagers. The breakouts don't respond to over the counter acne treatments, and her acne "erupts," which ends up leaving scars on her face. She was wondering if it was advisable for one to take Accutane if they had diabetes.
Can you take Accutane if you have diabetes?
In order to answer her question appropriately, we looked into it ourselves and found out that a person with diabetes can take Accutane, especially if all other acne treatments have been unresponsive. Accutane is a powerful medication, and should be used for as a last resort. There is a whole list of not so great side effects that come with the use of Accutane. You must look into them before going on Accutane. This article will look into the use of Accutane for people with diabetes.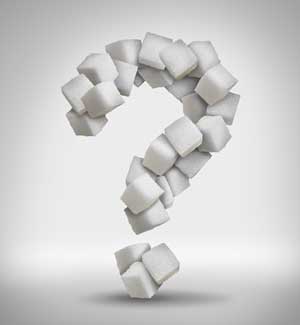 Should you take Accutane if you have diabetes?
Accutane has the same precautions for those with diabetes as for those without diabetes. If you have a serious acne problem that causes scarring and you have exhausted all other options, you may then want to consider taking Accutane. You will need to watch out for a few things if you have diabetes. Your healthcare provider will want to keep a regular check on your body organs through laboratory monitoring while you are taking Accutane.
Accutane is mostly reserved to treat only the worst cases of acne. Many physicians and healthcare providers feel that a person with diabetes should be especially careful when taking Accutane, since the drug can cause blood sugars to change. Some doctors warn that these blood sugar differences can occur with persons with diabetes, and with persons with a family history of diabetes while taking Accutane.
This is something to consider. It is also worthwhile to consider whether or not Accutane has been the cause of diabetes in those who take the drug, and are later diagnosed with diabetes. There have been a large number of cases brought forward to court against Roche pharmaceutical, prompting their removal from the market in 2009.
The manufacturer acknowledged a possible link between the development of Type 1 diabetes and Accutane use, although they have not been able to substantiate the link through research. We will discuss in greater depth whether or not it is possible that Accutane can trigger diabetes later in this article.
What is Accutane?
Accutane (generic: isotretinoin) is a retinoid, which is a compound that is similar to Vitamin A, and performs similar functions in the body. In other words, the chemical make-up and action of the compound is similar to that of Vitamin A. It is used to treat the most severe cases of acne.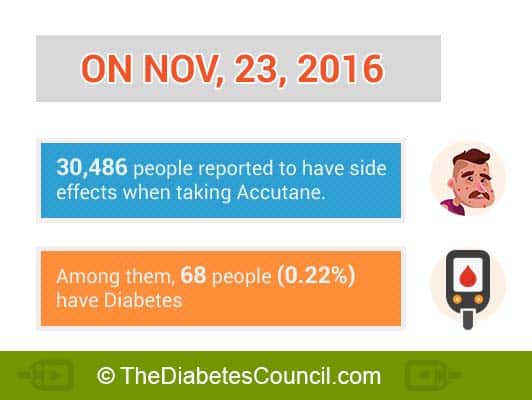 Back in 2009, Roche Pharmaceutical pulled Accutane from the US market due to personal injury lawsuits (some 5,000 or so). Many of those lawsuits involved the claim that after the use Accutane, the plaintiffs were diagnosed with diabetes.
However, generic versions of the medication do remain on the market, and doctors still prescribe it. In fact, over 13 million people in the US have been prescribed with it.1
Several doctors weigh in, off the record
One dermatologist that I spoke with stated that, in his opinion, he doesn't really think that people with diabetes are more prone to getting acne, or that they experience any more problems while on Accutane than someone without diabetes. He stated that you want to get a certain amount of Accutane into your system.
This is based on the weight of the patient and the severity of their particular case of acne. He doesn't really think that diabetes or a family history of diabetes is a contraindication for taking Accutane.
However, another doctor that I spoke to thinks the opposite. He feels that people with diabetes get more acne, and they have a harder time healing when they get acne. He also feels that they get more blood sugar fluctuations when on Accutane.
Therefore, he only prescribes Accutane in the most severe cases of acne for a person with diabetes. In his experience, he believes that a person can get Type 1 diabetes related to Accutane use, especially if they have a family history of diabetes. Something about the components of Accutane triggers the immune system to attack the pancreas, in his opinion.
What are the side effects and precautions of Accutane?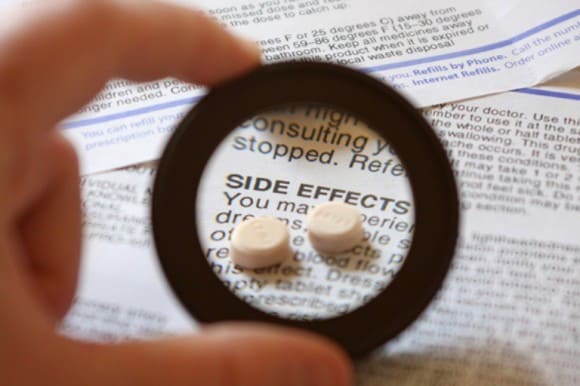 Accutane crosses the placenta, and is known to affect a developing fetus. There is a high risk of birth defects, miscarriage, and stillbirth. Therefore, women should take care not to get pregnant while taking Accutane.
Accutane use has been associated with IBS (Inflammatory Bowel Disease), and teenage suicide. Accutane can cause depression or even psychosis or suicidal behavior. It can cause dryness of the eyes, and decrease night vision. Skin becomes extra sensitive to the sun's rays. If you do get too much sun while taking Accutane, it can increase the amount of acne scarring.
Accutane can make your bones weak, or thicken them. Nosebleeds have also been reported by patients who take Accutane, as have unusual skin pigment changes. Wound healing slows, triglycerides can go up, and hair can grow in unwanted areas of the body. The literature states that it can also cause pancreatitis.
While taking Accutane, there is lab work that will need to be done. A Primary Care Provider should monitor necessary laboratory work to ensure that the patient does not suffer damage to any organ in the body. Accutane is known to affect many organs in the body.
List of Accutane side effects4
dry skin
itching
rash
dry nose
nosebleeds
cracked corners of mouth
dry mouth
dry lips
peeling, cracking skin
inflamed whites of the eyes
dry eyes
joint pain
back pain
dizziness
drowsiness
nervousness
changes in fingernails or toenails
Stop using Accutane (isotretinoin) and call your doctor immediately if signs of these serious side effects arise:
depressed mood, trouble concentrating, sleep problems, crying spells, aggression or agitation, changes in behavior, hallucinations, thoughts of suicide or hurting yourself;
sudden numbness or weakness, especially on one side of the body;
blurred vision, sudden and severe headache or pain behind your eyes, sometimes with vomiting;
hearing problems, hearing loss, or ringing in your ears;
seizure (convulsions);
severe pain in your upper stomach spreading to your back, nausea and vomiting, fast heart rate;
loss of appetite, dark urine, clay-colored stools, jaundice (yellowing of the skin or eyes);
severe diarrhea, rectal bleeding, black, bloody, or tarry stools;
fever, chills, body aches, flu symptoms, purple spots under your skin, easy bruising or bleeding;
severe blistering, peeling, and red skin rash; or
joint stiffness, bone pain or fracture
Report side effects to the FDA
This is not an exhaustive list of side effects for Accutane. There are other side effects that may occur with use of this medication. For questions about any side effects that you get while taking Accutane that you are concerned about, speak with your doctor or healthcare provider, and call the FDA (Federal Drug Administration) at 1-800-FDA-1088.
Recommended dose of Accutane
The recommended dose of Accutane is 0.5 to 2 mg per kg of body weight daily.
Interactions and contraindications of Accutane
Accutane may interact with the following medications:
seizure medications
tetracycline
vitamin A (taking vitamin A with a retinoid increases side effects
pregnancy
consult with a doctor before breastfeeding, because it is unknown if Accutane crosses into breast milk
Seek emergency medical assistance if you have any of these signs of anaphylaxis or an allergic reaction:
hives
difficulty breathing
Swelling of the face, lips, tongue, or throat.
Are there any dietary guidelines to follow while taking Accutane?
When you are taking Accutane, you should avoid foods that are high in saturated fats, as well as simple carbohydrates. Since people with diabetes should avoid simple carbohydrates anyway, and also follow a low fat diet, this shouldn't be much of a stretch.
Some doctors recommend that their patients with diabetes eat foods with a low glycemic index, and avoid foods with a high glycemic index while taking Accutane. The reason for this is that foods with a high glycemic index, such as potatoes, rice, and pasta, can cause a rise in blood lipids.2
Low glycemic index foods to eat while taking Accutane
Breakfast Cereal
All-bran
Oat bran
Rolled Oats
Special K
Natural Muesli
Porridge
Staples
Wheat Pasta Shapes
New Potatoes
Meat Ravioli
Spaghetti
Tortellini (Cheese)
Egg Fettuccini
Brown Rice
Buckwheat
White long grain rice
Pearled Barley
Yam
Sweet Potatoes
Instant Noodles
Wheat tortilla
Dairy
Whole milk
Skimmed milk
Chocolate milk
Sweetened yoghurt
Artificially Sweetened Yoghurt
Custard
Soy Milk

Bread
Soya and Linseed
Wholegrain Pumpernickel
Heavy Mixed Grain
Whole Wheat
Sourdough Rye
Sourdough Wheat
Snacks & Sweet Foods
Slim-Fast meal replacement
Snickers Bar (high fat)
Nut & Seed Muesli Bar
Sponge Cake
Nutella
Milk Chocolate
Hummus
Peanuts
Walnuts
Cashew Nuts
Nuts and Raisins
Jam
Corn Chips
Oatmeal Crackers
Legumes (Beans)
Kidney Beans (canned)
Butter Beans
Chick Peas
Haricot/Navy Beans
Lentils, Red
Lentils, Green
Pinto Beans
Blackeyed Beans
Yellow Split Peas

Vegetables
Frozen Green Peas
Frozen Sweet Corn
Raw Carrots
Boiled Carrots
Eggplant/Aubergine
Broccoli
Cauliflower
Cabbage
Mushrooms
Tomatoes
Chillies
Lettuce
Green Beans
Red Peppers
Onions
Fruits
Cherries
Plums
Grapefruit
Peaches
Peach, canned in natural juice
Apples
Pears
Dried Apricots
Grapes
Kiwi Fruit
Oranges
Strawberries
Prunes
High glycemic index foods to avoid while taking Accutane
Breakfast Cereal
Cornflakes
Sultana Bran
Bran flakes
Coco Pops
Puffed Wheat
Oats in Honey Bake
Team
Total
Cheerios
Rice Krispies
Weetabix
Fruits
Watermelon
Dates3

Bread
White
Bagel
French Baguette
Snacks & Sweet Foods
Pretzels
Water Crackers
Rice cakes
Puffed Crisp bread
Donuts
Scones
Maple flavored syrup

Vegetables
Pumpkin
Parsnips
Staples
Instant White Rice
Glutinous Rice
Short Grain White Rice
Tapioca
Fresh Mashed Potatoes
French Fries
Instant Mashed Potatoes
Precautions specific to diabetes while on Accutane
Accutane can cause a rise in blood cholesterol and triglycerides. People with diabetes taking Accutane will be prone to higher blood lipid levels. This should be monitored closely, since increased lipids do have an adverse effect on the liver.
Accutane itself also effects the liver. Patients with diabetes are often taking medications that can affect the liver as well.
How to manage your diabetes while taking Accutane
Roche recommends close monitoring of blood sugars while you are on Accutane. Your physician should run lab work to monitor your body organs, including a liver panel to make sure that the drug is not affecting your liver.
Can Accutane cause diabetes?
At the end of the long list of side effects and contraindications for Accutane, there is the statement that reads as follows: "some patients receiving Accutane have experienced problems in the control of their blood sugar. In addition, new cases of diabetes have been diagnosed during Accutane therapy, although no causal relationship can be established." 5
According to my research, there are many people with Type 1 diabetes who seem to think that the use of the drug Accutane precipitated the onset of their Type 1 diabetes. However, there is no empirical research to back this huge claim, other than the research that Roche conducted, where they acknowledge an anecdotal link between Accutane use and Type 1 diabetes.
The company did note that new cases were documented during Accutane therapy. Therefore, the link between Type 1 diabetes and Accutane is unclear, but would bear further investigating if a researcher decided to take it on as a study topic.
On a different note, there are three million people with Type 1 diabetes in the United States, and over 13 million people have been given a prescription for Accutane. Therefore, it stands to reason that if Accutane directly caused Type 1 diabetes, there would be a higher prevalence of Type 1 diabetes. However, even one case of Type 1 diabetes attributed to Accutane use is one too many.

Research on retinoid metabolism and diabetes
In June 2012, The Diabetes Metabolism Journal published a research article on Retinoid Metabolism and Diabetes Mellitus. The researchers concluded that there are many things to be uncovered and learned in relations to the role of retinoids in the development of diabetes, insulin resistance, dysfunction of the pancreas, and lipid metabolism.6
Retinoids are very important in the metabolism of glucose and lipids. Retinoids tend to function as insulin sensitizers. They affect insulin secretion, and the function of the islet cells. More studies need to be done to determine the effects of retinoids on the incretin system. The researchers concluded that retinoids are important in the functioning of the endocrine system, and that they could be part of a new strategy in finding a cure for diabetes.
Exciting research, indeed!
Over to you
As a person with diabetes who has used Accutane, please feel free to share your comments in the box below. Let us know if your blood sugars fluctuated while you were taking Accutane. Have you used Accutane for acne, and feel that is caused your new onset diabetes? Or simply let us know if the article was helpful for you, and why.