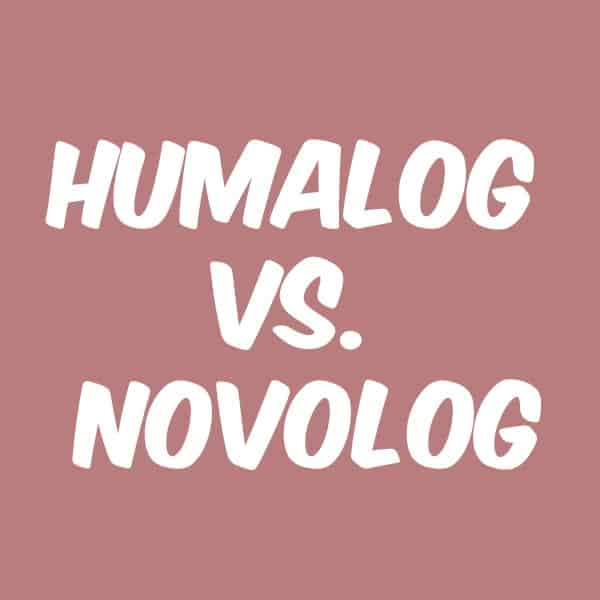 The two leaders in the fast acting insulin market, Humalog and Novolog, are the most common types of fast acting insulin used by those with diabetes today.

Before we continue with this article, I wanted to let you know we have researched and compiled science-backed ways to stick to your diet and reverse your diabetes. Want to check out our insights? Download our free PDF Guide "Power Foods to Eat" here.

Fast Acting, mealtime insulin is a type of insulin that is injected before or right after eating. When you eat your blood glucose begins to rise. Fast acting insulin, Humalog and Novolog work to help manage these rises or spikes to keep your blood glucose levels more within range and balanced. When you use a fast acting insulin like Humalog or Novolog, you typically will continue to take a long acting insulin to help manage your levels between your meals and throughout the night.
The question is though, is there really a difference between the two?
Endocrinologists and other medical professionals don't seem to really think there is, stating the two are virtually interchangeable.
But that's not really the full story.
Humalog (Insulin Lispro)
Insulin Lispro (Humalog) has been on the market since 1996, when it was first introduced by Eli Lily. Humalog is the first insulin analogue that was used clinically. Insulin Lispro received its name due to its structure. The difference between it and regular insulin was the switch between the lysine B28 (an amino acid) and proline B29.
The formula consists of a hexametric solution available in vials and pen form. After a subcutaneous injection, the formula converts into a monomeric formula which allows it to have a fast absorption in the body. The one noted negative factor of Humalog is its short term control of glucose levels. Additionally, if it is injected and mealtime happens to be delayed, a hypoglycemic episode may occur. For Humalog to be most effective it is to be injected 15 minutes prior to the start of a meal.
I recommend reading the following articles:
Humalog is available in the following forms:
3mL Cartridges
3mL vials
10mL vials
3 mL KwikPens
Humalog Mix 75/25 contains 75% of insulin lispro protamine and 25% insulin lispro injection, while the 50/50 mix contains 50% of each. The Humalog KwikPen is a lightweight pen that's already prefilled with the mealtime insulin you need, making it a convenient choice especially on the go. You can keep it tucked away in your backpack, pocket or even your purse. Before each use, you want to make sure you prime the pen by turning it to the 2 unit marking. By tapping the cartridge lightly, you can ensure that all air bubbles leave the pen before use. Push in the dosing knob of your pen until it stops and the O can be seen in the window.
The KwikPen can deliver up to a total of 300 units of Humalog. It's important to never withdraw from the KwikPen with a syringe.
It's important to note that the prefilled Kwikpen cartridge should only be used within the pen and the insulin that is inside should never be administered through other methods.
Recently Humalog introduced their U-200 KwikPen which has the same design as their U-100 KwikPen, but when comparing both of them there are some differences:
Differences:
Holds double the total amount of mealtime insulin
Requires fewer pens each month
Won't have to change pens as frequently
What's the Same?
It's the same exact size as the Humalog U-100
It works just the same there are no dose conversions needed
When the KwikPen is opened it will not require any refrigeration and can be used for up to a time length of 28 days. After 28 days it should be discarded even if there is any insulin in its remaining.
Novolog is available in the following forms:
3mL FlexPen
Flex Touch PenFill
10 mL vials
The FlexPen is a convenient prefilled insulin pen that allows you to easily taken your injections with you wherever you go. Preparing it for use is really fairly simple, you will want to uncap the pen and wipe off the top stopper with alcohol. Using a disposable needle, you will remove the protective tab from the needle and screw it into place on the pen. It's important to remember to not place the disposable needle on the pen until you are ready to use it. Pull off the outer cap on the needle as well as the inner cap. Do NOT reuse needles with each injection, you will want to change to a new one each time you inject. Trying to reuse the needle only dulls the blade and makes injections much more painful than they need to be.
Small pockets of air or air bubbles may become collected in the cartridge with use. To help avoid injecting any air you will want to turn the dose on the pen to 2 units and press the button all the way in until you see a 0. This is frequently referred to as 'priming' and is a great way to keep from having any air bubbles injected with your insulin. When you prime the pen you will see a small drop of insulin come from the needle. If you do not see any right away, repeat this process one to two more times. When dosing properly you will want to make sure the dose selector is set back to 0 so you can select the proper dosing in increments of 1 unit.
While the FlexPen contains only increments of 1 unit, the NovoPen Echo is the first insulin pen that features a memory function and half unit doses. In terms of insulin pen treatment, this helps Novolog stand out from Humalog with the ability to dose in such lower increments. The memory function records the dose and last time you took an injection to help keep track. Unlike the FlexPen which is prefilled, the NovoPen Echo can have its insulin cartridges replaced. It is used with the Novolog 3 mL PenFill cartridges. For parents who have younger children with type 1 diabetes, the NovoPen Echo is a great option for insulin pen therapy versus daily injections via syringe. The insulin pen features much shorter needles with some as small as 4mm, while most syringes are 6mm to 8mm in length. This can help to ease some discomfort for younger children.
If you've been on one of the other and have been considering changing, its time that you learn which type of fast acting insulin will be most beneficial for your diabetes management. So let's take a look into the details behind these two leading brands today:
Similarities
Both Humalog and Novolog are human insulin analogs. What this really means is that they are an altered form of the hormone insulin you find occurring naturally in the body. You've probably already have guessed that the 'human' in front of this title simply means it's an altered type of insulin found in the human body. Whereas some with diabetes may remember the days of pork and beef insulin.
When you look further into the term "insulin analog" this refers to the process of genetically engineering the DNA and amino sequencing of the insulin so that the absorption, distribution, metabolism and excretion features of it can be changed. These features are called ADME.
Humalog is the official brand name for the insulin analog insulin lispro. It begins to work fifteen minutes after it is injected and hits it peak in about one hour after injection. Humalog continues to work for up to two to four hours.
Novolog is the official brand name for the insulin analog insulin aspart. It begins to work in a mirrored fashion to Humalog in fifteen minutes after it is injected. Novolog also hits its peak at the one-hour mark and keeps on working for up to 4 hours.
Differences
To understand some of the differences between the two, we must look at the inner workings of insulin itself. Insulin consists of what is known as two polypeptide chains, these are chains A and B. They are linked together with disulfide bonds.
Insulin Lispro (Humalog) as we know is a human form of insulin that has been genetically modified so that it's amino acid proline is now substituted for lysine in the 28th position of Chain and lysine has then been substituted for proline in the 29th position of chain B.
Insulin aspart (Novolog) only has one single substitution in its modification, this is the proline is substituted for aspartic acid in the 28th position of chain B.
So what does this mean exactly?
Well, first these two substitutions are considered to be minor changes in the structure of insulin. But they affect the rate of absorption of the insulin after it is injected. This means that peak levels of the insulin reach the body quicker than the regular insulins on the market. Because of this better postprandial control can be achieved.
Differences in Those with Diabetes
A small study was conducted to see how much of a difference both insulins had on those with diabetes. The study found that there seemed to be no substantial differences between the two in patients with type 1 diabetes. Insulin levels seemed to be similar around the thirty-minute mark after an injection. Both insulins disappeared from the bloodstream at the four-hour mark as well.
However, to achieve these results, the dosing instructions by the manufacturers of each insulin must be followed. These dosing instructions is another key difference between the two. Humalog suggests administering your injection within fifteen minutes of your meal or right after you finish it. Novolog on the other hand suggest administering your injection five to ten minutes before you eat or soon as you start eating.
Humalog is recommended to patients with type 1 diabetes who are at least three years of age. It can also be used to help treat some with type 2 diabetes.
Novolog appeals to a larger audience as a way to treat patients with type 1 diabetes who are at least two years old and it can also be used for some patients with type 2 diabetes as well.
The price of insulin is a major concern for those with diabetes. It seems in just the past few years, insulin has been on the rise substantially, which has made it difficult for those who need it to have access to it. While there is a price difference between the two insulin analogs, it isn't as large as many may think.
Novolog has always been the higher priced insulin, typically around $6-$10 higher than Humalog. Both insulins currently run anywhere from $277 to $325 for a 10 mg vial.
Medication Interactions
There are some medications that may interact with both Humalog and Novolog. These types of interactions may cause side effects within your body. Some can cause your blood glucose levels to dip into a dangerously low level. Others may make the insulin become less effective. This can cause both Humalog and Novolog to not work quite like they were prescribed to do.
Both insulins can interact with the following:
Androgens
Alcohol
High blood pressure drugs
Reasons for Making the Switch
When you are first diagnosed, chances are your doctor prescribes you the most commonly used, or one they most commonly prescribe. But after some time, you may be recommended or decide yourself to make the switch. Here are some reasons why many people choose to switch:
Tolerance
Everyone's body reacts differently to medications. The same goes for insulin. While Humalog or vice versa, may work great for a while for you, you may find that over time it's just not working as good as it used to. This happens because your body has begun to build up a tolerance to the brand of insulin you've been using consistently.
Educated Decision
When first diagnosed with diabetes, type 1 or type 2, so much information is thrown at you that it can seem quite overwhelming. You initially trust the opinion of the doctor and feel the insulin they prescribed you probably is the most beneficial for your treatment. However, over time you may begin to become more educated on your condition and find that you actually feel another one would work better for your unique medical needs. When that happens, you simply should speak with your doctor to discuss why you feel that making a change in insulin brands would be most beneficial for you. This gives you the opportunity to try Humalog or Novolog out for some time to see which one works best.
Costs
Humalog tends to be slightly less than Novolog by $10-$20 a vial. This can play a huge role in the decision on which insulin brand to go with, especially when you have to endure all costs out of pocket for your diabetic care.
Allergy
Some individuals find that they are allergic to one or the other (Humalog or Novolog). Because of this they must use one brand over the other. While both insulins are almost the same, the slight difference in their formula can potentially affect those with sensitivities. In the past when insulin was derived from pork and beef an allergy was pretty common. However, since the usage of human insulin, allergies have begun to decline drastically. While it's now a rare occurrence, it still can happen. Just like a typical allergic reaction, an insulin allergy is triggered by a response from your immune system. Those who experience insulin allergies, might notice hives, redness, and a rash at the site of the injection. Some insulin allergies can cause anaphylaxis. Since they can be potentially life-threatening, the first thing you will want to do if you believe you have an insulin allergy is to contact your doctor. This will allow them to prescribe you another type of mealtime insulin to see if a switch of brands is necessary.
For those with type 1 diabetes, insulin is necessary in order to survive, it's not really a choice. Learning what the cause of the insulin allergy is can help doctors to identify which type of insulin may be the one causing your issues. Treatments for those with an insulin allergy include using antihistamines to reduce allergy symptoms, as well as steroids to help dampen the response by the immune system. Sometimes even taking small micro doses through a pump can help to desensitize your body from the allergy.
The decision on which brand of meal time insulin to take is truly a personal one.
It should be made with the help of your diabetic care team. You don't want to go into it blindly, instead advocating and researching more on your own can help to open up an entirely new world out there in terms of diabetes management.
What other differences and similarities do you think are there?