There are about 200,000 children currently living with Type 1 Diabetes in the United States. Jonathan, an eight year old with Type 1 Diabetes, says I have to prick my finger eight to ten times a day and give myself injections several times a day too.
Pricking fingers and insulin injections are something that can cause anxiety and fear in many children. And there's not an option when you're a Type 1 Diabetic, insulin injections are a must to survive.
Let's look at a few products that help to make injections and lancing easier and more comfortable for children.

Buzzy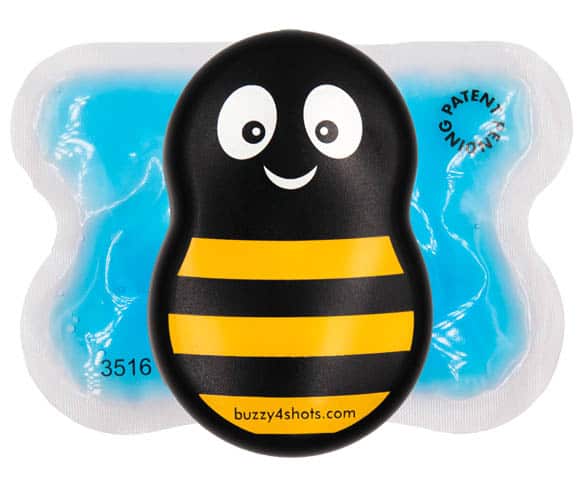 Buzzy is a cute and effective pain control device for children. Ice and vibration are used to block out sensations of pain from needle sticks and injections. Buzzy uses the gate control method to reduce pain.
There is one sensation gate in the brain and when you send motion, like vibration, and cold sensation, from ice, then it blocks the small pain sensation from a needlestick. So the brain's gate is already block from vibration and cold sensations that the pain sensation cannot get through and the patient doesn't feel pain.
One study on children receiving an injection found that 91.4% reported feeling very mild to no pain when Buzzy was used. These are great results for a product that only costs about forty dollars. Buzzy, for personal use, comes in a black and yellow bee, a black and red ladybug, or just a plain black model.
You can buy either the mini size, which is about the size of a small computer mouse, or extra large, which is 33% larger than the mini.
Buzzy was developed by Amy Baxter who is a pediatric doctor. She said she developed Buzzy for all types of situations involving children and needles. She also says it's great for newly diagnosed children with diabetes. They often have high anxiety and fear regarding needle pricks and injections.
Remember to always be, no pun intended, positive when it comes to giving your child their injection. The more positive the caregiver is the less fear and anxiety the child will have.
You can order yours on Amazon.
Jerry the Bear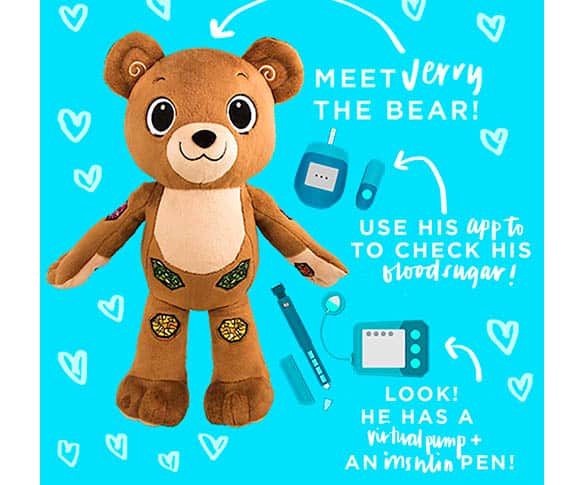 Jerry the Bear knows what it's like to have Type 1 Diabetes. He's an interactive teddy bear that allows kids to check his blood sugar on his very own glucometer and inject his insulin with a pen or pump. Children can also feed Jerry the Bear to learn how nutrition affects blood sugar.
There are also stories and lessons about diabetes available on your smartphone via Jerry the Bear's app. Jerry the Bear helps children realize they aren't the alone – they aren't the only ones with diabetes. He comforts children and empowers them to be strong like him.
Jerry the Bear is recommended for children ages four to nine. He will cost you about $55. Jerry the Bear is colorfully marked with eight injection sites and comes with a pen, pump, and glucometer. Using the free app children can learn about high and low blood sugar symptoms, healthy food choices, and how to check their blood sugar.
One happy mother says she loves that Jerry the Bear has become a new member of her family. Only one of her children has Type 1 Diabetes but because Jerry is so interactive all her children check on and take care of Jerry. She is so thankful to the makers, Sproutel, for giving her family such a blessing.
If you are interested in more informational content:
Over the Counter Numbing Creams: Aspercreme with Lidocaine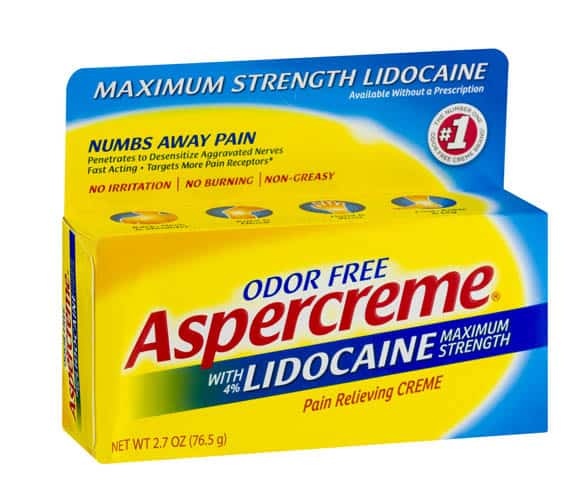 Another option for children is Aspercreme with Lidocaine. According to the Aspercreme website, the topical cream is not to be used on children under age twelve. However, consult with your doctor if your child is under twelve because they most likely will say it's safe to use – as long as the parent is applying it for the child and stores it out of the child's reach.
The cream helps to desensitize nerves using the highest concentration of over the counter lidocaine. Lidocaine Hcl 4% causes temporary numbness on the skin where it's applied. To use, simply apply a thin layer over the skin where you're going to be giving your child his or her injection.
Aspercreme with Lidocaine is very easy to find; it's available in all drugstores and major retailers. For a 4.7 ounce tube you can expect to pay a little over $12. One good thing about this product is that it does not require a prescription.
It works quickly, within a few seconds of applying. Another great factor, especially for children, is that Aspercreme with Lidocaine is odor free. That means you won't have to deal with a child not wanting to use the cream because it smells bad.
You can order it on Amazon.
Dr. Numb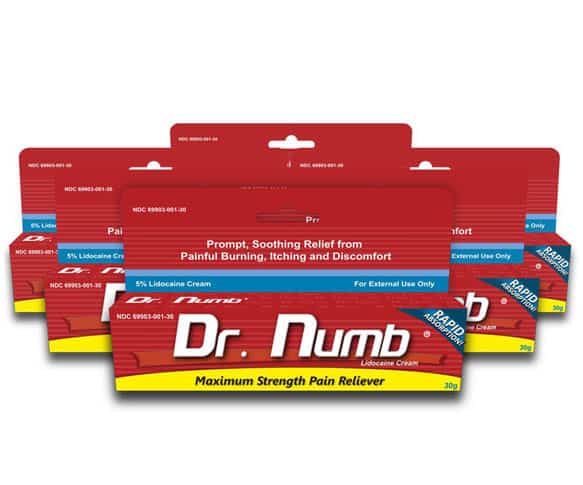 Dr. Numb is a topical anesthetic cream with 5% lidocaine. The cream numbs the skin so that injections are painless. To use simply clean the injection or lancing site with soap and water. Apply about a pea size amount of cream to the site you'd like to get numb. You must do this about one hour before you're ready to lance or inject insulin.
After applying the cream, cover with plastic cling wrap. The cling wrap holds the heat in which activates the numbing cream. The skin will start to get numb in 20-30 minutes of the initial application. After an hour remove the plastic wrap and wipe off any excess cream. The site will be numb for two to three hours.
A few downfalls of this product is that it takes a long time to start working and lasts longer than needed for a simple insulin injection. Also, it is hard to keep plastic wrap on child for two minutes let alone a whole hour.
This product would be better used on older children who understand that the plastic wrap needs to stay on the site for the entire hour. Dr. Numb must be ordered online; prices start at $54 for a single tube. Dr. Numb is not approved by the FDA.
Prescription Methods: EMLA Numbing Anesthetic Cream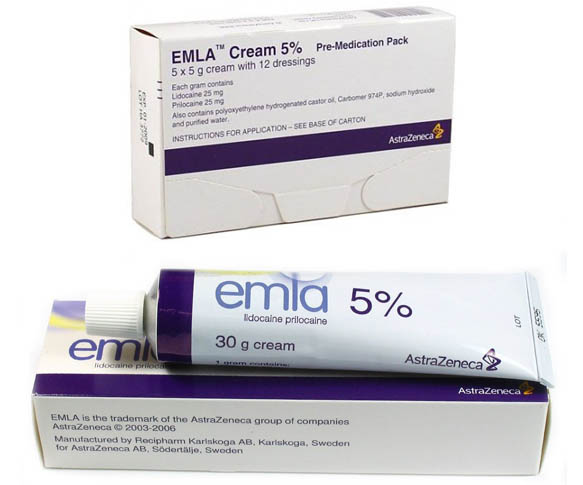 EMLA Numbing Anesthetic Cream is a topical cream used to numb the skin for painless injections. It consists of two anesthetics: 25 mg per gram of lidocaine and 25 mg per gram of prilocaine. The cream blocks nerve receptors from feeling pain sensations. It's only available at the pharmacy with a prescription from your doctor.
It has been approved for use on children, however, there are different dosing measurements that must be followed. For example, children ages one to six years old have a maximum total dose of cream of 10 grams and the cream should not cover more than 100 cm2.
According to EMLA's website the cream must stay on the patient's skin for one hour to become fully effective. This is much like Dr. Numb and would be difficult to keep the cream on a child's body until they are ready for their injection or lancing. Unlike Dr. Numb, EMLA Numbing Anesthetic Cream has been studies on children and is approved by the FDA.
In one clinical trial when the EMLA cream was applied, children notice a significant decrease in pain felt from an injection. One interesting fact from that study showed that children under the age of seven had a lessened decrease in pain when compared to older children and adults.
There are several adverse reactions to EMLA cream as well. Localized reactions can occur where it was applied, redness and swelling are examples of localized reactions. Allergic reactions may also happen, examples include: urticaria, angioedema, bronchospasm, and shock.
Cardiovascular effects like hypotension and cardiac arrest could occur. And finally, central nervous system effects can occur. Examples of those include: dizziness, blurred vision, confusion, numbness, tremors, and even respiratory distress.
Always apply the EMLA cream for your child, never let a child apply the cream himself. If you notice your child is very tired, becomes pale, and/or is dizzy remove the cream and call your child's doctor right away.
Conclusion
There are several products that can help to alleviate painful injections for children. Jerry, a cuddly and fun bear helps children realize they are not alone when it comes to dealing with diabetes. Buzzy provides a cooling sensation and vibration to block pain receptors. Kids love the fun and colorful bee and ladybug, and older children may opt for the all black model.
Over the counter Aspercreme with Lidocaine may provide the fastest acting numbing action. Whereas, Dr. Numb and prescription ELMA cream take a long time to start numbing effects. Having to make sure a child keeps a gauze strip or plastic wrap on their skin for an hour is a tough task. However, every child is different so each of these methods are worth a try.
​