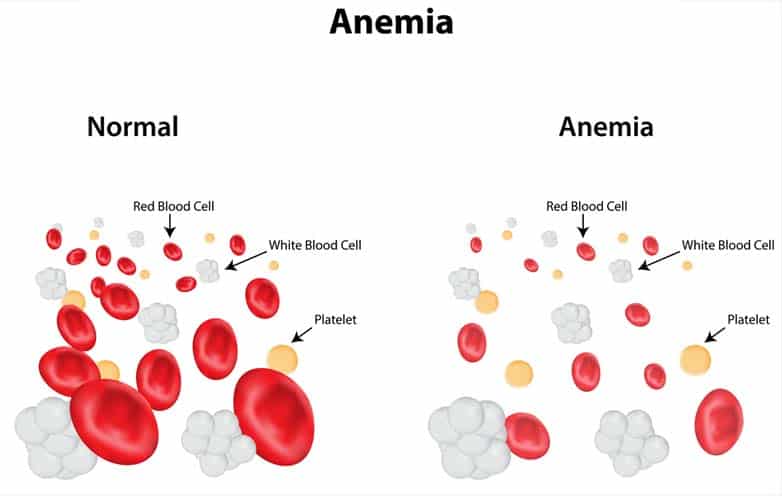 Did you know that over 3 million Americans have anemia?
This disorder is defined as having a low red blood cell count. It is not a primary disease, which means that it is caused by another illness or disorder. Being anemic is harmful because when the number of red blood cells is low, the organs do not get the oxygen that they need. It not only causes problems in the body, but it also decreases the quality of life because of lack of energy.
First of all, it is important to know what is in our blood. There are many components that make up healthy blood, but two very important ones are hemoglobin and hematocrit. These are the two values that are most commonly measured by doctors to check for anemia. You may hear them mentioned and it is important that you know what they are. The hemoglobin carries the oxygen that is in your blood to your organs and the hematocrit is the percentage of red blood cells that are in your blood.
Types of anemia
There are quite a few different types of anemia (over 400 to be exact!). The most common ones are summarized below. It is very important to know the type of anemia and the cause. Without knowing the cause, you cannot treat the disease!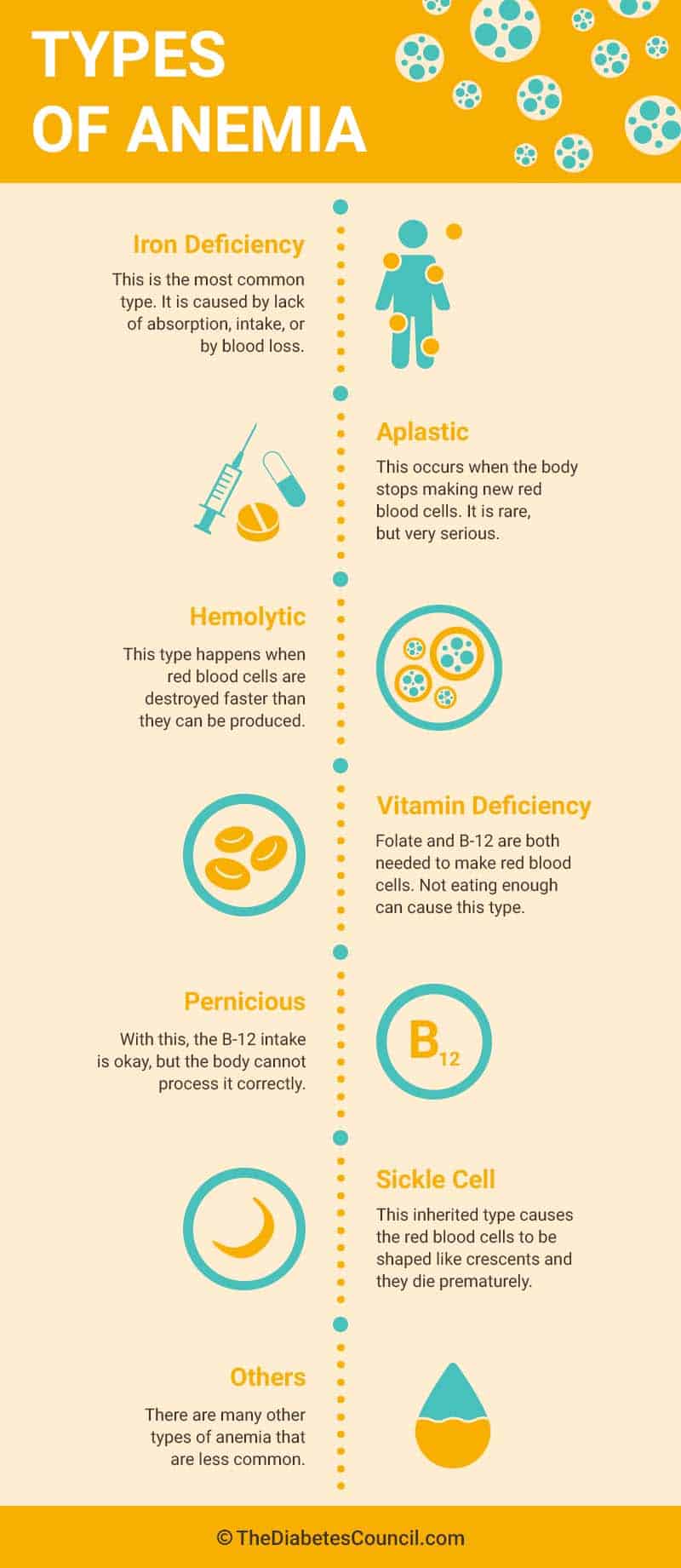 Iron Deficiency. This is the most common type. It is caused by lack of absorption, intake, or by blood loss.
Aplastic. This occurs when the body stops making new red blood cells. It is rare, but very serious.
Hemolytic. This type happens when red blood cells are destroyed faster than they can be produced.
Vitamin Deficiency. Folate and B-12 are both needed to make red blood cells. Not eating enough can cause this type.
Pernicious. With this, the B-12 intake is okay, but the body cannot process it correctly.
Sickle Cell. This inherited type causes the red blood cells to be shaped like crescents and they die prematurely.
Others. There are many other types of anemia that are less common.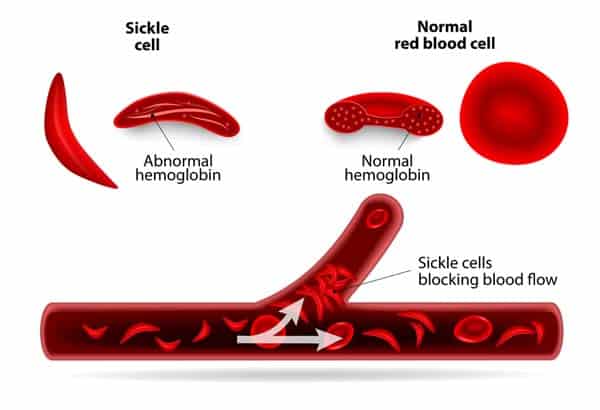 Possible causes of anemia
There are three main causes of anemia:
Your body is destroying red blood cells. This happens with Aplastic anemia.
Your body is losing blood quickly, such as with a gastrointestinal bleed.
Your body doesn't make enough red blood cells. This can be caused by:

Chronic kidney disease
Inadequate iron and vitamin intake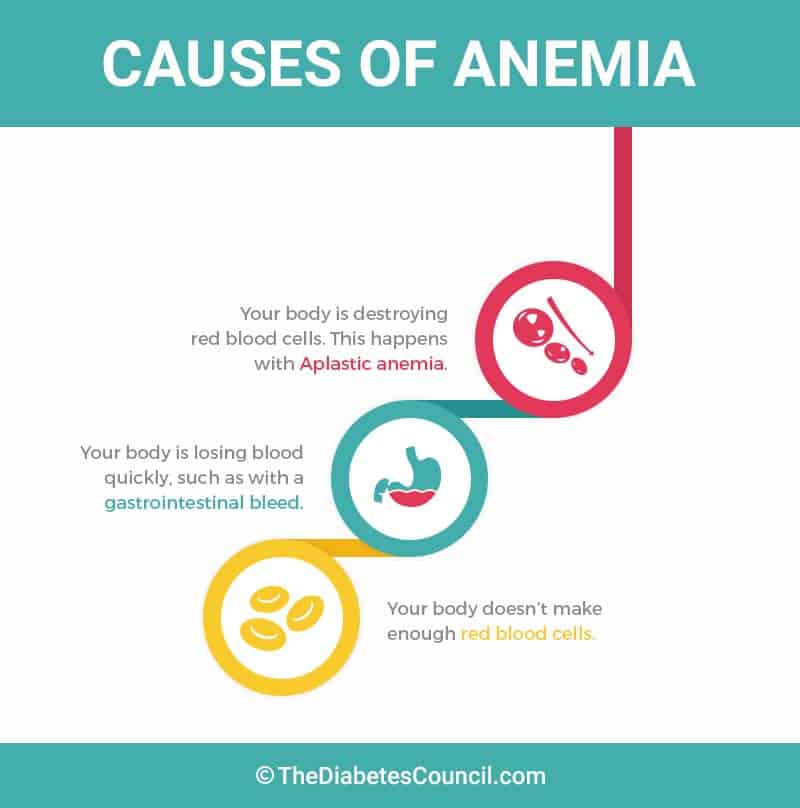 Once again, the cause of anemia must be identified to be able to fix the problem and help the red blood cell count return to a healthy number!
Is there a relationship between diabetes and anemia?
25% of Americans with diabetes also have anemia. There is a relationship between the two diseases.
The risk of developing anemia with diabetes increases with age. Also, the longer a person has diabetes, the more likely they are to develop anemia.
I recommend reading the following articles:
Why are diabetics more likely to have anemia?
People with diabetes are at an increased risk for developing anemia because of the complications that the disease creates. These include kidney disease, medications, and more. (Read the next section for more information!)
It is not directly because of the diabetes. Keeping the blood sugar under control is the best way to decrease your risk and live a healthy life.
Antwi-Bafour et al's study recruited 100 participants, out of which 50 had type 2 diabetes and 50 were controls. Their blood samples were taken to be analyzed for blood glucose, blood count and renal functions. Their conclusion suggest that anemia is high in patients with diabetes who have poorly controlled diabetes and with renal insufficiency. Treatment and glycemic control can help in reducing anemia and the complications that may come with it.
How does diabetes affect anemia?
It is a known fact that when diabetes is untreated or blood sugars are not under control, complications related to diabetes happen.
These complications are what causes anemia, not diabetes itself.
The following section explains the problems and their effect on anemia.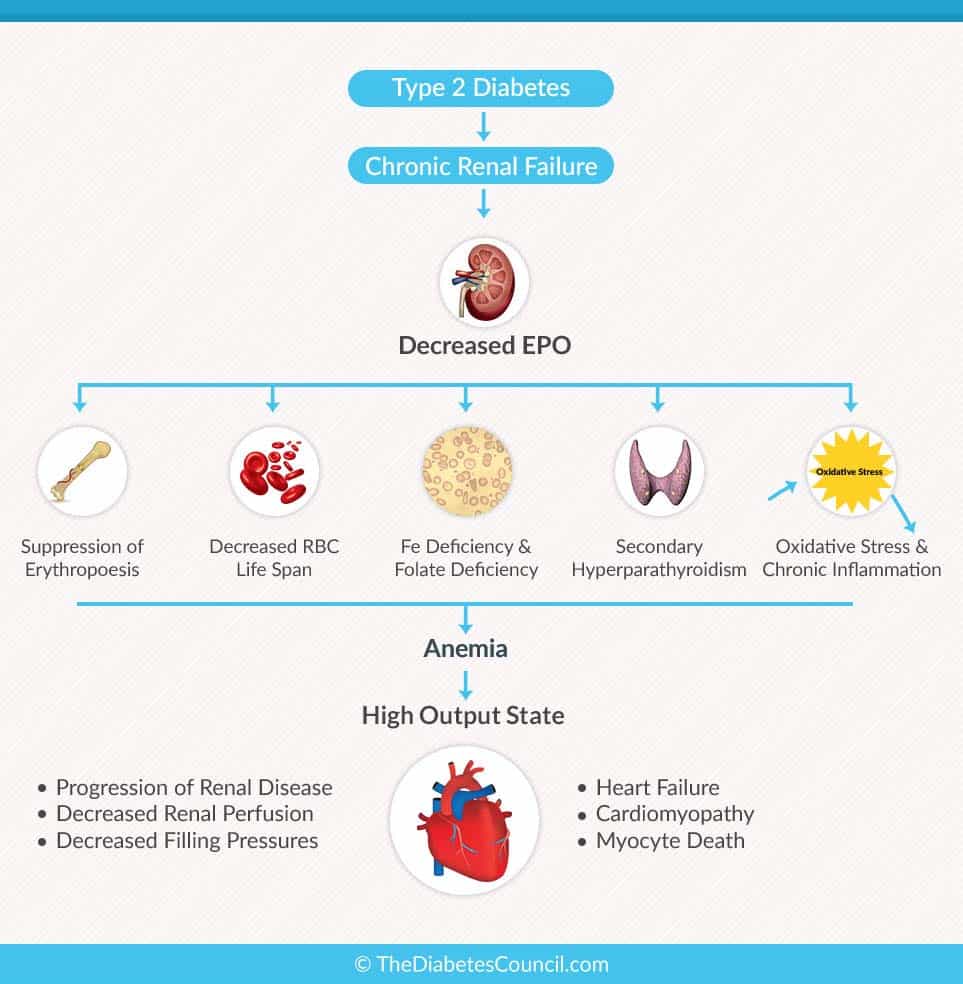 The number one cause of anemia in people with diabetes is kidney disease. 40% of those with diabetes have some sort of kidney disease. Typically, healthy kidneys create erythropoietin. This is the stuff that helps the body make new red blood cells. As kidneys become damaged they make less and less. Without this ingredient, the body is unable to create enough red blood cells.
Another way that kidney disease is a problem is because of the inflammation that it causes. The inflammation can happen in the gut, which then interferes with absorption of nutrients. 50% of people with chronic kidney disease have some sort of iron deficiency.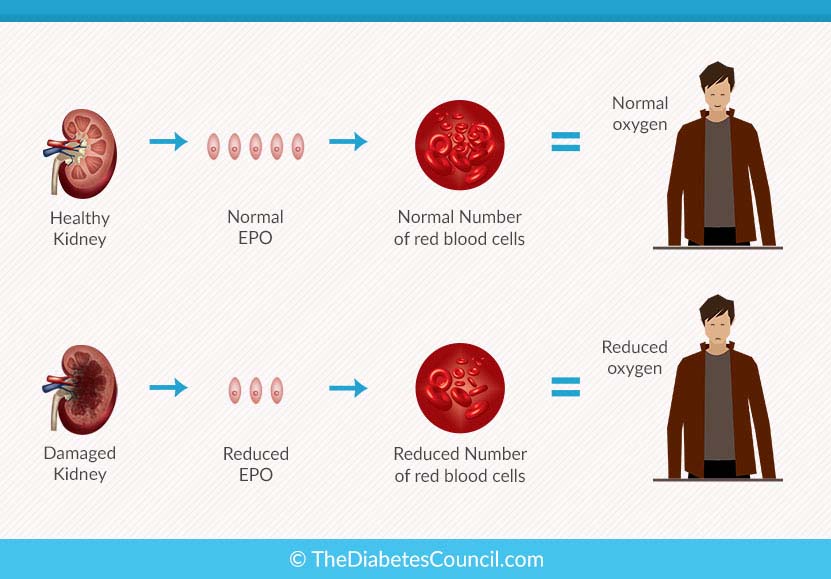 Red blood cells are created on a supply and demand type of schedule. Neuropathy is nerve damage that is caused by diabetes. This alters the supply and demand and may not tell the body to make enough red blood cells.
Those with diabetes are at an increased risk for developing heart failure. People with anemia are also at an increased risk of developing heart failure because it makes the heart work harder to pump blood throughout the body. Heart disease is the number one cause of death for those with diabetes!
Individuals with diabetes sometimes may not have adequate intake of things that are needed for red blood cell production. This can be caused by poor diet choices or by absorption problems such as bariatric surgeries (like gastric bypass) or Celiac disease. 1 in 20 people with diabetes have Celiac so it is not that uncommon!
Drugs that are taken for diabetes, such as Metformin, can cause absorption problems with B-12. One study showed that using Metformin for 12 to 15 years causes Vitamin B-12 deficiencies in 30% of the people that use it. (Wow!) Other medications, such as Actos and Avandia, cause a decrease in hemoglobin.
In a pan-European study, researchers assessed patients with Type 2 diabetes to see what the quality of their life is and how it is impacted by anemia. The conclusion of the study was that anemia impacts the quality of life of those with diabetes significantly. In some cases, patients were not even aware that they had anemia. Some who were aware of their anemia diagnosis took no prevention or treatment to keep it under control. In patients with diabetes, anemia is most likely a result of failing kidney, a complication of diabetes. It is imperative that patients with diabetes must be tested for anemia to further decrease complications.
Uncontrolled diabetes and anemia
Like I mentioned earlier, uncontrolled, high blood sugar levels lead to complications that can cause anemia. Keeping blood sugar levels within a healthy range is vital to keeping the red blood cell levels up. One study found that those with kidney disease and diabetes are two to three times more likely to become anemia than those with diabetes alone!
Diabetes anemia symptoms and diagnosis
The symptoms of diabetes and anemia can be very similar, so it may be difficult to know if a person has both. With mild anemia, there may be no signs of the disease. Once the disease progresses, symptoms may include: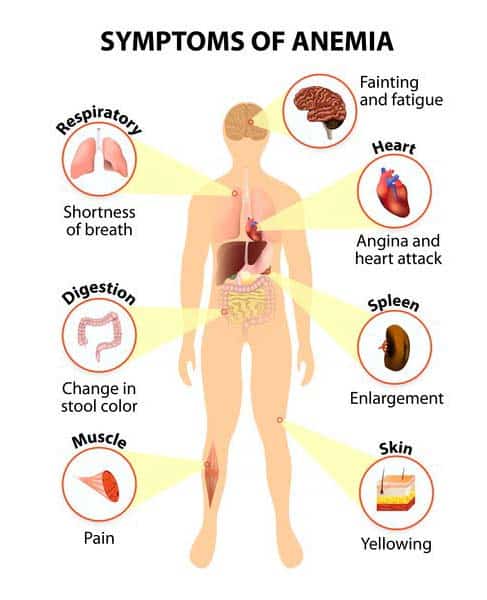 Tiredness
Dizziness
Depression
Shortness of breath
Weakness
Irritability
Brittle nails
Pale skin
Cold hands and feet
Numbness in the hands and feet
Chest pain
Irregular heartbeat
Hard time concentrating
Craving ice
Diagnosis
A doctor will initially assess your symptoms and then do blood work to see if you are anemic. Normal hemoglobin for men is between 13.8 and 17.2 while for women it is between 12.1 and 15.1. Hematocrit ranges for men are 40.7 to 50.3 and 36.1 to 44.3 for women. For children, the range changes according to their age. Values with each laboratory test will vary to some extent, so do not be alarmed if they are different.
After establishing low counts, the next step is to figure out what is causing the problem. The doctor may ask questions about your family history, your diet, and the medications that you are taking. They will also do an assessment to see if you have any physical signs that could point to the cause.
Other tests that can be done include:
Blood work to check ferritin and iron levels or vitamin levels
A colonoscopy or esophagogastroduodenoscopy to check for internal bleeding
Occult stool tests to see if there is blood in your stool
Blood work to check the function of the kidneys
If your doctor still can't figure what the cause is, you may be referred to a physician that specializes in blood. They are called hematologists and may run more advanced tests to find the cause.
Treatment and prevention
Once the cause of the anemia is discovered, treatment can begin.
If the cause is kidney disease, then you may be sent to a nephrologist. They specialize in the kidneys and can make suggestions on ways to increase the function of the kidneys. For some people, they may need injections of erythropoietin. This can be risky though because it does increase your risk of blood clots and other complications.
For those people that have nutritional deficiencies, they will first be given oral supplements and information on which foods are high in each nutrient. A few of them are listed below.
Foods high in iron include:
Red meat
Dark green leafy vegetables
Dried fruit such as raisins
Beans
Iron-fortified foods such as cereals
It is very important to know that Vitamin C helps the absorption of iron, while calcium and grains impair it! Try to pair your iron intake with some foods that contain Vitamin C such as fruits and vegetables.
Foods high in folate (folic acid) include:
Dark green leafy vegetables
Beans such as lentils and black eyed peas
Citrus fruits
Avocados
Seeds and nuts
Foods high in B-12 include:
Seafood like clams, oysters, and salmon
Red meat and liver
Eggs
Your doctor may send you to a dietitian who can help you in making the best food choices to keep your diabetes and your anemia under control. It can be tricky because some foods nutrients are high in fat and should only be eaten in moderation to keep the blood sugar under better control.
If adding these to your diet and taking oral supplements does not help (or you cannot tolerate the supplements which is common with iron), you doctor may talk to you about other routes of supplementing such as intravenous Iron infusions or Vitamin B-12 injections.
Al-Salman's research on anemia in patients with diabetes, the results of the effects of anemia are the following: such patients are found to have heart disease compared to those with diabetes who do not have anemia. Out of a total of 227 patients with diabetes, 88 patients had anemia with impaired kidney function. Once again, we see that anemia in patients with diabetes is related to renal impairment.
Consequences of anemia in patients with diabetes
So why it is so important for people with diabetes and anemia to seek treatment? There are several reasons!
First of all, anemia can worsen several of the complications that diabetes already causes. It worsens kidney disease, heart disease, as well as eye and nerve damage.
It can also make the risk of non-healing ulcers even higher and it makes any kind of wound harder to heal. Wounds need good blood flow to heal. Think about it. If there isn't enough oxygen-rich blood getting to the wounds, how will they get any better?
Another problem is that a decreased hemoglobin makes the heart have to work harder. This increases the risk of heart failure, hypertrophy, and death to heart tissue. The heart is a muscle. If it is over used, then it can be damaged. The bad news for those with diabetes is that heart disease is the most common cause of death for them and also for people with chronic kidney disease.
In addition to that, not only are there physical problems with anemia, but emotional and mental issues such as depression and just an over tired feeling. These combined can lead to a poor quality of life.
So what does this all mean? It means that having both anemia and diabetes increases the risk of complications caused by diabetes tremendously. It is very important to find the cause of anemia and work on treating it to increase the length and quality of your life.
Type 1 diabetes and anemia
Pernicious anemia is the most common type in type 1 diabetes. It is an autoimmune disease. Even though vitamin B-12 is ingested, the body is unable to process it. Treatment is Vitamin B-12 injections. Pernicious anemia can be dangerous because it makes the heart work harder and that increases the risk of heart disease. One study found that patients with Type 1 diabetes and anemia were twice as likely to develop macrovascular disease as those without anemia.
Type 2 diabetes and anemia
Anemia is much more common with type 2 diabetes because of the increased body mass index and poor diet choices.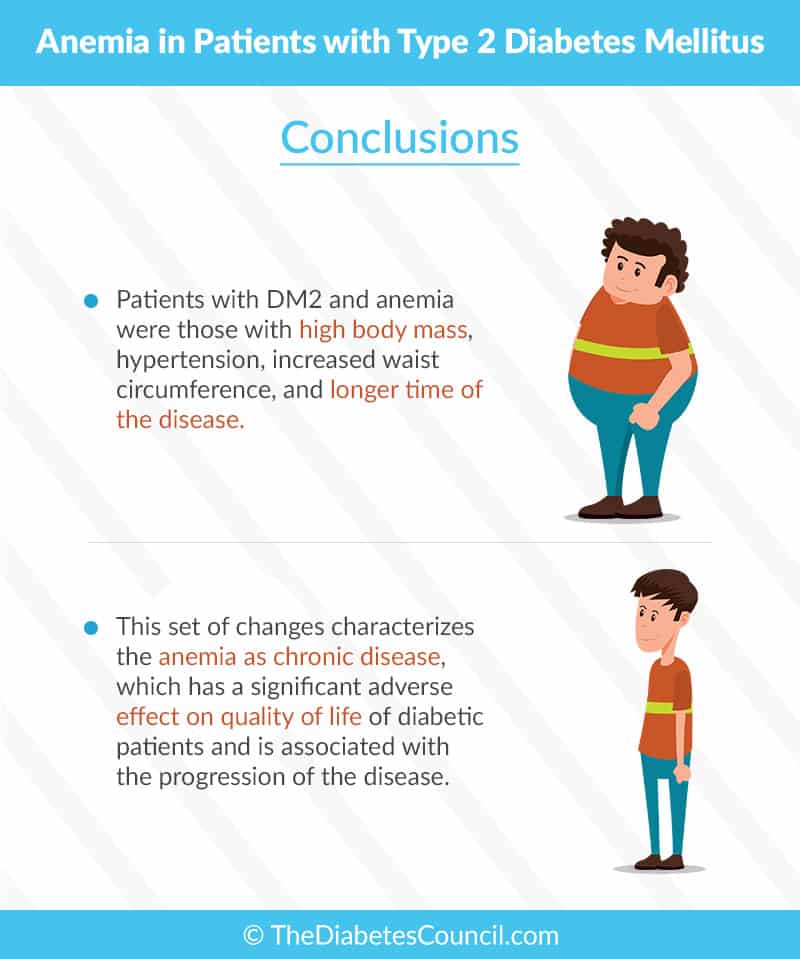 Those with type 2 diabetes and anemia should intend to lower their risk by controlling their blood sugar. They should also eat healthy and exercise to prevent obesity and high blood pressure. Many foods that are high in iron are high in fat, such as red meat. These foods should be eaten in moderation and foods with lower fat content should be selected. If you are unsure about which foods are best, talk to a dietician.
Anemia and diabetes blood testing
Unfortunately, anemia has effects on blood sugar readings. It does not change the actual blood sugar, but when taking a sample, you may get a number that is not correct. This is dangerous because it can lead to you treating or not treating an untrue blood sugar, which could lead to complications. The next two sections explain in more detail about the changes in blood sugar occur.
Does anemia cause high blood sugar?
Like I mentioned, being anemic doesn't change your blood sugar, it just changes how it is read. One study showed that people with iron deficiency anemia had higher A1C levels. It is a good idea to check for anemia when diagnosing someone with diabetes, incase that is the situation.
Also, blood sugars can result on a glucometer up to 20% higher than they actually are for those with anemia. When glucometers are created, there is a normal hemoglobin level that is programmed for testing reasons. If you check your blood sugar and your hemoglobin is low, then the machine cannot calculate it correctly. The lower your hemoglobin level, the bigger the difference between the reading and your true sugar. There are glucometers that are being evaluated that will not cause as much of a variance in the reading and the actual blood sugar. Talk to your doctor about which meter to use.
If you are treating blood sugars that are not accurate, then you are at a very high risk of becoming hypoglycemic. Be in tune with your body and always have a snack with you. If you know that you are anemic or if you suspect that you may be, talk to your doctor about what you should do about treating your sugar levels.
In a different study conducted by Thomas et al, researchers reaffirm that anemia is more common in patients with diabetes than previously thought so, especially with those who have reduced renal function. The risk of anemia is two to three times higher in people with diabetes than that of the general population. Since iron deficiency is important in the development and progression of anemia, it is important to seek treatment for anemia. Early detection of anemia in such patients with benefit them as it may lower chances of chronic kidney diseases and renal disease.
Does anemia cause low blood sugar?
For most kinds of anemia other than iron deficiency, there is a decrease in A1C readings. This is because the red blood cells are not around long enough to be exposed to sugar to give accurate readings.
As for finger sticks, anemia does not cause low blood sugar.
Gestational diabetes and anemia during pregnancy
Anemia is common during pregnancy. As a matter of fact, approximately 19% of women have iron deficiency anemia during their pregnancy. Iron Deficiency can lead to problems with the baby such as a low birth weight and possibly needing a blood transfusion at birth. It can also cause post-partum depression for the mother.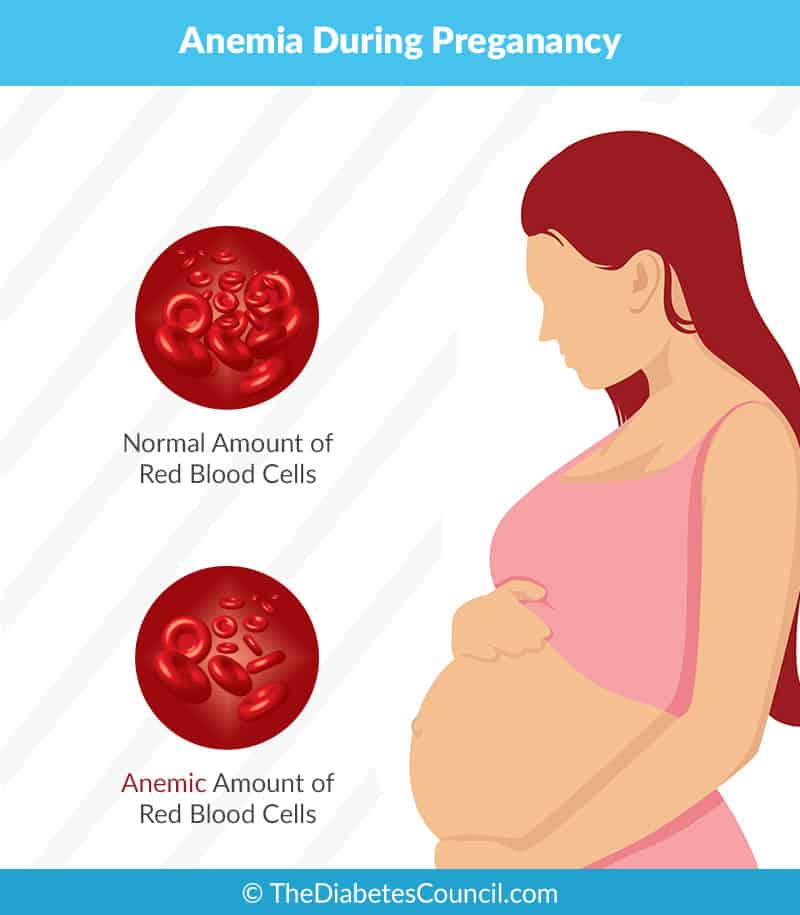 Having a folate (folic acid) deficit can lead to a low-birth weight or spine and brain defects.
Since it is so common, all pregnant women are given prenatal vitamins that are high in iron and folic acid. They are also advised to eat foods that are high in iron and folate. Treatment and prevention is the same for women with gestational diabetes and without.
Gestational diabetes and a diet for anemia
Women with gestational diabetes and anemia should eat foods that are high in folic acid and iron. Information was provided earlier in this article about what foods are high in each. They should also have adequate Vitamin C intake, because that helps the iron become absorbed.
Anemia management in persons with diabetes
The best way to manage anemia if you have diabetes is to take good care of yourself and decrease your risk factors. Other conditions like high blood pressure and obesity increase the risk of anemia, so controlling them is key.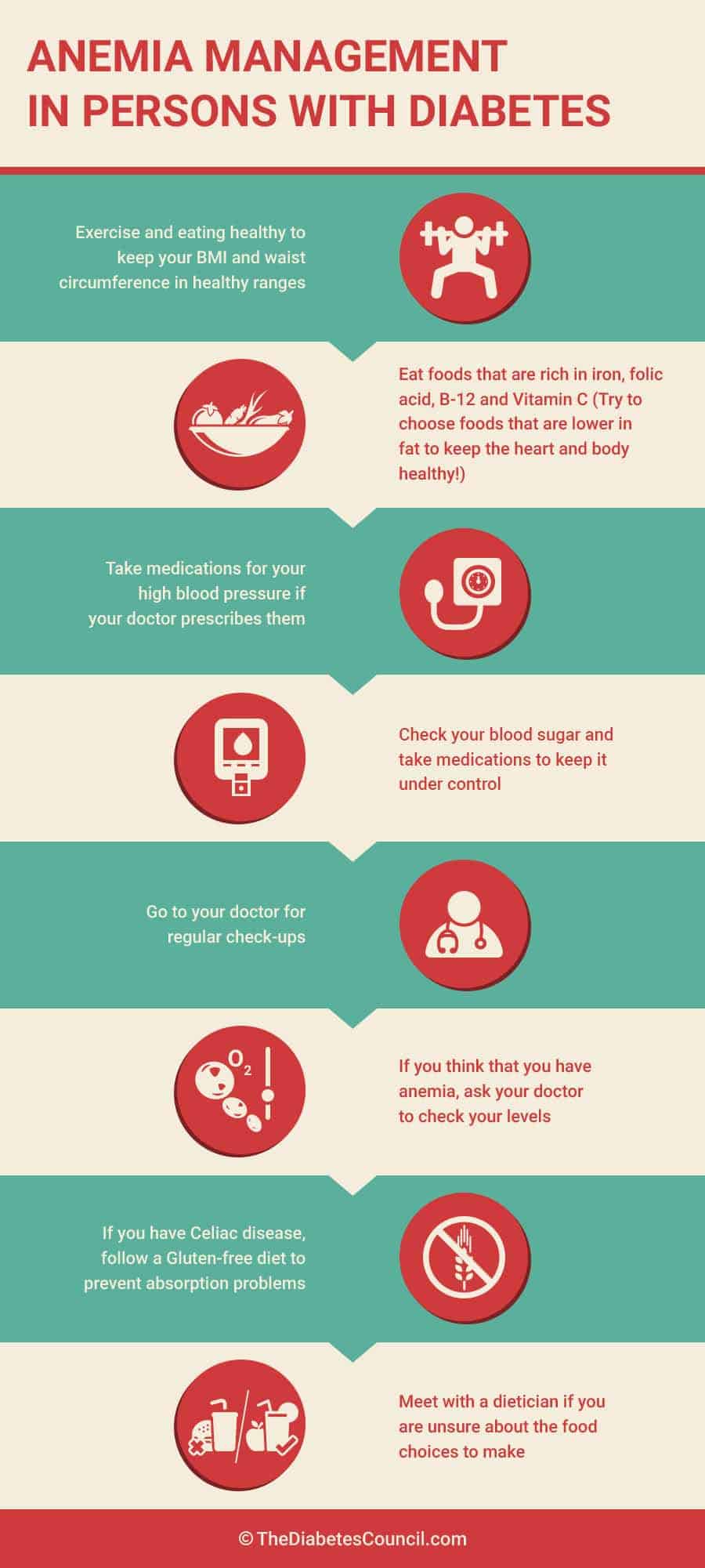 Ways to take care of yourself include:
Exercise and eating healthy to keep your BMI and waist circumference in healthy ranges
Eat foods that are rich in iron, folic acid, B-12 and Vitamin C (Try to choose foods that are lower in fat to keep the heart and body healthy!)
Take medications for your high blood pressure if your doctor prescribes them
Check your blood sugar and take medications to keep it under control
Go to your doctor for regular check-ups
If you think that you have anemia, ask your doctor to check your levels
If you have Celiac disease, follow a Gluten-free diet to prevent absorption problems
Meet with a dietician if you are unsure about the food choices to make
How does anemia change my blood sugar?
Anemia doesn't actually change your blood sugar. It changes the way that the meters read the levels and can give false readings. Treating a false reading can be very dangerous so be sure to talk to your doctor about what you should do.
Does diabetes cause anemia?
Although 25% of people with diabetes have anemia, diabetes does not directly cause it. The complications that diabetes cause such as kidney disease make anemia more likely. Taking care of yourself and controlling your diabetes is the most important thing to do to decrease your risk.
Will anemia make my diabetes worse?
Anemia can make your complications from diabetes worse. It can worsen eye disease, kidney problems, heart disease, and make diabetic ulcers harder to heal. It also decreases the quality of life because of the lack of energy.