Having a seizure is a very serious thing. It is dangerous for the person experiencing it, and it is also scary for those nearby.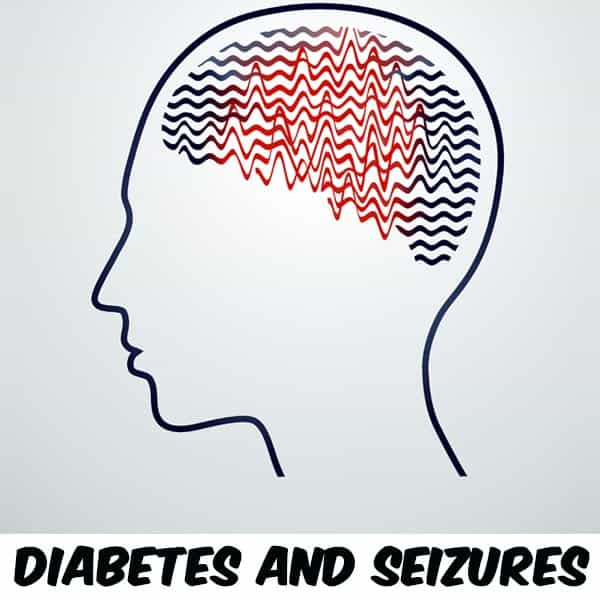 Seizures can be caused for several reasons. Some people have epilepsy, which is a disorder where seizures happen often. For those without epilepsy, they are often called "provoked seizures" because they were provoked, or brought on, by something reversible. Individuals with diabetes can experience these "provoked seizures" when their blood sugar drops too low.
The following article explains the difference in these, how to prevent them, and how to care for someone that is having a diabetic seizure.
The difference between epilepsy and seizures
Epilepsy is a seizure disorder that happens because there is an electrical storm in the brain. People have recurrent seizures that involve loss of consciousness, convulsions, abnormal behavior, disruption of senses, or all of the above. Some have an "aura" before having a seizure and know when it is going to happen. Most causes of epilepsy are unknown, however they can be triggered by flickering light, loud noises, or physical stimulation. Treatment for this condition includes medications and sometimes diet changes.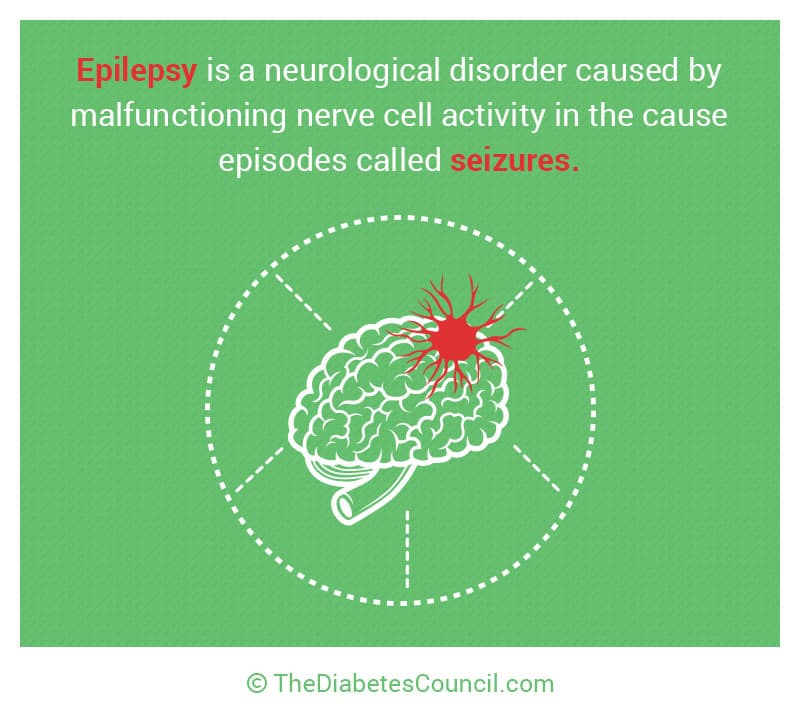 A "provoked seizure" happens because something abnormal is happening in the body. This can include low sodium, fever, alcohol, drugs, trauma, or low blood sugar. The same thing happens as with epilepsy, and there is unusual activity in the brain causing abnormal movements and behaviors. Unlike epilepsy though, where a seizure can happen for no reason, there is an actual cause for each one that occurs for "provoked seizure". It is important to understand the cause of these so that preventative measures can be taken.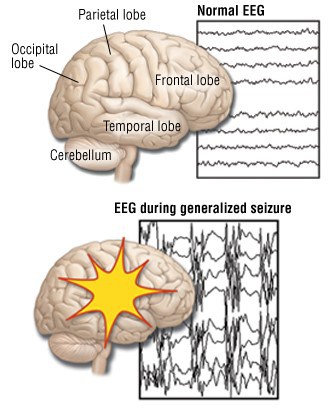 There is no relationship between epilepsy and diabetes. One does not cause the other, and the number of individuals with epilepsy is equal for those with and without diabetes. Therefore, everyone that has a seizures should have very thorough testing to find the cause.
A diabetic seizure is brought on by extremely low blood sugars. In order to function properly, the brain needs glucose. When the blood sugar drops very low, usually under 30, the actions of the neurons in the brain decrease and the person seizes.
High blood sugar can also cause seizure activity in the brain. The increase in the sugar causes hyper excitability of the neurons. This causes something like a short circuit, and the overexcited brain can seize. This is not as common as hypoglycemic ones. This article will focus on seizures that are caused by low blood sugar.
Causes
Things than can cause blood sugar to drop low enough to cause a seizure include:
Administering too much insulin
Skipping meals or not eating enough
Too much alcohol intake (it slows down the liver's glucose production)
Exercise rigorously or without insulin adjustment
Certain medications that tell the pancreas to make insulin regardless of the blood sugar
Injecting NPH insulin at night (it peaks 4-8 hours after it is given)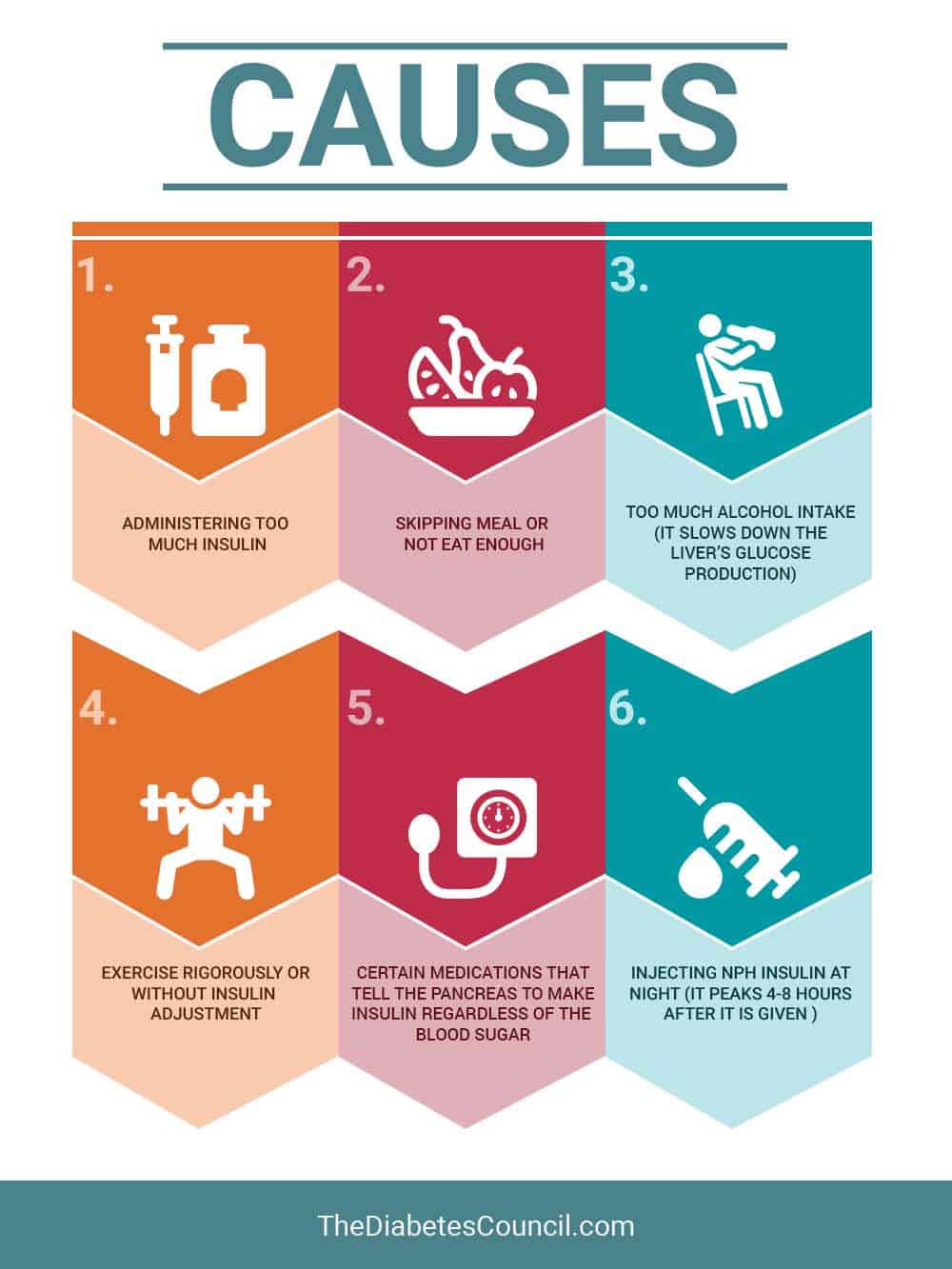 Many times, hypoglycemic episodes that drop the sugar to extreme lows occur during the night while the person is sleeping. This makes it very hard for the individual to recognize that their blood sugar is getting lower and it continues to drop until a seizure occurs.
Studies suggest that glucose plays a vital role in brain functions since it is the source of metabolic energy.
Signs and symptoms
Before the blood sugar drops low enough for a seizure to occur, early signs of hypoglycemia (blood sugar under 70) typically show as warning signs such as:
Confusion
Irritability, anxiety, or emotional changes
Muscle weakness
Mumbling
Clamminess or sweating
Drowsiness
Hallucinations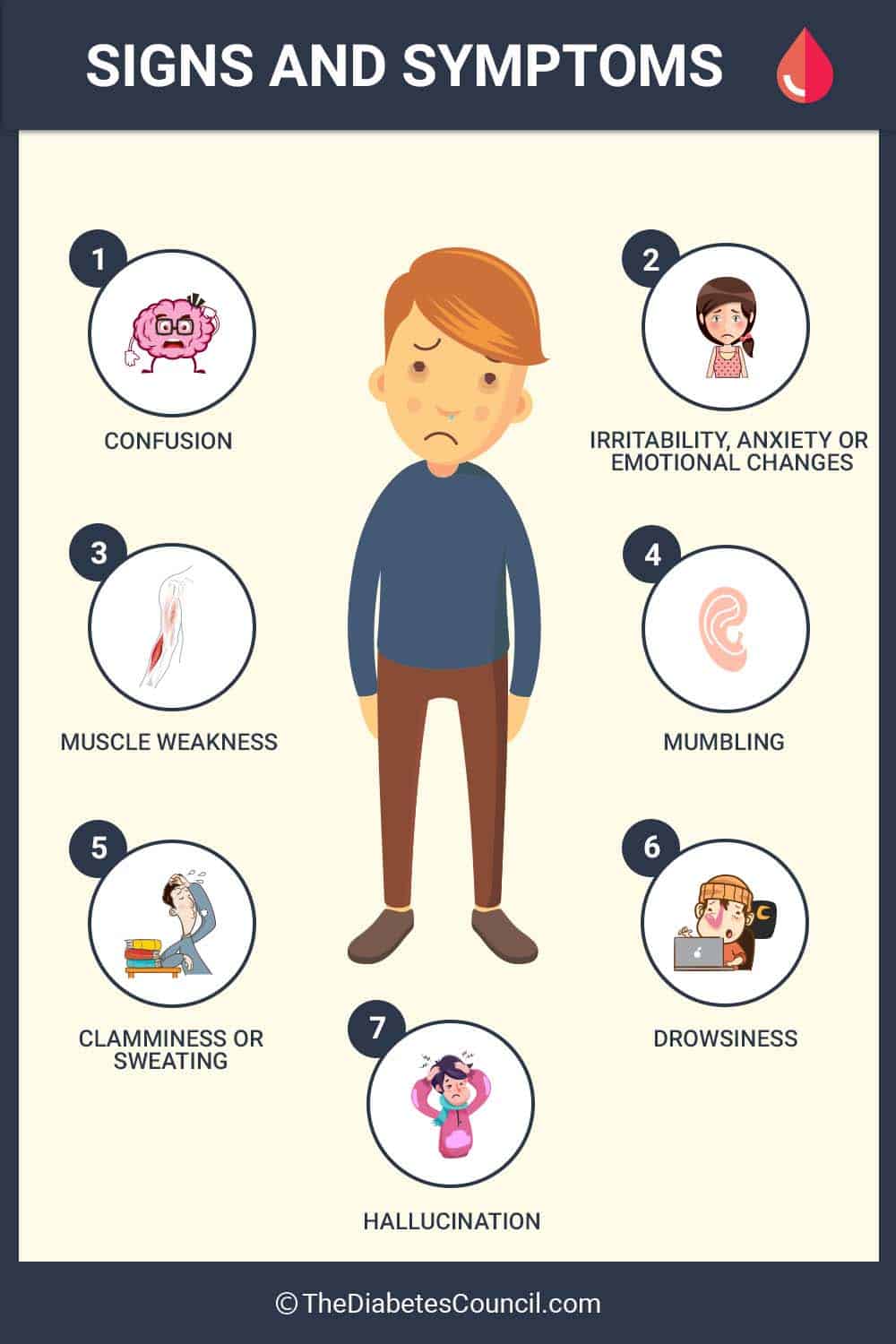 A diabetic seizure happens when the blood sugar is lower than 30. The signs and symptoms are just like any other seizure.
They include:
Uncontrollable body movements
Staring into space
Unconsciousness
If a diabetic seizure occurs at night, which is very common because there are no warning signs, a person may wake up with the following symptoms:
Sweaty
Confused
Bad headache
If you are sleeping next to a person with diabetes, then it is important to watch out for twitching, talking, sweating, restlessness, or unusual dreams during the night. This could be a sign of blood sugars dropping during the night. Only 1 out of 16 people with Type 1 diabetes wake up when their sugar is low during the night, compared to 10 out of 16 people without diabetes. This is why nighttime hypoglycemia is so scary!
Each person will experience seizures in different ways. During an episode, some people convulse, while others only have a minor twitch. Some only have sensory changes, while others feel pain. Due to this variation of signs and symptoms, preventing extreme low blood sugar levels is key.
How often do diabetic seizures occur?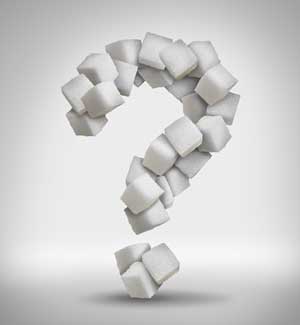 They can occur as often as the blood sugar drops to a dangerous level. After having one diabetic seizure, there is a 30% chance of having another one in the next three years, and up to a 50% chance of having another one in your lifetime. This is because the threshold has decreased.
40% of people that are treated with insulin experience severe hypoglycemia. Knowing how to identify and treat the early signs of low blood sugar are very important to prevent having a seizure and all of the complications that can come with it.
How long do they last?
Diabetic seizures can last anywhere from seconds to minutes. The longer that it lasts, the more damage it can cause to the brain because of the lack of oxygen. The most important thing to do is to administer glucose to the person or to call 911 if there is no safe way to give glucose.
If a seizure ever lasts more than three minutes, emergency medical services should be called immediately, regardless if the person is known to have seizures or not. Having one for this long can be very bad for all of the organs in the body, not only the brain. The person needs to be checked out at the hospital.
How does someone feel after a seizure?
Many people will not remember having the seizure. If it goes unwitnessed, some may not even know that they are having them.
Although all individuals experience them differently, some common post seizure effects include:
Headache
Aching all over
Difficulty concentrating
A general "not feeling well" state
These effects can last a day or two after a seizure is experienced. As mentioned above, everyone is different. For someone that does not physically convulse, they may only have a hard time concentrating and not general achiness. It is very important to be in tune with your body and know when something is not right.
When should I see a doctor about my seizures?
The first time you experience a seizure, you should go to the hospital to rule out any potential problems or injuries. If you have experienced several seizures, and you notice an increase in numbers, you should schedule an appointment with your doctor immediately. It is a good idea to see a neurologist, a doctor that specializes in the brain, along with your doctor that manages your diabetes. They can make sure that it is indeed the diabetes that is causing the seizures, and not some neurological disorder.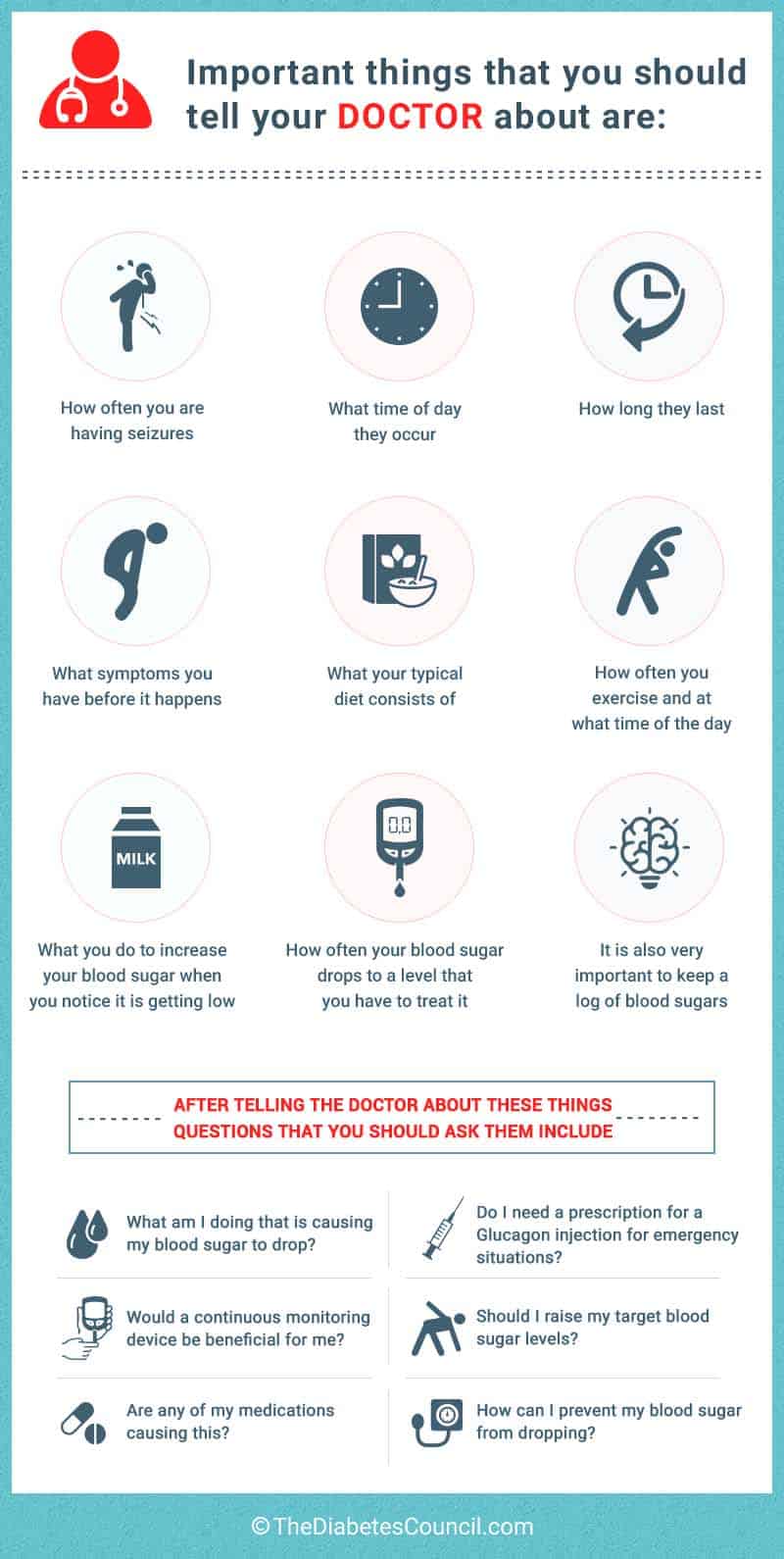 Important things that you should tell your doctor about are:
How often you are having seizures
What time of day they occur
How long they last
What symptoms you have before it happens
What your typical diet consists of
How often you exercise and at what time of the day
What you do to increase your blood sugar when you notice it is getting low
How often your blood sugar drops to a level that you have to treat it
It is also very important to keep a log of blood sugars
After telling the doctor about these things, questions that you should ask them include:
What am I doing that is causing my blood sugar to drop?
Do I need a prescription for a Glucagon injection for emergency situations?
Would a continuous monitoring device be beneficial for me?
Should I raise my target blood sugar levels?
Are any of my medications causing this?
How can I prevent my blood sugar from dropping?
Working with your doctor to help decrease your risk of diabetic seizures and hypoglycemia is key to controlling your health. It is important to always talk to your physician before making any changes to your medication regimen or diet.
How to prevent
In a study by Omar et al "Seizure as the first presentation of diabetes mellitus", it is emphasized that the importance of routine blood sugar checking in patients with diabetes who have experienced seizures.
Therefore, the most effective way to prevent a diabetic seizure is to have good blood sugar control. You should always carry a snack with you, in case your blood sugar does start to decrease quickly. Other than snacks, glucose comes in other forms.
You can take a tablet, a liquid form, or an injection. The injection, Glucagon, is what paramedics carry with them on ambulances.
Wearing a medical alert bracelet helps other quickly identify that you have diabetes and it can lead to getting fast and appropriate treatment.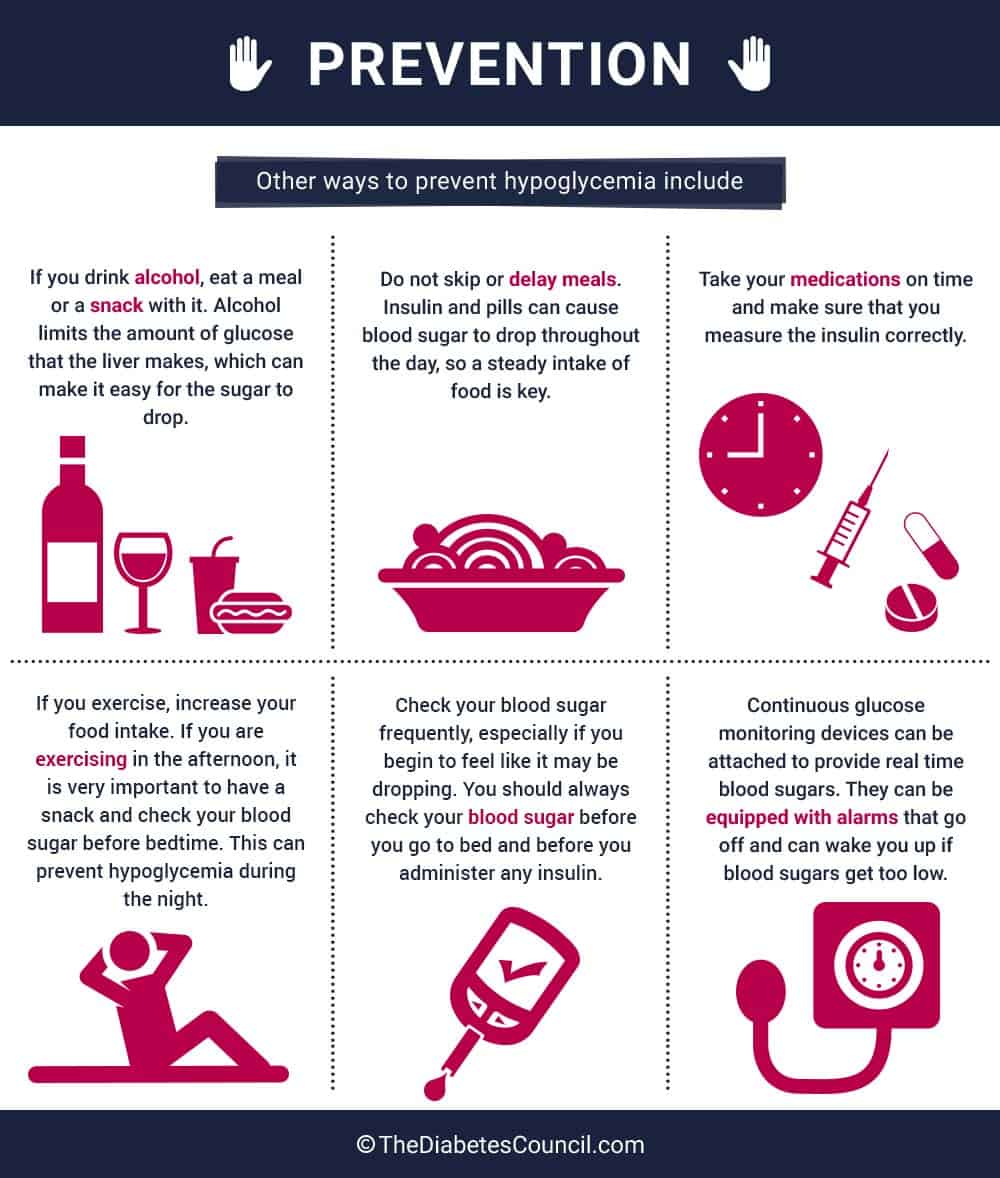 Other ways to prevent hypoglycemia include:
If you drink alcohol, eat a meal or a snack with it. Alcohol limits the amount of glucose that the liver makes, which can make it easy for the sugar to drop
Do not skip or delay meals. Insulin and pills can cause blood sugar to drop throughout the day, so a steady intake of food is key
Take your medications on time and make sure that you measure the insulin correctly.
If you exercise, increase your food intake. If you are exercising in the afternoon, it is very important to have a snack and check your blood sugar before bedtime. This can prevent hypoglycemia during the night
Check your blood sugar frequently, especially if you begin to feel like it may be dropping. You should always check your blood sugar before you go to bed and before you administer any insulin
Continuous glucose monitoring devices can be attached to provide real time blood sugars. They can be equipped with alarms that go off and can wake you up if blood sugars get too low
How to treat
Although preventing a diabetic seizure is best, it is not always possible.
For that reason, people need to know how to care for someone that is having one. The two goals are to prevent injury and get glucose into the body.
During the early phase of hypoglycemia, before the seizure happens (usually when the blood sugar is between 40 and 70), treatment can be managed by giving 15 grams of fast acting carbohydrates and rechecking the blood sugar in 10 to 15 minutes. As long as the person is still able to eat and drink things that can bring the blood sugar up are:
Glucose tablets
Liquid glucose gel (great to keep at the bedside for nighttime hypoglycemia)
Juice
Snacks such as peanut butter crackers
It is very important to make sure that the person can swallow before giving them something to eat or drink. This can cause them to choke and can block the airway.
After the blood sugar drops to a dangerously low level (under 30), the seizure occurs. When someone is seen having one, follow the guidelines below: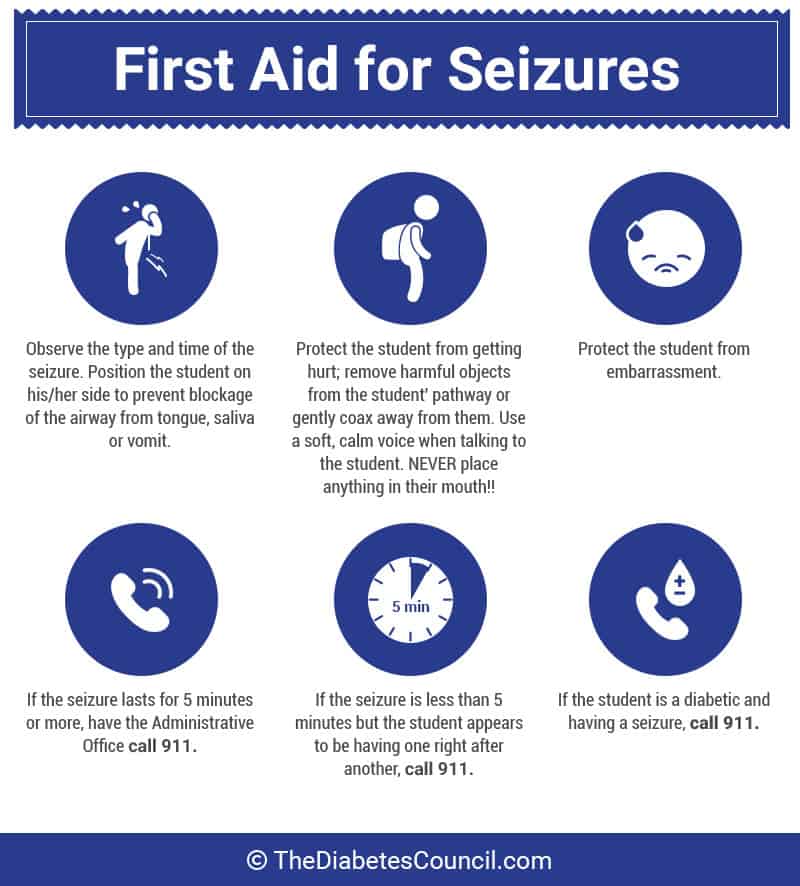 Call 911 and get emergency medical attention
Help the person to the floor and move all furniture away
Roll them to their side to prevent them from choking
If they have a Glucagon injection and you know how to administer it, give it
Carefully watch for things like:

How long did it last?
How did the body move?
How did the person act before
After the seizure it is important to:
Stay with them until help arrives
Get them to a safe area where they can rest
Do not let them eat or drink until they are fully awake
Check them for injuries
Loosen any tight clothing around the neck or the waist
Things that you should NOT do are:
DO NOT put anything in their mouth
DO NOT hold them down or try to move them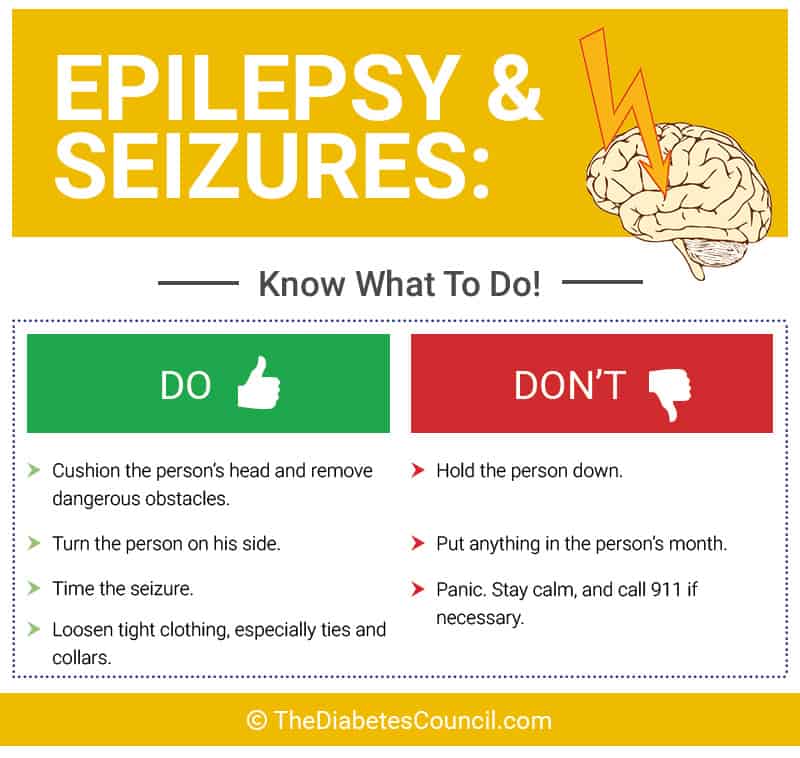 What are the complications
Diabetic seizures can lead to many problems and complications which can be both long and short term including: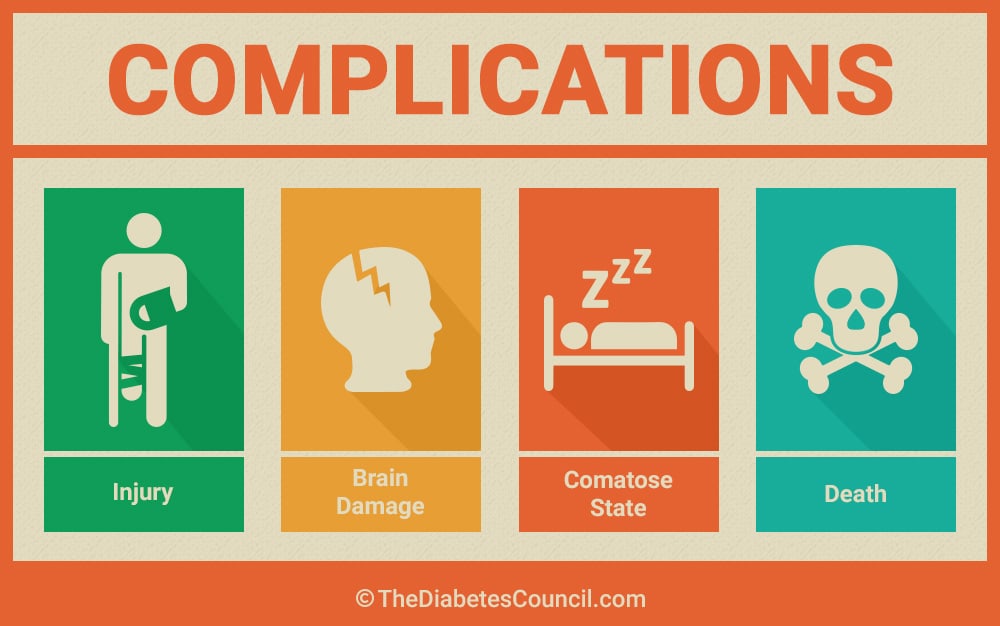 Injury

Falling against items or falling and hitting your head
Biting your tongue and causing injury
If a seizure occurs while driving you will become unconscious and have an accident

Brain damage

When a seizure occurs, the amount of oxygen that the brain is getting is decreased. Even after a few minutes without oxygen, the brain tissue can become permanently damaged
Learning difficulties
Cognitive and memory problems
If another pre-existing brain injury exists, such as a stroke or a tumor, then a diabetic seizure will make the injury worse

Comatose State

If glucose is not administered, then the person can go into a comatose state
Bed sores can occur over time if the person is unable to move while in a coma
Muscle wasting can also occur from being in a coma

Death

Diabetic seizures can lead to death if glucose is not given
After the blood sugar drops to a certain level, the individual is unable to help themselves because they are confused or their body stops working properly
Dangerous if doing activities such as driving or swimming
Hypoglycemia during the night is biggest risk and has caused many deaths because the person is unable to wake up and give themselves glucose
Can hypoglycemia be a reason behind an experienced seizure?
If you have recently experienced a seizure, it could be because of hypoglycemia. However, in order to rule out all other possibilities, it is important that you visit your doctor who can refer you to other specialists that you can see.
Is it possible that the seizure I experienced could be attributed to other reasons than the hypoglycemic episode I had?
As mentioned above and earlier in the article, it is possible that your seizure may have been attributed due to other factors. You will have to visit your doctor to discuss this in depth. Do not self-diagnose!!
What are some of the signs of someone having a diabetic seizure?
Sweating, drowsiness, confusion, hallucinations, vision changes, loss of ability to speak, weakness are just some of the signs and symptoms of someone who are about to have a diabetic seizure.
What are the risk factors which determine when a seizure may occur if I have diabetes?
Taking too much insulin or other medications, not eating your meal at the right time, exercising harder and longer than usual, drinking alcohol are some of the factors that can cause a hypoglycemic seizure,
How can I prevent myself from having unconscious events and seizures if I have diabetes?
Managing your diabetes effectively will prove to be beneficial in the long run. Remember not to skip any meals or snack time. Monitor your blood sugar levels on a regular basis or as per your planned timelines. Ensure you are getting the right amount of medication. Adjust medication and meal accordingly if you are going to exercise hard. Have a snack beforehand if you are planning to consume alcohol.
I just witnessed a hypoglycemic seizure, what should I do?
The most important thing to remember is that due to weakness in their muscles, the person experiencing the seizure may fall down. Keep them from falling down, or guide them onto the floor. Ensure you turn the person on their side so the fluid is coming out of their mouth. Do not employ force as this may injure the person. If the seizure goes on for more than 30 seconds, call for emergency services.
Seizures are very critical and can have some life-threatening complications. Reducing hypoglycemia is key to prevent blood sugar from dropping to levels that can cause them. Talking to your doctor about ways to reduce this risk, as well as knowing how to treat the seizures if they do occur are essential for maintaining optimal health. Please share in the comment section below of any experiences and/or tips you have to give for those who want to prevent from having seizures or want to treat loved ones who experiences them. Remember seizures are very dangerous so make sure to contact your doctor before you make any changes to your lifestyle that might affect your seizure symptoms.
**EEG: electroencephalogram.
TheDiabetesCouncil Article | Reviewed by Dr. Christine Traxler MD on October 16, 2022
References