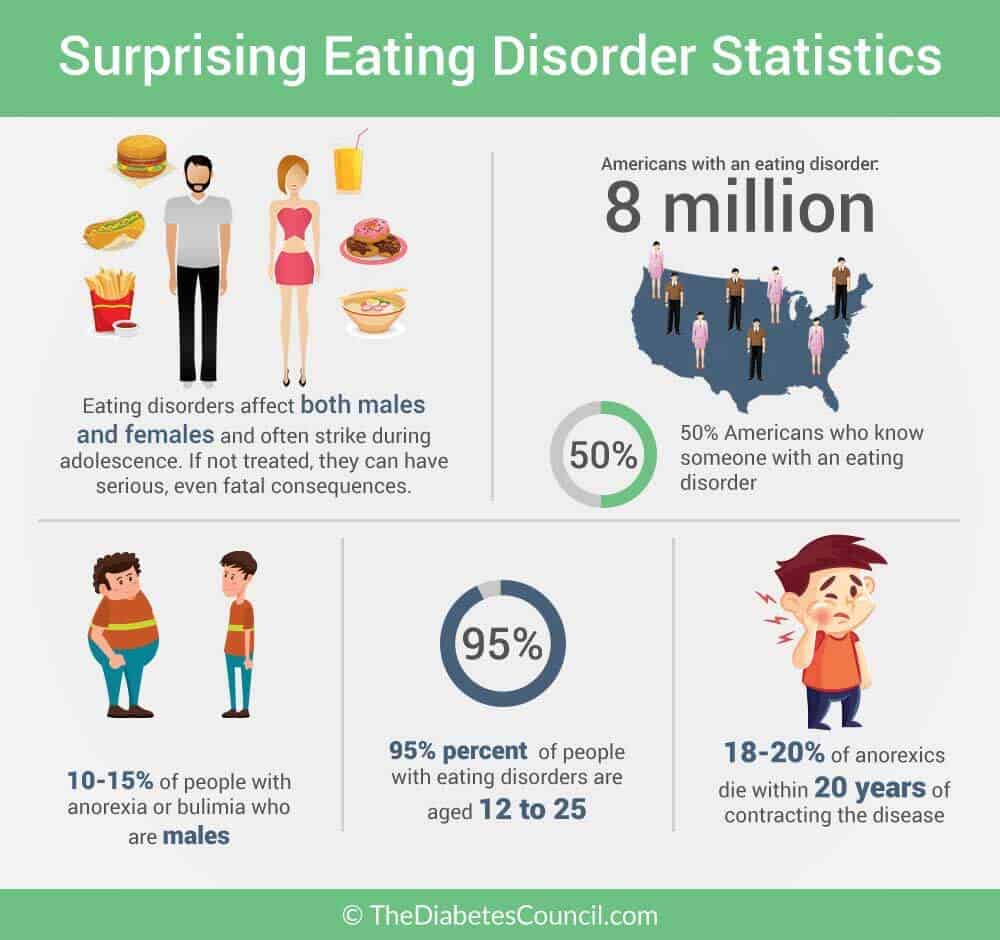 Are you preoccupied with food and your body? Are you tired of riding the diet/riot roller coaster? Do you think you're being "good" if you eat a salad, and "bad" if you eat a cookie? Do you feel like you have to "make up" for eating certain foods by exercising, restricting, or some other means of purging? Does food hold much more of a place in your life than its intended purpose of providing nutrition and occasional pleasure?

If you answered yes to one or more of the above questions, you may have an eating disorder. You also may have disordered eating, which is an unhealthy and unnatural relationship with food, but not necessarily a full-blown eating disorder. Either way, preoccupation and/or loss of control with food is a very painful and limiting way to live.
I spent decades obsessing on my body, restricting certain foods and then bingeing on all the things I never let myself eat. And whether I was on a specific fad diet, or just thinking I should be, the rebellion response was still set in motion.
Eventually, I sought help that went deeper than the latest diet. That help, along with the readiness and willingness to make some changes, led me to heal my relationship with food and my body. And, as a result of that process, I benefited in more ways than I ever imagined.
In addition to relearning how to eat satisfying foods in moderate amounts, I learned healthy ways to cope with my emotions. I also learned how to upgrade my "unkind mind" and challenge my internal critic.
I learned how to identify and voice my feelings and needs with others. And I learned how to find comfort, sweetness, and fulfillment in healthy ways that never left me feeling bloated or ashamed.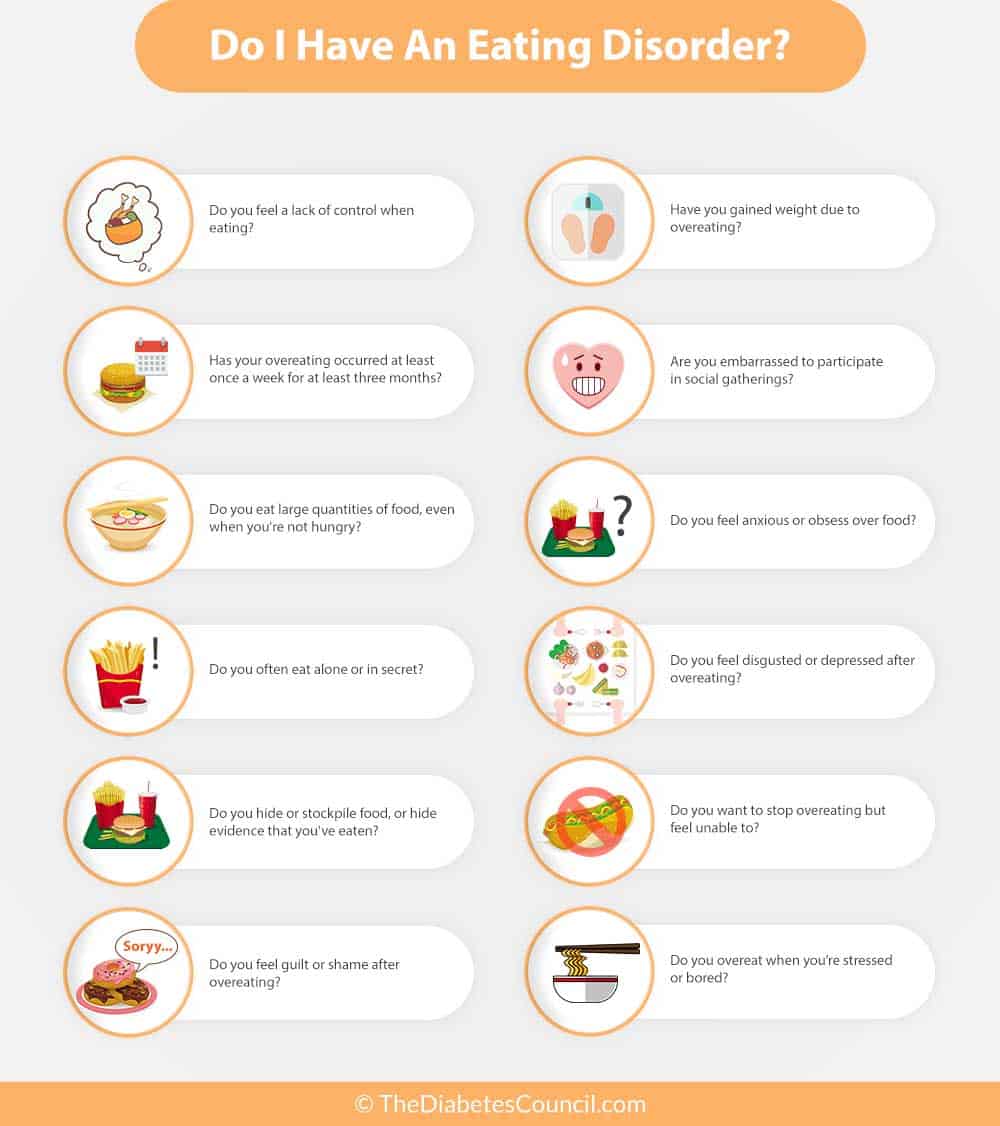 So if you are suffering from an eating disorder and considering getting help, know that the areas you can improve and heal are about so much more than just your eating. You can heal the wounds that led you down the disordered path in the first place.
Let's take a look at the different types of eating disorders. Keep in mind that everyone who has an eating disorder also has disordered eating, but not everyone who has disordered eating has a full-blown eating disorder.
So even if you don't relate to the following signs and symptoms, if you struggle with your eating and your body image, you still deserve to seek help.
Types of Eating Disorders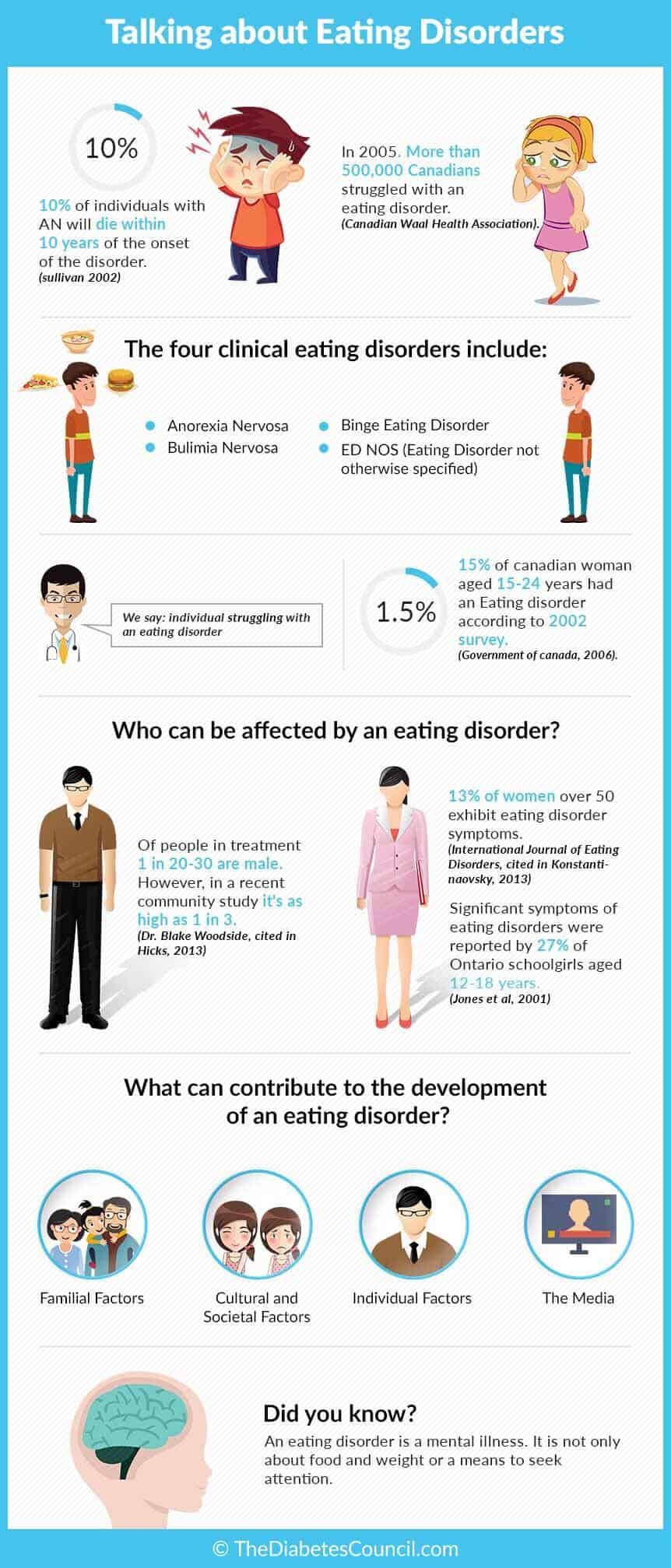 Eating disorders are subtle but huge issues in modern society. Not many people talk about it or want to talk about it. These are the types of eating disorders you may encounter.
Anorexia Nervosa (Anorexia)
Refusal to maintain a healthy weight.
Intense obsession with food and fear of weight gain.
Self-esteem is overly related to body image.
Distorted body image.
Bulimia Nervosa (Bulimia)
Frequently consuming excessive amounts of food, followed by behaviors such as self-induced vomiting, laxatives, stimulants, excessive exercise or restricting food intake.
Obsession and preoccupation with weight and weight loss.
Binge Eating Disorder
Frequently consuming very large amounts of food without connection to physical hunger.
Feeling unable to control binge eating episodes.
Binges are followed by feelings of shame, guilt and remorse.
Other specified feeding or eating disorder (OSFED)
Exhibiting some symptoms of anorexia, bulimia or binge eating disorder but not meeting criteria for the official diagnosis.
Purging Disorder
Purging behaviors that are intended to influence weight or body shape but the person does not binge eat.
Night Eating Syndrome (NES)
Episodes of night eating that lead to significant distress and/or impairment of functioning.
Episodes of night eating that lead to significant distress and/or impairment of functioning.
Avoidant/Restrictive Food Intake Disorder (ARFID)
Avoidance of certain foods, based on past negative experiences with that food or how the food looks, smells or tastes.
The following two diagnoses are not currently recognized in medical manuals but are prevalent syndromes that plague many people in our society.
Orthorexia Nervosa (Orthorexia)
Obsessive preoccupation with eating healthy.
Attempts to eat healthily are so extreme that they can lead to malnutrition.
Anorexia Athletica (Sports Anorexia or Hypergymnasia)
Excessive and compulsive exercise.
We recommend reading these articles if you are interested more informational content:
Emotional and Physical Risks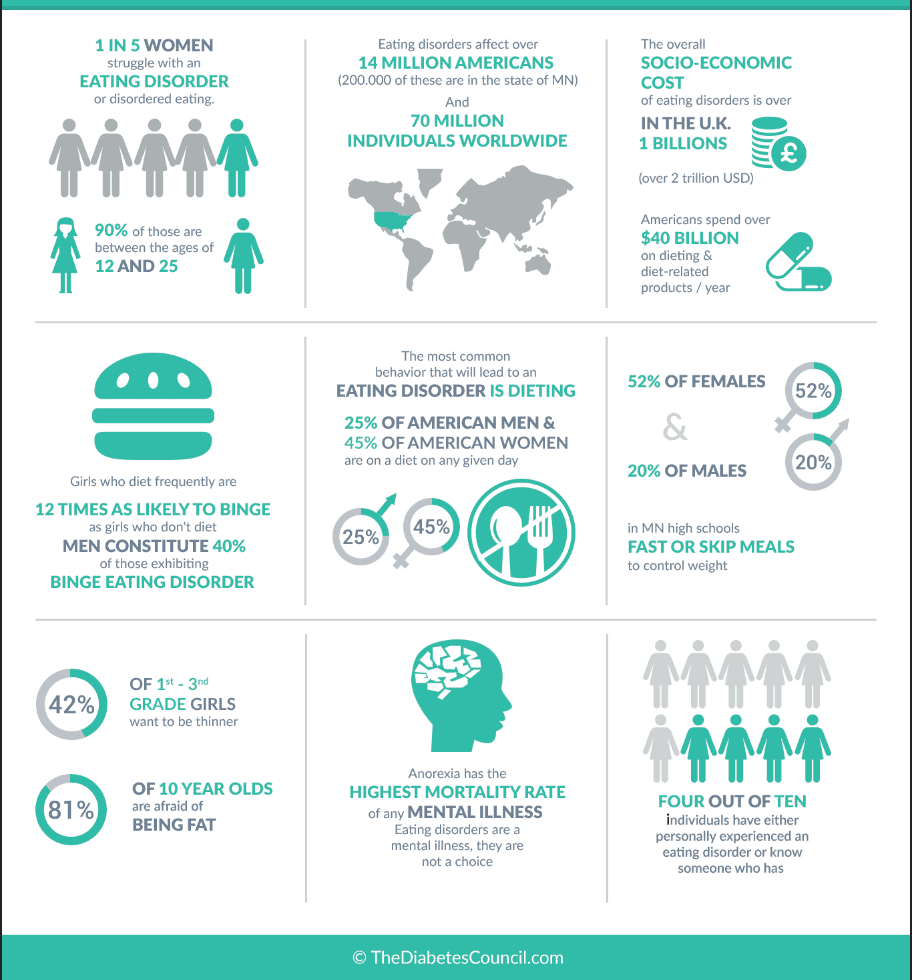 Eating disorders not only take a toll on our emotional and social well-being, work, school, and future goals, they can have serious physical ramifications and are potentially life-threatening.
Potential Health Risks of Anorexia
Low heart rate and low blood pressure, which increases the risk for heart failure.
Loss of bone density which can lead to osteoporosis.
Severe dehydration.
Muscle loss and weakness.
Fainting and fatigue.
Hair loss.
Potential Health Risks of Bulimia
Electrolyte imbalances which can lead to organ failure.
A potential for gastric rupture caused by binge eating.
Inflammation and possible rupture of the esophagus caused by vomiting.
Tooth decay and staining from frequent purging.
Chronic irregular bowel movements and constipation caused by laxative abuse.
Pancreatitis or Peptic Ulcers.
Damaged Metabolism.
Low bone density.
Potential Health Risks of Binge Eating Disorder
High cholesterol.
Heart disease.
Diabetes.
It's important to note that someone can have a body that is larger than our society deems healthy, and still be in excellent health. Conversely, a person can appear to look "healthy" and be extremely ill. Eating disorders are about a person's relationship with food, exercise, and their body. They cannot be assessed simply by looking at someone.
Warning Signs of an Eating Disorder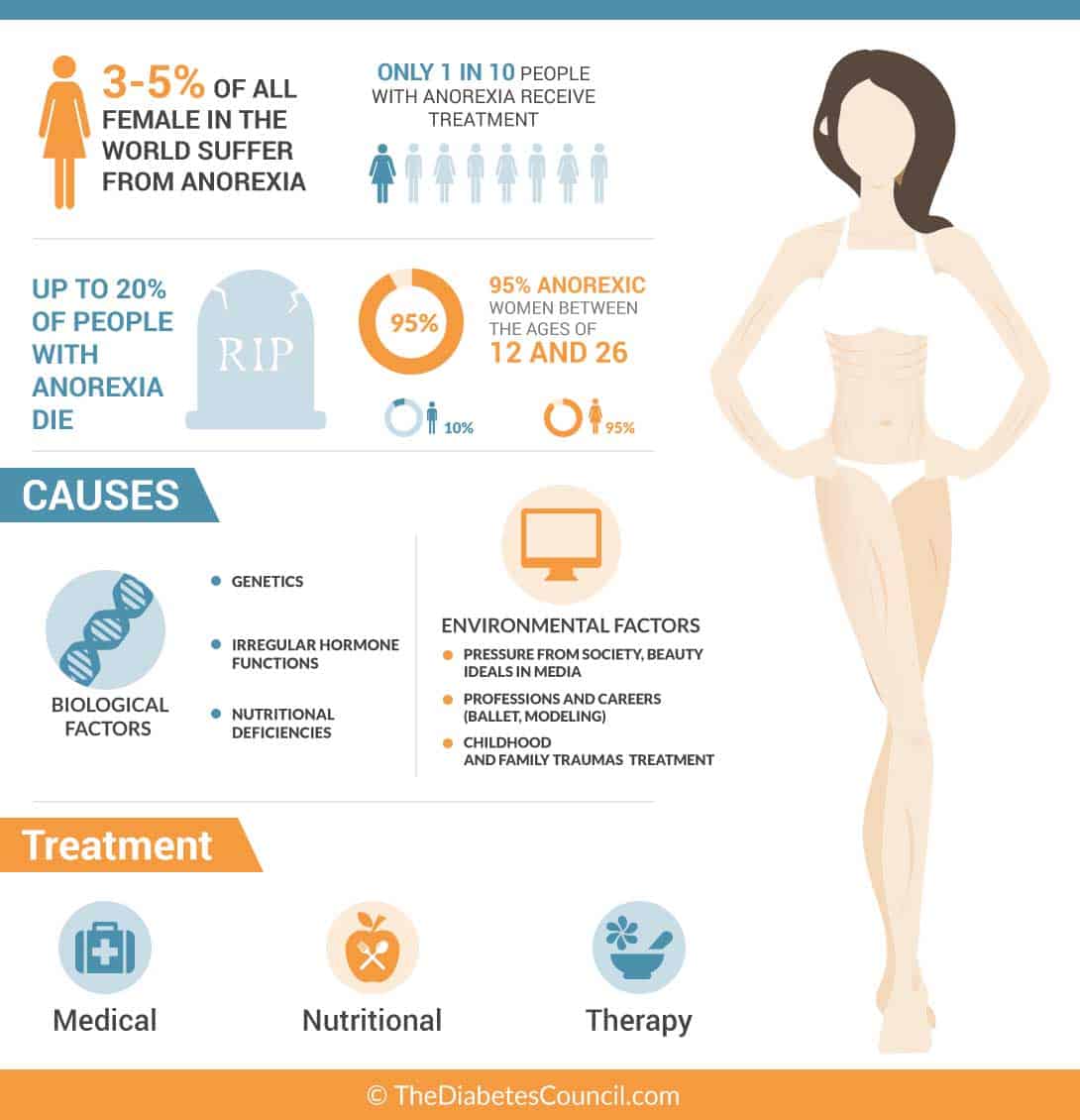 Since there are many different types of eating disorders, the warning signs can vary. For someone with anorexia, a warning sign might be eating less, while for someone with binge eating disorder or bulimia a warning sign might be eating in excess. Below is a list of varied warning signs.
Skipping meals or eating in ritualistic manners.
Limiting more and more foods or entire food groups.
Sneak eating or eating extremely large amounts of food.
Avoiding social events or family meals.
Signs of purging, laxatives, diet pills or sneak eating.
Becoming obsessed with exercise and fitness.
Becoming obsessed and preoccupied with nutrition.
Drastic or sudden changes in weight.
Becoming obsessed with appearance and body image.
May exhibit signs of perfectionism, depression or persistent anxiety.
If someone close to you exhibits one or more of these signs, approach them in a very empathetic manner. Let them know you are concerned about them and suggest that they seek professional help. If they are a minor, make sure they are seen by a doctor and a licensed therapist who specializes in eating disorders.
Who is at Risk?

Eating disorders can affect anyone. Statistically, teenage girls are at the highest risk, however, kids as young as six-years old are already obsessed with their weight and eating. Many seniors in their 80's and 90's have been struggling with eating and body image for decades. And every age in between can be affected. While girls and women experience more pressure related to eating and appearance, boys and men definitely struggle with eating disorders as well.
Causes of Eating Disorders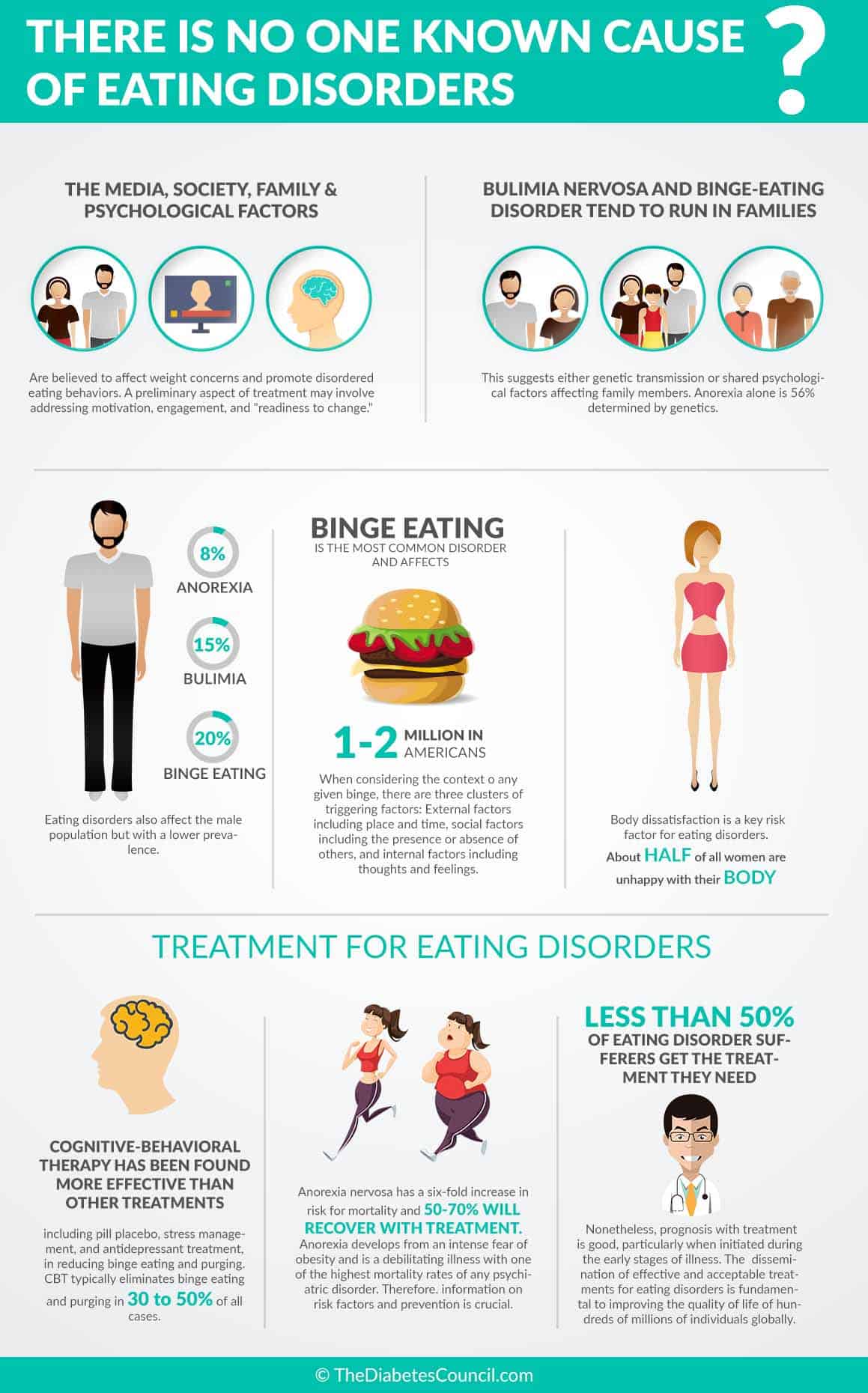 There are many varying factors that can contribute to the development of an eating disorder. Each person needs help to reveal and heal their wounds. The following three areas provide a brief summary of causes.
Genetic

Scientists are still researching the biological causes of eating disorders. Many individuals with eating disorders have at least one family member with some type of eating disorder or addiction. Newer studies are discovering genes that increase the risk for developing anorexia and bulimia.
Individual

Most people with eating disorders are highly sensitive individuals, suffer from low self-esteem, and have experienced a significant loss of control or trauma in life.
Cultural

Cultural pressure, the media and the diet industry all glorify thinness and perfection. This leads many people down the path of disordered eating.
Eating Disorders Assessment
Are you preoccupied with thoughts about food and your eating?
Does your appearance largely determine how you feel about yourself and your day?
Do you sometimes feel like you have no control over how you eat?
Do you undereat or overeat when you are experiencing difficult emotions?
Do you make yourself vomit or exercise because you feel too full?
Have others expressed concern about your weight or eating habits?
Do you feel ashamed or self-conscious eating in front of others?
Do you make up excuses to avoid eating with friends and family?
Do you avoid social situations due to your fear of eating or not knowing what will be served?
Do you use terms such as "safe," "good," "bad," or "clean" when describing certain foods?
Do you avoid or ignore hunger and fullness signals?
Do you use laxatives, diuretics or stimulants to try to control your weight?
Do you exercise in order to lose or control your weight?
Does the idea of skipping a workout create anxiety?
Do you often compare your body size and shape to others?
Do you believe that if you changed your body size, you would be
happier or that your life would be perfect?
For women, has your menstrual period stopped or become irregular?
If you answered yes to one or more of the above questions, we hope you will seek professional help from someone who has experience treating eating disorders.
For more health related articles you should read these:
Types of Treatment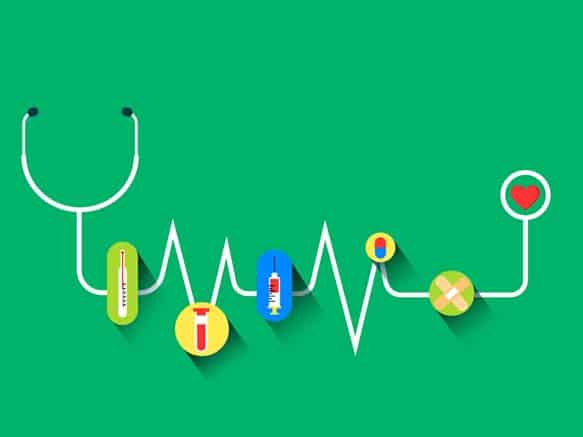 At the very least, someone struggling with an eating disorder needs to see a doctor who has knowledge and experience with these issues. It is essential that their physician knows what signs to look for if someone is anorexic or bulimic.
It's also extremely important that if somebody is struggling with binge eating, their doctor does not recommend a strict diet. Dieting is usually one of the things that causes binge eating, it will not be one of the solutions.
The following list provides additional options for support and treatment.
Outpatient
This usually involves a team consisting of a licensed therapist, a registered dietician and a doctor.
Intensive Outpatient (IOP)

Treatment programs that usually meet 2-3 days per week for approximately 6-8 weeks. Often includes individual and group therapy, meal support and nutrition education.
Partial Hospitalization Program (PHP)

Offers many of the benefits of a structured inpatient without leaving home. Includes medical and emotional support, meals, education and accountability.
Residential Treatment

Intensive and structured treatment in a home-like environment for patients who are medically stable.
Inpatient Treatment

24-hour in a hospital care for people whose lives are at risk.
Learning How to Live-It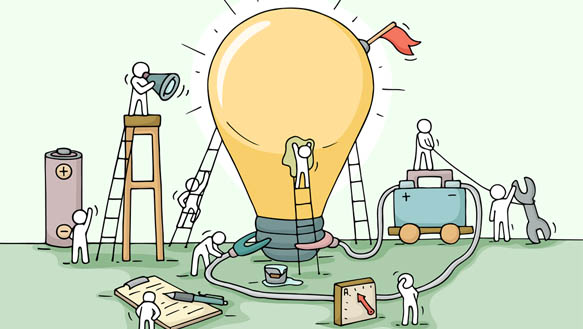 In my book, The Don't Diet, Live-It Workbook, readers learn four essential components of healing from disordered eating and body obsession. Here is a sneak peek of each area:
Physical

We were all born with the ability to know when we are hungry, exactly what we like to eat, and when we are comfortably full. We were also born with natural desires to move and rest our bodies in ways that feel good to us. But in our image obsessed culture, those intuitive connections are often lost. We are taught that certain foods are good and bad and that there are specific ways we should "work out."
We are encouraged to drink caffeine if we're tired and take meds if we are sad. So the first part of a Live-It is about restoring trust and communication between your mind and your body. Of course this takes time and practice, but it is possible to learn (or rather relearn) because after all, you were born with it.
Emotional

In the same way we are taught that there are good and bad ways to eat, many of us are taught that there are good and bad ways to feel. We are generally taught that we should be happy and our other natural emotions like sadness, fear and anger are not as encouraged or welcomed in our culture. Learning to accept and express all of our feelings is a very important part of learning to Live-It.
Once you do this, you will no longer need excess food and diets. They will be out of a job! When someone has a problem with food, focusing on diets, nutrition and exercise is like focusing on the tip of a huge iceberg. Underneath the icebergs are all the feelings and unresolved issues that they have been eating and restricting over.
If there are unexpressed emotions inside of you, food is something you can turn to for comfort, distraction or numbing out. It's only when the pain about body or food obsession gets bad enough that people are willing to go deeper, under the iceberg, and heal the pain that led them to overeat or undereat in the first place.
Mental

An eating disorder could equally be called a thinking disorder. When someone struggles with their eating and body image, they usually have a lot of unkind thoughts playing and replaying in their mind all day long; unkind thoughts about their body, their eating, their life, or their value. These painful pop-ups can all lead to depression, anxiety, body obsession, undereating or overeating.
A big part of healing from an eating disorder is learning how to challenge your unkind thoughts and upgrade them to kinder ones, as well as learning how to spend more time in the present moment rather than lost in thoughts.
Mindfulness practices that teach you how to live more in the moment can be an extremely helpful tool to foster this skill. And since eating disorders are largely fueled by our thoughts and beliefs, learning to quiet our minds is a big piece of the healing puzzle.
Spiritual

We all have deeper parts of us that are about more than the size of our thighs or the amount of food on our plates. We are all born with passion, inspiration, and desires. We are all born with a need to connect, whether that's to ourselves, others, nature or many of the other parts of life that we love. Our image obsessed culture often cuts people off from those deeper desires and leaves us feeling empty and/or stuffed but not fulfilled.
The spiritual aspect of healing from an eating disorder is about going deeper than just your looks, your age, your income, or your relationship status. It's about learning to value spiritual things like nature, quiet and kindness and feeding the parts of you that have nothing to do with the material world. We all have passion, intuition and the need for true connection. Underneath the distracting craze of food and fitness rules or the numbing effects of overeating, your true needs and feelings await you.
Prevention of Eating Disorders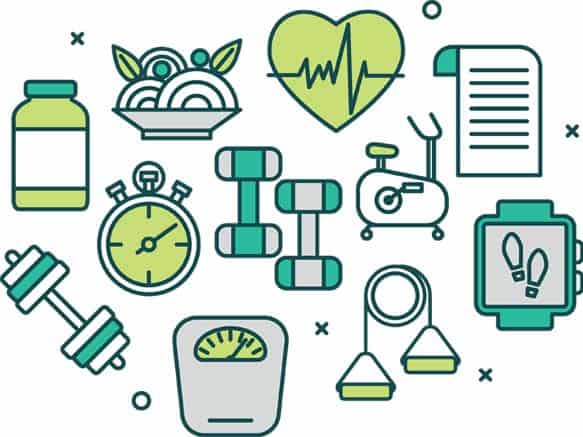 It's much easier to prevent a destructive habit than to treat one that's already ingrained. Role modeling healthy eating and body image behaviors and beliefs to children are the best way to turn the tide of the eating disorders epidemic. Here are some tips for eating disorder prevention:
Practice (or get help to begin) eating in a non-diet, moderate manner that allows for pleasurable, guilt-free eating.
Begin listening to your bodies cues of hunger and comfortable satisfaction and teaching the children in your life to do the same.
Practice tuning into how your body likes to move and rest. See if you can sever the connection between exercise and weight loss and learn how to move your body in ways that are enjoyable for the sheer pleasure of movement.
Get help for yourself if you recognize that you have signs of disordered eating.
Check out one of the many books, blogs or podcasts on Intuitive Eating and the non-diet approach to overcoming eating disorders.
Learn to address unresolved family issues through counseling or other professional help so that they don't result in or get buried under eating or body image issues.
Refrain from talking about diets, weight loss or body shaming. Focus on enjoying a wide variety of foods in moderation and fostering a non-judgmental attitude around eating.
Let go of labeling foods "good" and "bad" and begin viewing (and teaching your child to view) all foods as created morally equal, with varying benefits and purposes.
Refrain from saying anything negative about your body or other peoples' bodies.
Work on seeing and voicing positive, grateful aspects about your body and its amazing functions.
Frequently Asked Questions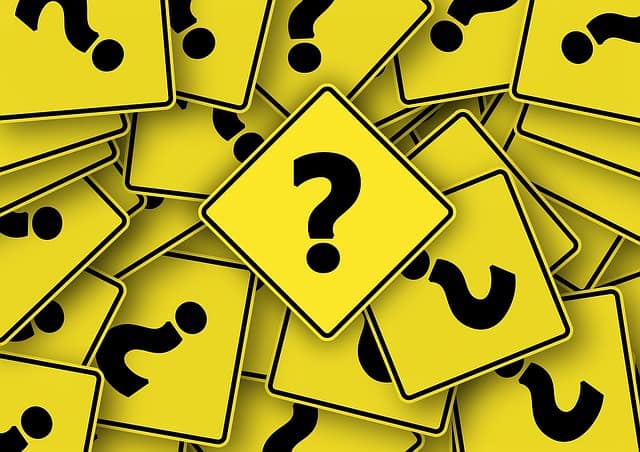 Should I go see a doctor if I suspect having an eating disorder?
If you suspect that you have an eating disorder, you should get a medical evaluation. It's very important to see a doctor who has experience treating these issues. Many doctors without eating disorders awareness have praised patients for losing weight when their weight loss was a result of very dangerous behaviors. Additionally, many doctors will recommend strict diets for patients which only contributes to their long-standing depriving/overeating cycles.
When should I consider seeing a psychiatrist?
Many people with eating disorders find they do not need medication. With the help of their doctor, therapist, dietician and other support people, they are able to recover without the use of medication. On the other hand, many people who suffer from eating disorders do need the additional support of medication.
Some people need meds on an ongoing basis, others need them temporarily to stabilize them through at a certain stage of their recovery. They can then taper off with the support of their doctor. There are also many natural alternatives that can help in place of medication. If you feel you might need a medication evaluation, consult your doctor or therapist and discuss your options.
When should I consider getting help?
As soon as you suspect you have a problem; the sooner the better. Getting help for something in its early stages can alleviate years of pain and steer you clear of developing chronic patterns that are much harder to change. If you or someone you care about is showing signs of an eating disorder or disordered eating, seek help as soon as possible!
Why is an eating disorder dangerous?
From a physical standpoint, eating disorders are extremely dangerous. (See above Risks list for specific details.) They are also progressive, and over time, can wreak havoc on a body. Someone in her teens, for example, might think that anorexia is "no big deal," only to find out decades later that she has osteoporosis or cannot have children as a result of her eating disorder.
Someone who is bulimic might think "it's not that big of a problem," and years later have to spend tens of thousands of dollars on dental work trying to remedy the tooth decay that was caused by purging. Someone who spends years trying to diet and restrict their food, often has to spend even more years learning how to eat naturally and restore their metabolism.
How do I know I am taking the right step towards recovery from my eating disorder?
You will know you taking the right steps when you find professionals to work with whom you trust and feel safe with and understood by. You begin seeing signs of progress, in your thinking and your behaviors. You will begin to focus on and value your health and well-being more than calorie counting or body obsession.
You will begin to value and see progress in the following areas:
Desire and willingness to take care of your body and treat it with respect.
You move your body in ways that feel good and you rest without guilt.
You get adequate sleep and rest.
You treat yourself like you would treat a child you adore or your best friend.
You challenge your unkind thoughts and regularly upgrade them to kinder ones.
You cry when you're sad and expresses anger and frustration respectfully. You welcome all your feelings and either sit with them, reach out to safe people, or give yourself what you need.
You are able to grieve your losses and treat yourself kindly in the process.
You reach out for support when you're struggling.
You are able to tolerate, express and or sit with painful emotions until they naturally pass.
You honor your values and needs.
You follow your heart and intuition and give yourself time to get clarity if you are unsure about something.
You use healthy and supportive tools when life gets challenging.
You feel loveable and worthy.
You don't expect yourself or others to be happy all the time or perfect, ever!
You are able to say no and set limits when needed.
You feel loveable and worthy.
You don't expect yourself or others to be happy all the time or perfect, ever!
You do not spend time comparing yourself to others. You know that everyone struggles and that nobody is better than or less than you are.
You have compassion and patience for yourself and others.
You don't expect yourself or others to be perfect.
Some Final Food for Thought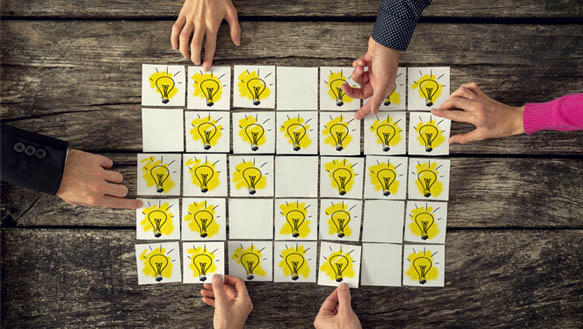 It is possible to learn how to eat when you are physically hungry and stop when you are politely satisfied. It is possible to unlearn all the cultural rules about exercise and find an enjoyable, peaceful relationship with movement and rest.
It is possible to find healthy ways to comfort yourself and sweeten your day. It is possible to tolerate difficult emotions and ride them out until they pass naturally. It is possible to learn how to spend your precious time on this planet thinking about more than just the size of your body and food. I wish this for you!
Andrea is a Licensed Marriage and Family Therapist and co-author of The Don't Diet, Live-It Workbook, and Mirror, Mirror on the Wall: Breaking the "I Feel Fat" Spell as well as the author of Getting Over Overeating for Teens.
Andrea is an inspirational counselor, author, and speaker who uses professional expertise, humor and personal recovery to help others. For more information on her books, blogs, and podcasts, please visit www.andreawachter.com
I hope you learned more about a serious issue like eating disorder.