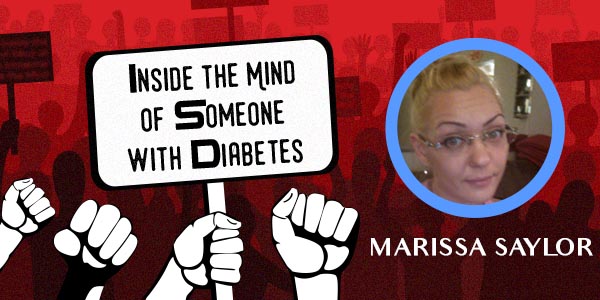 Today we're speaking with Marissa Saylor. Marissa was initially diagnosed with gestational diabetes when she was pregnant with her son. However, only two years later during her wedding it was discovered that she in fact had Type 1 diabetes. Here is Marissa's story.

First off, what type of diabetes do you have? We have readers with all types, so it's important to talk about this first.
I have Type 1 Diabetes.
How were you made aware that you had diabetes? Please share your diagnosis story with our readers.
I was diagnosed with gestational diabetes when I was 17 (2007). After I had my son, my sugars went back to normal and I was told everything was fine. When I got married in March of 2009, we decided to merge our reception with my younger sister's graduation party in May. The day of the reception I wasn't feeling well all of a sudden and my mother took me to the emergency room.
They checked my blood sugar and the hospital meter couldn't read the level. It just said "HI". After waiting a few hours, they came in and told me my glucose level was 1063! And I was diagnosed with type two diabetes. I was put on metformin and six months later my doctor discovered I was misdiagnosed by the hospital and was told I actually had type one diabetes.
I suggest reading the following:
We're all curious, even if we live the life, everyone is different, what is a typical day like for you?
Since I went so long not knowing I had diabetes and then was misdiagnosed, I developed complications quickly. I have severe neuropathy in my lower legs, tachycardia, horrible vision, and hyperthyroidism. I had to quit my job as a Certified Nursing Assistant, and now receive disability.
A typical day for me includes a handful of medication in the morning, which includes the maximum dose of neuropathy meds, and very light and restricted housework. If I over exert myself, it takes anywhere from one to three days to recover. My legs swell and my feet get so sensitive, it's painful to walk or even put socks on. Cooking for my son and boyfriend (I was divorced in 2015) is very difficult if it takes more than 30 minutes. I am a brittle diabetic, so I get low blood sugars (30s) almost every day and they drain all of my energy. I also get high readings daily and most days are roller coasters with my numbers.
Describe the one scariest moment since your diagnosis.
The scariest moment since my diagnosis has to be when I was having the most intense leg and foot cramps out of nowhere. I woke up one day at about 2 a.m. and it felt like my foot was being twisted in a machine and it was going to break off of my body. My son was 6 at the time and we lived with my mother. She called an ambulance and I was taken to the hospital where I found out I had a severe potassium deficiency.
Living with a chronic illness can be overwhelming, how do you cope with the constant battle of trying to maintain a proper balance with your blood sugars?
I simply just try to do my best. If things get too stressful, I pull out my painting supplies and try to paint my feelings.
If you could give one tip to someone newly diagnosed what would it be?
You know your body better than anyone in the world. Diabetes can affect more than most people think. If something feels off about your body, get it checked out. Better safe than sorry.
What is the most challenging aspect to you, in living with diabetes?
Since I am so brittle, I can eat the same thing every day and one day it won't affect my sugar levels at all, and another day it will skyrocket my levels. It's hard to stay in range when so many things can change your glucose readings.
What was your reaction when you found out you had diabetes?
I was already used to the shots and finger prices from when I was pregnant. But that went away after I delivered. It took me a very long time to be okay with the fact that this is with me every day and will be forever.
What was hardest for you and your family — emotionally? Or financially?
Since my complications forced me to stop working, we were hit hard financially. It took three years to get approved for disability and the insurance I had to help with supplies and medicine was horrible.
How often do you have to test your glucose levels?
I test my blood sugar anywhere from 3 to 10 times a day depending on what kind of day I'm having.
What insulins have you used or do you currently use?
I have always taken Lantus for my long acting insulin. I currently take 25 units every morning. I have taken both Humalog and novolog for my fast acting insulin. I currently take novolog with a sliding scale.
What would you like people who have diabetes to know?
That even though they have a disease that can sometimes feel like too much, they are strong enough to fight it every single day. No matter what, they can have diabetes, but diabetes can't have them.
Who do you get support from? Who treats you?
I get my support from my family, my friends, and my boyfriend. My older sister also has type one diabetes, so it's nice to have someone who knows how I feel. My boyfriend is very supportive, he always finds a way to boost my self-esteem and raise my spirits when it gets tough. I see an endocrinologist who treats my diabetes.
Let's conclude on a positive note.
This disease has taught me that I can overcome anything. I can be a fun, loving mother AND my back up pancreas at the same time. It has shown me my strengths, my weaknesses, and how to keep my head up and fight. It has shown me what is most important in life, and what is not worth holding on to. It really has made me a stronger woman, and in a twisted way… I'm thankful.