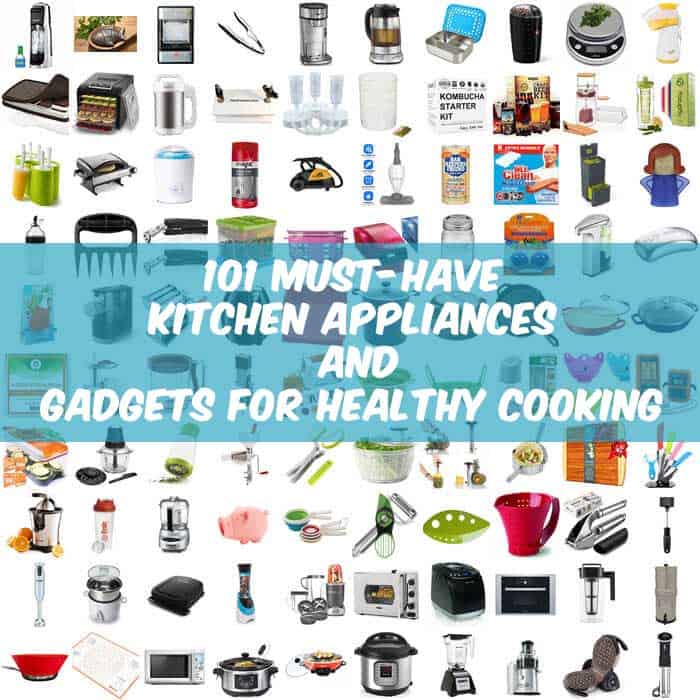 Many people have the misconception that healthy cooking is a lot of work but come out tasteless.
It does not have to be this way when we have so many advancement in cooking techniques and reinvention of kitchen tools.
This 101 Must-Have Kitchen Appliances and Gadgets for Healthy Cooking will allow you to see some of the most recent amazing kitchen innovations available on the market.
To allow our readers an easier time to search for their interests, this list is separated into ten categories:
Must-Have Appliances
Healthy cooking may be inconvenient and bland at times. To make life easier and to create some of the most delicious healthy dishes for yourself and your family, these appliances are an absolutely must-have.
1. Breville Quick Touch Crisp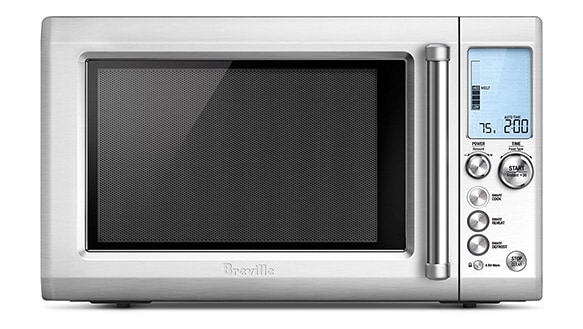 If you love the microwave technology but hate that your food always turn out dry and overcooked, the Breville Smart Oven is your answer. With smart sensors that detects the humidity and weight of your food, it will do all the calculations for you to create the perfect reheating process. So when the food is done, it will be just right. What is even more amazing is that your deep fried food will actually come out like it just come from the fryer.
Click here to learn more.
2. Asian Hotpot and BBQ Pot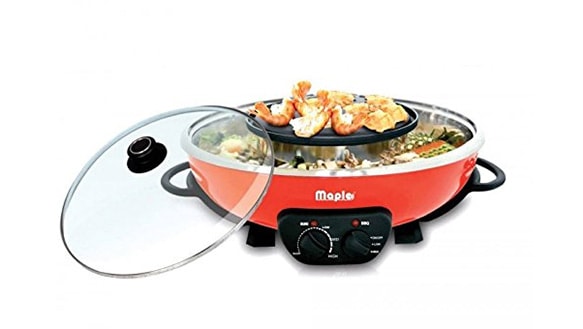 Now you no longer have to go to a Korean or Japanese restaurant to enjoy some barbecue meat. Their meat is slathered with so much marinade that will make your sodium and fat intake skyrocket. By getting this Maple-Enjoy Suki & BBQ Pot, you can enjoy both grilled meat and hot pot at the same time in the comfort of your home. How cool is that!
Click here to learn more.
3. Slow Cooker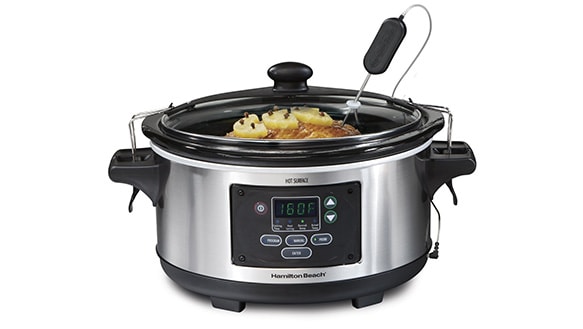 If you love coming home to some great cooking, the slow cooker is the perfect tool for your kitchen. The Hamilton Beach Set 'n Forget Programmable Slow Cooker with Temperature Probe will ensure your roast and chicken are cooked to perfection without needing to constantly opening the lid for temperature testing. And with the clip-tight gasket lid function, you can bring your cooking to a picnic or potluck without worrying about spilling any sauce in your car.
You can read more reviews and learn more by clicking here.
4. Instant Pot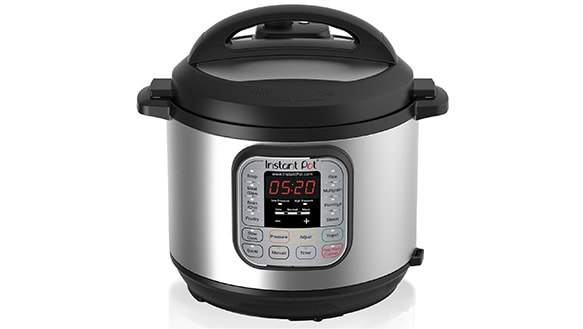 If you enjoy cooking with a slow cooker but hate the waiting time, this new invention of programmable pressure cooker Instant Pot can make your cooking process a breeze. Simply throw in all your ingredients, set the timer, and walk away. For example, you can create the most delicious fall-off-the-bone tender ribs with some frozen ribs in just half an hour. No need to defrost, no need to watch the heat. And with much shorter cooking time, your food will retain much more nutrient than any other type of cooking methods.
You can find more information here.
5. Blendtec Professional Grade Blender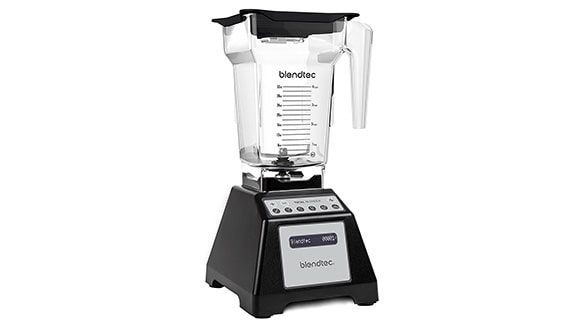 Any serious foodie has a Blendtec blender in their kitchen. Geared towards professional cooking settings, it offers an impressive 1,560 watt power to cut through anything coming its way. It can work with ice-cold ingredients as well as hot soups and sauces to create an insanely smooth texture that pleases your palate. The only limit is your imagination when it comes to Blendtec.
Learn more by clicking here.
6. Breville Juice Fountain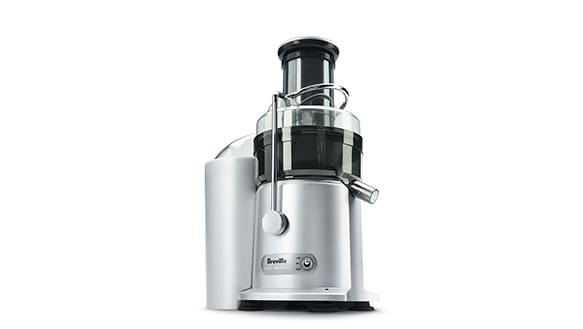 With an extra wide feeder, the Breville Juice Fountain will allow you to cut less and juice more. And with an insanely great power to match, it can crank out 8 oz. of juice in less than 5 seconds. And when you look at the pulp, you will be amazed how dry they are. This means that all the juice is in your cup and not in the waste.
Lean more by clicking here.
7. Non-stick Waffle Maker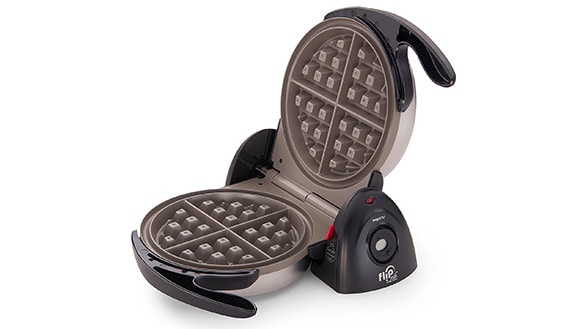 Everyone loves a great waffle in the morning or late at night. Instead of paying too much for frozen waffles, you can quickly whip up some healthy waffles on the Presto Ceramic Flipside Belgian Waffle Maker. With the rotating design, this waffle maker will allow you to distribute the batter quickly and easily. And you no longer need to flip your waffles. Just wait for the maker to do all the hard work for you. In 2 minutes, you will have the best crispy and soft fresh waffle ready. And if you are a hash brown fans, you can use the Presto Waffle Maker double duty as a hash brown maker. It will allow you to make some crispy treats with much less oil needed.
You can read the reviews on Amazon and learn more.
8. Sous Vide Precision Cooker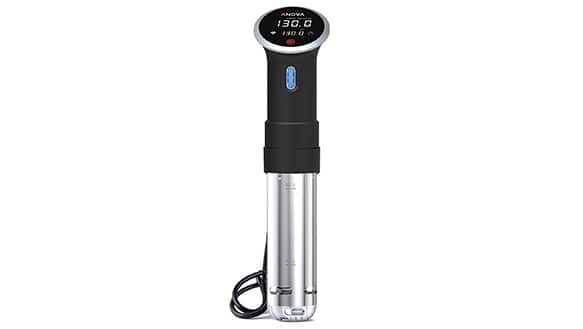 Sous vide cooking is the newest cooking trend that allows you to cook meat at low temperature for a long duration of time. The end results are perfectly succulent and soft melt that melts in your mouth. But in order for this process to work, you will need a sous vide precision cooker to keep the cooking temperature exactly the same throughout the whole procedure. Anova Culinary Sous Vide Precision Cooker WIFI turns this technique into perfection with the Wi-Fi control function.
One of my favorites and you can learn more here.
9. Berkey Water Filter Machine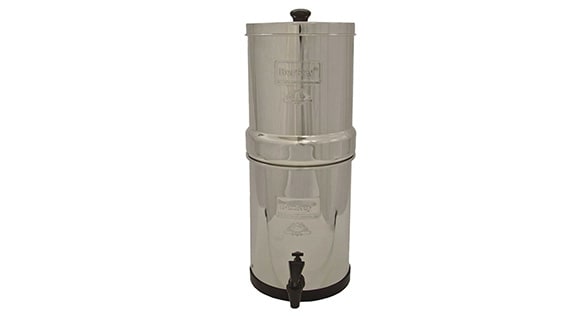 Water is the foundation of great cooking. If you do not use a good source of water, you can expect your food to taste a little weird. But buying water can be a great hassle, not to mention the cost. The Berkey water filtering system can truly make your water taste so much better. As the oldest and most trusted water filtration company, you cannot go wrong there.
Learn more by clicking here.
10. Cold Brew Coffee Maker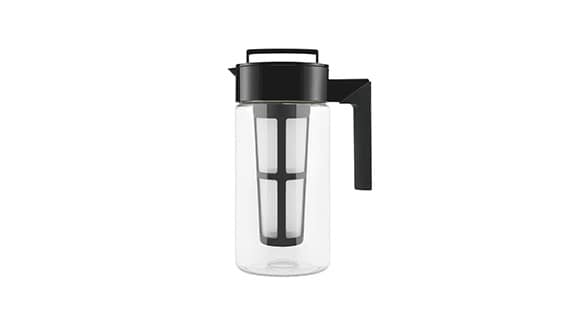 If you are a coffee fan, you probably already heard of the new cold brew coffee trend. Instead of ruining all the great properties in the coffee in the brewing process, you can enjoy all the nutrients in a much smoother and less acidic coffee brew. The Takeya Cold Brew Coffee Maker is a great intro to the world of cold brew coffee. And for summertime, you can easily create the best-tasting iced coffee with this maker as well. Who doesn't love a multi-purpose gadget at home?
Learn more by clicking here.
11. Steam Oven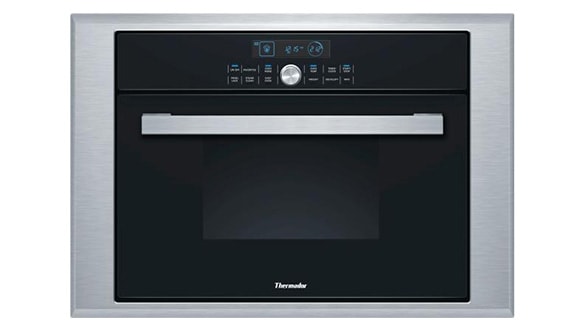 If you steam your food on a daily basis but hate that you cannot make bigger meals with your current kitchen tools, maybe it is time to invest in a steam oven. With the Thermadore Double Wall Steam Ovens, you can create so much more dishes and varieties within a much shorter amount of time. And believe it or not, you can bake cakes, breads, custards, rice dishes, and even noodles with just steam.
Click here to learn more.
12. Pressure Oven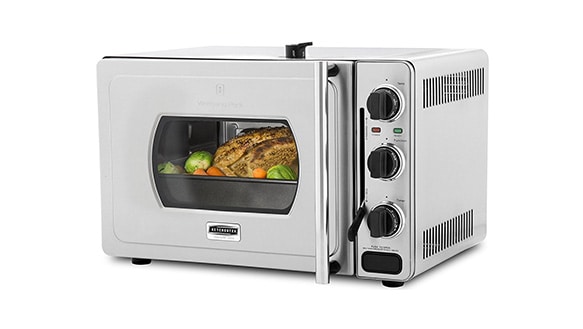 As we know, pressure cooking can speed up cooking time while producing juicier and flavorful dishes. Enter this new technology of fusing pressure and oven cooking. The Wolfgang Puck Pressure Oven will allow you to broil, bake, and roast delicious meals with much less electricity.
Click here to learn more.
13. Bread Maker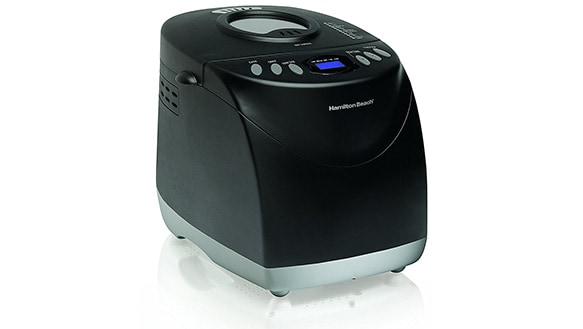 If you love fresh bread, you will definitely want to invest in a bread maker. It will help you knead the dough and bake the bread for you without needing to turn on your oven for the job. The Hamilton Beach Programmable Bread Machine will allow you to make 2 pounds of bread with different crust settings. It also includes a delay timer to begin the baking process according to your scheduled time. How awesome is it to wake up to the smell of freshly baked bread.
You can read the reviews and learn more on this page.

On-The-Go Must-Have Gadgets and Appliances
If you want to start eating better food yet you are always on the rush, these appliances and tools can instantly put a smile on your face every day.
1. The Magic Bullet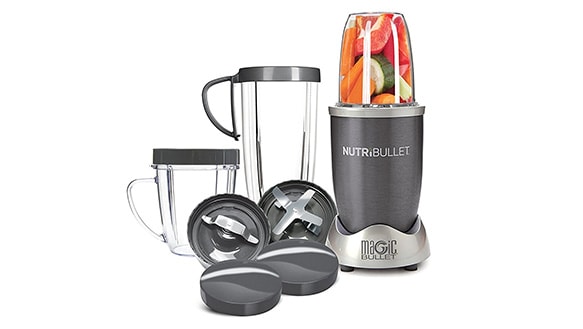 The Magic Bullet makes the morning smoothie and juice ritual a breeze. You will be amazed how much time you will save in the morning by owning one of this small versatile blender. Simply prepare your ingredients and store it in one of the bullet cups. All you have to do in the morning is stick that cup into the blender for 1 minutes or less, put a lid on the cup, and you are ready to get out of the door to the gym or work with your morning power drink. No need to transfer the drink from one cup to another. If you wish to venture to another brand, the Oster My Blend Blender is a great drink mixer packed with 400 Watts of power to crush up ice and tough ingredients.
Click here to learn more.
2. 4-Serving George Foreman Grill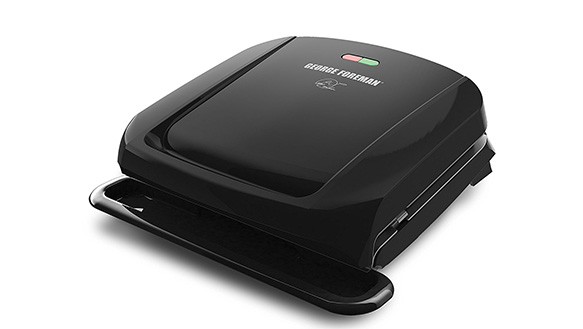 Grilled meat when done right can offer delicious protein with much less fat than other cooking methods. The problem is the preparation, cleaning and storage problem. If you live in a small household, owning a huge grill is just not practical. But if you love to grill meat, this small indoor 4-Serving George Foreman Grill can be your perfect solution. And if you love Paninis, this little grill can multitask as a Panini press. How cool is that!
Click here to read the reviews and to learn more.
3. Mini Rice Cooker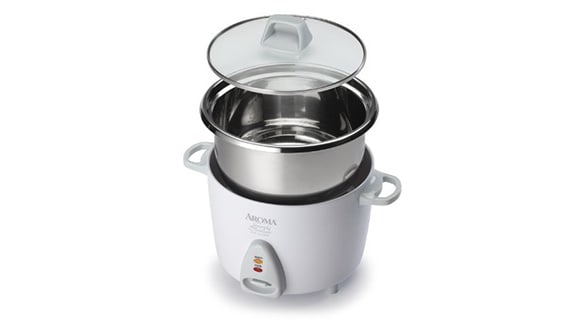 If you are not a rice lover, you may wonder why you would ever need a rice cooker? Rice cookers are actually an awesome multi-tasking appliance that can cook legumes, make soups and oatmeals, and steam and stir fry your favorite vegetables and meat. Asian students have used this little guy as their college survival tool for dorm living. If you live in a small setting and still want to create some delicious healthy food, look no further. There are many blogs devote their interest in creating the perfect one-pot meal with a rice cooker. The Aroma Simply Stainless 3-Cup Rice Cooker is our favorite as the pot is resistant to scrapping and heavy duty cooking.
Click here to learn more.
4. Handheld Immersion Blender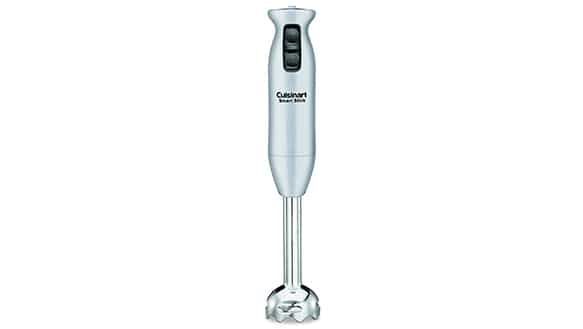 This is a must-have for any kitchens. They can instantly help you whip up an awesome dressing and sauce, smooth out the texture of your soup, and whip up a great milkshake or smoothie. And most important of all, it can instantly increase your daily vegetable and fiber intake. Of all the immersion blender available on market, our favorite is the Cuisinart Smart Stick 200 Watt 2 Speed Hand Blender. Packed with extra wide metal blades, it can cut through the toughest fibers and crush any ice cubes in your way. And once you are done, simply throw the blades into the dishwasher for effortless cleanup.
You can order the blender and learn more by clicking here.
5. Electric Citrus Juicer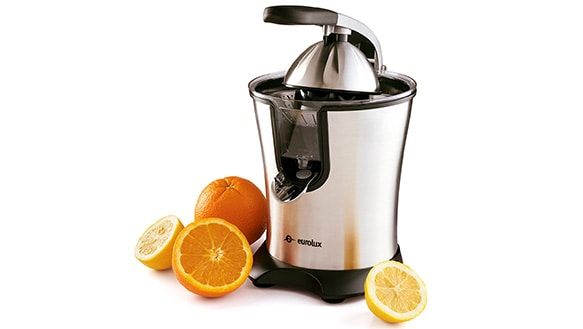 If you love freshly squeezed orange juice, you will be amazed how much time and juice you can save by using an electric juicer. And if you are buying pomegranate juice, it is time to make your own by one of these little gadgets. Once you have tried homemade fresh pomegranate juice, you will never want to go back to the store bought concentrates. Even though the Eurolux Stainless Steel Electric Citrus Juicer is a little more expensive than the other competitions, the design allows you to minimize wastage and maximize juice products.
Click here to learn more.
6. Blender Bottle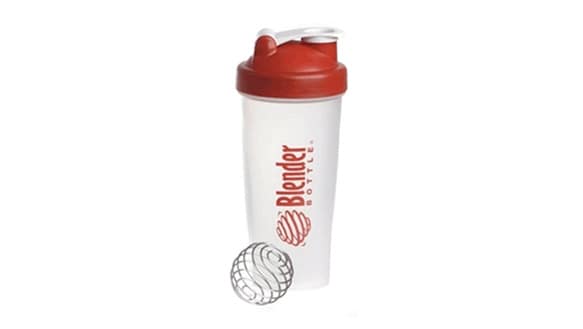 If you are a smoothie and juice lover, you will know the pain of drinking a separated drink. The Sundesa Blender Bottle allows you to carry your favorite smoothie around and keep your drink blended at all times. Just a few shakes and the inner mixer will do the mixing for you.
Click here to learn more.
7. Mini-Prep Food Processor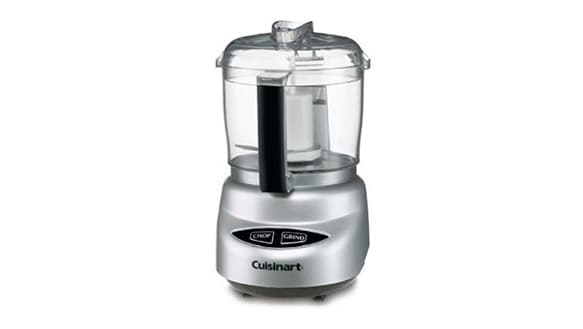 This mini food processor is so great at cutting up anything that they are a must-have to create some quick healthy snacks whether it is some herb cream cheese, diced tomatoes, and onions for a salsa, or homemade nut butter as a bread spread. They are simply the best hand safer for anyone with joint problems or weak wrist. Of all the available brands on the market, the Cuisinart Mini Prep Food Processor proves to be a little giant that keeps on chopping.
You can learn more and read reviews by clicking here.

Preparation Gadgets
If you think that there is an easier way to prepare your foods, there often is a product to solve your dilemma. Here are some gadgets that may help make the tedious work more fun.
1. Egg Separator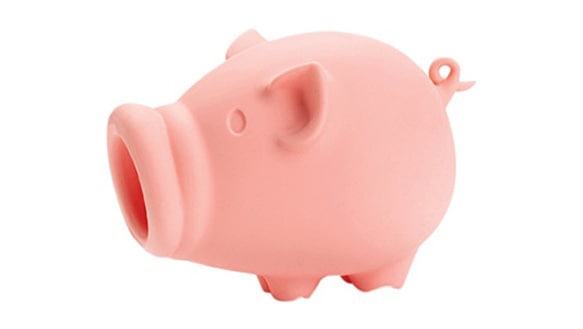 Eggs whites are a great source of lean protein. But the problem is the egg yolks! Instead of trying to fish out the yolk by hand only to break the sac midway, simply use an egg separator to save the day. The Peleg Design YolkPig Egg Separator is our absolute favorite. That little pig will instantly brighten up your day and make the chore a fun event in the mornings.
Click here to learn more.
2. Collapsible Silicone Measuring Cups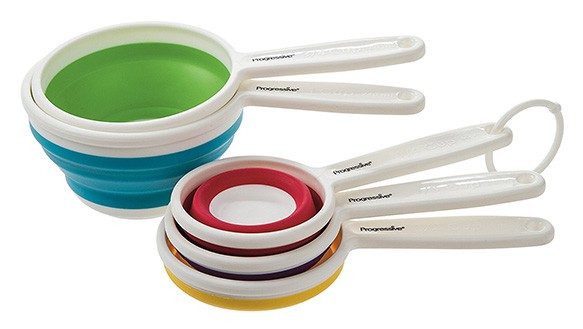 Measuring cups are useful but they take up so much space in your drawers. The silicone made collapsible measuring cups can instantly clear up the clog in your kitchen cabinets. A must-have for anyone who loves to cook but have limited kitchen space. The Progressive Collapsible Measuring Cups is not only practical but also modern cute with their bright colors.
You can learn more here.
3. Vegetable Julienne and Peeler Multitasker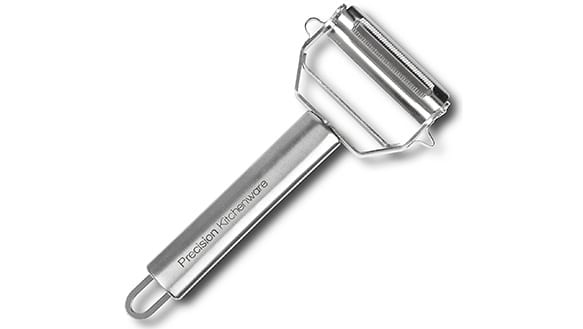 Peeling and making julienne vegetables can be a daunting task. Why suffer the nicks and cuts from struggling with your knife? The Precision Kitchenware Ultra Sharp Stainless Steel Dual Julienne and Vegetable Peeler can make the chore effortless and efficient. It will amaze you every time you use this little gadget.
Click here to learn more.
4. Avocado Slicer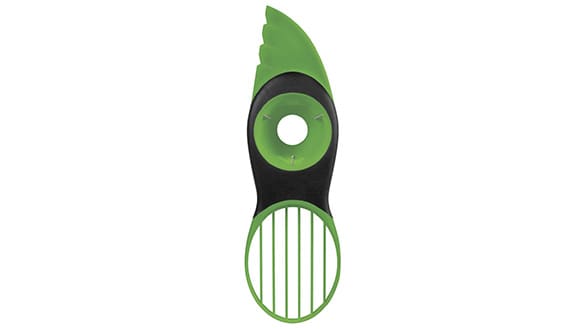 Avocados are delicious. But they are usually the top reasons why people end up with a nasty gash on their palm. If you are an avocado lover, you will want to invest in an OXO Good Grips 3-in-1 Avocado Slicer.
Learn more by clicking here.
5. Vegetable Stem Stripper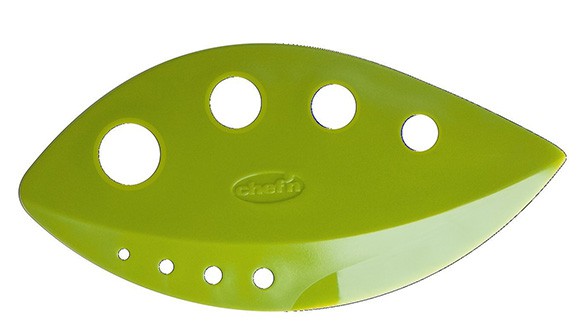 Vegetable and herb stems are sometimes tough on the stomach and palate. To make your next veggie salad taste amazing, consider getting a vegetable stem stripper and remove the tough stems within a short amount of time. The Chef'n LooseLeaf Kale, Chard, Collard Greens and Herb Stripper is a must-have for any salad lover.
Learn more by clicking here.
6. Grain Measurer and Strainer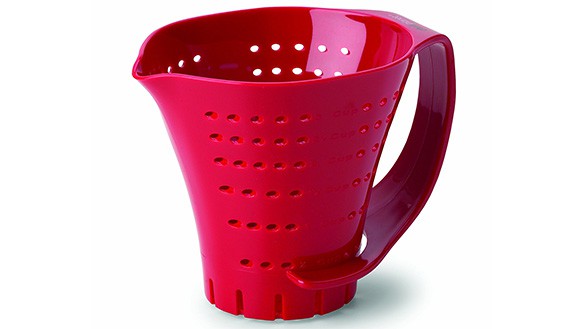 For all vegetarians, measuring grains can be a really annoying task as you often need to transfer the grains from a measuring cup to a strainer for washing before cooking. The Chef's Planet Measuring Colander allows you to do just that. What is even more amazing is that it has a built-in tuna can drainer at the bottom. For all canned fish lovers, this little colander is a great multi-tasker.
I personally got mine on Amazon. You can learn more by clicking here.
7. Garlic Press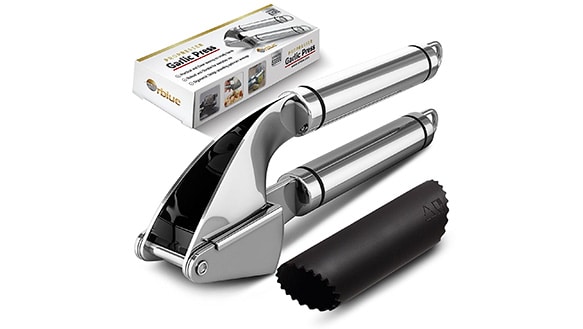 Garlic has so many health benefits. It helps fit colds and infection and is also known to elevate sex drive. The problem why we are not eating enough of this great stuff is that it is annoying to prepare. Not only is the process long and difficult, it will leave your hands stink for the rest of the day if not two days. By using a garlic press, you can skip over all that chopping work and get right down to enjoying the good stuff. Complete with a garlic peeler, the ORGLUE Propresser Stainless Steel Kitchen Garlic Press is a must-have for any foodie kitchen.
Learn more by clicking here.
8. Meat Mallet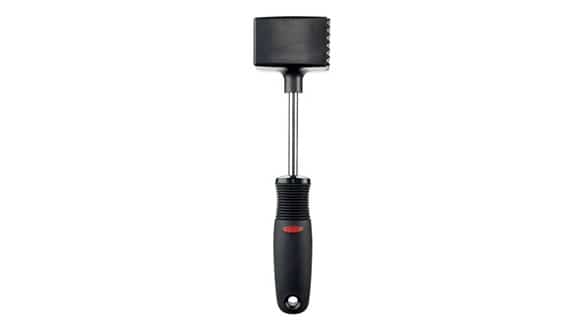 Instead of using chemicals to soften the texture of your meat, simply use a meat mallet to do the work. The OXO SoftWorks Meat Tenderizer will easily tenderize your meat surface to maximize the marinade process. You will be amazed how juicy your meat will turn out.
Click here to learn more.
9. Ceramic Knife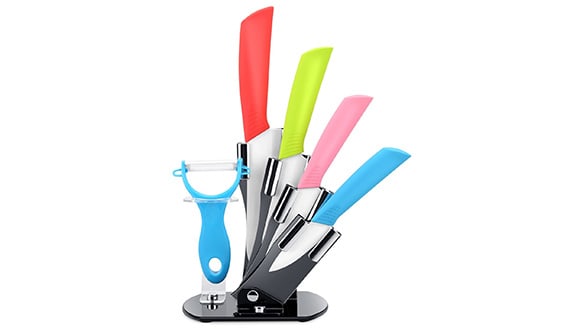 Your knives can dictate the quality of your dish. If you have to struggle in the preparation process, you will waste a lot of energy and time for the other processes. Also, the jagged edges of the food can affect the look and texture of your dish. If you want to make cooking easier, the first step is to invest in some good quality ceramic knife. Unlike metal blades, they remain sharp for much longer time, do not rust, or discolor your meat. And because food does not stick to the ceramic surface, it will make cutting and cleaning up much easier jobs. The Yuteea Ceramic Knife Set is our favorite as it includes a great knife stand to keep your kitchen space well organized.
Learn more by clicking here.
10. Bamboo Cutting Board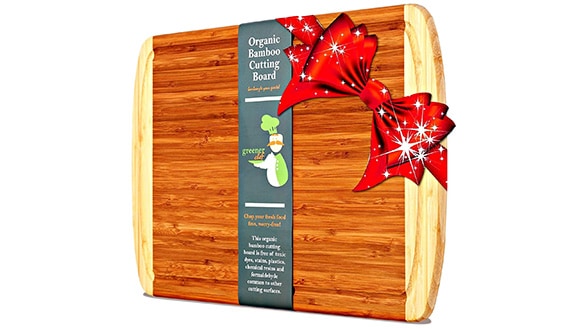 Science studies have concluded that wood and bamboo cutting boards have a much lower chance of germ and mold growth compared to a plastic cutting board. But why bamboo? That is because bamboo absorbs much less liquid than wood and it contains anti-fungal properties. Also, it is much more environmental friendly as bamboo grows much faster than trees. By purchasing bamboo-made products, you can help save more trees from being cut. With a truly attractive finish, the Greener Chef Organic Bamboo Extra Large King Size Cutting Board will instantly give your kitchen counter will serve as a great decoration and useful kitchen tool at the same time.
Click here to learn more.
11. Pierogi and Dumping Maker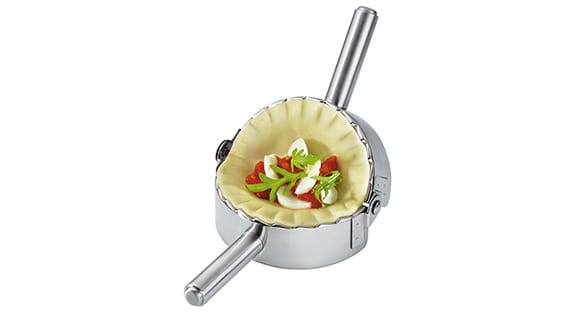 Dumplings and pierogis are so yummy yet you can never make enough of them. The Best Utensils Stainless Steel Pierogi Dumpling Maker can cut your work to a bare minimum. No more destroying your fingers with the crimping.
Learn more by clicking here.
12. Pineapple Corer and Slicer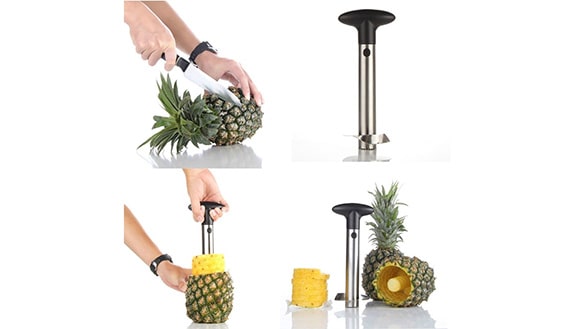 Pineapples are so delicious and full of antioxidant properties, yet they can be a real pain to cut. The Super Z Outlet Silver Stainless Steel Pineapple Corer will de-core, peel, remove stems, and slice the fruit for you in simple steps to maximize your pineapple yield and minimize wastage. You will be so amazed by this little invention that you will want to show it to all your friends.
Click here to learn more.
13. Salad Spinner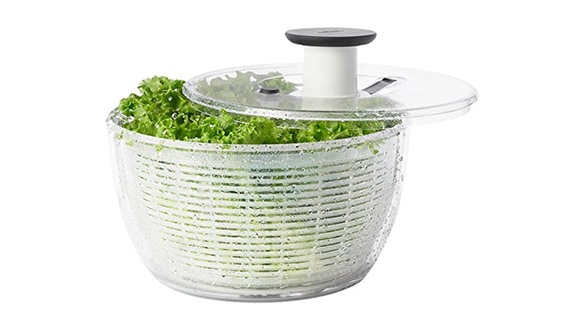 There are increasing number cases of food poisoning, E. coli, and listeria related to ready-to-eat salads. Instead of worrying what is in your salad, skip the pre-washed vegetable and get yourself a salad spinner such as the OXO Good Grips Salad Spinner. You can not only ensure your salad greens are clean, but also save a lot of money in the long run.
Click here to learn more.
14. Herb Scissors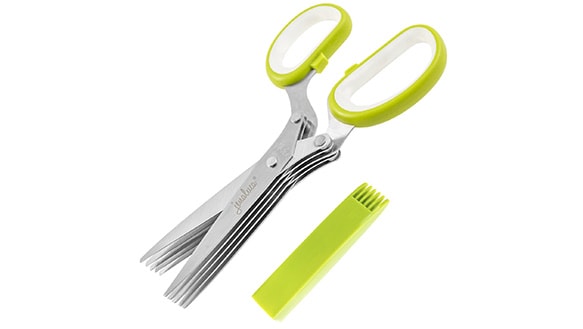 Herbs is tough to cut up. In most cases, they tend to fly off anywhere but your chopping board. Instead of using a knife for this task, the Jenaluca Stainless Steel Herb Scissors have these multilayer blades to make cutting minimal. Not only are they great for herbs, they can be a quick salad green shredder as well.
You can read reviews and learn more here.

Food Processing Gadgets
Fresh ingredients always trump over pre-processed ingredients. If you find yourself using a specific ingredient on a daily basis, maybe it is time to process your own to cut down cost and ensure you have the best possible starting products.
1. Food Mill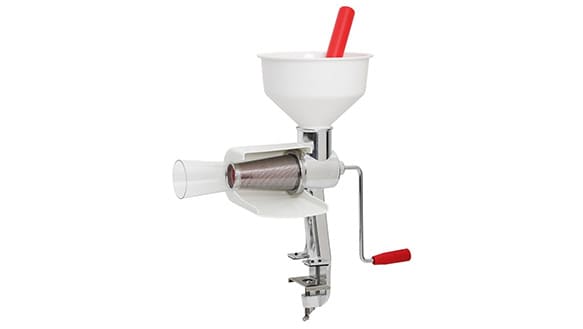 Even though food mills are primitive, it is a powerful kitchen gadget because they can quickly grind up fruits, legumes, and vegetables in a short amount of time. Applesauce, mashed potatoes, tomato sauce, homemade thick soup, they are no challenge for the Victorio Deluxe Food Strainer and Sauce Maker.
Click here to learn more.
2. Herb-Grinding Mill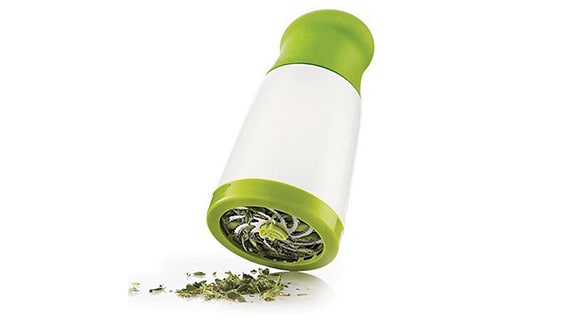 Herbs make everything taste better. But we can definitely do without killing our arms chopping away to mince these savory greens. What is worst is the herbs bouncing off the chopping board and landing everywhere else other than your food. The Plaviya Herb Grater is truly an awesome gadget for this purpose.
You can click here to learn more.
3. Glass Bowl Chopper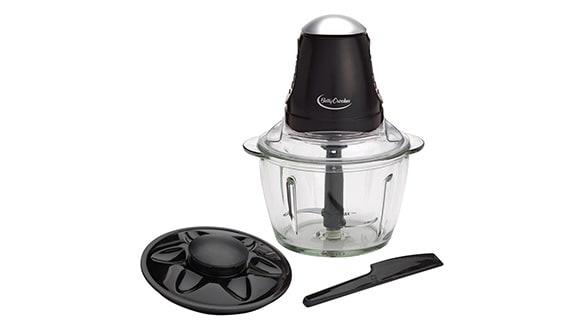 Do you find yourself constantly need to pull out new mixing bowls and serving bowls? The Betty Crocker Glass Bowl Chopper can make food preparation a much easier and cleaner process. When you want to save your vegetables for later use, simply cover the bowl with the storage lid and stow everything in your fridge. And when you are done, simply put the bowl into the dishwasher. How amazing is that!
Click here to learn more.
4. Vegetable Dicing Mandoline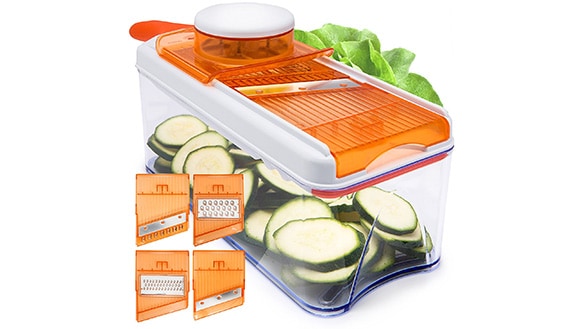 If you hate cutting up vegetables but want to start eating healthier, a dicing mandolin can quickly become your best kitchen helper. The HomeNative Adjustable Mandoline Slicer allows you to cut, slice, peel, grate, and julienne at great ease. And the great thing about this mandolin is that it has a collection box below to gather the vegetables. So instead of having your food flying everywhere, all your vegetables will be sitting neatly in the storage container.
Learn more by clicking here.
5. Handheld Spiralizer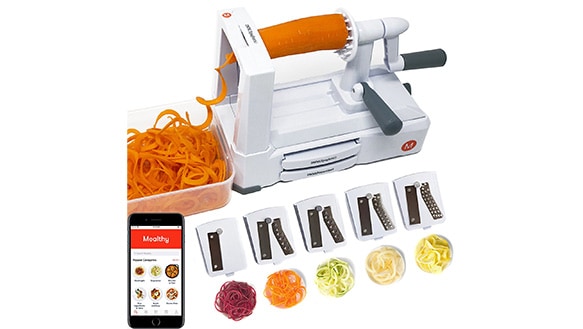 If you love noodles but want to cut down on carbs, consider making your own vegetable noodles with a handheld spiralizer. The Original SpiraLife Spiralizer Vegetable Slicer is the best on the market and it comes with 2 bonus recipe ebooks to inspire your cooking creativity.
Click here to learn more.
6. Nut Milk Bag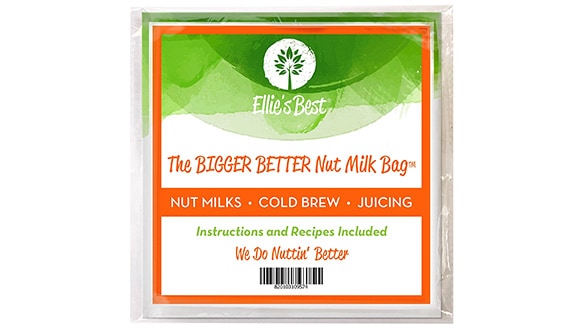 If you think that you will never use a nut milk bag, you may be surprised that it can multitask in a lot of ways to make your cooking process easier. The Ellie's Best Reusable Pro Quality Nut Milk Bag acts as a great food strainer, cheesecloth, and even cold brew coffee filter. If you love making homemade jams, sauces, nut milk, and even tofu, these top quality strainer bags are absolutely the best you can get on the market.
Click here to learn more.
7. Meat Grinder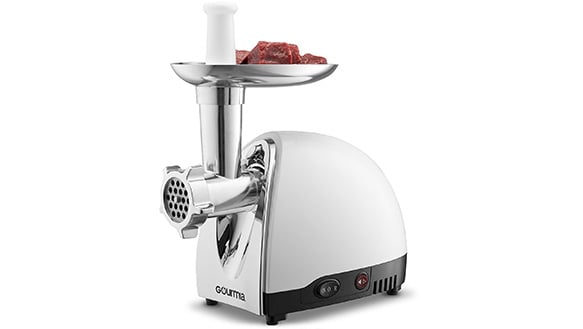 Still worrying about whether your meat contains pink slime? Stop the worrying by making your own mince meat. It will allow you to know exactly what you are putting in your mouth. And if you have dogs, you can make your own dog food with the machine. Your little furry friend will be healthier and live longer. The Gourmia Meat Grinder is a must for any homes that are a meatball, hamburger, and meat sauce lovers.
Click here to learn more.
8. Fat and Gravy Separator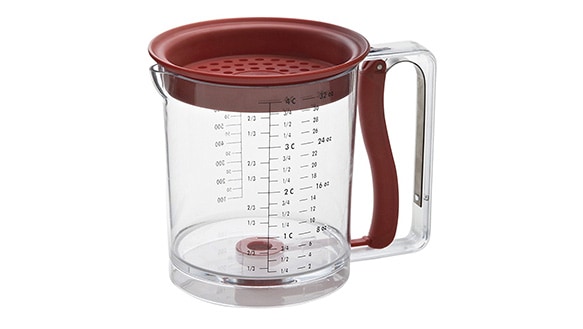 If you love making all-natural gravy, you will understand how hard it is to separate the extra oil and fat from the meat juices. The Swing-A-Way 4-Cup Easy Release Fat/Gravy Separator will make this task a much easier process so that your gravy will be ready just in time for your roast and steak are ready to be served.
Learn more by clicking here.
9. Grain Grinder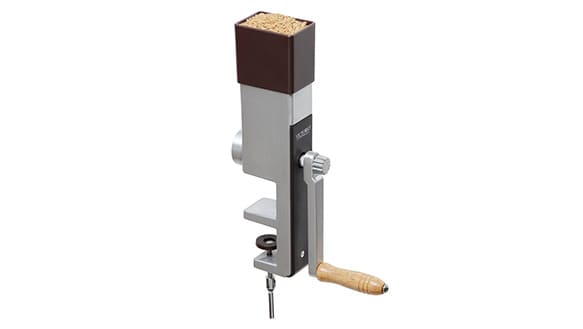 It is so hard to get your hands on unbleached flour that is free of stuffer ingredients. If you love homemade pasta and breads, you will want to experiment with fresh flour baking. The newly milled grains will give your creation and extra punch of flavor and texture that just cannot be made with store-bought flour. The Victorio Deluxe Grain Mill will allow you to produce extra-fine flour for all your baking purposes. It will truly make your family and friends appreciate your made-from-scratch baked goods.
Learn more by clicking here.
Cooking Gadgets
Everyone has busy schedules these days. No one has time to watch over a pot for several hours to create delicious homemade food. These gadgets, appliances, and tools will help you minimize cooking time without sacrificing the taste.
1. Silicone Steamer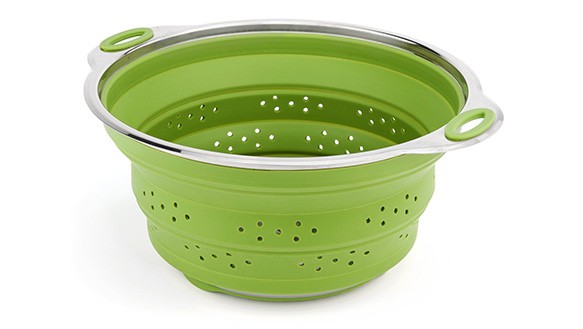 Any healthy-cooking kitchen will be incomplete without a steamer. The problem with the metal steamer is that they can be dangerous to handle when hot. They can easily be bent out of shape in the washing and storage process, and they can scratch up your non-stick pots and pan in the steaming process. In addition, although metal steamers can be used to cook meat, they can cause an ugly coloration of beef. Silicone steamers are the perfect solution for all these problems. Our favorites are the iNeibo Large Capacity Collapsible Silicone Multitasking Colander/Strainer/Steamer and OXO Good Grips Silicone Steamer.
Click here to learn more.
2. Oil Mister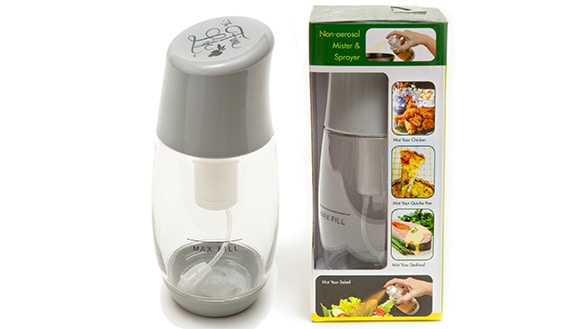 Have you wondered why you have done everything you can and you are still not losing weight? It may be the amount of oil that has been slipped into your cooking. But instead of needing a measuring spoon, simply use an oil mister. You will be amazed how little amount of oil you will need for your daily cooking. And to make your food even more flavorful, consider adding sprigs of herbs into the sprayer. The Ideal Oil Mister Sprayer is the current best seller on Amazon. If you are a frequent vinegar and soya sauce user, consider using the same method to help minimize hidden calories and sodium intake.
Learn more by clicking here.
3. Ceramic Non-Stick Frying Pan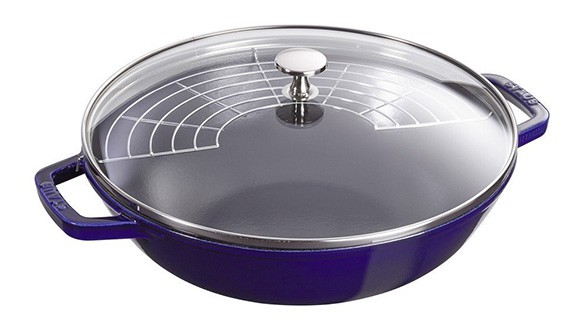 Teflon non-stick frying pans have been the greatest invention for cooking until we realize the chipped flakes are carcinogenic and dangerous to our health. That does not mean we have to start using oil again. Instead, look for GreenPan and ceramic coating non-stick frying pan as your new solution. These new pans are made with non-harmful chemicals, and they will not peel or chip under high heat and aggressive treatment.
Learn more by clicking here.
4. Poacher Skillet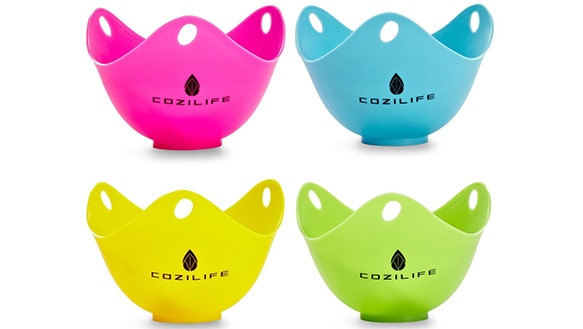 Poach eggs are so delicious yet so annoying to make in batches. If you want to throw together a family brunch for several people, the COZILIFE Silicone Egg Poaching Cups with Ring Standers can be a lifesaver. With the option to use on stovetop pots or microwave dish, it can make the task quick and simple.
Click here to learn more.
5. Wireless Meat Thermometer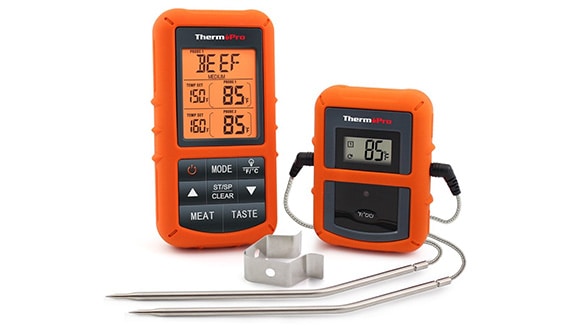 If you love making a roast or any meat dish in the oven or barbeque, a wireless meat thermometer can minimize your need to open the oven door to test the meat temperature. The ThermoPro Wireless Remote Digital Cooking Food Meat Thermometer will make your next cooking experience much easier and fun.
You can learn more by clicking here.
6. Cast Iron Pans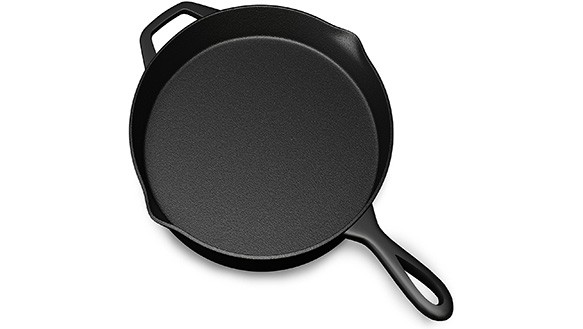 When seasoned and maintained correctly, cast iron cookware will provide you with the best nonstick cooking surfaces that bring out the best flavor in your food. And if you love a good steak, cast iron is a must. Depending on your budget and personal taste, here are the best three brand choices: Staub, Le Creuset, and Lodge.
7. Dutch Oven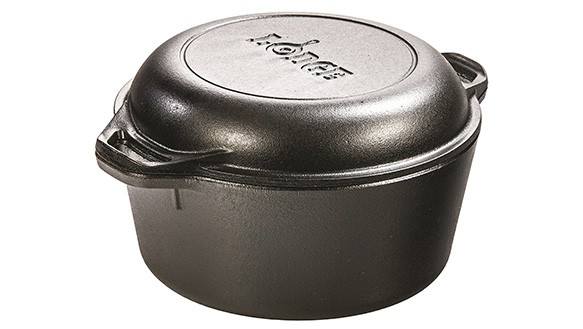 The Lodge Dutch Oven is an amazing multi-tasker. Not only can you use it on the stove top and oven, you can carry this on a camping trip to make the best one-pot stew ever. For any grandma recipe of tender braised meat, the must-have ingredient is a dutch oven as it is essential to enhance meat taste. And the most amazing thing is the lid! Instead of buying a cast iron pan or skillet, you can simply use the oven lid as a pan. It will save a lot of room in your wallet as well as your kitchen.
Click here to learn more.
8. Stockpot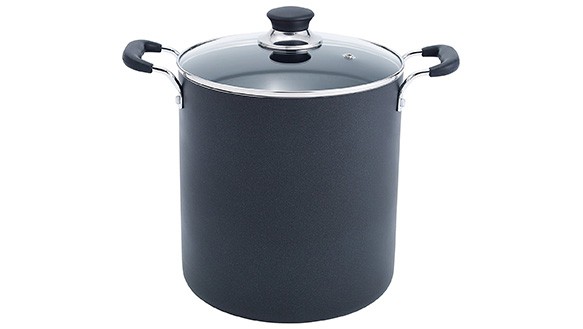 Stockpots are the foundation of a lot of amazing cooking. And what is more, fun than to have a seafood broil night? All is possible with the T-fal Specialty Total Nonstick Dishwasher Safe Oven Safe Stockpot.
9. Non-stick Silicone Baking Tray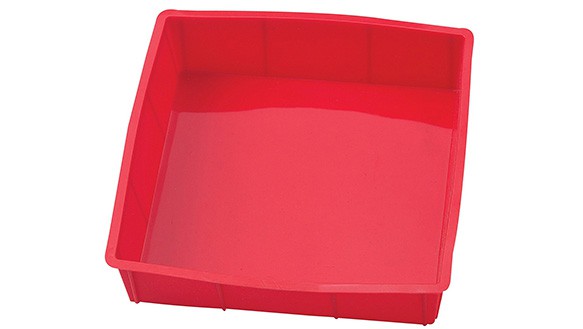 You will no longer need to purchase tinfoil and wax paper for your baking needs. This silicone will allow you to make the best cakes and breads by simply pouring the content into the trays. What is so awesome about these trays is that you can easily flip your break and cake out after the baking process. Nothing will stick against the silicone texture. Mrs. Anderson's Baking is our absolute favorite as they produce so many different shapes and sizes for all our baking needs at a super low price.
Click here to learn more.
10. Non-stick Silicone Rolling and Baking Mat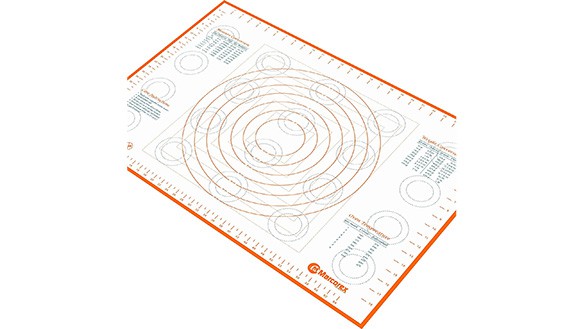 This is a must-have for any pastry baker. The Marcorex Extra Large Silicone Pastry Mat can turn any surface into a great rolling surface. With a non-slip sticking backing, it will make the rolling process a smooth process. And with the circular measurements provided, you can easily roll out the dough to the perfect size for your needs. What is even more amazing is that you can quickly place the mat on a tray and into the oven for baking. No more transferring hassle!
Learn more by clicking here.
11. Air Fryer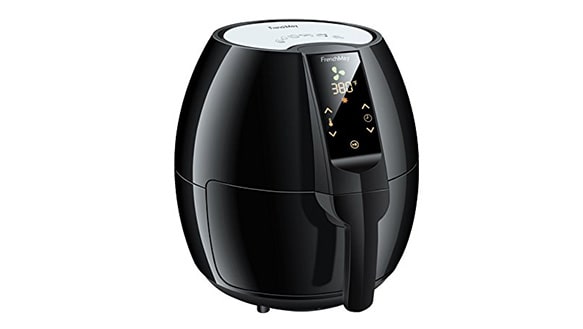 Love fried food but not the extra oil? You will definitely want to try using an air fry machine. This technology allows you to fry the meat with its own oil. And you can fry up some delicious fries with only a teaspoon of oil. How cool is that! The FrenchMay Air Fryer will allow you to enjoy fried foods once more without guilt.
Click here to learn more.
12. Homemade Pasta Maker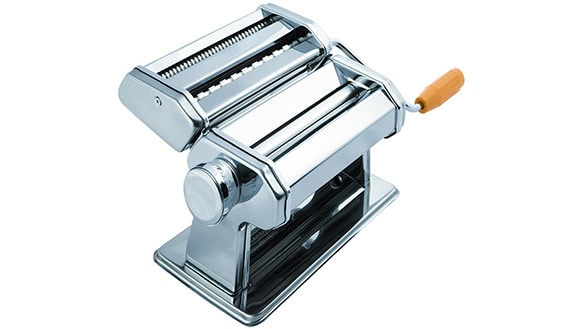 Freshly made pasta is out of the world delicious. But instead of looking everywhere in town for a restaurant that makes fresh pasta, you can easily make your own with a pasta maker. You will be amazed how easy and fun it can be. The OxGord Pasta Maker Machine is a classic that will allow you to make fresh pasta and dough for ravioli with amazing ease. Some reviewers have raved that they can make up to 100 raviolis in just an hour. And if you do make extras, you can always freeze them for another night when you do not feel like cooking.
Learn more by clicking here.
13. Instant Homemade Noodle Maker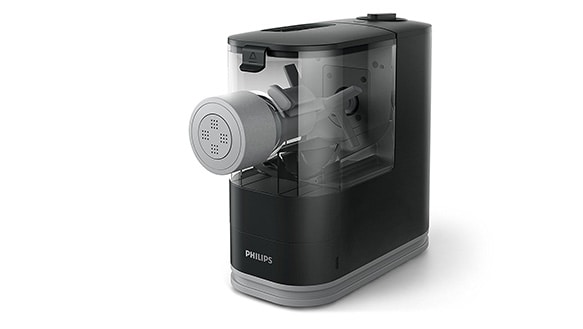 If you love fresh noodles but hate making your own dough, look no further. The Phillips Compact Pasta Maker will do the mixing, rolling, and pasta forming for you. All you need to do is put in the right amount of flour and water. What is so incredible about this noodle maker is that they allow you to make ramen and other types of Asian noodles as well. It is a perfect gift for any noodle fan.
Learn more by clicking here.
14. Herb Infuser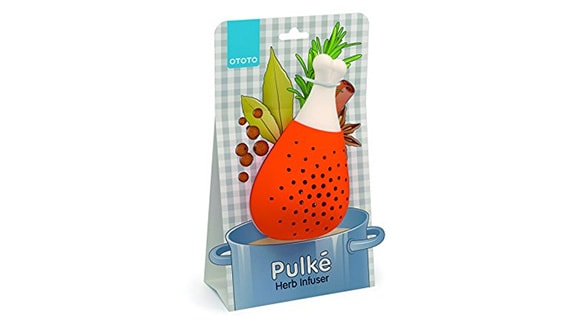 If you love herbs but hate eating them in your soup and stew, you will love the Ototo's Pulke Silicone Herb and Spice Infuser. It allow you to load your favorite herbs and spices inside the container and disperse the amazing taste and aroma in your cooking.
Learn more by clicking here.
15. Splatter Guard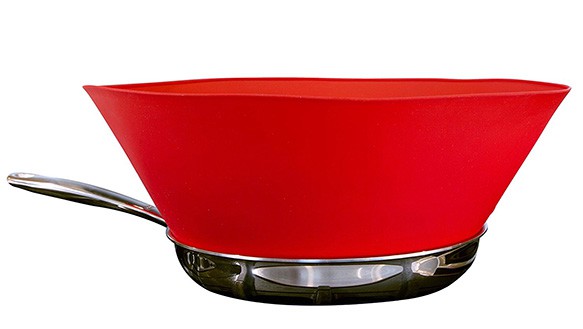 Food spluttering out of your pan can be painful and annoying. The Frywall Ultimate Splatter Protection will make your cooking much enjoyable without sauces and oils sticking onto your skin, the stovetop, and wall. It can also prevent oil mist from forming and spilling everywhere in your kitchen.
Click here to learn more.
Serving Gadgets
When you have spent all the time and effort to perfect your creations, these serving tools can be the cherry on top to wow your family and guests by your killer cooking skills and superb presentation.
1. Salad Dressing Shaker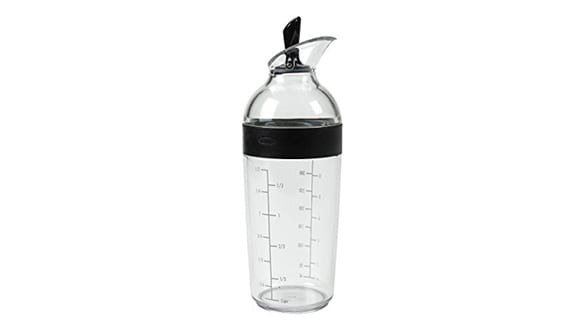 Even if you have the best salad ingredients, a store-bought salad dressing can slip in many unhealthy contents into your food. But there are two problems with homemade dressings:
They are annoying to make
It is hard to find a way to store extra dressing
What if you can shake up a dressing the same way you make a drink and keep unused portions in the mixing bottle for later use? The OXO Good Grips Salad Dressing Shaker is exactly that. And packed with an easy to pour spout, you can pour out exactly the amount you need without drenching your salad with an excessive amount of dressing.
Learn more by clicking here.
2. Pulled Meat Shredder Claws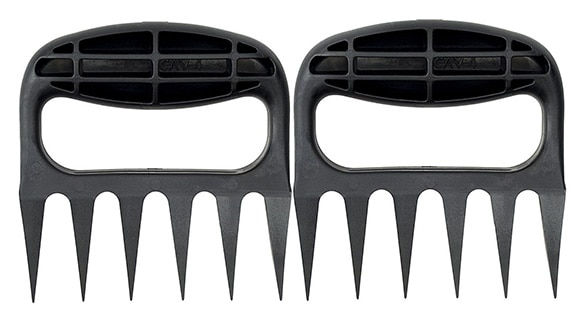 The Original Bear Paws Shredder Claws are simply awesome at what they do. These Wolverine looking claws can help you shred meat and mash up potatoes without needing to worry about the heat scorching your fingers. Plus you get to pretend you are an X-men. Your barbecue and comic loving friends will absolutely love this gift.
Learn more by clicking here.
3. Roast Cutting Tongs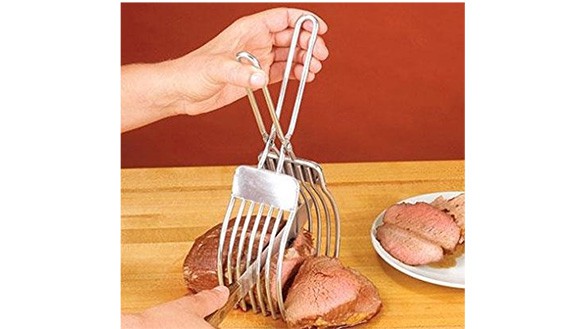 A presentation is everything. If you have spent a lot of time perfecting your roast, you should invest in a pair of these Unique's Shop Roast Slicing Tongs. It will make your cutting job so much more professional when you serve the dish in front of your friends and family. No more slip and slide and uneven cuts of meat.
Learn more by clicking here.
4. Retriever Tongs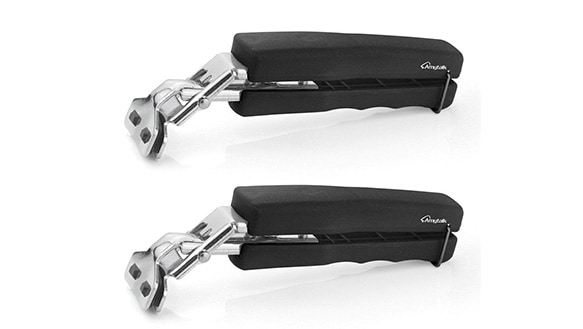 Hot plates with scorching liquids can be tricky to handle. Instead of fumbling with cloths or oven mittens, the Amytalk Retriever Tongs will allow you to take out plates from steamers, microwaves, and ovens at ease. Just clamp this gadget onto the plate edge and lift. It is that simple.
Learn more by clicking here.
Storage Gadgets
The problem with prepping a large batch of healthy food is that the taste tend to go down as the freshness diminish. To ensure your food always taste awesome, these storage tools and containers can help solve the problem.
1. Herb Keeper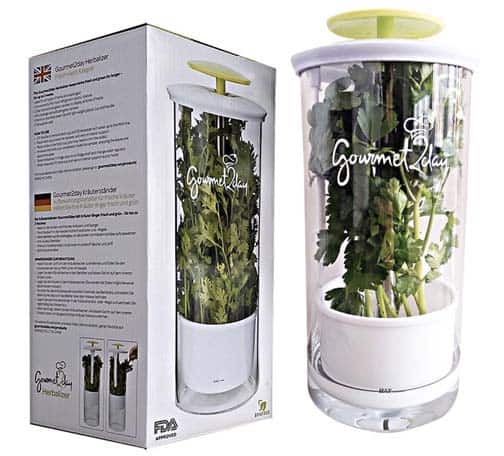 Most people skip over fresh herbs because most of the plant end up rotting in the fridge after one use. What if there is a way to prolong the life of these herbs so you can always have a fresh supply of basil and rosemary? The Gourmet2day Glass Herb Keeper is the answer. These containers guarantee your herbs will remain fresh for up to 2 weeks. And instead of stuffing the plants in the corner of your fridge, these beautiful greens can multi-task as great decorations on your kitchen counter.
Learn more by clicking here.
2. Compartment Salad Lunchbox
Salads only taste great when everything is crispy and fresh. The problem with pre-made salads is that they become soggy and warm throughout the day. Not only is the look and taste unappetizing, the acid in the dressing can cause the vegetables to rot in the box and possibly bring on a case of food poisoning. To avoid this problem, the Rubbermaid Lunch Blox Container Salad Kit will make your next homemade salad so much more enjoyable. With individual compartments for all your needs, you can combine all the ingredients just before you dig in. And with a customize ice pack included in the kit, you can be sure that your greens will be cool and fresh at all times.
Click here to learn more.
3. Glass Storage Containers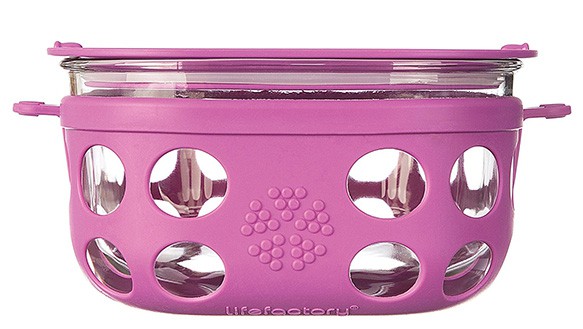 Everyone wants to stay away from plastic containers as much as possible. Not only are they bad for the environment, they can slowly leech harmful chemical into your food. But the problem with glass containers is that they can be too hot to handle after heating. Lifefactory has come up with the perfect solution by creating silicone protected glass containers that can be placed in the oven and microwave for heating. So while the food stays hot, your hands can stay cool.
Learn more by clicking here.
4. Plastic Bag Resealer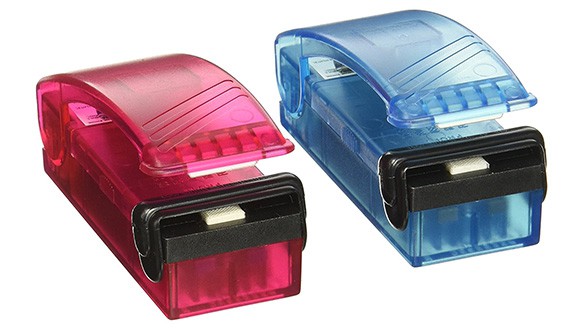 Everyone loves crispy potato chips and crunchy popcorn. But once you open a bag of snacks, they quickly degrade when exposed to air. To keep your snacks fresh longer, the iTouchless Handheld Heat Bag Sealer can quickly use high heat to create a seal across the bag opening. You can turn any plastic bag into a quick vacuum bag with this little gadget.
Learn more by clicking here.
5. Glass Mason Canning Jars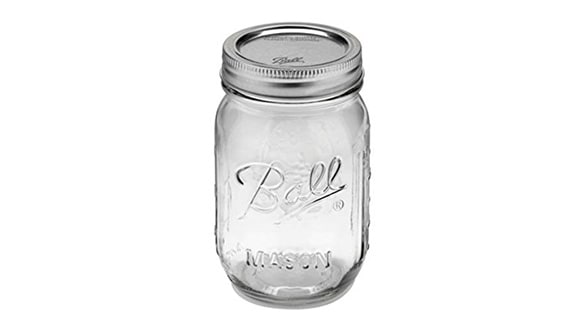 Your kitchen will be incomplete without the existence of some Ball Mason jars. They are so versatile that you can use them for food storage, ingredient storage, to-go lunch containers, canning, sauce making, and even sprout making. The possibilities are endless. And at such an affordable price, you can never have enough of these practical glass jars of different sizes.
Learn more by clicking here.
6. Fresh Produce Freshness Extender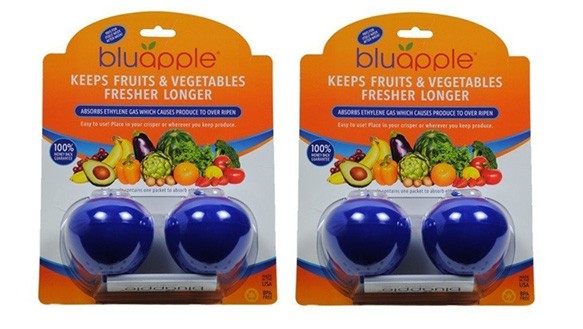 Almost every household has the problem with fruits and vegetable wastage. These fresh produce always seem to rot in the refrigerator before we can use them. The Bluapple Freshness Balls can extend the life of these products by absorbing the ethylene gas responsible for making your vegetables and fruits age at a quicker speed. No more ethylene gas, fresher foods. According to their studies, you can save as much as $600 per year of grocery bills just by using this little gadget. For the affordable price, why not give it a try?
Learn more by clicking here.
Cleaning Gadgets
Most people dread cleaning up after cooking. So we have scoured the web to find you the best tools to help you make this task as effortless as possible.
1. Automatic Soap Dispenser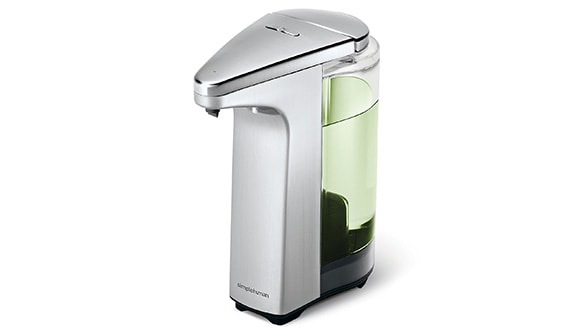 When your hands are so full of good ingredients, you are doomed to smear all that gunk onto your soap dispenser. Over the time, the dispenser surface can become a breeding grown for mold and germs. An automatic soap dispenser can solve this problem. Unlike other similar products on the market, the Simplehuman Sensor Pump has a clear soap container that allows you to see when the soap is about to run out. It also makes the refilling process much easier and spill-free.
Learn more by clicking here.
2. Smell Remover for Hands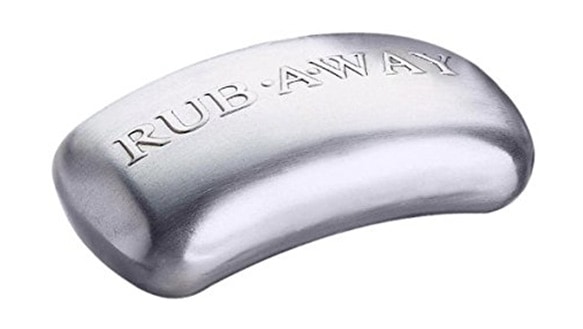 Love seafood but hate the smell that lingers on your hands and fingers? The Amco Rub-A-Way Stainless Steel Bar can easily wash odors from your hands without any soap. Simply rub your hands with this bar with or without water, and the smell will disappear. It is simply magical.
Click here to learn more.
3. Microwave Oven Cleaner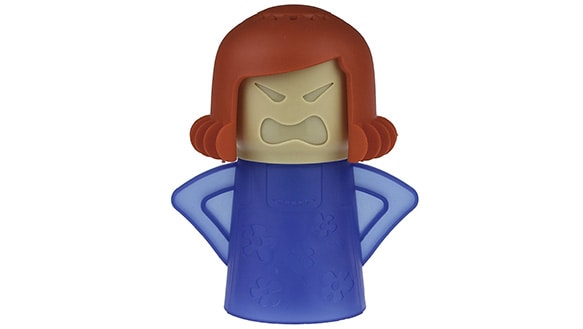 Food mess is extra hard to clean inside the microwave. The BulbHead Angry Mama Microwave Oven Cleaner can help you moisten all the gunk buildup so that all you need to do is a simple wipe on the surfaces.
Click here to learn more.
4. All-In-One Garbage System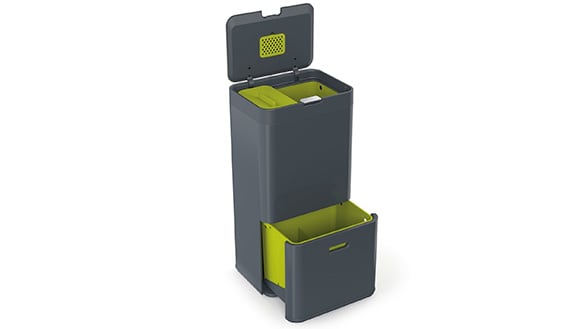 One of the most annoying things about cooking is separating the wastage in the cleanup process. Instead of having numerous bins that will take up so much kitchen space, the Joseph Totem Intelligent Waste System will allow you to organize your trash in one simple system that includes, trash, recycle bin, and compost bin in one bin.
Click here to learn more.
5. Melanin Foam Cleaner Sponges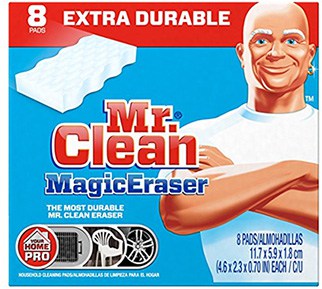 These little guys are made from the same material as soundproofing products. But the Japanese people have found them to be excellent cleaning helpers that are excellent for getting dirt and gunk out of little grooves and uneven surfaces. Working as a fine sandpaper, it will remove any tough stains on many types of surfaces. In North America, Mr. Clean Magic Eraser is the best-selling brand and guarantees to last longer than other brands of melanin sponges.
Learn more by clicking here.
6. Bar Keeper's Friend Cleanser and Polish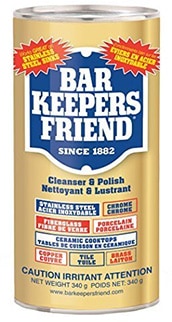 The Bar Keeper's Friend Cleanser and Polish is biodegradable, non-toxic cleaner is pure awesome. It can remove the toughest stains, rust, and hard water stains from all your kitchen surface whether it is copper, glass, plastic, stainless steel, porcelain, or brass. You will quickly find yourself using this cleaner everywhere in your home.
Learn more by clicking here.
7. Steam Mop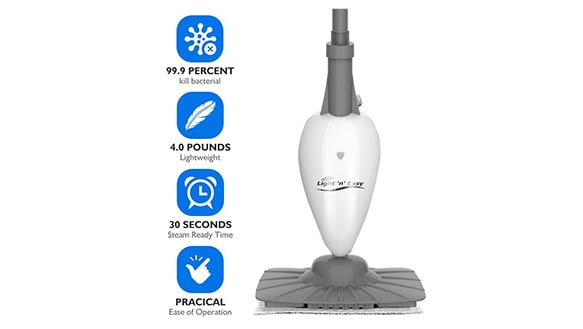 Nothing is worse than a sticky, slippery kitchen floor. It will not only breed germs but also create a dangerous situation when you are holding onto a boiling hot dish or pot. But instead of breaking your back trying to clean stains and oil spills up, a steam mop can easily do the trick for you. The Light n' Easy Steam Mop will heat up the tank water within 20 seconds and start cleaning the toughest stains on your kitchen floor in no time. And because the steam is super high heat, it will kill 99.9% of harmful bacteria and germs on your floor without needing any cleaning chemicals. It is a wonderful gadget to have if you have small children and pets in your household.
Learn more by clicking here.
8. Steam Cleaners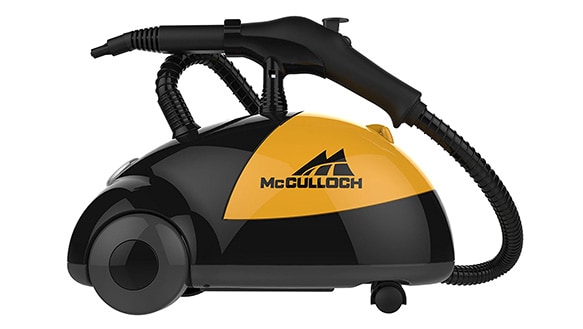 If you are truly a fan of chemical-free household cleaning products, we highly suggest using steam cleaners. The McCulloch Heavy-Duty Steam Cleaner combines hot steam and pressure to battle the toughest stains in your kitchen and instantly sanitizes any surfaces the hot steam touches. Countertops, sinks, stovetops, kitchen walls and cupboards. Not a problem at all. You can even extend your use to your bathroom as well. In addition, you can quickly find yourself saving a lot of money because you no longer need to buy all those pricey cleaning products.
Learn more by clicking here.
9. Stainless Steel Cleaners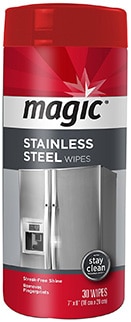 Stainless steel appliances look so high-end gorgeous. But any proud owner of a stainless steel appliance can tell you the agony of seeing fingerprints on the surfaces. If you are one of these tortured souls, you will absolutely love the Magic Complete Stainless Steel Wipes. All appliance stores swear by this brand to keep all their stainless steel products sparkling clean from constant customer handling.
Learn more by clicking here.
Do-It-Yourself Kits and Tools
No matter what healthy food you purchased from the grocery stores, there will always be preservatives and unwanted ingredients. To ensure you eat the healthiest food as possible, take the plunge to make it from scratch.
1. Greek Yogurt Maker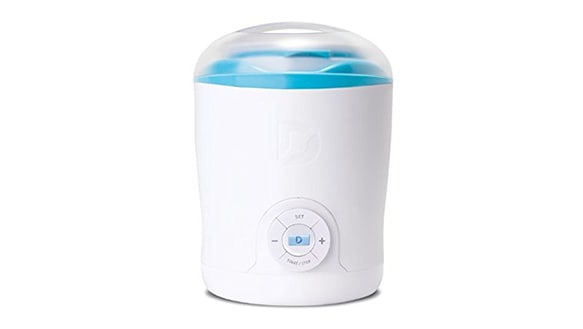 If you are addicted to Greek yogurt but not the price or the addictive in the store-bought brands, you will love making your own homemade Greek yogurt or Cheese yogurt with the Dash Greek Yogurt Maker.
2. Homemade Outdoor Pizza Oven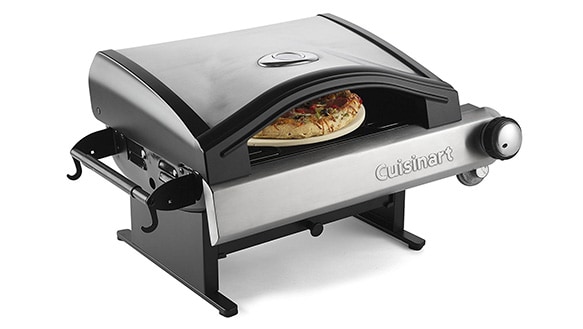 Everyone loves pizza. Instead buying store-bought plastic-infused raising dough, make your own instead. This way, you can add any ingredient you want without needing to worry about how much the pizza will cost. Of all the pizza ovens available on market, our favorite is Cuisinart Alfrescamore Portable Outdoor Pizza Oven.
3. Homemade Popsicle Maker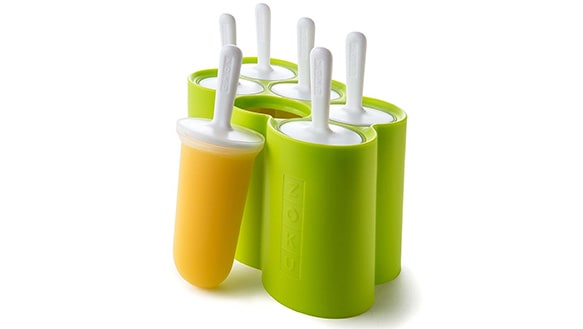 Everyone love frozen treats during the summer time. The Zoku Pop Molds will allow you to take Popsicle making to another level with their different customization accessories. If you have kids, they will absolutely love this summer project.
Click here to learn more.
4. Homemade Ice-cream Sandwich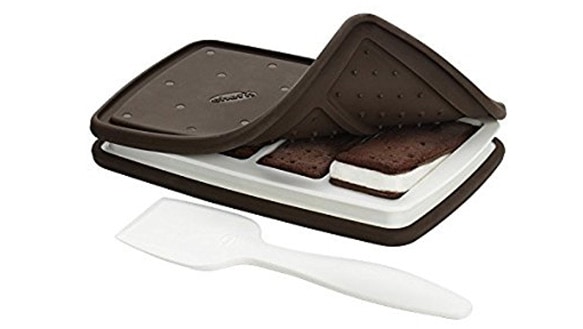 Ice-cream sandwich is another awesome frozen treat that is great for any season. The Chef'n Sweet Spot Ice Cream Sandwich Maker can make the process a breeze.
5. Food Dehydrator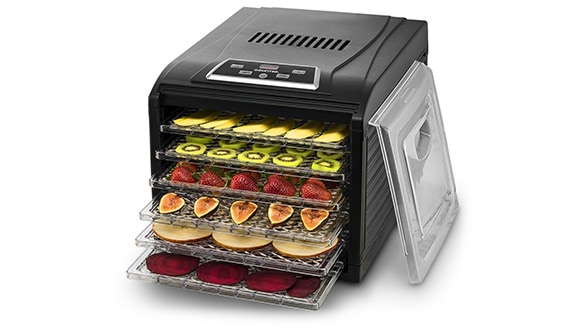 Dried fruits and meat are great as snacks. But once again, the problem with store-bought dehydrated foods is that they are loaded with preservatives, salt, and sugar. If you want to provide your family with healthy treats, consider making your own dehydrated snacks such as dried fruit strips, vegetable and fruit chips, granola bars, and jerky chews. Although a great dehydrator may be a little pricey, it can quickly save you a lot of money as you no longer need to buy any overpriced snacks. And in the long run, you will see your weight drop off and you will feel much more energized from these great snacks. Unlike some dehydrator that can only dry fruits and vegetables, the Groumia Premium Countertop Food Dehydrator allows different heat settings to dry, meat, vegetables, fish, and even herbs. You will quickly fall in love with this gadget.
Learn more by clicking here.
6. Soy and Nut Milk Maker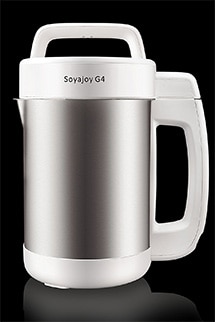 Have you ever taste fresh made soy or nut milk? The taste and richness is far more supreme than store-bought watered down versions. The SoyaJoy G4 Soy Milk Maker will allow you to make some great soy and nut milk with a press of a button. It will grind up the beans and nuts to a fine powder to create milk and boil the liquid to ensure all natural toxins are destroyed before consumption. If you are an oatmeal or porridge lover, this machine can easily make your morning ritual a breeze.
Learn more by clicking here.
7. Homemade Tofu Press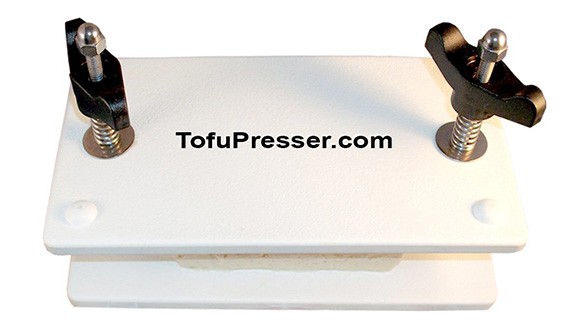 Tofu is a staple for vegetarian and vegan diet. But store bought tofu can be pricy and added with many preservatives. If you do eat tofu on a daily basis, you may want to look into making your own tofu. With very simple ingredients, you can create batches of tofu with firmness of your choice. And if you have kids, it will be a fun task for them to make tofu together.
Click here to learn more.
8. Kimchi and Pickle Making Kit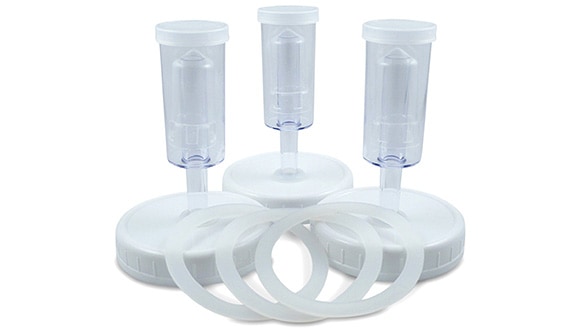 Kimchi is one of the fermented foods that are loaded with so many great nutrients. Not only can you eat it as a snack, you can also incorporate it into so many recipes. It can even turn some steam chicken into much awesome food. But if you are not into the extra spice and sodium, making your own kimchi may be the way to go. The Ferment N' Joy Fermenting Lid will allow you to create some amazing kimchi and pickled vegetables that are perfect for you and your family.
Learn more by clicking here.
9. Sprout Grower Kit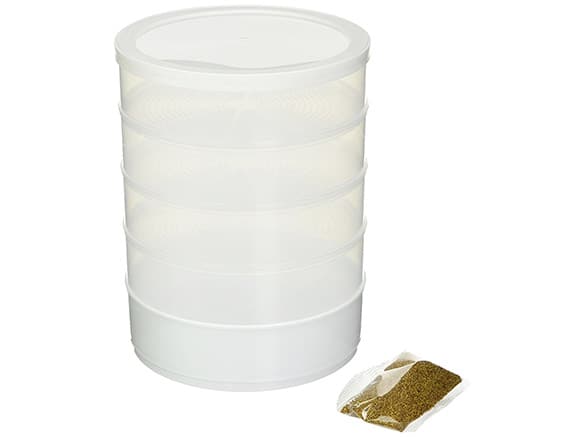 Sprouts is a great source for salads. But a small bunch can already cost a lot of money. But the truth is that you can grow your own sprouts in less than a week. The Victorio Four-Tray Kitchen Crop Sprouter kit can allow you to easily grow out your favorite sprouts in your home. Depending on your preferences, you can grow four different types of sprouts on each tray or mix-and-match to experiment.
Learn more by clicking here.
10. Kombucha Making Kit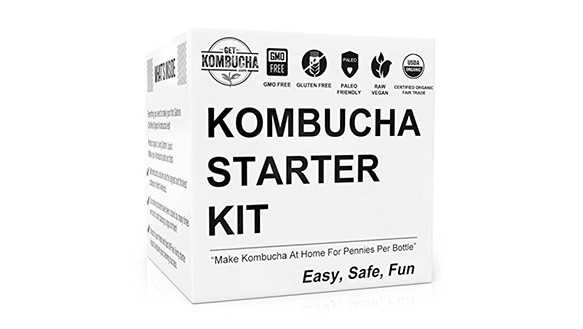 Kombucha is one of the latest fermented healthy food trends arising to popularity in recent years. These fizzy sugary drinks can easily cost $4 for a small jar in your local grocery store. If you love this drink, you will want to look into making your own. The GetKombucha Kombucha Kit will allow you to create your own blend of Kombucha that is suited to your taste.
Learn more by clicking here.
11. Home Beer Brewing Kit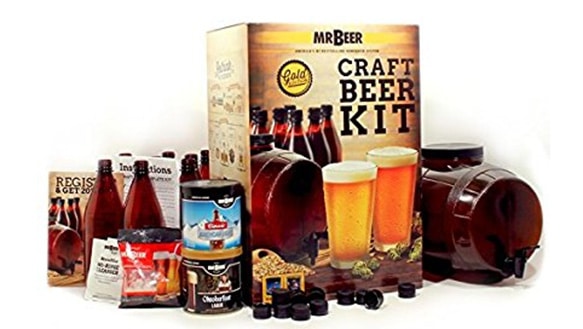 Scientific studies have found that beer is actually rich in polyphenols, a chemical that is essential to a healthy heart.
However, the problem with store bought beer is that it contains so many other undesirable ingredients. And if you drink from cans, you are subjecting yourself to BPA contamination from the can lining. So if you are a beer lover, you may want to invest in a microbrewery kit. If you are interested in this idea but worrying about the equipment cost, Mr. Beer Premium Gold Edition 2 Gallon Homebrewing Craft Beer Making Kit will be a great introduction to this fascinating process. Complete with instruction and all the equipment you need, you can easily create your first batch of beer in no time.
Learn more by clicking here.
12. Butter Churner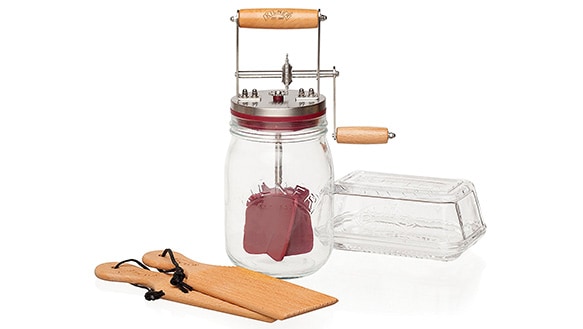 A little bit of butter makes the food taste better. And your homemade butter can make an even bigger difference. The Kilner Vintage Glass Butter Churner will allow you to make your unique blend of homemade butter in less than ten minutes. And if you want to take your butter expertise to another level, try incorporating your own blend of herbs and spices to the mix. It will make your mash potatoes and toasts so heavenly scrumptious.
Learn more by clicking here.
Inspire Great Habit Gadgets
We often prevent ourselves from developing great eating habits because of convenience. These tools and gadgets are here to make it easier for you eat healthier.
1. Flavor Fusion Water Bottle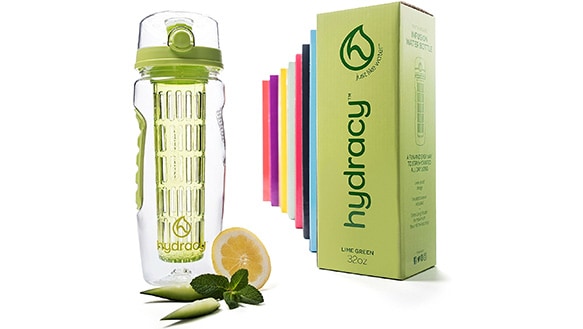 If you hate drinking non-flavored water, you probably have heard many people suggest adding a slice of strawberry or lemon to your water. But a slice or two only make the water taste like dishwater. And if you have tried adding a lot of fruits to your water, you will either end up with them clogging the bottle and drinking the mushy fruits. These new bottle bottles can help you avoid these problems and correctly infuse your water with vitamin-rich fruits. Hydracy Fruit Infuser Water Bottle is our favorite choice as it offers an insulating sleeve to keep your water icy cool all day long.
Click here to learn more.
2. Popcorn Popper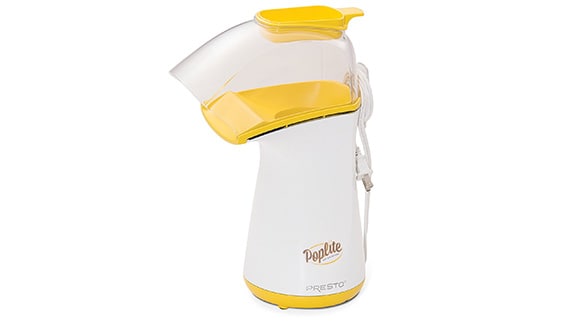 Next time when you feel like snacking, make some popcorn. They are much nutritious and low in calories compared to potato chips and crackers. But if you have a problem burning your popcorn, splurge a little and get a Presto PopLite Hot Air Popper to do all the hard work for you. Add a little honey or cinnamon, you will have the best freshly popped treat ever.
Click here to learn more.
3. Programmable Tea Steeper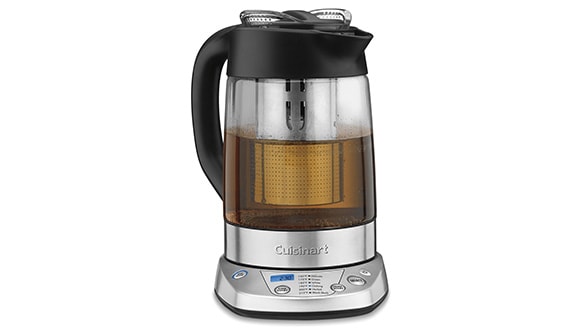 Tea has so many health benefits and can give you an instant energy boost. But many people do not have the patience to wait for their tea to steep properly. The Cuisinart PerfecTemp Programmable Tea Steeper and Kettle will do all the work to create a great cup of tea at all times. So instead of reaching for another cup of coffee or sugary tea, you will find yourself reaching more for a cup of amazing tea.
Learn more by clicking here.
4. Single Cup Coffee Maker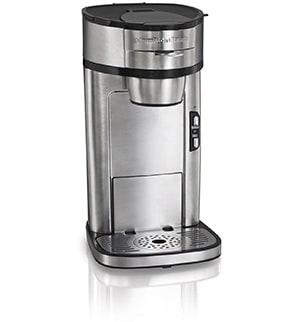 People tend to drink too much coffee because they often make too much at one time. To avoid over-consumption, get a Hamilton Beach Single Serve Coffee Brewer. This way, you will guarantee to have an insanely awesome cup of coffee that is good to the last drop.
Learn more by clicking here.
5. Food Scale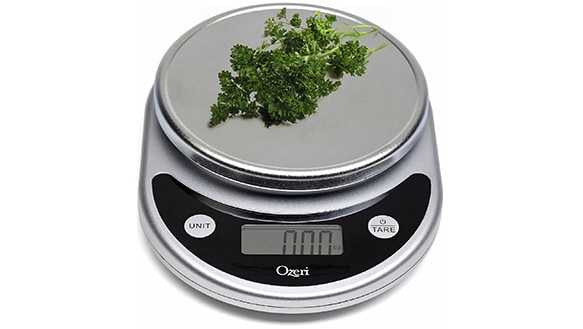 If you are starting out on your healthy eating journey, a food scale is a great way to calculate your portions and calories intake. The Ozeri Pronto Digital Multifunction Kitchen and Food Scale can detect changes as little as 0.5 gram so that the measurement is much more accurate. Made of stainless steel material, it is easy to clean and minimize the chance of germ accumulation on the sale surface.
Learn more by clicking here.
6. Spice Grinder
Instead of using salt and sugar to flavor your food, spices can be an amazing to make food taste awesome. The only problem with spices is that they always cost too much for ready-made blends. The Quiseen One-Touch Electric Spice and Coffee Grinder can help you create your own mix of spices to elevate your cooking to the next level.
Learn more by clicking here.
7. Bento Box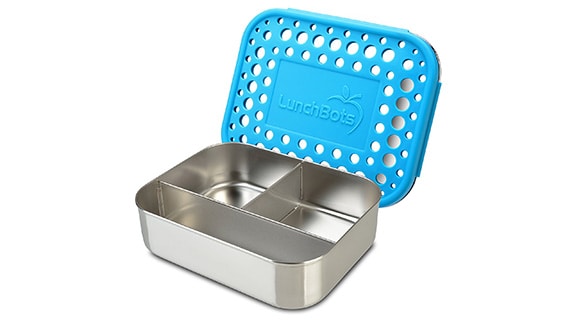 Homemade lunches not only are healthy for you, they can save you a lot of money per month. If you wish to have a variety in your lunches, the LunchBots Stainless Steel Containers have these great compartments to make lunch packing an easy task.
8. Frozen Fruit Treats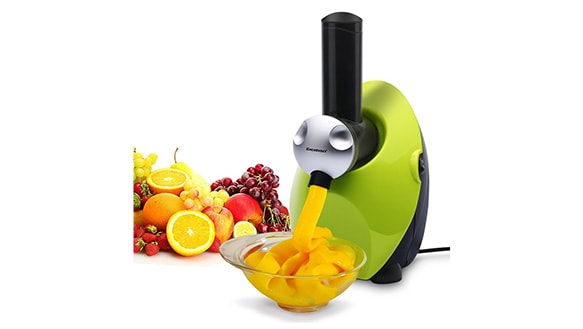 If you are an ice-cream fan but would want to swap for a better choice, the Excelvan Automatic Frozen Fruit Dessert Maker Blender will quickly become your favorite kitchen gadget. By simply freezing your fruits and throwing them into this machine, you will quickly get the best-frozen fruit ice-cream that is made with all fruits and no added sugar. You can also incorporate nuts, coconut milk, and nut milk into the mix. This way you can eat more fruits and keep your ice cream habit.
Learn more by clicking here.
9. Nutcracker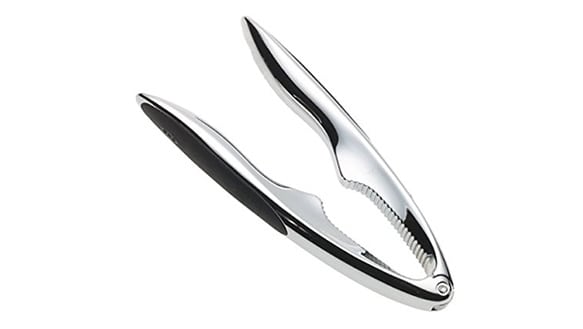 Nuts are packed with so many nutrients that they are essential to a balanced diet. They are also the key to weight management. According to a large-scale Harvard health survey study, researchers have found that people who eat at least one serving of nuts per day tend to have a healthier weight and lower chance of weight gain over the course of 20 years. The problem is many people purchase store-bought nuts that are coated with salt and sugar. These hidden ingredients can significantly increase the sodium and calories intake. Instead, opt for fresh nuts. Not only are they much healthier, they can be a way to de-stress from your daily work. The OXO Good Grips Slim Nut and Seafood Cracker is the perfect tool will let you crack the toughest shells for those yummy treats.
Learn more by clicking here.
10. Chewable Ice Machine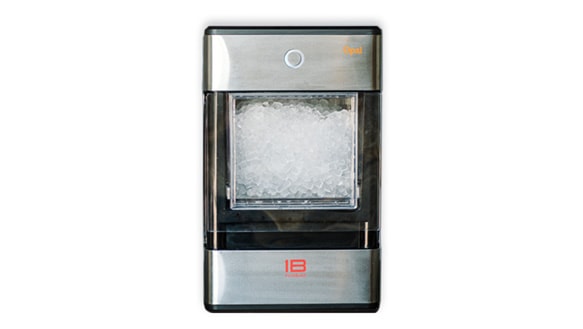 Some people love chewing ice. But according to the medical association, this habit can significantly increase the chance of developing enamel damage, tooth decay, and even anemia. Enter the technology of nugget ice. If you have ever been to a Sonic fast food joint or old-fashioned restaurant, you may see these soft, lumpy ice chunks that are actually better at absorbing your drink flavor and amplify the fizziness of your drinks. In a way, they are mini compact snowballs. If you wish to indulge in your habit and willing to splurge, you may want to grab one of these Opal Nugget Ice Maker. These soft, yummy ice will make your drinks so awesome that you will thank yourself every time for this investment.
Learn more by clicking here.
11. Cooking Fish Iron Supplements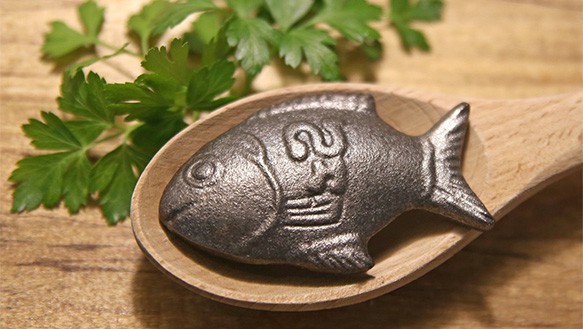 Iron is often missing in many vegetarian diets. This little Lucky Iron Fish can allow you to get your daily iron supplements by simply throw it into your soup or stew for 10 minutes. You can even throw it in some hot boiling water and enjoy a cup of iron-infused tea that way.
Learn more by clicking here.
12. SodaStream Homemade Soda Machine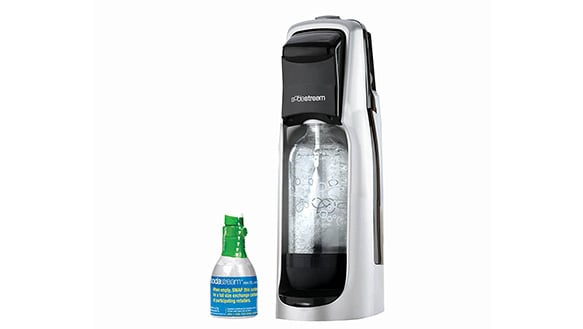 Soda is the Number 1 cause of obesity. If you or your children love fizzy drinks, you can simply create your own bubbly drinks with the SodaStream Jet Sparkling Water Maker kit. It will turn plain water to sparkling water, juice to Italian sodas, and even teas to refreshing fizzy teas. Go crazy and experiment. By taking in much less sugar, you and your family will feel more energized and look healthier.
We hope that our 101 suggestions have introduced you to some great products to make your healthy cooking process easier and more fun. If you have any personal suggestion, please leave us a message. We would love to share your recommended products with other readers.
TheDiabetesCouncil Article | Reviewed by Dr. Christine Traxler MD on June 01, 2020