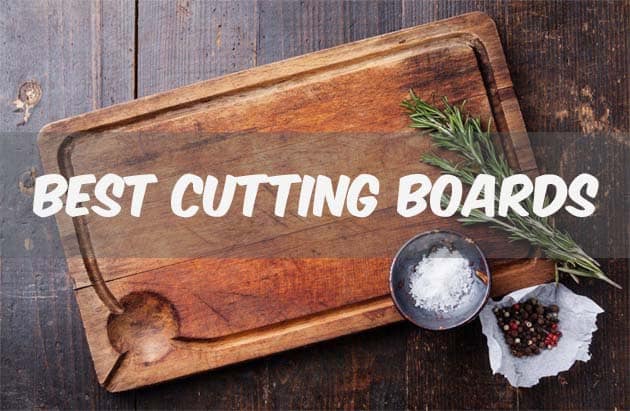 A cutting board can be defined as a long-lasting board on which you place materials for cutting. A cutting board can be used in the kitchen for preparing food.
And it can also be used for cutting different raw materials such as leather or plastic. Many may forget, but a good cutting board can make the difference between having a good cooking experience and a bad one.
In this article, we go through everything you need to know in order to make an informed decision about buying the cutting board that meets your specific needs! We have also listed some of our picks for the cutting boards we recommend!
Types of cutting board
There are four types of cutting board:
Plastic cutting board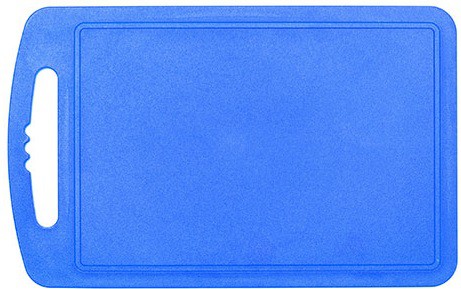 They are normally referred to as PE (Polyethylene) cutting boards, or HDPE (high-density polyethylene plastic), the materials of which these boards are made. HDPE boards are mainly two types. One variation is made out of injection molded plastic, while the other is made from extrusion line.

Plastic boards are specifically designed not to blunt the edge of a knife. There are various certifications of plastic cutting boards, one of it is NSF, and this certifies that the plastic has passed necessary requirements to make contact with food. It is important that you don't use a serrated knife on a plastic cutting board. The sharpness of the knife determines how long the plastic board would last.
Wood cutting board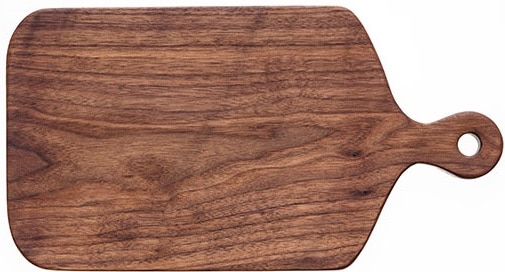 The wood cutting board is more advantageous compared to the plastic one. This is because it is self-healing: shallow cuts tend to close up on their own. Woods possess natural antiseptic properties. The thickness of the wood reduces the entering of the cutting surface and absorption of liquid and dirt into the surface.
Wood cutting boards are available in walnut, cherry wood, ash, oak, maple, and teak. The best materials for wood cutting boards are hardwoods with tightly grained wood and small pores. The disadvantage of making a wood cutting board from oak is that it retains dirt after washing. Teaks possess tight grains and natural coloration; this makes it a very attractive material for making cutting boards.
Bamboo cutting boards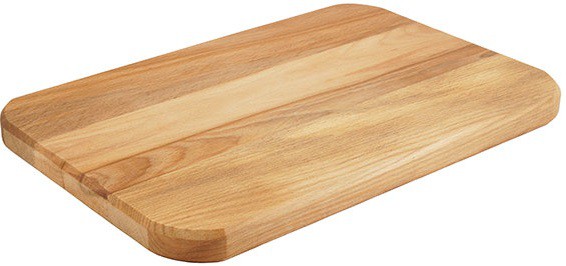 Bamboo is a light but solid wood that engulf little moisture and gain stay swelling and warping. They are alternatives to plastic and glass cutting boards. When harvesting is taking place, bamboo is chosen carefully for maturation, size, and markings. The stalk is then divided into definite sizes and sent through a pressing process that divides the stalks into smaller plank-like pieces.
Glass cutting boards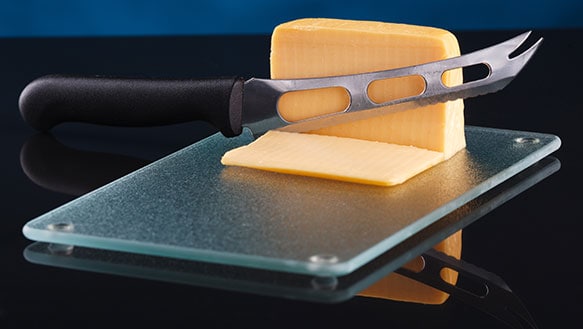 Glass cutting boards are known for their sensitivity because of its materials. It has a surface that is easy to clean, although it can damage knives because of the high hardness of the material that is used in making the glass cutting board. It tends to dent, roll the edges of the knife very fast. They do not last long. An advantage glass that this cutting board has is that it doesn't retain bad or unpleasant smells from cutting food.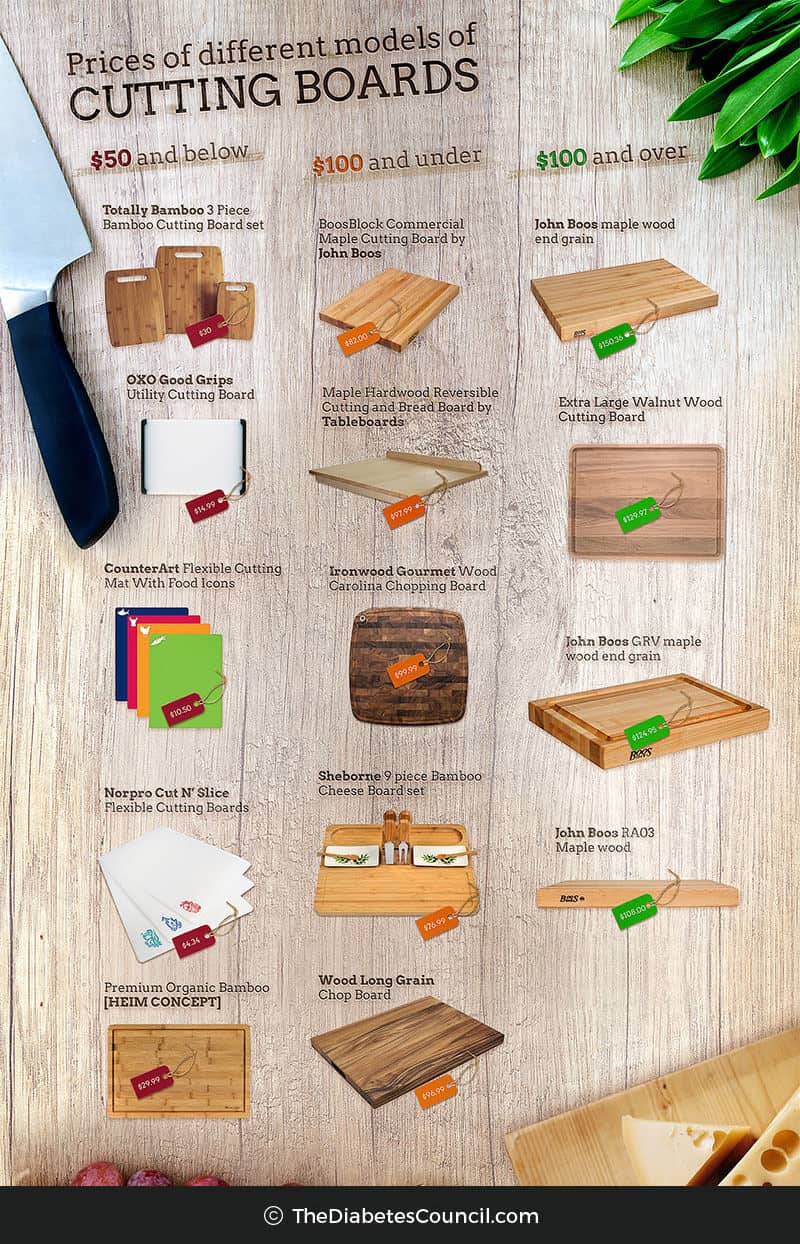 Prices of different models that sell cutting boards:
$50 and below:
$100 and under:
$100 and over:
Things to consider when buying cutting boards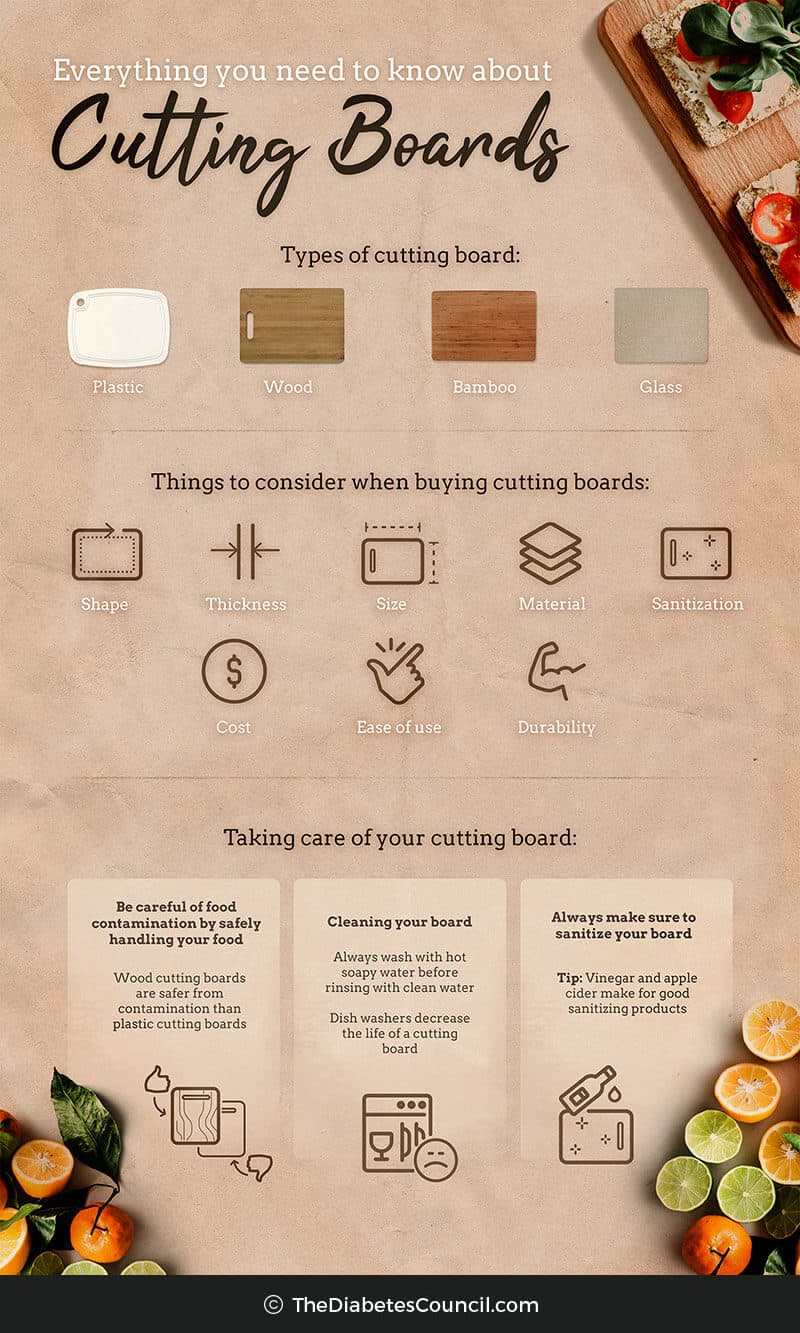 It is always advisable to buy big cutting boards because it gives a large room to cut without spilling or messing anywhere or even piling whatever you are cutting on top of each other inches from your knife. Small sized cutting boards are not too good to use for cutting. You can buy a cutting board that is 15 to 20 inches in size.
The thickness of the boards allows them to be able to handle all manners of chopping, cleaving, cutting and slicing.
The shape of a cutting board matter because some are shaped in a way that whatever you are cutting board tends to pour away easily. This is why it is important to look for the shape of the cutting board.
It is important to consider which material the cutting board is made of when choosing the right board to buy. Wooden boards made of teak are a great option because they tend to absorb very little liquid, and this makes it longer for the board to wear out.
A very important factor to consider is how easily you can use the board you are buying. Most cutting boards are actually easy to use.
It is important to check for the sustainability of the cutting board before buying it. Bamboo boards definitely last long more than other types. They are also great for your knives along with being very eco-friendly.
Plastic cutting boards are definitely cheaper compared to the other types of cutting board. Good wooden cutting boards are made of hardwoods which makes it more expensive than the plastic cutting boards.
Other factors to consider are:
How the cutting boards maintain your knives.
Sanitization
Is it dishwasher safe?
Taking care of your cutting boards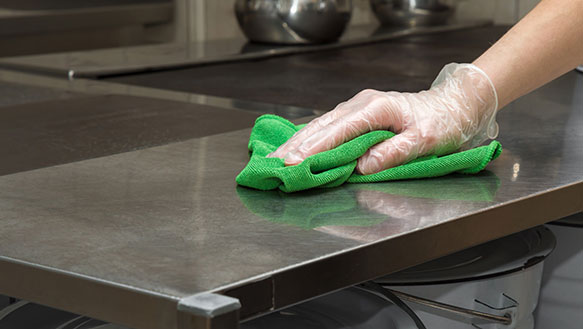 It is advisable to safely handle your cutting boards in order to have safe foods to eat and avoid any contamination. Based on research, it has been proved that wood cutting boards are safer from contamination than plastic cutting boards.
To sanitize your board, you need:
½ cup of apple cider or white vinegar
A spray bottle containing hydrogen peroxide
Method:
Spray your cutting board with the vinegar or apple cider.
Spray liberally the hydrogen peroxide, and then allow it to sit for about 10minutes.
Allow it to completely die.
Then rub it with essential oil to protect the surface.
To keep your boards clean, it is advisable to wash them with hot soapy water after using them, after which you rinse with clean water, then pat dry with clean paper towels or preferably, air dry them. Although each of the types of boards has their peculiar ways of cleaning them, there are general cleaning methods.
What are the experts saying?
List of Experts (click to expand)
We also got in touch with 17 experts who shed light on their views of what cutting boards they swear by, what handling tips work for them and other well-kept industy secrets that you may not have been aware of previously!
1. Ty Kotz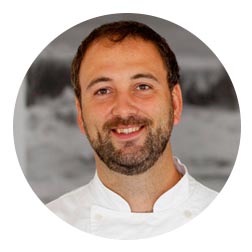 In a professional kitchen environment I always use Synthetic Rubber Cutting boards. They have a great durability to them and clean very easily. You can even run them through dish machines as long as they don't get too hot. When you use them a lot you can always soak them overnight in a mild bleach solution to give them a good sanitize. If they start to get too worn you can actually sand the surface to smooth them out again. They can be used for all cutting and a great all purpose solution that is easy on your knife edge. I tend to like the thicker ones that are harder to find. Also I prefer the large size so there is plenty of work surface.
At home I use a large Boos Block Brand wooden board. I like the 18 x 24 x 2 inch thick ones. Mine is Maple but they make them in different woods. Its important to me to have a large cutting board. The thickness gives it a good weight that doesn't easily slide around. The surface size gives you plenty of room to work. I hate using small thin cutting boards.
Mine lives on my counter top all the time. When I go to use it I will put a damp paper towel or two under the board to make sure it doesn't slide around. When I'm done using it I wash it like normal then stand it against a wall on its side until thoroughly dry. If I do a lot of cutting or use meat or fish, I will rub a cut lemon across the surface and let it sit for an hour then wash and dry again.
Once a month I wash it very well, let it dry then treat it with Boos Butter to keep the board conditioned. I prefer wood for home because it is easier on a knife edge. Also it just feels right and looks great.
2. Jane Butel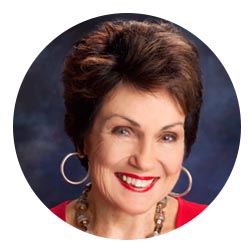 I use 3 kinds of cutting boards:
Small and large fiberglass for fruit and vegetable chopping.
The thin fiberglass for cutting lots of vegetables such as cabbage and bell peppers for coleslaw as they bend and make transporting the vegetables to the bowl much easier. I also use the thin fiberglass ones for poultry and pork as they can easily be placed in the dishwasher.
I use wood for breads and pastries and for some fruit and vegetable chopping.
3. Chef Deb Cantrell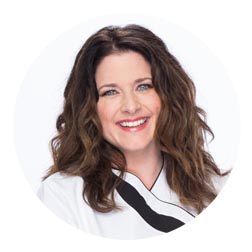 I use a composite cutting board made from wood and plastic. The brand is Epicurean. I love these boards and I buy them at Sur La Table. They are the best of both worlds. Wood boards are very hard to keep clean and sanitized, while plastic boards have a tendency to dull your knives very quickly – so the composite board is the perfect balance.
These boards also last a very long time and are easy to clean and come in various sizes, which is nice since it seems most cutting boards are either too big or too small.
4. Chef Alan Bergo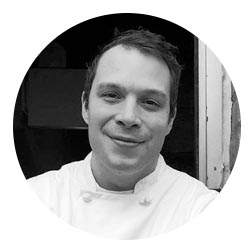 The cutting board is one of the most hard working tools in my kitchen, but choosing the right board for home use can be a real paradox. When I speak with friends and family, I often hear things like: "Should I get bamboo?" "Plastic for the dishwasher?" "What about that beautiful glass or marble" "If I get wood, does it matter which way the grain goes?"
The answer for me at home, is simple: everything I want to prepare can easily be done with a single, large wooden or bamboo cutting board. In restaurant scenarios I use a combo of plastic boards, but that's mainly because they can fit inside a commercial dishwasher.
Function-wise bamboo and wood are very similar, but bamboo is generally lighter and cheaper in cost, while wood (to me) is more attractive. There are a few things to know about care that apply to both though:
Never put your cutting board in the dishwasher, always wash by hand with soapy water, afterwords, rub with a little vegetable oil to restore its luster.
Never soak your cutting board in water.
To avoid contamination, I prepare vegetables on the board before I cut meat, not vice-versa.
Clean your cutting board every time after cutting meat on it with warm soapy water
What about glass and marble? Well, I don't use them, ever. The problem(s) are that they're too hard and slippery- a big problem if you like your knives and fingers intact. Cutting on glass or marble is like banging your knife on a rock, forcing the edge to curl into itself and eventually requiring professional restoration. Naturally, a slippery board and the dull edge from cutting on a hard surface, is a great way to find yourself in the ER, too.
5. Denise Browning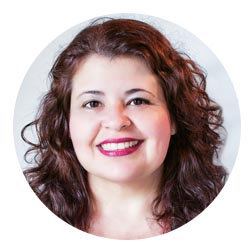 I often use a hard wooden cutting board (one side for meats and the other for fruits & veggies). Each side has either 'meats' or 'fruits and vegetables' written on top. The reason why is because it does not scar easily as plastic and lasts longer. Of course, I keep it well sanitated.
6. Amie Valpone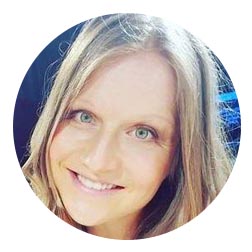 I use a Boos cutting board because it's sturdy, easy to clean and thick so it doesn't slip on my countertop. It's wonderful!
7. Martin Aller-Stead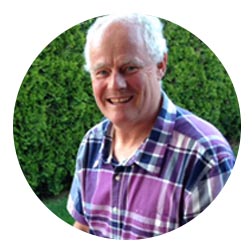 I always try to use wooden cutting boards. My preferred woods are maple, beech or bamboo, as they clean well.
Keep a set of three good wooden board sizes around:
a small for a bit of quick close work,
a medium board (about 35 cm by 50 cm) for the daily grind and,
a large one, with a gutter if possible, for carving joints or just dealing with volume.
After each use for fruit or veg, a quick wipe with dish soap and a rinse does the job. After each use with meat, a stronger clean is done and I always finish with a quick grind using a plastic Curly Kate and a good bit of plain salt, followed by a good rinse.
Wooden boards are kind to knives, and represent an attention to tradition and detail that a plastic or nylon board cannot. Keep them clean and well-aired between uses and a good wooden board will last a long time. Then, as an RVer, when a board finally reaches the end of its service life it can go into the fire one evening and be enjoyed for a last time making s'mores!
8. William Alexander
I use a pair of thin bamboo cutting boards, mostly a small 'bar board' kept on a hook next to the sink, which suffices for 90% of all our cutting needs. I have a larger bamboo board that I pull out for larger jobs, so that diced onions don't go flying all over the kitchen. Why bamboo? I like the feel of wood under the knife and the light weight of bamboo, but on the occasions when a roast chicken comes out, so does the big, heavy maple board with the 'juice gutter'!
9. Meagan Pena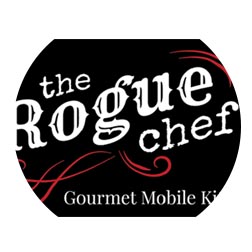 I like to use bamboo cutting boards because they hold up really well over time…I've had the same one at home for seven years. It almost looks new and I use it every night!
10. Nealy Fischer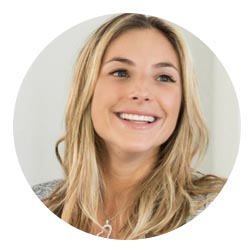 I'm all about the Boos Block by John Boos & Co! I personally have their Oval Maple Edge Grain Board with Stainless Steel Handles and I use it on a daily basis when whipping up meals for my family. This high-end board weighs a whopping 22 pounds, so I don't have to worry about it sliding across my countertop when I'm trying to chop ingredients. Another huge plus? The handles! Do you ever cut and prep your food on the kitchen island and then need to carry everything over to the stove? Well, that's when the handles come in handy. They make moving such a sturdy cutting board a real breeze. Overall, I love the quality and simple beauty!
11. Wendy P. Thueson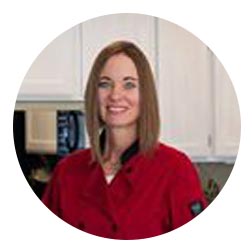 My favorite cutting board is made of bamboo. I love the look of it and the feel.
5 great benefits of Bamboo:
It is a hard enough wood that it resists scarring from a Chef's knife. Many other cutting boards get small cuts and grooves from the knife which can harbor bacteria, but the bamboo board doesn't.
Bamboo is actually a grass, not a tree so it is easy to grow and is one of the fasted growing plants on the earth. When it is properly sourced, bamboo is a very eco-friendly and highly renewable source.
It is easy to clean with soap and water.
Bamboo is a dense wood that resists water so it won't warp or crack.
These boards are beautiful and look great in any kitchen.
Be careful in choosing the right bamboo board. Some manufacturers use formaldehyde and glue, which can leach out over time and get into your food. Look for boards that have non-toxic treatment methods or organic practices.
12. Brandon O'Dell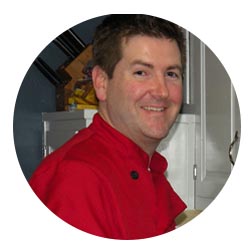 I prefer to use wood cutting boards. Wood has anti-microbial properties that plastic doesn't, and studies between the two find that contamination is less likely from a wood cutting board, even though wood is the more porous surface. With knife damage, wood retains its anti-microbial properties, while a plastic cutting board does not. Plastic also damages easier from a knife.
In home use, contamination from salmonella is twice as likely on a plastic cutting board than a wood one, according to a study by UC Davis. Even though they only studied home use, there's no reason to believe the same results wouldn't be replicated in commercial use. Wood also just "feels better" against a knife.
The Department of Agriculture, which makes the recommendations for the US Food Code, suggests the use of plastic cutting boards despite their admission that they have no scientific evidence plastic is safer than wood.
Here's a link to the UC Davis study on wood vs plastic cutting boards:
http://faculty.vetmed.ucdavis.edu/faculty/docliver/Research/cuttingboard.htm
13. Olivier Sanchez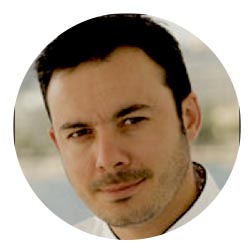 Having trained to the highest of standard and applying most of the HACCP rules in my daily life, I personally prefer to use a dedicated chopping board for each preparation. For example, at home, I have a blue board fish and a red board for meat. I use a wooden board for cooked meats and dairy, and, for any other preapration, I use a large, wooden butcher block-type of board on which I cut vegetables and for any other non-meat preparations. This thick wooden board is ideal for daily use and stays on the counter top. I usually turn it over two-to-three times a year and sand it, and oil it each time it is required. I also use essential oils to sanitised the wood, never spraying chemicals.
Because I tend to look after utensils and equipment, the board feels and looks new, even after 5 years. The blue board and red board are replaced once a year. Made of antibacterial low density polyethylene, they are very cheap and easy to replace. I am not very worried about this material, even as a Naturopathic Nutritionist and Naturopath, because the food does not stay too long in contact with the board, and they are easily sanitised — safe to use, therefore, in term of bacterial contamination.
I have zero tolerance for plastic in my home (banned plastic containers, resealable bags and wrap completely); yet, using this type of board makes sense to me. I would not want to use wooden boards for fish or meat (especially with today's typical kitchen, somewhat small and with little spare working area), because I would need to stacked them up together and put them away in a cupboard, increasing the risk of cross-contamination and bad smell from cupboards. I also cannot tolerate pots, pans or any other utensils to be placed on a chopping board and laying them on a counter top is just a health hazard for these exact reasons, and I prefer to store the boards on their rack.
I would love to have a dedicated butcher block for meat preparation only, and a big kitchen, but realistically, this is not the case. So, I need to think smart and opt for the most convenient and easiest, user-friendly chopping boards.
Light wooden boards, bamboo or any other type of board cannot be washed properly and most often get deformed (or damaged) when in contact with liquids, and I usually stay away from them. Glass boards, personally, are best avoided for it damages the blade of the knife (and chef knifes are lot more expensive than those bought in regular home stores), and represent a real danger for the novice cooks.
At work, I promote the use of colour-coded boards as it is the safest way and the only recommended method by the European health and safety regulations.
14. Chef Charlotte L. S. Galley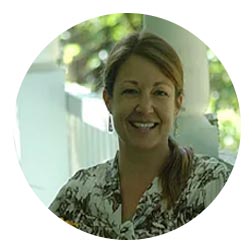 I have had many cutting boards in my lifetime, and I have never really loved any of them for one reason or another. However, I absolutely love my up-cycled wood composite boards by Epicurean! They are light weight, they don't do damage to my knives, they don't hold on to aromas, and they are easy to clean. I have been using these boards for at least 3 years, and they are still in terrific condition – I don't care for the way the black ones "wear" as much as the brown, but that could be personal preference… These boards can be put in the dishwasher, however, I simply use soap, water, and a brush on mine.
Another thing I like about them is that they are attractive enough for service under some circumstances – I serve pizza, tarte tatin, cheeses, etc on the peels. They've made it into some of my photos on my website too! Next I'm getting a large board with a reservoir, but the 3 boards and 2 pizza peels are used constantly in my home and at work!
15. Kevin Ashton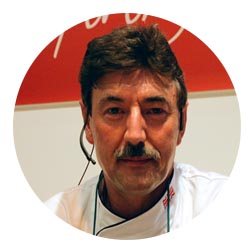 Lots of people are confused about what kind of cutting board to use at home, so I am happy to share my thoughts and professional experience on the issue.
At home I use three hardwood cutting boards because they are more hygienic; scientific studies have shown that bacteria actually grows slower on hardwood than plastic.
Over time plastic boards get heavily scarred, and unlike wooden board cannot be easily sanded or planed down. Grease absorption in plastic boards is also a hygiene issue, and no amount of scrubbing or runs through the dishwasher can remove it all.
Wooden cutting boards help to keep your knifes sharper longer, so if you've invested a lot of money in your cooks knives, help protect them.
Not all wooden boards are equal, or even wood so do your research. Bamboo for example isn't wood, it is a type of grass and eventually it will split and leave tiny splinters in your food. Plus some bamboo boards are glued together using phenol formaldehyde resin which can be toxic if not cured properly.
ll cutting boards need to be washed with hot water and detergent, sanitized, then allowed to dry. I stand my cutting boards upright in a rack that separates and lets air circulate around them. Don't put wooden cutting boards in the dishwasher, they will last longer if you wash them in your sink, so when deciding what size of board you need, the size of your sink needs to be a consideration.
16. Natasha MacAller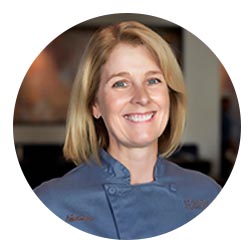 Cutting boards come in all colors, shapes (I have one shaped like a duck), sizes and kinds and are utilized for various purposes.
In a restaurant kitchen, the most popular are color coded heavy large cutting boards as they are quite durable, inexpensive and can be sanitized in a commercial dishwasher or scrubbed clean and soaked overnight boiling hot water with bleach.
At home my go to is a bamboo cutting board. It is easier on the knife edge and the hard surface of bamboo hinders knife cuts that house bacteria. I put a piece of washable non- slip mat under the board to keep it steady and secure. When finished with slicing or chopping, I wash the board and mat in hot soapy water, rinse and leave to air dry. Studies show that any bacteria left on bamboo is minuscule. Wood and bamboo boards are not recommended to put in dishwasher as the wood and bamboo can split. . Smaller just cleaned boards while still damp can be microwaved (as I do with sponges) to sanitize.
17. Uma Raghuraman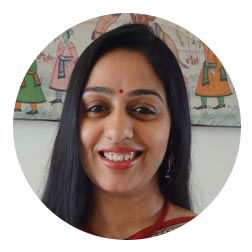 "Cutting boards are like extensions of a Chef's arm".
I have 3-4 cutting boards that I use every day. Though they vary in sizes, the Kind of cutting board that I love to use personally are the wooden ones. They are sturdy, easy to maintain and also they take pressure and deep cuts without me having to think or worry about them .
FAQs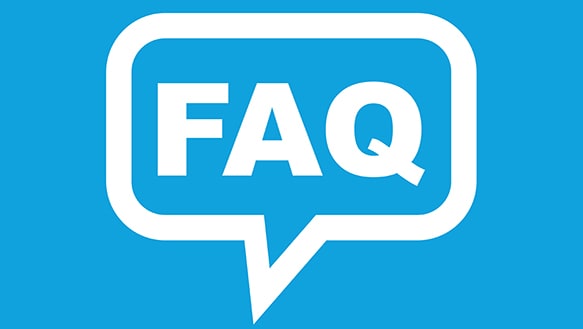 How to take care of your cutting boards so it lasts long?

Different types of cutting boards have different ways you can take care of them and it is very important to maintain your boards regularly. To disinfect your boards, you can use a diluted bleach solution. And to remove odors from your boards, you can rinse it and then rub it with coarse salt leaving it to stand for several minutes before wiping and cleaning it. It is also good to oil the surface of your cutting board every 3-4 weeks, this makes sure that it lasts longer.
What is the first thing I should do after getting a cutting board?
It is advisable to clean and wash your cutting board after getting it. Ensure you pat dry or air dry it after washing it to avoid warping.
Which cutting board will not ruin my knives?
Although there is no definite best board because each and every one of them has their pros and cons, bamboo boards are advisable to use because they are knives friendly. Boards made with hardwoods always do fine for knives.
Would using color-coded cutting boards be useful to avoid cross-contamination?
Yes. A very good way to avoid transfer of harmful bacteria is using color-coded cutting boards.
When is a good time to replace a cutting board?
When the cutting board becomes excessively worn and very difficult to clean, it is advisable to discard or replace them.
Are all cutting boards dishwasher safe?
No, it isn't advisable to put your cutting boards in a dishwasher.
I have seen end grain, edge grain, and flat grain constructions. What are they?
End grain, edge grain, and face grain are surfaces of any piece of lumber. End grain: when a grain of wood cut across the growth rings, it is referred to as end grain. Instead of cutting a plank of wood the length of the trunk, the end grain wood is cut at a 90ᵒ angle to the grain.
Edge grain: it is also referred to as a vertical grain. It is produced by quarter-sawing the lumber, this is done in order to expose the edges of the growth rings to the widest faces of piece. The rings form 45ᵒ to 90ᵒ angles with the widest faces.Flat grain: this is like an umbrella term that covers for whether the grain is from the edge or the face.