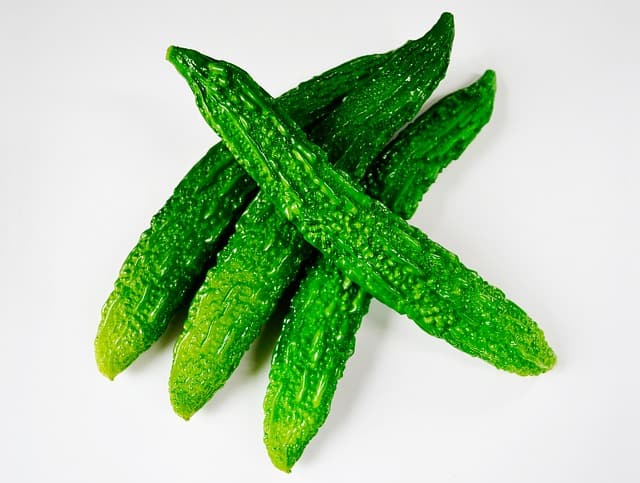 Bitter melon is also known as karela, bitter gourd, balsam apple, African cucumber and ampalaya.  Botanically, this plant is known as Momordica charantia – it is a member of the gourd family, along with its cousins, pumpkin, acorn squash and zucchini. The plant itself is a tropical vine and looks a bit like a very warty cucumber! Bitter melon has been used in a number of traditional medicines as a treatment for diabetes.
Analysis of bitter melon indicates that it is very high in antioxidants, a protein that seems to be active against tumor cells, [1] enzymes and fatty acids.  It also contains charantin, which appears to be responsible for its effects on blood sugar, vicine and a substance which appears to mimic insulin—polypeptide p.
What is the Evidence that Bitter Melon Can Benefit Diabetes?
There are two main lines of evidence that bitter melon could potentially be useful in treating diabetes.  These two lines of evidence are that bitter melon can lower blood sugar levels and lower blood triglyceride levels.  These studies indicated that this can happen in cells, animal studies and in some human studies.

Before we continue with this article, I wanted to let you know we have researched and compiled science-backed ways to stick to your diet and reverse your diabetes. Want to check out our insights? Download our free PDF Guide "Power Foods to Eat" here.

At this point, the evidence is limited, but very promising because bitter melon appears to be safe in clinical studies and because of the long-term history of bitter melon as a food—and as a traditional medicine for diabetes. There is one major safety exception, however—any individual with a condition known as glucose-6-phosphate dehydrogenase (G6PD) deficiency.  In these individuals, the vicine can, in theory, cause a form of anemia, headaches, fever, stomach pain and possibly coma.
A recent paper compared the effect of bitter melon and metformin in newly diagnosed T2D patients and found that bitter melon (at either 500, 1000 or 2000 mg per day) was effective at lowering blood sugar levels.  Metformin at 1000 mg/day, however, was slightly more effective than any of the doses of bitter melon.  In this study, the bitter melon seeds were removed and the pulp was dried and standardized to contain 0.04-0.05% charantin in 500 mg of the dried powder.[1]
Another study shown that bitter melon may lower A1c percentages, though the way the study was designed makes it difficult to determine if these decreases were significant.
Overall, while bitter melon seems to show significant abilities to lower blood sugar levels, there have only been a few human studies and most of them have not been designed well enough to come to any conclusions.[2] There have been no published studies to date as far as lowering triglyceride levels in people with diabetes.
I recommend you read the following articles:
Is Bitter Melon Recommended for People with Diabetes?
At this point, no recommendation for using bitter melon can be made, but it does appear to be safe for adults.  If you decide to take bitter melon, you should know that it may interact with any diabetes medication, potentially seriously reducing the blood sugar levels and inducing hypoglycemia or seriously low blood sugar levels.
You can include bitter melon as a food, juice or in a smoothie.  It is often available at Asian or African specialty groceries. As a food, it can be lightly fried, boiled, steamed or roasted. The skin should be peeled and the seeds removed after cutting the bitter melon lengthwise.  After removing the seeds, cut the bitter melon into chunks and cook.  It can be a side dish or added to soups and stews.
If it is too bitter, after cutting into chunks, blanch in boiling water for 2-3 minutes and let it drain on a towel for about 10 minutes—then cook it as planned. You can also make bitter melon juice by removing the rind and seeds and cutting it into chunks—then, put the pieces into a juicer or add to your favorite smoothie recipe. You can add ginger, stevia or lemon to reduce the bitterness or just add some fruit such as apples or pears.
You can also find bitter melon tea in some specialty stores.  There are no recommendations for bitter melon tea, but 2-4 cups of tea per day are often traditionally recommended.
Questions and Answers
Why are bitter foods good for diabetics?

Bitter foods stimulate the gall bladder to produce bile—this helps with the digestion of fats. This may be how bitter melon decreases the triglyceride levels in animal studies.
Melons are delicious but they are also great for diabetes.