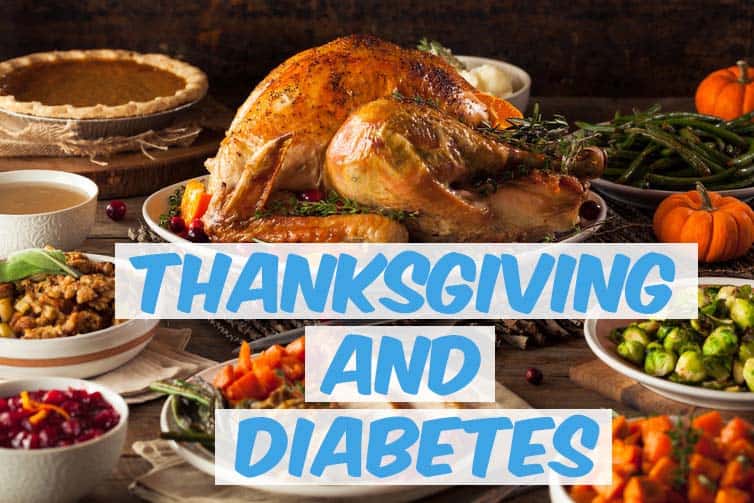 One of the centerpieces of Thanksgiving that many people look forward to is the delicious food you are surrounded by.
Typically, it has been said that people consume well over 2,000 calories just with their Thanksgiving meals alone. Between the appetizers laid out, the side dishes, the main course, and the tasty desserts, those calories definitely can add up pretty fast, not to mention all the carbs!
If you are worried about how you will navigate the waters of the Thanksgiving feast and diabetes, don't let it stress you out, it's easier than you may think. You don't have to deprive yourself of the tasty treats around you, you just have a bit more planning to do ahead of time than others.

Read on to find out how you can still enjoy a delicious meal and manage your diabetes during the Thanksgiving season.
Creating Your Plate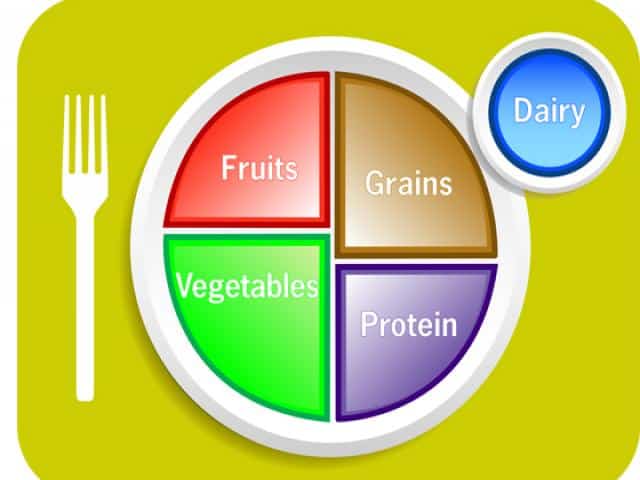 One of the biggest issues many people have diabetes, or no diabetes, on Thanksgiving is portion control. We load up our plates as high as can be with all the delicious foods that surround us, and then we go back for second helpings in the process. Thanksgiving and Diabetes is about making choices. You want to think about the dishes you just have to have and cannot skip and which ones you don't mind missing out on. Then you can adjust the portions of these foods to help keep the number of carbs and calories under control.
I recommend reading the following articles:
When you are creating your plate for the most optimal nutritious meal, try these seven simple steps:
Draw an invisible line down the center of your dinner plate. On one side you will want to divide it in half again so that now you have three sections.
Fill the biggest section with non-starchy vegetables first.
In one of the smaller sections of your plate, place the grains and starchy foods.
In the other small section, place your protein.
Include in a serving of fruit and dairy.
Remember to choose healthy fats in much smaller amounts.
End your meal with a low calorie beverage or water.
The Thanksgiving Feast Options
There are many delicious choices to pick from on Thanksgiving, but here are some of the more popular ones and their benefits, for you to review ahead of time in planning your meal and plate.
Turkey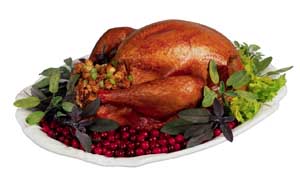 Turkey is usually the centerpiece of the meal. It is high in protein and does not have any carbohydrates. A good sized portion of turkey is about three to four ounces, which is typically the size of a palm. Remember to remove the skin from your turkey before you eat it and choose only the leanest pieces of meat. Roasting your turkey instead of deep-frying it is always a healthier choice.
Stuffing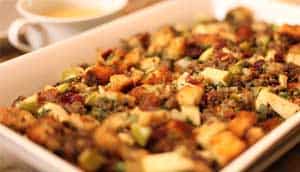 Stuffing is the one option at the Thanksgiving meal that is the highest in carbohydrate. It's important to determine the serving size and how much carbs in each serving before you eat to properly plan.
½ cup of stuffing has 15-30 grams of carbs, because this number can vary you will want to make sure you check the nutritional information ahead of time to ensure you are getting the correct amount.
Whole grain or wheat bread is the best choice when making homemade stuffing.
Potatoes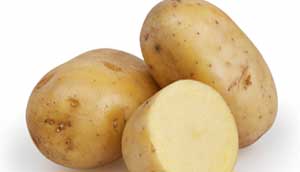 Another common item on the Thanksgiving table is potatoes. Potatoes can also be heavy on the carbs, so figuring out the serving size and total nutritional information ahead of time can really help.
Keep your servings of potatoes small, especially if you know there is a lot of fatty products like butter or cheese in them. ½ cup of mashed potatoes is typically about 15 grams of carbs.
Season them appropriately instead of adding additional butter or other fats.
Cranberry Sauce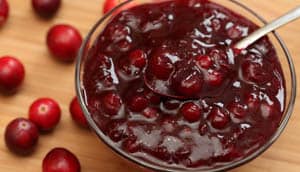 You have to watch for the type of cranberry sauce made. It typically has a lot of sugar added in.
Two tablespoons are about 15 grams of carbs.
If cranberry sauce is one item you simply cannot skip, add in a tablespoon on top of your turkey, a little bit does the trick.
What About Dessert?
The types of carbohydrates you consume are not as important as the amount, when you are trying to manage control of your blood sugar. This gives you the option to substitute your desserts into your meal plan for other carbs in your meal instead. If you find yourself having a hard time deciding between a few different desserts that catch your eye, try picking two and have a ½ portion of each of them.
How to Avoid High Blood Sugar at the End of Dinner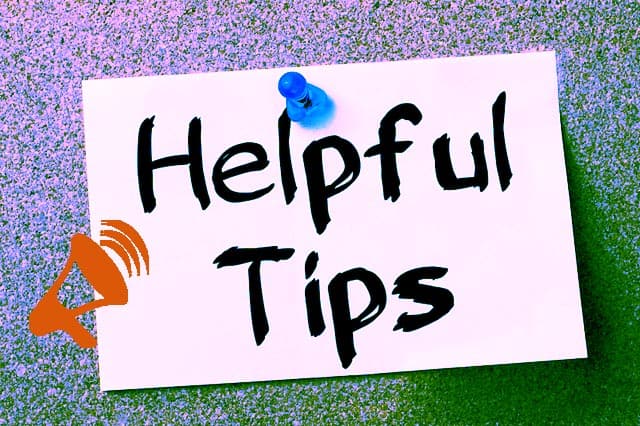 First, it's important to remember that no matter how diligent you are in planning out your meal, sometimes highs happen. Don't get down on yourself if you find you are a bit higher at the end of the evening, it happens.
With that being said, you can still do some proper planning to do your best in avoiding highs at the end of the thanksgiving meal. These simple tips can help you figure out the best plan forward in learning to navigate the tricky waters of Thanksgiving.
Appetizers may look and taste great, but remember they are just the beginning of a long evening of delicious food. With so many tempting dishes to choose from, you want to be aware of the calories and carbohydrates in each meal. Make sure to choose fresh appetizers like vegetables or guacamole.
By using the plate creation method above you can fill up your dinner plate and resist the urge to go back for second helpings. This type of meal planning can help to keep you aware of portion control and keep things in perspective.
Approach the holiday season with a different perspective on things. Instead of focusing on the food and eating, try focusing more on spending time with friends and family. Enjoy the flavors and tastes of the holidays much more slowly than normal. Savor every bite to make your eating experience a much more enjoyable one.
Choose the foods that are your most favorite and skip ones you can have on typical, non-holiday days like rolls or other side dishes.
Adult Beverages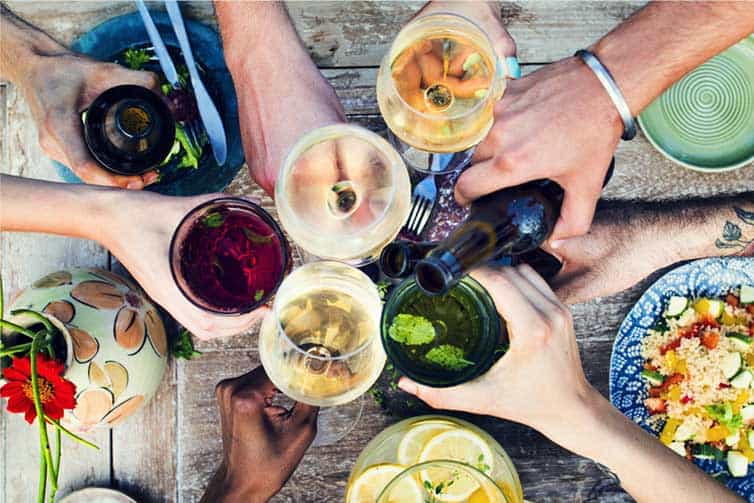 Holidays are the time to get together with friends and family and to enjoy yourself. If there is alcohol involved and you wish to indulge in some adult beverages, these too much go into your meal planning preparation.
If you are on insulin, you want to make sure you eat a small appetizer with your drink, because those on insulin treatments who consume alcohol on an empty stomach put themselves at a much higher risk of experiencing a hypoglycemia episode.
The calories in alcohol can add up pretty quickly, and they aren't known to give you that 'full' feeling that other beverages and foods do. The adult beverages below are much better choices when you wish to indulge in a drink this season.
Wine Spritzers
Mixed drinks mixed with a lower calorie mixer like that of club soda or even diet soda
Light beer
Small glass of champagne
There is a solution to many of the common holiday problems that may arise for those with Diabetes. Just because you have Diabetes doesn't mean you can't enjoy the traditional things you are used to on the holidays. By ensuring you plan ahead properly, you can not only enjoy the holiday but indulge in some of your favorites this Thanksgiving.