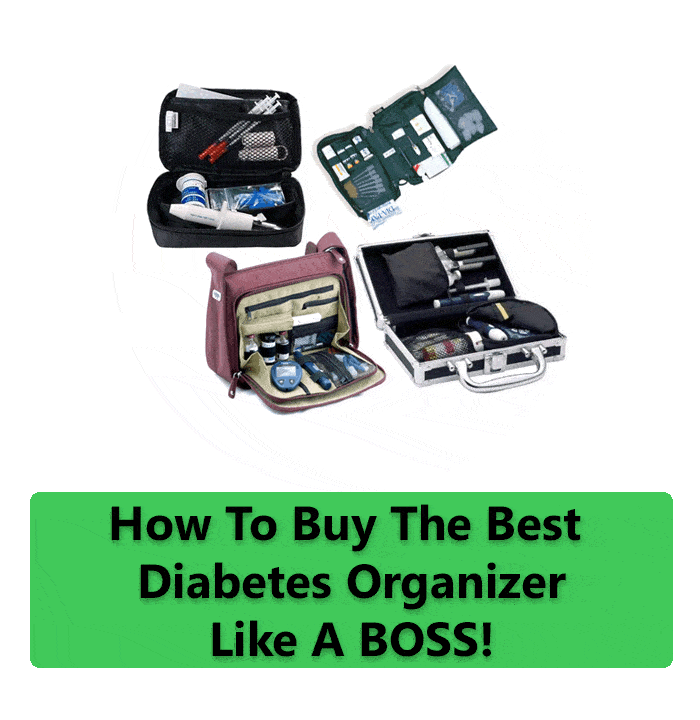 Having diabetes means that you always have to be prepared for an emergency. Aside from knowing exactly what to do in a given circumstances, it is also crucial that you are organized with your diabetes medication and supplies.
This way, you can get treatment as soon as possible without having your condition worsen. But without a designated organizer to hold all your diabetes supplies, you will very likely face with many situations where you have to scramble and dig through your bag to find your supplies.

Before we continue with this article, I wanted to let you know we have researched and compiled science-backed ways to stick to your diet and reverse your diabetes. Want to check out our insights? Download our free PDF Guide "Power Foods to Eat" here.

It also increases the chances of misplacing items and forgetting to refill certain supply items. Instead of going through this vicious cycle and constantly worry about your condition, get yourself a diabetic supply organizer and start organizing.
Where to Begin & Things to Consider?
Before you start looking for an organizer for all your diabetic supplies, consider your needs.
You can begin by making a list of your daily supplies and lay out everything you need on a table. This will quickly give you an idea how big of an organizer you will need.
Take a moment to measure your biggest items such as your monitor, your syringes, and your glucagon emergency kit. This will give you the minimum requirement of how big your organizer must be.
Anything smaller, you will not be able to fit these items in your supply organizer. The next question is how often will you replenish your supplies? If you have a busy lifestyle and you want to replenish your supplies once a week, you will need a bigger organizer than if you are going to refill your supplies every day.
For the Non-Insulin Users
If you do not require insulin injections, a simple case that can fit your medication, your blood glucose monitor, and some emergency food will suffice. In most cases, people will simply use a cosmetic bag or traveling pouch for the purpose. These bags usually have numerous compartments for you to safely put everything in a specific place.
For the Insulin Users
However, if you require insulin injections, you will require an organizer that will keep your insulin at a cool temperature. This specific requirement will narrow down your choices to organizers that allow insertion of ice packs or inclusion of some sort of cooling lining.
To lessen your frustration, we have compiled a list of 4 different diabetes organizers for different needs: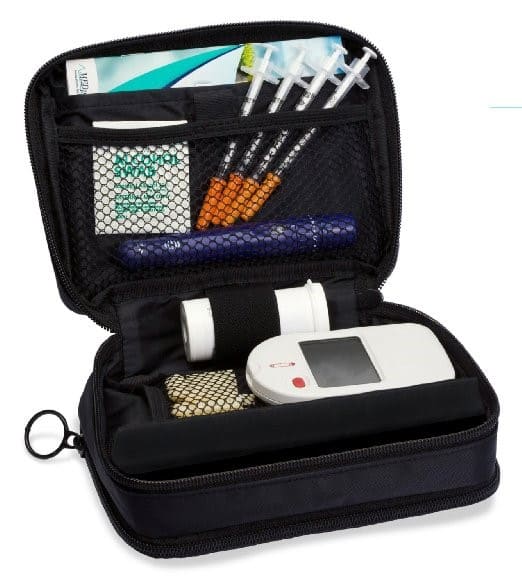 MEDport Everyday Diabetes Organizer is the Number 1 choice for diabetes patients who need to carry their medical supplies to work or travel on a daily basis. This organizer has a patented CoolStore Insulating System that allows the 2 separate compartments to keep at a constant cool temperature and room temperature.
The cool temperature section allows an insertion of a re-freezable ice pack is specialized for keeping the insulin cool (please note that the ice pack is included with the organizer).
To avoid the guessing game of gauging whether your insulin is cool enough, MEDport includes a MedTemp interior temperature monitor so that you will know exactly the temperature. The compartment also includes a series of elastic belt loop fasteners that allows the maximum storage of 4 insulin bottles.
On the other side of the organizer, the room temperature compartment is designed for keeping the glucose meter functioning properly. In the room temperature compartment, there is enough room, pockets, and belt loop fasteners for you to organize your lancet pen, 3 days supplies of syringes, bandages, alcohol swabs, and other essential items.
There is also a specific test strip holder and a meter log book pocket should you opt for a booklet. It measures 7.5 in. x 5.5 in. 2.25 in and can fit nicely in your purse, suitcase, or carry-on luggage.
If you want more information about diabetes read the following articles: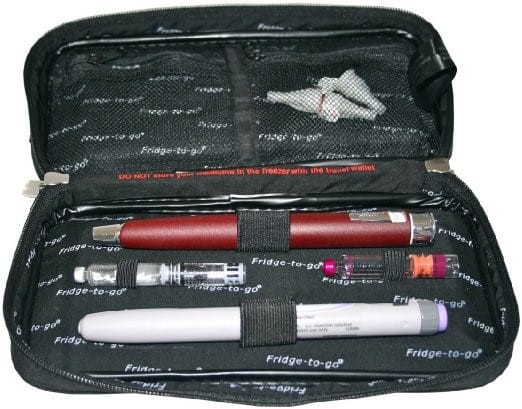 The Fridge-To-Go is the perfect compact cool storage for your medical supplies and insulin bottles. It is currently the #1 Best Seller on Amazon. Unlike other organizers that cools by utilizing gel cooling packs, this organizer is lined the cooling liquid inside the bag.
That means you don't have to worry about leaving enough space for the ice packs. All you have to do is throw the organizer in the freezer overnight and pull it out when you need to use it.
As a matter of fact, it holds more icing power than a gel ice pack. Many reviewers on Amazon have raved about it being able to keep the medicine cold for up to 18 hours. If you have doubts, you can always purchase an extra 3oz gel ice pack. One reviewer has commented that he was able to keep his medicine cold for a 15 hr flight with the extra ice pack.
It is super compact and measures 9.4 in. x 1.8 in. x 4.5 in. This bag comes with a 12-month no-hassle replacement guarantee. Should you find a leakage of the icing liquid for any reason within the 12 months, you can replace for a new one free of charge.
The only downside of this organizer is that it is solely for keeping your insulin pen or insulin injection equipment. If you have other supplies and equipment, you will require another organizer.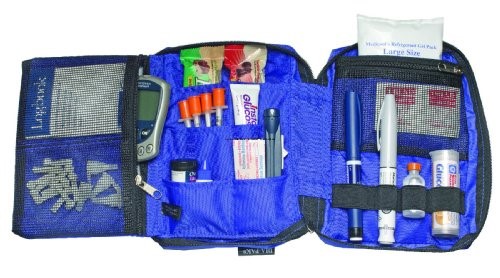 If you need to pack your supplies for up to 2 weeks, this organizer is the way to go. Made from durable nylon, this organizer is highly water resisting and durable. It opens up to three panels and is fully equipped with a variety of pockets and storage compartments for all your supply needs such as your alcohol pads, glucose monitor, lancets, insulin pen, insulin bottles, and all your other needs.
There is a hidden compartment to store the included ice pack so that while it keeps your organizer cool, it will not make any of your supplies wet. And depending on your needs, there is enough room for you to insert an extra ice pack for long cooling time.
The biggest selling point of this organizer as many reviewers on Amazon have praised about is all the pockets and elastic bands in this organizer. They are extremely helpful to organize the supplies and keep them from bumping into each other. It is so spacious that many have commented that they can keep a month of supply in this organizer.
The interior design of this organizer is exceptionally well thought out; it even has a specific place for an emergency card on the inside. The whole organizer measures 6.5 in. x 1.8 in. x 10 in and is the best choice for people who need to travel for longer duration of time or just want to keep more supplies in their organizer so that they can refill less frequently.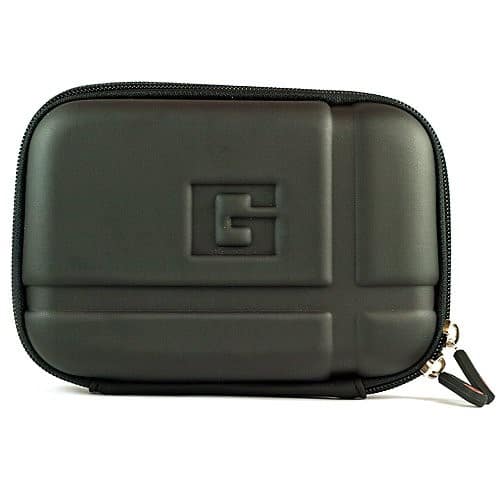 The SumacLife Hard Shell Protective Case Organizer is made for the clumsy and the active adventurers who require extra durable organizer for their needs. It is easily one of the sturdiest diabetes organizer on the market currently.
The hard exterior shell and the foam-padded interior maximize the absorption of external impacts so that all your contents are safe. Inside the case, there are two built-in safety straps to hold down your bulkier items such as your blood glucose monitor.
This way, there is minimal chance your supply items will bump into each other and cause damage to some of your more delicate items. To top off the organizing accessories, there are two built-in mesh pockets for storing multiple supplies such as your lancets, alcohol pads, bandages, and any other necessary items you can think of. It measures 6.3 in. x 4 in. x 1.5. Small but strong.
What if None of the Organizers Appeal to Me?
If none of the diabetes organizers on the market appeal to you, don't be afraid to think out of the box. As a matter of fact, there are some diabetes patients suggesting the use of camera bags as diabetes supplies organizers.
With ample amount of compartments and heavy duty interior paddings, camera bags can easily be turned into a diabetes supply organizer by simply adding a gel ice pack to the interior.
Another option is to use an insulated lunch bag. Many diabetes patients have commented on purchasing the EDC Meal Prep Bag by Evolutionize and turning it into a vacation organizer.
This highly organized lunch bag allows you to pack not only all your diabetes supplies and equipment but also your emergency juice and food as well.
If you like a more customize supplies organizer such as a wearable insulin pump organizer bag, you can find many choices on Etsy (www.etsy.com). There are many fellow diabetes patients who share your sentiments and have taken the initial to create customized organizers for your special needs.
And if you are great with sewing or know someone who is great at the skill, you can always make an organizer just for all your needs.
For more interesting info about diabetes read these:
Where to Find the Best Deal?
When it comes to online shopping, no other shop can beat Amazon. However, please be aware that there can be some price discrepancies on the same item from different merchants on Amazon. If you do decide to purchase an organizer from Amazon, you may want to look into an online rebate program called Paribus (http://paribus.co).
It is free to sign up. Once you enroll, they will scan your email archives for any receipts from Amazon. Afterwards, they will monitor the item's price.
If the item's price drops, they will issue you a refund on the price difference. Also, do not be afraid to search on other platforms. Group Medical Supply (www.groupmedicalsupply.com) is a great alternative option for all your diabetes supply needs.
And if online shopping is not your cup of tea, you may still be able to find a deal in your local pharmacy as well. Sometimes they will offer instant cash rebate or points reward when you purchase medical supplies and equipment from them. If all fails, you can still write off the equipment as your medical needs.
Last but not least, when you pick an organizer, the number 1 factor you should keep in mind is whether it will help you get to your supplies in fastest possible time.
If you have to make do with certain design flaws or find that the organizer is simply hard to use, pick another one. You should never compromise when it comes to picking the right choice for your health needs.
Can you guys share some ideas for organizer?
While we have done our best to cover everything if you are looking for more ideas then check out pinterest.
Where can I find pouch size?
Refer to our reviews we have included pouch size organizer as well.
For all other questions and comments please post them below and I will answer or include your tips.