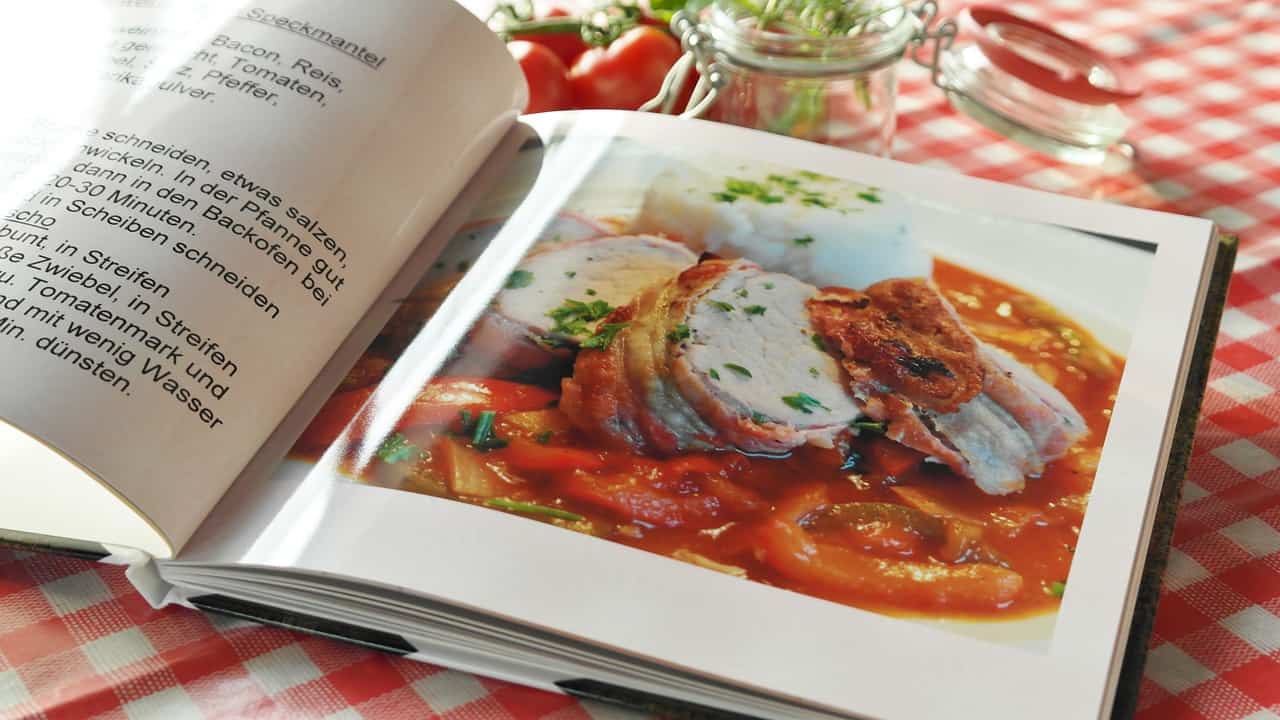 Diabetes requires constant monitoring and thought for your food choices. That doesn't mean you need to eat bland and boring cooking for the rest of your life. There is a massive range of fantastic diabetic cookbooks to add variety and flavor to your meals while keeping your diabetes under control.
No matter what style of cooking you enjoy, there are diabetic cookbooks for every culinary experience you want to enjoy that won't interfere with your health.
Keep reading for the top 8 diabetic cookbooks (updated to 2023), and I'm sure you'll find a great option that matches your tastes.
1. Diabetic Cookbook and Meal Plan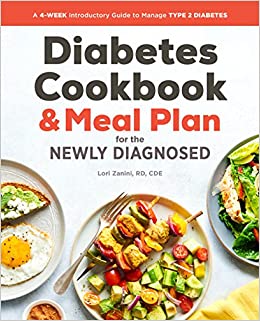 Dietician Lori Zanini provides a fantastic diabetic cookbook for anybody that has been newly diagnosed or maybe facing prediabetes and wants to get a handle on things early. In this diabetic cookbook, you get a four-week plan which provides a step-by-step guide to help you pick the best foods and cooking methods to keep your diabetes under control.
While the cookbook is designed as a four-week meal plan, you get over 100 recipes that can be used and modified as your understanding improves. In addition, you get common adjustments that help you lose weight if that is one of your goals in your diabetes changes.
You'll also get easy-to-access meal prep tips and shopping lists to make it extremely easy to get your ingredients and create your diabetic meals.
The book is low-cost, and if you have a kindle, you can drop the price further and use the kindle for easier access and referencing during your cooking.
The downsides to this diabetic cookbook are that it's a real cookbook for full meals and isn't designed for quick and easy cooking, meals can take some time to prep, and the ingredient lists can be pretty lengthy.
2. The All-Natural Diabetes Cookbook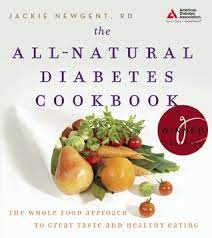 Dietician Jackie Newgent provides a diabetic cookbook for those looking to incorporate whole foods and remove artificial sweeteners from their diet, which aren't terrible, but many believe they can hinder your diabetes recovery. The focus is to only include natural and fresh ingredients, which include things like coconut sugar as a sugar replacement.
This diabetic cookbook provides a range of recipes for breakfast, lunch, dinner, and dessert. You'll also get tips and advice on how to bring out the flavors in your meals using natural ingredients with no use of artificial or processed ingredients.
One of the bigger downsides is the purpose of the book, by utilizing fresh and whole foods, the prices for your meals can go up higher than you'd want. You may also find that using natural sugars can assist with diabetes but can hinder weight loss or limit how much of the meal you can eat.
3. The Create-Your-Plate Diabetes Cookbook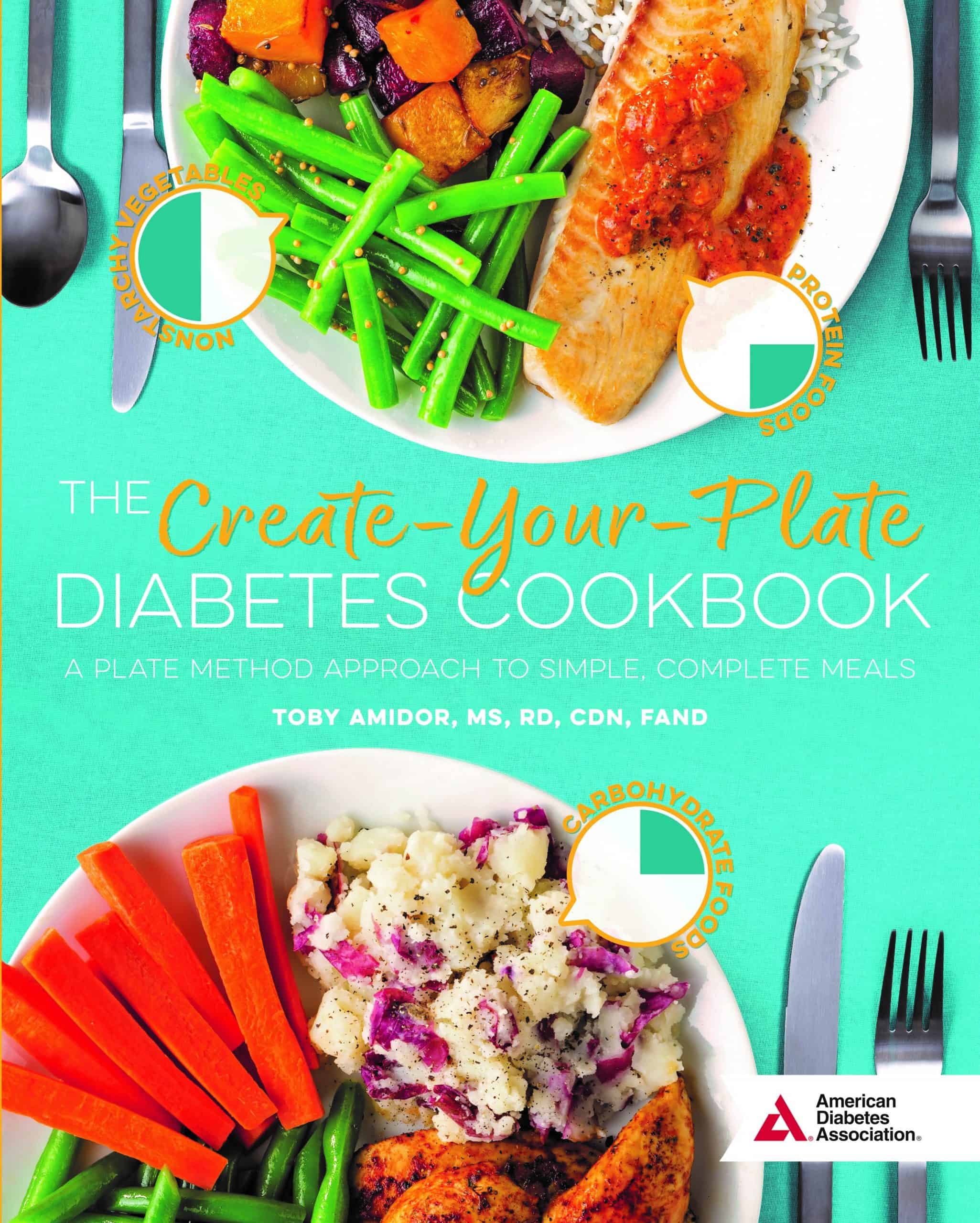 Dietician Toby Amidor provides a diabetic cookbook for those that visually learn so that you can see how your meals should look, what ingredients are being incorporated, and how much of each may be appropriate.
You do get full recipes, but the visual guides provide an added benefit of ensuring that your meals remain visually appealing and assist if the directions aren't clear enough for you.
You're provided with 125 recipients that can be mixed and matched to create even more of your own personalized meals. You'll also get a one-week meal guide so that you can easily see how much you should be cooking and eating, as well as what recipes work well together.
The downsides to this book are that ingredients can run on the more expensive side, so you may need to replace some items or skip those recipes.
If you're not a visual learner, then this book would not be ideal for you and trying to utilize pictures as part of the cooking process limits your ability to be creative and build dishes how you want.
4. The Southern Comfort Food Diabetes Cookbook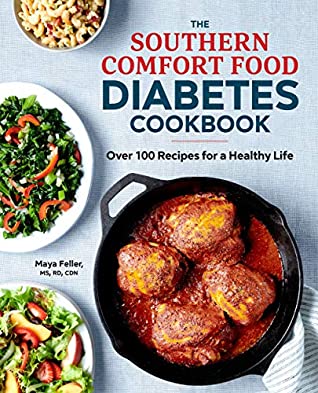 Dietician Maya Feller provides a diabetic cookbook for those that love souther comfort foods but provides healthier alternatives to many of the ingredients which don't work well with diabetes patients.
You'll get 100+ recipes that provide diabetic-friendly alternatives to your favorite southern comfort foods. You'll also be provided with tips on alternative cooking methods, such as air frying, and advice on the serving sizes of each meal.
While this diabetic cookbook provides fantastic alternatives to classic southern comfort foods, it may not be ideal for everyday cooking as the carbs are still reasonably high. You'll also find that some of the ingredients are specialized and not readily available in general stores.
The other downside is that cooking methods can suggest specific types of products like air fryers or pressure cookers, and if you don't have those, then the recipe is much more difficult and time-consuming.
5. Indian Cuisine Diabetes Cookbook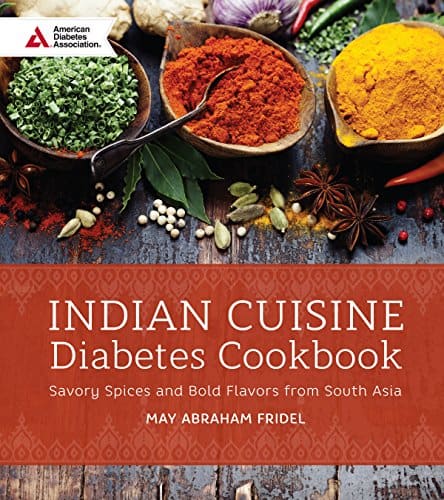 May Abraham brings her flavorful Indian recipes to you with guidance and adjustments provided by the American Diabetes Association. You get the best of Indian cooking in a diabetic-friendly option for those that love this style of cooking.
What's great about this diabetic cookbook that sets it apart from many others is that you're provided with easy and quick recipes that don't require overly specialized ingredients or cooking methods, so almost anyone will be able to follow and create these meals quickly and easily.
The biggest downside is that the recipes don't go far enough in protecting diabetic patients, the recipes are better than traditional Indian options for diabetic patients but still incorporate many carbs and sugars, which may not be ideal for everyday eating.
6. Cooking for Latinos with Diabetes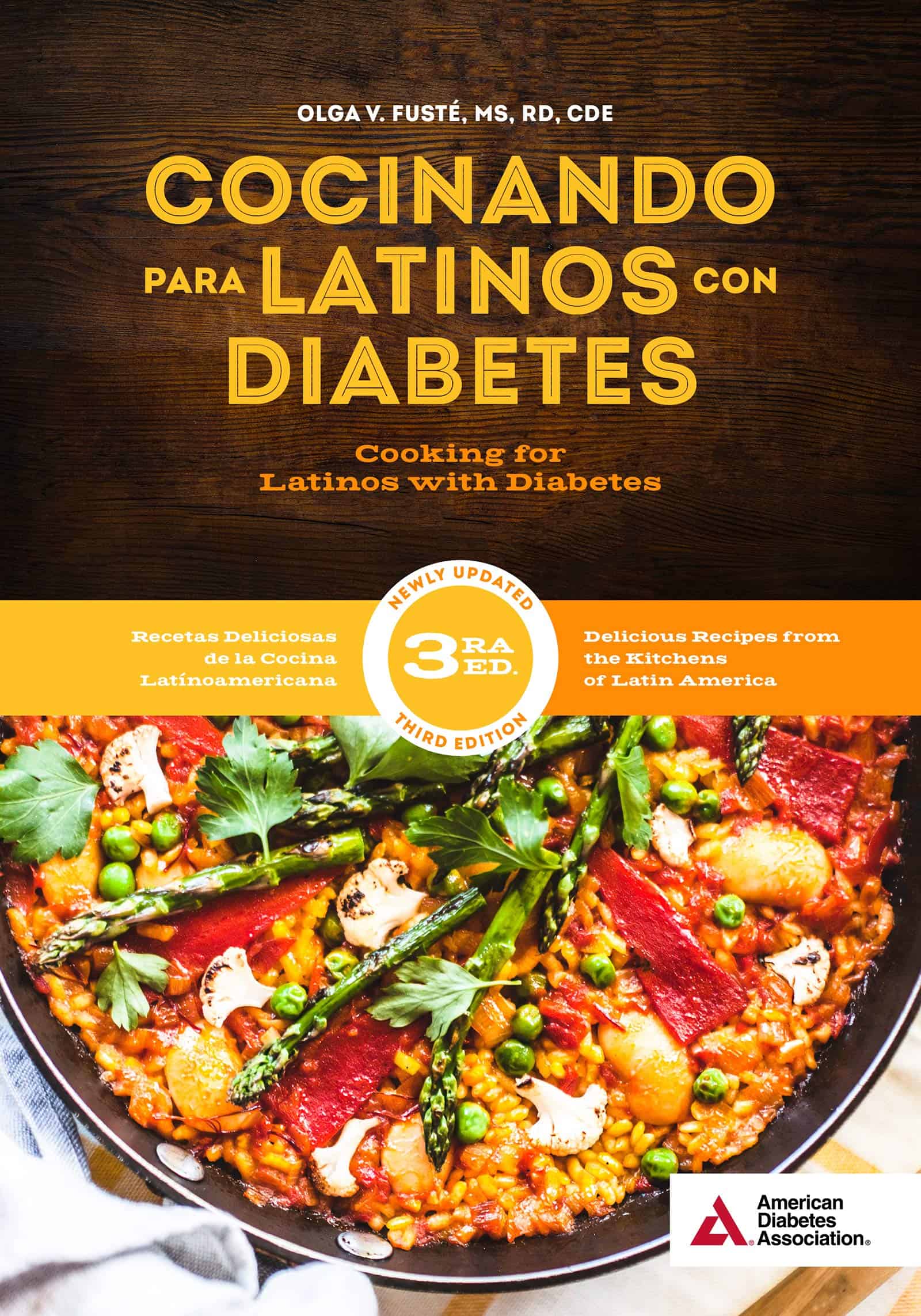 Dietician Olga V. Fusté and the American Diabetes Association have combined resources to create this diabetic cookbook for those that love classic Latin dishes with a focus on being more diabetes conscious.
You get 100 recipes that are all in English and Spanish, and each meal is broken down to an appropriate serving size along with nutritional information on each serving so that you can focus on weight loss to further assist with your diabetes management.
The other fantastic part of these recipes is that you get the option to replace ingredients, lower fat, and modify the recipes to match what ingredients you have, like, and maybe better for your specific health issues.
The only real downside to this diabetic cookbook is that if you don't enjoy classic Latin dishes, then it's not going to be suitable for you. But that's expected with any cookbook that focuses on a specific style of food.
7. The Easy Diabetes Cookbook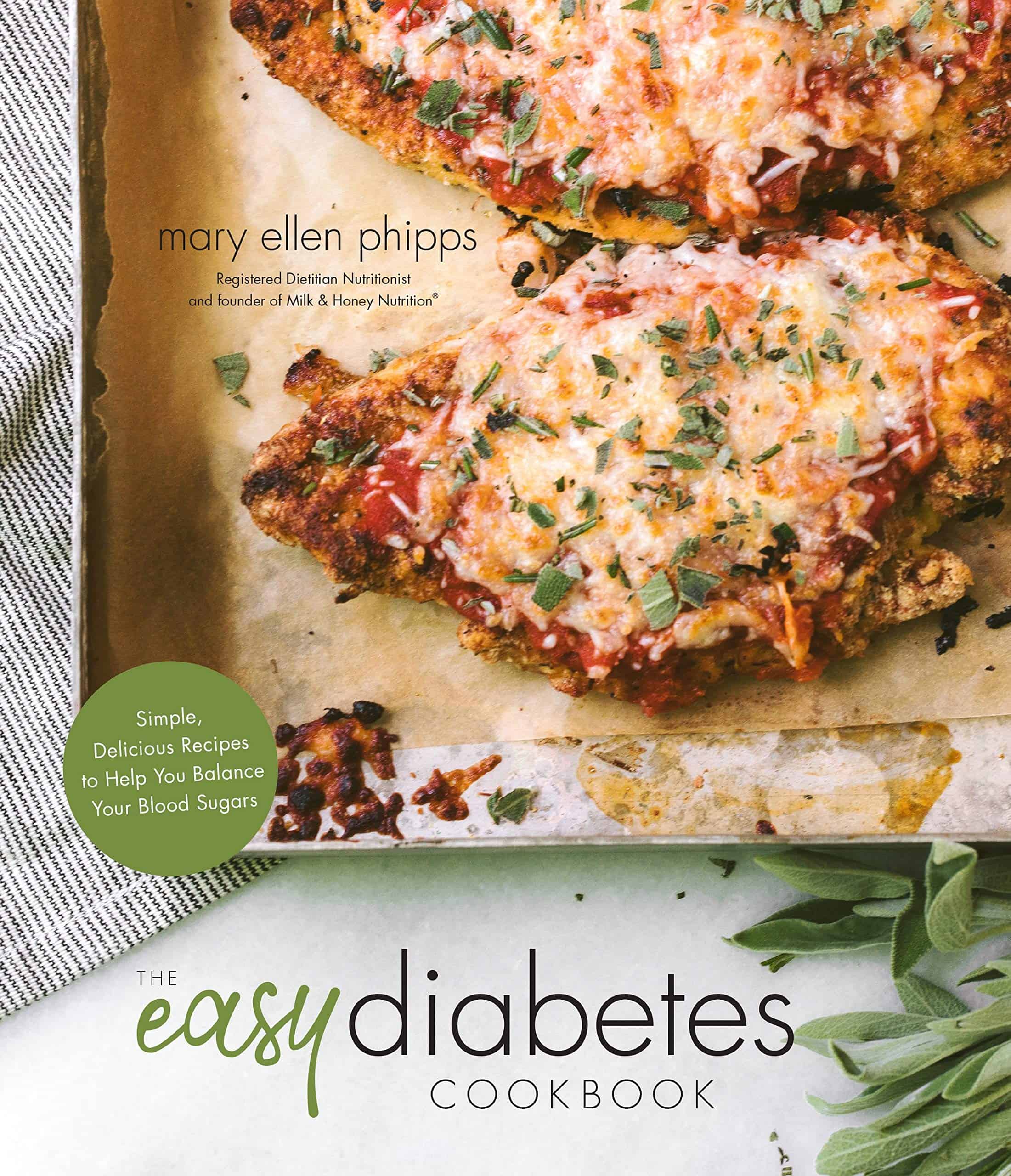 Dietician and diabetes sufferer Mary Ellen Phillips brings some of your favorite classic meals to life with diabetes friendlier options in this diabetic cookbook with 60 flavorful recipes that provide breakfast, lunch, dinner, and dessert options to fill your cravings.
This diabetic cookbook provides tips and advice on how to eat healthier and make better choices in your cooking, but the recipes are not ideal for everyday cooking and should be used as a weekly cheat meal option or when you're craving carby foods.
The recipes options are less than many other books, and most have pretty high carbs, though lower than what you'd get with the traditional recipes. So if you're craving cheesy or carby food, this would be a good diabetic cookbook to pull out.
8. The Essential Diabetes Instant Pot Cookbook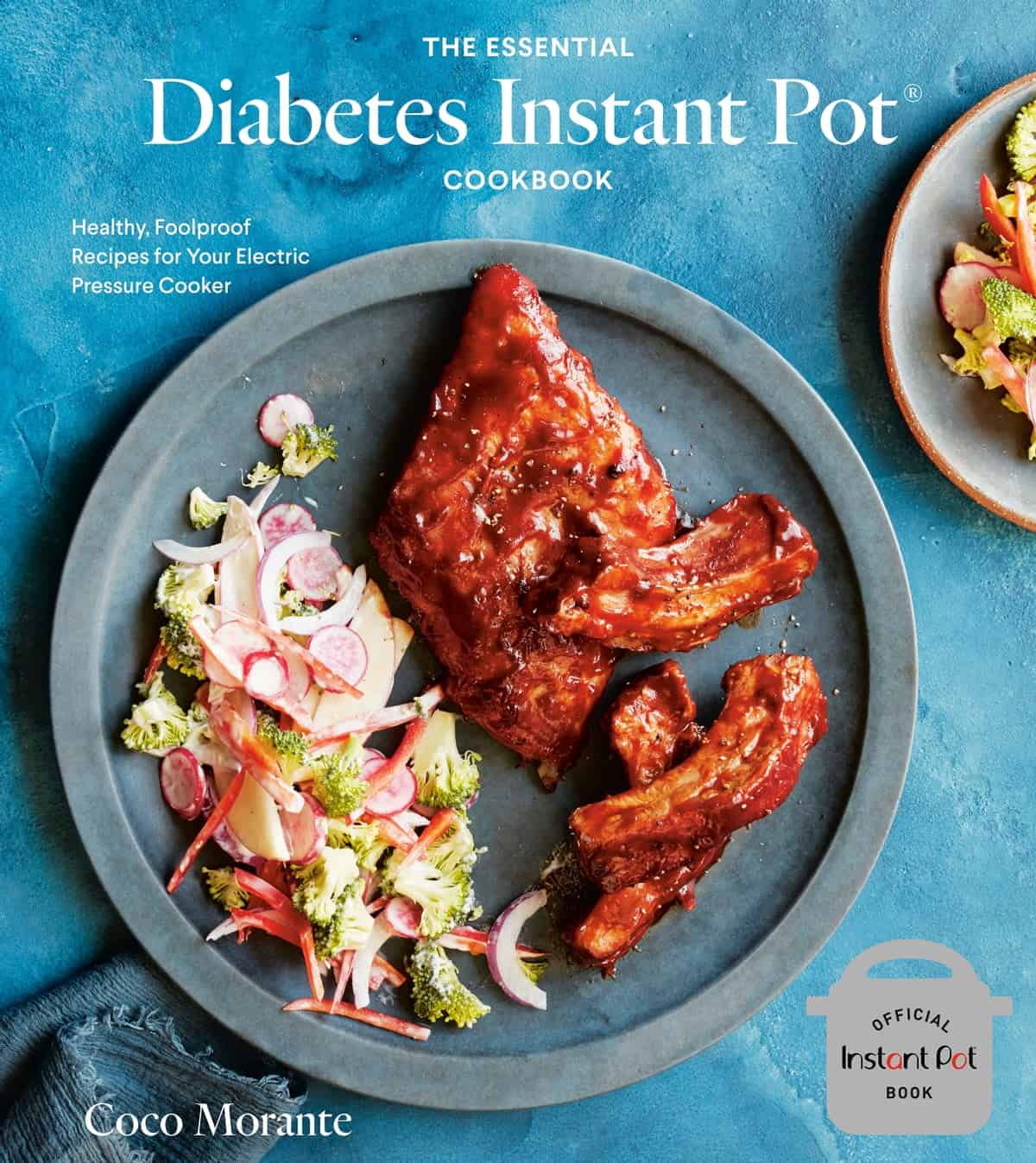 Coco Morante, under the guidance of Dr. Jessica Castle, provides the ultimate Instant Pot diabetic cookbook for those that want great tasting food, easy recipes, cooking options, and more diabetic-friendly than traditional recipes. All recipes have been signed off by Instant Pot as appropriate.
You get 70 simple recipes spread across breakfast, lunch, dinner, and a number of desserts. The meals are classic American favorites with alterations to keep your blood sugars down. The meals are more focused on being nutrient-dense than providing weight loss options and can be on the sweeter or carrier side than some people may want with diabetic recipes.
Many of the recipes require substitutes that may be pricier or harder to find, so readers on a budget or without access to larger grocery stores may not benefit from the recipes.
What Are The Best Diabetic Cookbooks For 2023?
When you're searching for the best diabetic cookbooks, you need to determine what your goals are, whether you're looking for an everyday meal replacement cookbook or options to replace specific meals for special occasions.
Many of the better diabetic cookbooks being released focus on meal replacement rather than building a better diet. So you need to be careful around the meals you're eating and take a look at the nutritional information to ensure the carbs and sugars are appropriate for what you can consume.