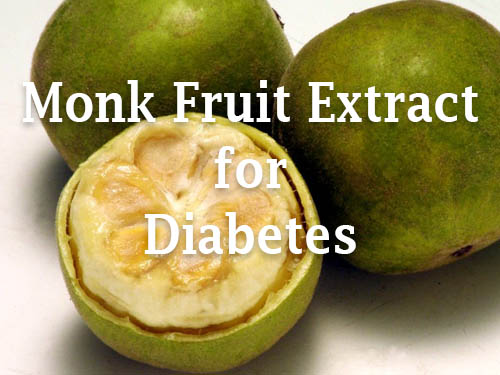 Monk fruit is a type of gourd that grows in the sub-tropical areas and is only currently cultivated in the mountains of Southern China. Legend has it that Buddhist monks were the first to grow this melon, hence the name!  Botanically, monk fruit is known as Siraitia grosvenorii. This fruit has been used in Traditional Chinese Medicine (TCM) for centuries to treat inflammation, coughs and sore throats and is known as luo han guo.  Monk fruit has just very recently applied for the Generally Recognized as Safe (GRAS) status in the US—the FDA has no objections though it has not officially been granted GRAS status.[1] Monk fruit extract has been permitted to be used in foods in the US since 2009. There have been no reports of negative effects. To date, the only non-nutritive sweeteners given GRAS status by the US FDA are saccharine, aspartame, sucralose, neotame, acesulfame-K, and stevia.
Monk fruit extract is derived from the pulp of the fruit and is used to sweeten foods and beverages without the calories of sugar.  In addition, the extract appears to lower both blood sugar and blood lipids in experimental models of animal diabetes. [2] The active sweet substances appear to be the mogrosides which are about 2- 300 times the as sweet as table sugar.  The mogrosides also function as antioxidants, potentially limiting the oxidative damage caused by high levels of blood glucose.
Currently, the Chinese government does not allow cultivation of Monk fruit outside of China and there are only a few companies that are producing it from relatively scarce sources.  Some of the brand names of monk fruit extract are: [3]
Monk Fruit In the Raw
Lakanto Golden Monk Fruit Sweetener
Health Garden Monk Fruit Sweetener
Skinnygirl Monk Fruit Extract Liquid Sweetener.
Pure Monk
PureLo Lo Han Sweetener
I recommend you read the following articles:
Is Monk Fruit Safe to Use?
According to the Center for Science in the Public Interest (CSPI), monk fruit extract has not been extensively tested, though as mentioned above, the US FDA has not received any reports of adverse effects. CSPI recommends caution in using monk fruit until more is known about its possible effects.[4]
Monk fruit extract appears to be in many ways similar to stevia, another plant-based non-nutritive and non-sugar sweetener and appears to function both as an antioxidant and an antidiabetic substance.  It also appears to help lower blood lipids, but all the research so far has been done in animal diabetes models and there is not much of it.  On the other hand, monk fruit has been used for centuries in China—and people do not tend to keep using a plant as food if it is very dangerous.
According to the International Food Information Council Foundation (IFICF), monk fruit sweetener has no calories so they won't cause weight gain and may help you lose weight.  The IFICF considers monk fruit extract to be safe for adults, pregnant women and children.[5] Monk fruit extract can be used in beverages, cooking and baking—but remember, since monk fruit extract is about 200 times sweeter than sugar, a little can go a very long way!
So I wish you learned more about monk as a fruit and how it relates to diabetes, if you have further questions post them down below.
TheDiabetesCouncil Article | Reviewed by Dr. Jerry Ramos MD on June 10, 2020