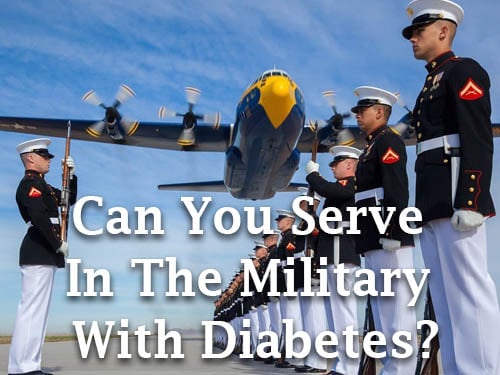 It's patriotic and noble to join the armed forces to fight for your freedom and country. Not only that, it can offer a fully-paid trip to college, early retirement, good insurance, a 0% down VA home loan, and a whole host of other perks. If you graduate from a military school, not only do you get a free ride, but you also get to go in as an officer after you graduate, with competitive pay and excellent benefits. If you are active duty, you get insurance through Tricare, which is pretty good insurance. More people have picked themselves up out of poverty by joining the military then by any other means, so it can be a sweet deal for some.
What about Pre-diabetes, Type 1, Type 1.5, or Type 2 Diabetes and the military?
But what if you have Pre-diabetes, Type 1, Type 1.5, or Type 2 diabetes? Will you be allowed to join the ranks of the military, and serve your country, or will you be told that you are unfit to serve? Will you be permanently disqualified for military service (PDQ'd)? This is a question that many people living with pre-diabetes and diabetes of all types have asked, especially since both have reached epidemic proportions in the United States. It would seem discriminatory for someone with pre-diabetes or diabetes to be told that they cannot serve in the military. It would also seem wrong to discharge a person in the military because they were diagnosed with pre-diabetes or diabetes during their time of service. In researching this topic, this does seem to be happening on a regular basis, especially when you are trying to see a recruiter and get in, or when you are diagnosed while in active duty and do not fight the system to try to stay in. Let's look at whether or not you will be told no if you apply for military service, or if there is a way around it. Let's also look at what could happen if you are diagnosed with diabetes when you are already in the military. It would be helpful to understand why you may be discharged, or what you may do to appeal a decision if you don't agree.
The reality of combat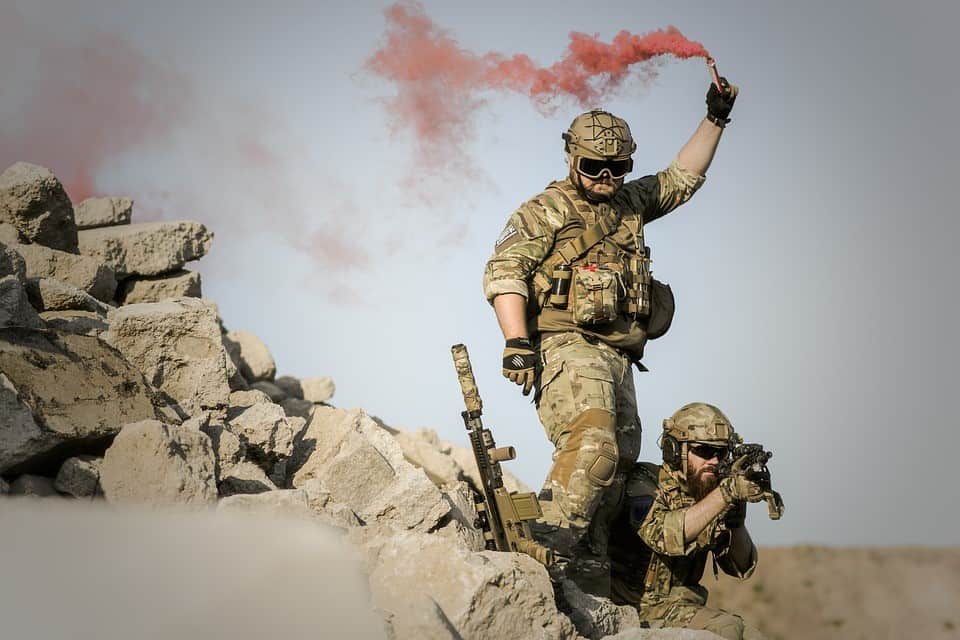 Let's say you are in Afghanistan, on a tour of duty with the Marines, and you are in the hot dessert. MRE's (meals ready to eat) mainly consisting of carbohydrates are all that is available to eat. At times, you must go long periods without eating. It's hot, and there is no refrigeration available. You are having trouble keeping your insulin from being exposed to extreme temperatures. You are on active duty and constantly on the move, getting little sleep. Stress is high, and you hear gunshots as your unit prepares to move in on a terrorist cell.
The reality of combat with diabetes
Now let's imagine that you are a person living with Type 1 diabetes or a person living with Type 2 diabetes on insulin, and you are in the midst of this combat zone in Afghanistan. Your unit has had to move out quickly, and you have left your insulin pen behind in a rush. You got your morning dose along with a carb-loaded MRE, but as you expended more energy throughout the day, your blood sugar started to drop at about the time your troop moved in on the terrorist cell. You have no quick carbohydrates left, and you have a low blood sugar reaction right at the time when the gunfire starts. Your unit is scrambling for supplies. Should your unit stop and tend to you in the middle of combat, or do you pose a risk not only to yourself, but to those fellow soldiers who fight with you? If they stop to take care of you, will they be ambushed by the enemy? Will your combat buddies lose their life because they stopped to take care of your diabetes? Or will you be left behind, and imprisoned by the terrorists?
Military stance on diabetes and active duty
This is the hard stance of the military related to Type 1, Type 1.5 and Type 2 diabetes, and generally all branches of the military feel this way about a person with diabetes serving in combat. The general consensus is that you will not be able to make it through tough periods of combat, and that you will be a burden to others that are serving with you. All branches of the military will not allow a Type 1, Type 1.5, or Type 2 diabetic to enlist. You can submit waivers, but you may still get a no. There are stories of automatic PDQ's (Permanently Disqualified for Military Service) given out to those with pre-diabetes before a medical evaluation has been done, but it is unclear whether or not these persons were disqualified due to being overweight or obese, or some other factor such as a mental illness. If someone already in the military is diagnosed with Type 1 diabetes, they will be discharged unless that person can prove that they are fit for active duty.
There have been some rare cases where this has been done, and a Type 1, Type 1.5 or Type 2 military person has been allowed to remain in active duty, depending upon his or her military occupation. For example, someone with diabetes serving on a submarine, or piloting an aircraft would not be allowed to stay in active duty. There have been cases where someone has been reassigned to another occupation. There are a few inspirational stories about these persevering individuals further along in this blog. Some military personnel have developed Type 1 diabetes from exposure to chemicals while serving overseas. These folks can be discharged as well, as unfortunate as that may be.
Tricks you can try and hoops you can jump through
The key here seems to be whether or not you use insulin, but then it gets a little tricky. It is possible to slip through some loopholes here. If you are a Type 1 or a Type 2 diabetic that is taking insulin, you may be allowed to serve in a branch of the military, including, especially if you are already in. With Type 1, Type 1.5, and Type 2 diabetes that is well controlled and an A1C below 7, you may be able to stay in, even if you require insulin. There will be some hoops to jump through, but your foot is already in the door, so to speak. You will need to submit waivers to your physicians and officers. You will go through medical testing (MEP's) to see if you are fit. You may be placed in a non-combat related position, such as the mess hall or an office, or allowed to remain in your current occupation if it is on the list of jobs that is permissible for a person with diabetes to hold. This list is called the Military Occupational Specialty list, or MOS.
Remember that Type 2 is progressive, and with subsequent beta cell destruction through the years, you may begin to require more insulin and it may become harder to keep your A1C below 7. At the point your diabetes becomes uncontrolled and your A1C is over 7, you could be discharged regardless. The same would be true of a person with Type 1 diabetes. It depends on how determined you are to stay in active duty, and to keep your diabetes managed at all times. This can be a challenge in the military.
Pre-diabetes and active duty
If you have pre-diabetes, they should let you stay in the military if it gets picked up while you're in service. They may not let you enlist. You will want to prevent yourself from being diagnosed with Type 2 diabetes by following your diet and activity regimen. At the point you are diagnosed with Type 2, they will look at your situation more closely, and may discharge you depending on your level of control. At which point, you will have to go and jump through their hoops, and submit waivers to try to convince command that you capable of self-managing your diabetes.
Can you enlist in the military with pre-diabetes or diabetes?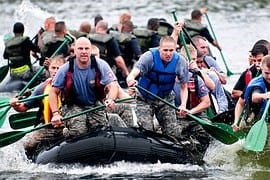 It's hard to enlist in the military with Pre-diabetes, Type 1, Type 1.5 or Type 2 diabetes if you are not already in. Again, the severity of your disease is going to be looked at, and you will have to show that you are self-managing your diabetes. Your A1C will need to be in a range where you are not at risk for complications (under 7), and you will need to keep your post-prandial blood sugars under 180. There are many stories related to people who tried to enlist, but were unable to serve. There are stories related to folks with diabetes of all types, including Type 1.5 (Latent Autoimmune Diabetes in Adult). There seems to be a large volume of PDQ's given out without any medical evaluation being done with just the mention of diabetes on the application. Military recruiters may say no, but then you will have the opportunity to state your case and get approval through waivers. Be prepared for recruiters to say no anyway, and have another plan in case.
What if you are already in the military and get diagnosed with diabetes?
If you're in the military, get diagnosed, and they are talking discharge with you and you have just a few more years before you can retire, then you may be able to stay in based on the status of your position. You will need to submit the waivers to command. They will look at whether or not it is on the MOS list of jobs that is possible for a diabetic to hold in the military. There are certain jobs that a person with diabetes may not be safe doing. Those jobs include jobs on the front line, or anything to do with piloting a military plane or serving on a submarine, among others. In particular cases where the military is giving a person with diabetes a hard time, it can be helpful to call your Congressman, as command will usually listen to Congressional inquiries. From branch to branch, whether it is the Army, Navy, Air Force, or Marines, National Guard or Reserves, if you are already in, they are looking at each person on a case-by-case basis. Above all else, they are looking at how safe the person will be in combat, and if they will pose a risk to others in their unit.
You could push through the system in order to remain in a position with the military if you have Type 1, Type 1.5 or Type 2 diabetes. First, you would need to research the regulations of your particular branch of the military, guard or reserves, and find out what you need to do in order to submit a waiver. Most branches are going to require that you have a tight control on your diabetes, A1C less than 7, and letters from your commanders and physicians stating that you are fit to serve, and remain deployable if you are requesting deployment. Take the example of one National Guardsman who wanted to go to Afghanistan with his unit. He submitted one waiver, which was approved. However, they changed the rules and revoked his waiver. This time, he submitted another waiver. He got approved, and was able to deploy to Afghanistan with his unit. Here is a summary of his story:
Sergeant Mark Thompson's story
US Army Sergeant First Class Mark Thompson tells his inspirational story of making it through the waiver process with an insulin pump. He is evidence that as long as you can prove to the military that you are in control of your disease and not the other way around, that you can make it through the grueling process and get approved. It is going to take dedication and perseverance, but it can be done. Mark got help from the American Diabetes Association and went before a medical review board. He got his A1C down to a 6. Mark did have some set-backs while deployed with his unit to Iraq for 18 months. His insulin pump was crushed and he had to start taking up to 16 injections per day with regular, not insulin, needles in order to stay in range with his blood sugars. He had to wait a month for a new pump to be delivered, and he had an episode of low blood sugars that his unit buddies had to help him out of. He went through sleep deprivation and the stress of long night watches that raised his blood sugars1. The following is a link to the YouTube video of Mark Thompson's inspirational story: https://www.youtube.com/watch?v=eZfCXlXo8R0. Mark gives hope to people diagnosed with diabetes while in the military who wish to remain in active duty with our nation's military forces.
Captain Nick Lozar's Story
The Marines has Captain Nick Lozar, diagnosed with Type 1 diabetes and placed on an insulin pump after 10 years of service. He didn't want to be discharged, so he set to work. He went through the waiver process. His first hurtle was the medical board. It's a slow a process and it took a full 11 months before he was returned to active duty. His advice for those active military personnel that are diagnosed with Type 1 diabetes and wish to remain in active service is to find as many doctors and superiors that you can to sign off that you are fit for active duty. His particular active duty occupation as a logistician made it possible for him to stay in active duty. He makes a point that it is "not a losing battle, but more of an uphill climb2." These and other incredible stories of Type 1 diabetics in the military overcoming great odds are very encouraging for other people with diabetes in the military who may wish to stay in service.
Should you join the military or stay in the military with diabetes?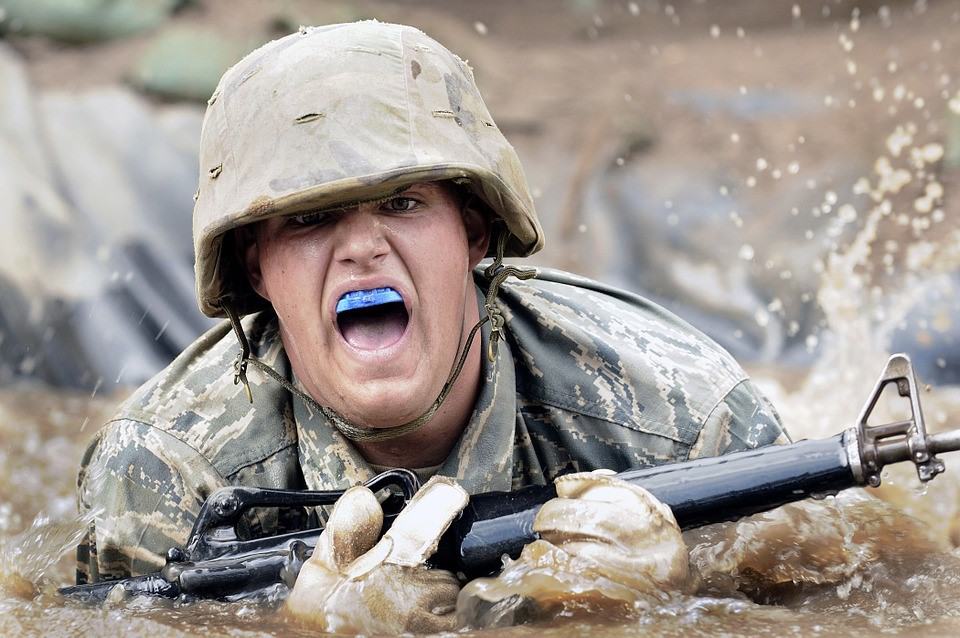 Even though it may be possible to push through and get approval, you should consider what could happen if you were to be in combat and start having trouble with your diabetes. You should consider what might happen to others in your unit, and base your decision accordingly. Ask yourself can you stand long stints with vigorous activity and little time to re-fuel, extremes of temperature, no food other than MRE's, no free time to check your blood sugar, no time to pull out insulin supplies to give insulin or change a pump set, long hours, and constant stress? Ask yourself do you want to be trying to deal with lows or highs in the middle of a warzone, if that is where you will be. If you get confused when you have a low, will you be able to use good judgment? If you truly feel that you will be able to manage, and you can prove that to your commanders, then they may give you the chance. Still, as always, be prepared for a no, and have some other plans for a back-up. Realize that it can be extremely difficult to keep strict control of your diabetes when you are in a military situation.
There are many stories out there that say some people have been fired from military duty, even if they worked in food preparation. It seems that there may be differences based on the particular commander or military personnel responsible for making the decisions. Much education on diabetes is still needed in the military among those in power. It also seems to depend on how hard you push it, and certainly on whether or not your diabetes is controlled. Still, the safety issues are understandable, even for many people with diabetes who have been discharged from the military. It is indeed a great honor to serve in the Armed Forces, National Guard or Reserves, so try the tips mentioned here and if you are dedicated enough, you may be able to show that to command. After all, a soldier with determination is what they are ultimately looking for. Good luck in your efforts to get in, stay in and serve in our military with diabetes. But most of all, thank you for your bravery and courage to want to serve your country. This is perhaps the noblest of all intentions.
People with diabetes have been rejected for military duty. Why can't someone with diabetes enlist in military service? And why are they being discharged if they get the diagnosis of diabetes while they are serving?
The military will disqualify a person for a number of physical and mental medical issues. You must be fit for rough combat, long hours, strenuous activity, and more. It's true that there is a long list of medical diagnoses that will disqualify you from the military, and diabetes is just one of them. In addition, being overweight or obese and receiving an overweight-related medical diagnosis such as heart disease is linked with shorter length of active military service. Overweight or obese military personnel can find it hard to pass medical examinations for reenlistment, trainings, or promotion purposes.
Do military families get better medical care for diabetes than civilian families? What about children of military families with Type 1 diabetes? Do they get good care? Are there any problems with medical care for diabetes in the military?
Military bases do have many medical services on site for families in the military dealing with diabetes. The base has certified diabetes educators available. There are endocrinology specialists. Camp Lejeune in North Carolina has a pediatric diabetes clinic, for example. Tricare insurance is reportedly some of the best insurance, and you will get most supplies and services related to your diabetes at no cost to you.
What are some ways that you can self-manage diabetes while in the military? What are some ways you can better parent a child with Type 1 diabetes who is growing up on a military base? Are there some resources available to help with lifestyle changes?
The military encourages military personnel to take care of themselves. One way that they do this is to provide commissaries, or grocery stores, where active military personnel can get healthy food choices at 30% off regular grocery store prices. They offer YMCA memberships, and encourage exercise and wellness for active military personnel. It seems the military may have recently picked up on the idea of prevention.
Will you get fired if you are diagnosed with Type 2 diabetes while serving in the military?
It depends. If your A1C is less than 7 and you are self-managing well. If you are taking insulin, that seems to be a factor in most cases. You may be able to stay in if your occupation is listed on the MOS, which is a list of jobs that a person with diabetes can hold while in the military. If you want to stay in, you can go through the waiver process, but this can be lengthy, and you still may be discharged. It is possible if you are already in the military.
What if you are diagnosed with pre-diabetes? Do they see that as a problem in the military?
For enlistment, yes. There have been those that have been rejected or given PDQ's due to pre-diabetes. However, if you are already in the military, it shouldn't be a problem. Make sure to start with some lifestyle changes to prevent Type 2 diabetes. They will be looking at your medical physical evaluation on a regular basis.
It seems some in the military can stay with diabetes, and others get kicked out. Is it because of the job they do? What determines if you can stay in your current active duty job if you are diagnosed with diabetes?
Any military branch, National Guard or Reserves keeps a list of jobs that they may let a person with diabetes continue to work in. If you are a pilot or you work on a submarine, or in a high combat zone, you will not be able to keep those kinds of jobs in most cases.
Can I enlist in the military, reserves, or National Guard if I am a person with diabetes?
There are many cases where even those with pre-diabetes are PDQ'd at enlistment. Still, there is an appeals process, just realize you may be told no.
Can a person who gets diabetes join the Air National Guard or the Coast Guard? What if they get diabetes while they are in service?
It is unlikely that you will get to enlist. Many jobs require vigorous work. If you get diabetes while in the Coast Guard or Air National Guard, it is the same as the other branches of the military. You can stay in if you can manage and keep your A1C below 7. The problem is that there are many occupations that a person with diabetes is not allowed to do.
How do I get a Medical Waiver to join the military?
You can go to this website, http://usmilitary.about.com/od/joiningthemilitary/a/medicalwaiver.htm for instructions on how to obtain a Medical Waiver.
What if I am being forced to retire from the military because I am diagnosed with diabetes?
You can go through the appeals process and submit waivers if you are controlled and you want to fight the decision. If you are forced to retire, you can visit the veteran's disability section http://www.benefits.va.gov/compensation/index.asp, which has information related to benefits for diabetes.
Will I get health insurance if I am forced to separate or retire from the military because of diabetes?
Yes, you will have insurance coverage, and benefits through the many VA Clinics across the country.