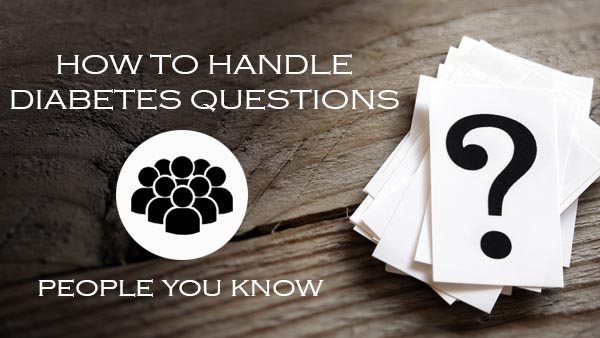 So far, we've covered: (1) annoying personal questions from strangers that we (PWD) want to diffuse, and (2) surprising questions from other PWDs and PIDs—partners-in-diabetes. I just made that acronym up. Think it'll catch on? Nope? Okay, moving forward:
Today I want to introduce another aspect of diabetes-related question-asking. How do we handle situations involving people we know? Or want to get to know? Or should probably get along with? As you can tell, I'm very fond of lists, so let's split them up into three categories:
1. Dates
This topic has already been heavily covered here at The Diabetes Council (see: Diabetes and Dating), and I concede that these people fall more categorically under "People You're Getting to Know." I've never dated someone that has diabetes, though I've come to realize that diabetes can be an interesting conversation topic in many dating situations, and the questions go both ways: for instance, asking for help putting in a new CGM is definitely a firsthand method to find out if your date has a fear of needles.

Less awkwardly, I usually bring it up when I think it's appropriate and am matter-of-fact when I'm asked questions about it. When I don't feel well, I say so. Answering questions right at the start can eliminate a lot of uncertainty later. Am I going to wear my CGM with that dress? Yep, you bet!
2. Kids
My diabetes stuff can also be a source of fascination with kids, from my young cousins to kids I babysit to kids in my swim lessons. Expert advice for nannies everywhere: I've remedied many a tantrum with, "Want to watch me test my blood sugar?"
*Kids stop screaming* and stare.
"Does it HURT?" they want to know, their screams dropped down to much more subdued, yet still alarmed, whispers. Or, in the case of my cousins, they nod confidently, hiding the doubt in their eyes as they confirm what they see with a loud, rhetorical whisper: "It doesn't hurt, RIGHT?"
The open minds of kids can offer reassurance when one is getting used to talking about diabetes. My swim lesson kids always ask me why I have my "phone" in the water, allowing for a learning opportunity to talk about the amazing fact that I require a robot-like device to keep me healthy and the equally amazing fact that it's pretty, has a color screen, and is waterproof. In this context, a waterproof machine that delivers insulin is only a little cooler than an iPad playing an episode of PAW Patrol.
When older ones ask, "Is that an mp3 player?" it opens the door for dispelling the oft-incorrect myths about diabetes that ooze out from the media and straight into their unknowing ears: You're born with it! You can't ever eat sugar! Blah blah blah. I take a deep breath (see Part 1 of the series) and answer their questions on their level—yet another step toward developing a society that is increasingly more compassionate and understanding about diabetes.
3. Roommates (college or otherwise)
Talking to my roommates about diabetes can be tough. I don't want anyone I'm living with to feel like they have to be responsible for me or take care of me or worry about me; I know what I'm doing! The same nonchalant approach that seems to work with boyfriends and kids is also helpful when bringing up diabetes with people I'm living with: being open to giving them information (this sheet created by the #type1uncut project is a good place to start) and also by going about my life normally and letting them observe so they can see for themselves how I live my life with diabetes.
If I'm clear when I need help or just need to take a small loan of their Mountain Dew supply from the fridge, my roommates can understand that I'm an independent person and diabetes doesn't have to dominate our relationship. They can tell when I'm acting strangely and something's up, but they also know that they don't have to constantly ask me if I'm okay. The latter drives me crazy (see: I know what I'm doing, above).
When I have an anxious moment or drink some of their Mountain Dew without asking during a hypoglycemic episode, then a simple explanation and an apology go a long way. Communication is key when dealing with any kind of shared living situation, but it's especially important when I want to be on the same page as my roommates when it comes to diabetes.
That wraps up Part 3! Thanks for reading.
Part 1 – How to Handle Diabetes Questions: The Stranger
Part 2 – How to Handle Diabetes Questions: The New Friend
For more information keep up with our blog posts.
TheDiabetesCouncil Article | Reviewed by Dr. Christine Traxler MD on September 01, 2018