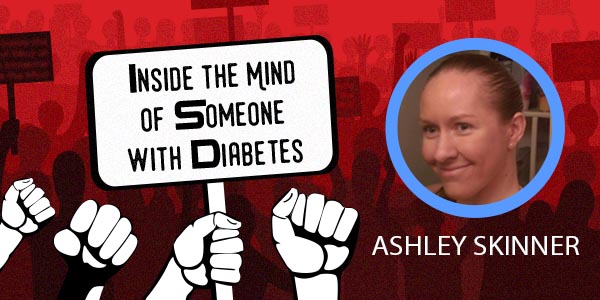 In my new series, I'm interviewing those who live with diabetes day in and day out, or have a child or other loved one who lives with diabetes. It's always interesting to get an inside look into what it is like living with a chronic illness. Whether you have diabetes or know the life yourself, everyone is different. Learning more about what it is like to live with this disease can help to bring much needed awareness and understanding all over the world.

For my first interview, I had the privilege of talking with Ashley Skinner.
Ashely is a Type 1 diabetic, who lives her life to the fullest despite having diabetes on board. I've known her for some time as a Facebook friend and member of the Diabetic Online Community. She has always showed that no matter what life throws at you, it's not about giving up but moving forward and moving on.
Now onto the interview:
We're going to discuss what it is like to live with Diabetes. Thank you for agreeing to participate in this interview. I believe it will be wonderfully beneficial to our readers to learn more about living with a chronic illness.
First off, what type of diabetes do you have? We have readers with all types, so it's important to talk about this first.
I have had type one diabetes for 22 yrs. since I was only 6 yrs. old.
How were you made aware that you had diabetes? Please share your diagnosis story with our readers.
I knew I had it because my mom knew the symptoms of frequent urination & drinking a lot. I was then taken to the regular Dr. whom I was familiar with as just a child who then referred us to a specialist. His name was Rob Lindsay. He trained me & my family on testing my blood & taking insulin shots of NPH & R or aka regular insulin which was mixed & taken in the morning & at night & also R for correcting bad highs.
We're all curious, even if we live the life, everyone is different, what is a typical day like for you?
I spend 40+ hrs. /week working at a call center sun-wed. My weekends I spend drinking, shopping, cleaning, relaxing, swimming, cooking & being w family. So usually I get up, make coffee & lunch, eat breakfast, go to work, come home eat dinner, watch TV, & go to bed. Weekends r different.
For more insight on diabetes read the following:
Describe the one scariest moment since your diagnosis.
Ha-ha. I've had a couple, but My 1 scariest moment where I was awake enough to remember the moment, was the moment I was so low & I luckily realized I was low somehow & I stood up from my bed to walk to the fridge which is close to my bedroom & bathroom & I fell. & I started crawling because it's all I could do at that moment, or knew to do, to survive. So, I crawled to the fridge & hoped that I could get it open & hold the gallon of milk, or even find something else to eat/drink & I did!
Living with a chronic illness can be overwhelming, how do you cope with the constant battle of trying to maintain a proper balance with your blood sugars?
I cope in a lot of ways- I use my t1 friends who have always been a steady support system & family for me I can count on & talk to. My family & Dr. helps me stay active & helps me troubleshoot problems. I use t1 camp & my coworkers also.
If you could give one tip to someone newly diagnosed what would it be?
That, it's ok to take as much time as u need to adjust to the new "normal". & that if I can do it, anyone can do it! Or if you'd prefer- if you can do it, -anyone can do it! Being newly diagnosed is sad and a hard thing, but it'll be ok again.
What is the most challenging aspect to you, in living with diabetes?
The most challenging aspect to me is feeling understood & not feeling alone all the time.
What was your reaction when you first found out you had type 1 diabetes?
I was sad, & I cried when I was diagnosed. I was also mad, & I still cry when I get really bad lows, or highs. When you're a regular kid, getting shots isn't fun & it's just the same for us type one diabetics.
Have you ever tried to hide your diabetes from anyone?
I do hide it still sometimes because w explaining & educating, as much as it helps, it sometimes will just go in one ear & out the other, so it doesn't do any good anyways, so it's best to just keep the disease to yourself.
Do you often get annoyed if people ask you if you should be eating certain foods?
I get very annoyed when people compare me to type twos & ask Qs like, should u be eating or drinking that because it makes me feel like they r assuming I don't know how to take care of the disease.
What do you think is the hardest part of living with Type 1 diabetes?
The hardest part is not feeling alone even with other type ones around because every type one is still different like with me, I also have complex partial epilepsy, & the challenges it brings into your life are multifaceted that people just don't get how a seizure or a high blood sugar won't make you want to go to the club late that night & that if there was a way to just simply "control"/manage & prevent each pump cannula from kinking, every t1d, would be doing it so that things run like a normal pancreas.
What would you like those without diabetes to know about having diabetes?
Others don't get what's really going on, so that's why it's important with this disease to just have others who always give the benefit of the doubt & understand what work we put in each day just to survive.
Let's conclude on a positive note. I know it can be difficult to find the light at the end of the tunnel, but if you thought really hard, what is one positive thing that diabetes has brought to your life?
T1D has brought me understanding I would have never thought possible for my friend's with cancer, my friend's with kid's with autism, my friends who have Alzheimer's at the nursing homes, my t1d has brought me an understanding to rheumatoid arthritis & diseases that I'm not actually comparing my t1d to these other diseases, but I am definitely more well knowledgeable on the other diseases because of one of the chronic illnesses I have.
Want to be interviewed for our Inside the Mind of Someone with Diabetes series? Contact us.