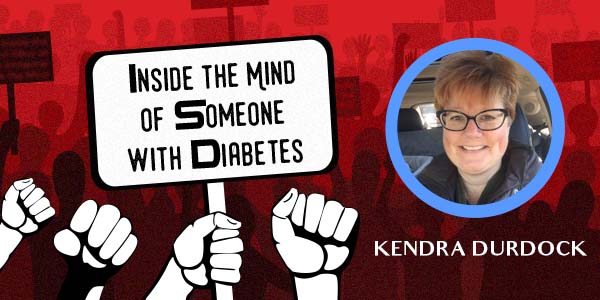 Today I am speaking with Kendra Durdock who has lived with Type 1 diabetes since she was 4 years old. Kendra hasn't let diabetes stop her at all. In fact, she is also a CDE (Certified Diabetes Educator) and has taken what she has learned in caring for her diabetes throughout these years to help her patients succeed in their diabetes care.

First off, what type of diabetes do you have? We have readers with all types, so it's important to talk about this first.
I have Type 1 diabetes.
How were you made aware that you had diabetes? Please share your diagnosis story with our readers.
Diagnosed a week before my 4th birthday. I am told I was frequently running to the bathroom and water fountain during my dance class so my parents did a urine check at home with my dad's equipment (also type 1).
We're all curious, even if we live the life, everyone is different, what is a typical day like for you?
Test about 4-8 times per day, look at my CGM constantly, eat and count everything that goes in my mouth (including protein). Glucoses are worst at work and I am on twice the amount of insulin at work than not. Tired a lot from being awakened by my CGM alarms. When having a low, you have to really keep your emotions in check- it is easy to be short tempered at that time.
Describe the one scariest moment since your diagnosis.
Had one episode of a seizure when in elementary school, I woke up in the middle of it and could hear a demonic sound coming from my mouth. I woke up with a pair of Holland shoes on my belly my mom had found for my show and tell but I thought I was dead and it was a tomb stone on me.
Living with a chronic illness can be overwhelming, how do you cope with the constant battle of trying to maintain a proper balance with your blood sugars?
Take it moment by moment and do not dwell on the numbers- they are just information to make better decisions not a judgement. Do what needs to be done but do not dwell on it. Try not to have "perfect' numbers, you never will.
If you could give one tip to someone newly diagnosed what would it be?
Your life will be different but that does not mean you cannot do all of the things you want to do.
What is the most challenging aspect to you, in living with diabetes?
The number of different variables that can affect my blood sugar: besides food, exercise, hormones, stress, illness, other medications, emotions.
What was your reaction when you found out you had diabetes?
Too young to remember if I had a thought.
What was hardest for you and your family — emotionally? Or financially?
Just the lack of spontaneity, everything needs to be planned. Packing for trips is different, most worry if they have enough socks and underwear, I am concerned with insulin and pump supplies. Emotionally it is tough because whether your glucose is too high or too low – you feel it and it is hard to constantly hide feeling crappy from others.
How often do you have to test your glucose levels?
I test myself between 4-8 times per day, depending on how I am feeling or what I have planned during that day.
What insulins have you used or do you currently use?
I have used Apidra, Humalog, NPH, Regular, Ultra Lente pork and beef in the past. Now use Novolog.
What would you like people who have diabetes to know?
It is exhausting, 24/7 and it invades just about every aspect of your life. Almost everything you do requires some thought. You cannot just take a "diabetes vacation "and ignore it without serious, if not deadly consequences.
Who do you get support from? Who treats you?
My job as a CDE, my patients, my parents, online sites, working at a kid's camp(KDKD) for diabetes.
Let's conclude on a positive note. I know it can be difficult to find the light at the end of the tunnel, but if you thought really hard, what is one positive thing that diabetes has brought to your life?
I am a more organized person and definitely STRONGER from my living with T1D. It has given me a passion and purpose in my career.
TheDiabetesCouncil Article | Reviewed by Dr. Sergii Vasyliuk MD on November 02, 2018